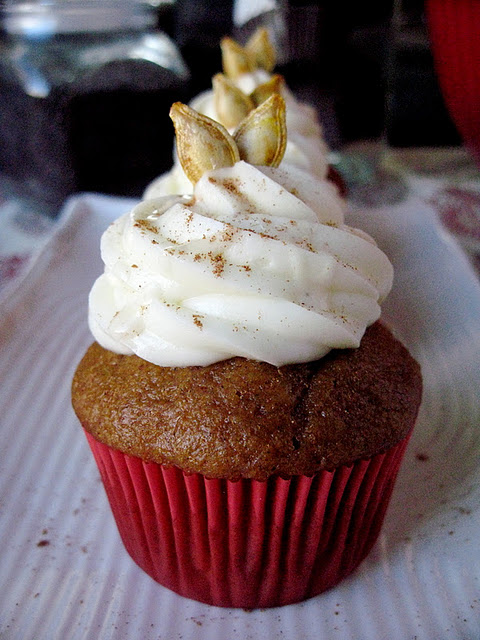 The Story:
Happy Halloween! This cupcake is all treat and no trick. Enjoy the perfect holiday combination!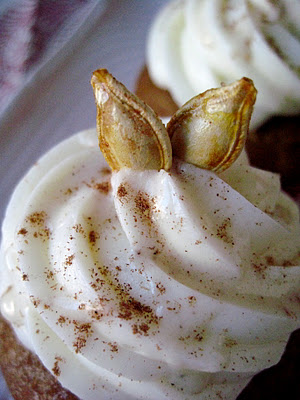 15 ounces pumpkin puree (the small can)
1 tablespoon pumpkin pie spice
1.
Preheat oven to 350 degrees and line pans with cupcakes liners (yields 24).
2.
In a large bowl, combine oil, applesauce, eggs, sugar, brown sugar and eggnog.
3.
In a separate bowl, mix flour, baking soda, baking powder, pumpkin spice, cinnamon and salt together.
4.
Add half of the flour mixture to the oil mixture and stir until combined.
6.
Add the rest of the flour mixture and mix.
7.
Fill cupcake liners ¾ full and bake for 17-22 minutes or until an inserted knife comes out clean.
8.
Buttercream: Beat cream cheese and butter until light and fluffy. Add eggnog and powdered sugar and beat well. Adjust consistency using eggnog to loosen and powdered sugar to thicken.
9.
Pipe onto cooled cupcakes.
10.
Top with roasted pumpkin seeds and eggnog glaze (2 tablespoons eggnog, 1 cup powdered sugar, 1 teaspoon pumpkin pie spice whisk until smooth).