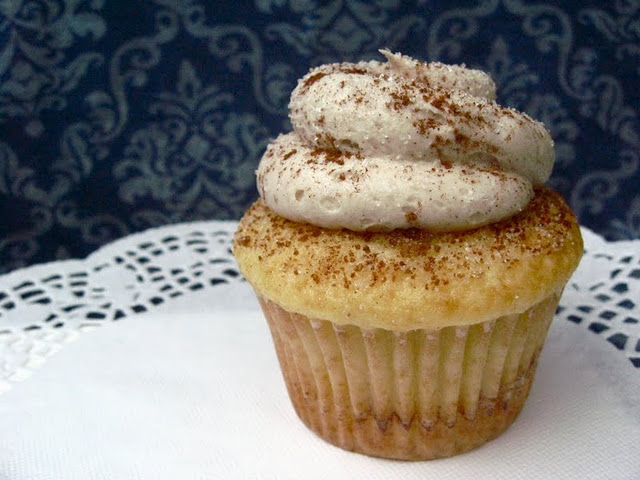 The Story:
One of my mother's friends made an order last week. "No chocolate and no berries." That's all she said. So this little beauty is what came of that.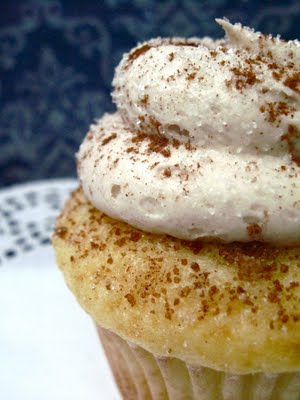 French Vanilla or Vanilla Cake Mix
1 teaspoon almond extract
2 tablespoons white sugar
½ tablespoons brown sugar
2 teaspoons milk (if needed)
Cinnamon sugar to decorate
1.
Preheat oven to 350 degrees and line muffin tins with cupcake liners (about 24).
2.
In a large bowl, mix oil, eggs, vanilla and almond together.
3.
Sift (for easy mixing) in about ½ of the of the cake mix and stir only until combined.
4.
Add buttermilk and sour cream.
5.
Sift in the last half of the cake mix and fill cupcake liners ¼ full.
6.
Combine sugar, brown sugar and cinnamon in a small bowl and sprinkle generously over batter.
7.
Fill liners again over the cinnamon mixture with batter until ¾ full.
8.
Bake for 18-22 minutes or until a knife inserted comes out clean.
9.
For an extra crunch, run a stick of butter over the rim of each hot cupcake when it comes out of the oven and then roll in cinnamon sugar.
10.
Cinnamon Buttercream: Beat cream cheese and butter for 2 minutes. Then add powdered sugar, milk, cinnamon and vanilla. Let beat for 3-5 minutes. If too stiff—add more milk. If too thin—add more powdered sugar.
11.
Pipe onto cooled cupcakes and sprinkle cinnamon sugar to top.