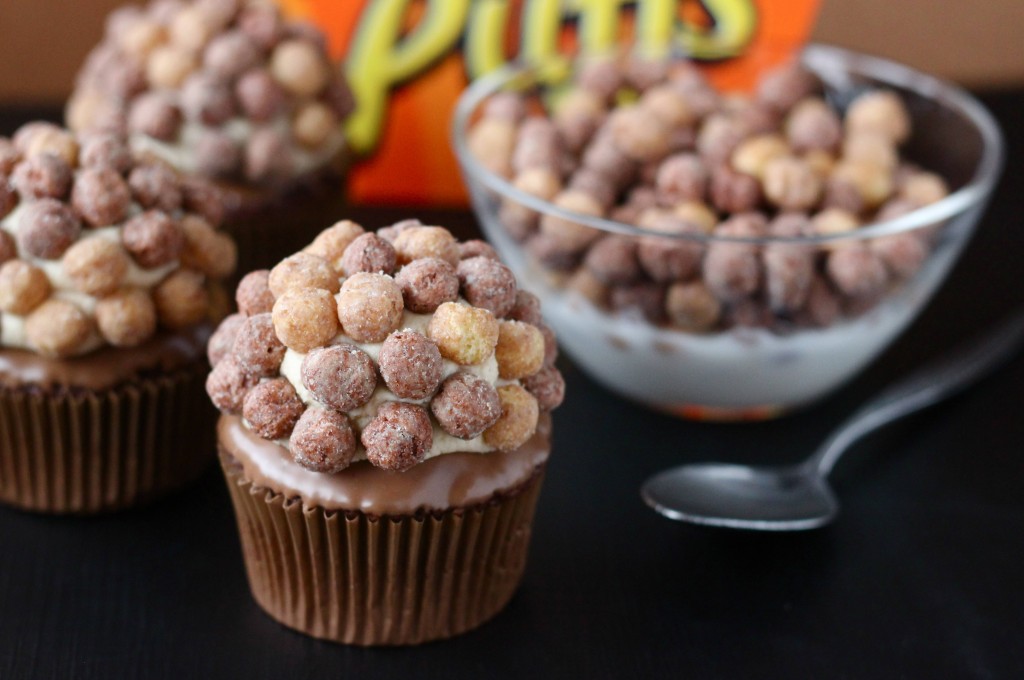 The Story:
One of my New Years resolutions for my blog was to make more cereal cupcakes. These kinds of treats are always fun and bring out the kid in all of us. My Cinnamon Toast Crunch Cupcakes were/are still a huge hit. So I was hoping these would get the same response. One of my friends, Laina, tried one of these and told me "That was seriously the best cupcake I have ever had in my life." Thanks Laina!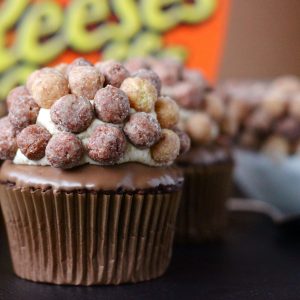 Reese's Puffs Cupcakes
Ingredients
Cake:
1 box Devil's Food Cake mix
3 eggs
1/2 cup oil
1 cup buttermilk
3/4 cup sour cream
1 1/2 teaspoons vanilla extract
1/2 teaspoon cinnamon optional
Peanut Butter Chocolate Ganache:
2/3 cup chocolate chips
1/3 cup peanut butter smooth
Peanut Butter Buttercream:
3/4 cup butter softened
1/2 cup peanut butter smooth
3-4 cups powdered sugar
1 teaspoon vanilla extract
Instructions
1. Preheat oven to 350 degrees and line pans with cupcake liners.

2. In a small bowl, sift cake mix and set aside.

3. In a large bowl, gently whisk eggs, oil, buttermilk, sour cream and vanilla extract.

4. Add cake mix and cinnamon to wet ingredients and stir.

5. Fill cupcake liners 3/4 full and bake for 15-20 minutes or until and inserted knife comes out clean.

6. Ganache: Melt chocolate and peanut butter together and stir until smooth. Dip the tops of the cooled cupcake into the ganache and let set for at least 10 minutes.

7. Buttercream: Beat butter and peanut butter. Add powdered sugar a little at a time until you reach your desired consistency. Add vanilla extract. (Add 1 Tablespoon milk if you buttercream is too thick.)

8. Pipe buttercream onto ganache covered cupcake and roll in Reese's Puffs cereal.