We tasted 7 of the most popular sour Valentine's Day gummy candies to find out which are the best and which to never buy again! Here are the best sour Valentine gummy candy…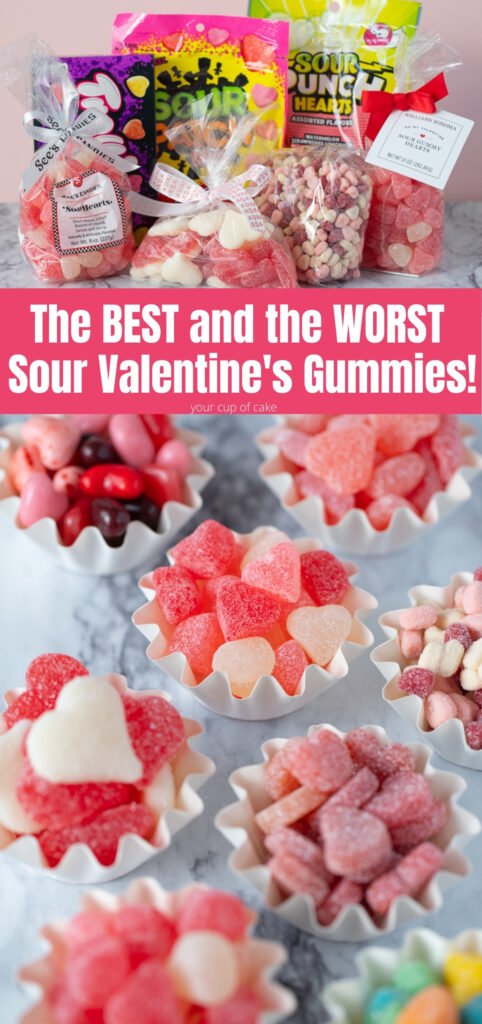 Best Sour Valentine Gummy Candy to Buy in 2021
So why did I embark on this taste test adventure to find the Best Sour Valentine Gummy Candy? Well, I love sour candy and last Valentine's Day I bought some from the grocery store from a brand I love but was so disappointed to go home, try it and hate it! So this year, I wanted to go crazy and buy all the options and find out which is the best by tasting side by side.
By the way, if you're looking for Valentine's Day recipes be sure to check out my Valentine's section!
Valentine's Day Gummy Candy
Some of the brands we taste tested are easily found at the grocery store while some are from nation wide candy shops or can be found online. We took suggestions from people via instagram on their favorites and went from there!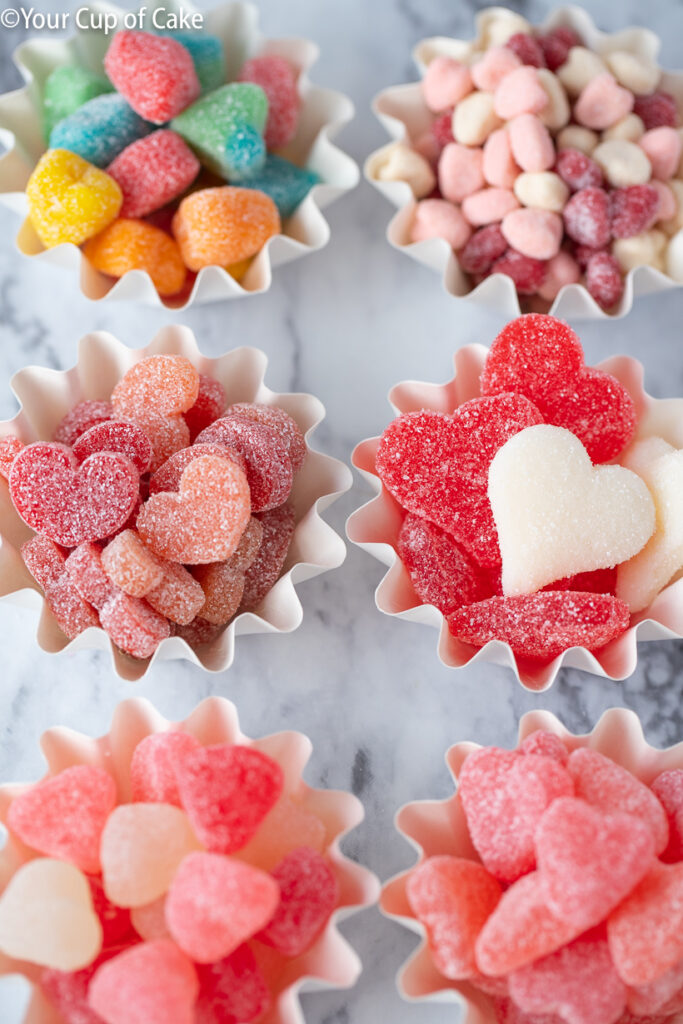 The Taste Testers
Who did this taste test? Me, my husband and four other lovely friends of mine. Our rankings varied a little bit but we all agreed on the absolute best and the absolute worst. I will try to give details in each of my explanations because obviously, everyone prefers their candy a little different! Some rankings were very close and there are a couple on this list I will happily buy again next year! For the record, none of my taste testers (besides me) knew the brands of the gummies before they tasted them. They didn't know what was a grocery store candy and which were from fancy boutiques.
The BEST and the WORST Valentine's Day Candy
We decided just to rank the Sour Valentines Heart shaped candy here, after these rankings I will share a little more about some additional Valentine's Day Candy.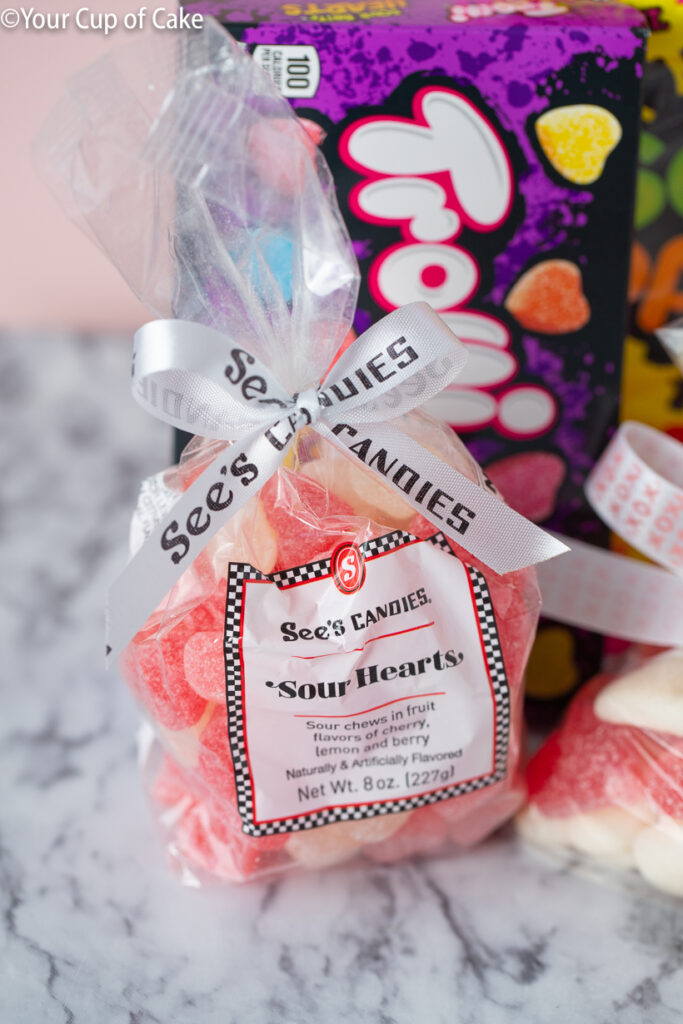 1 – See's Candy Sour Hearts
Topping our list is See's Candy's Sour Hearts (about $8). These are definitely the most sour of all the candies we tried and the texture is soft and just tastes more expensive than something you would find at the grocery store. Each of the three colors has a very different flavor, white was my favorite flavor. The size is perfect and they are very cute for a candy jar! PLOT TWIST…. Williams Sonoma sells these exact same candies packaged with their logo for about $13 for nearly the same quantity. Plus, my local Williams Sonoma's did not carry them in store so I had to pay an additional $5 for shipping! So SKIP Williams Sonoma and head to See's Candy!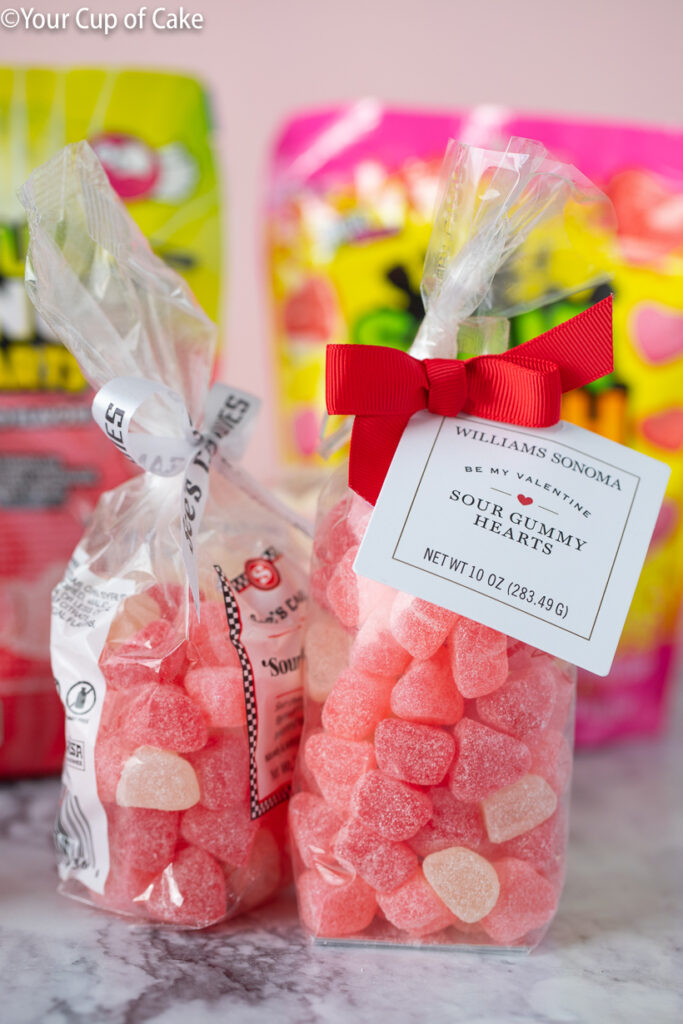 On to our second pick…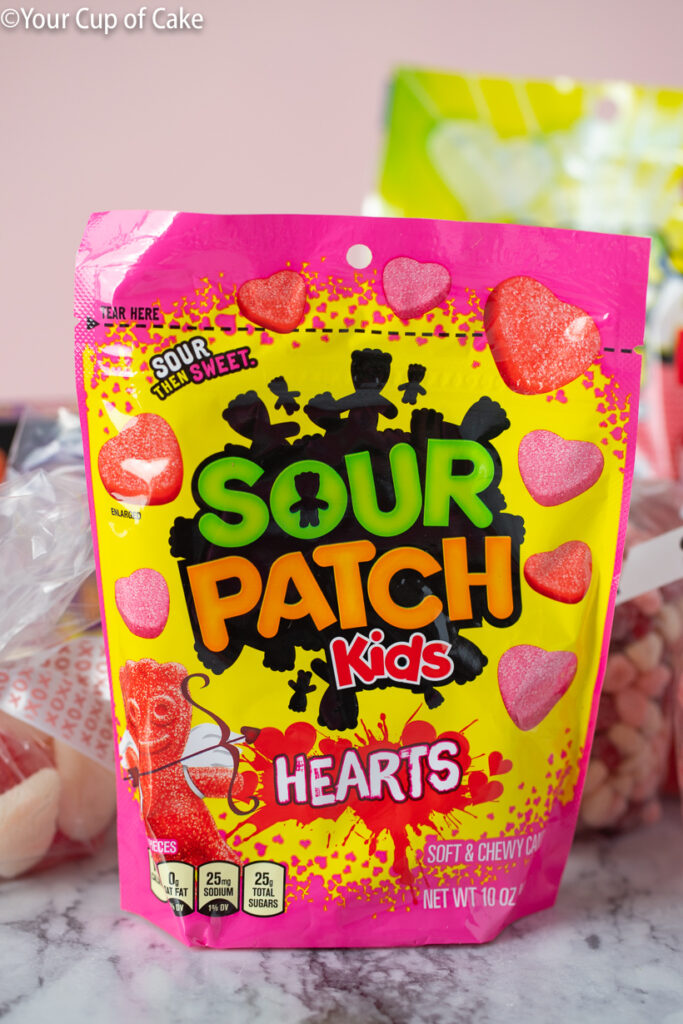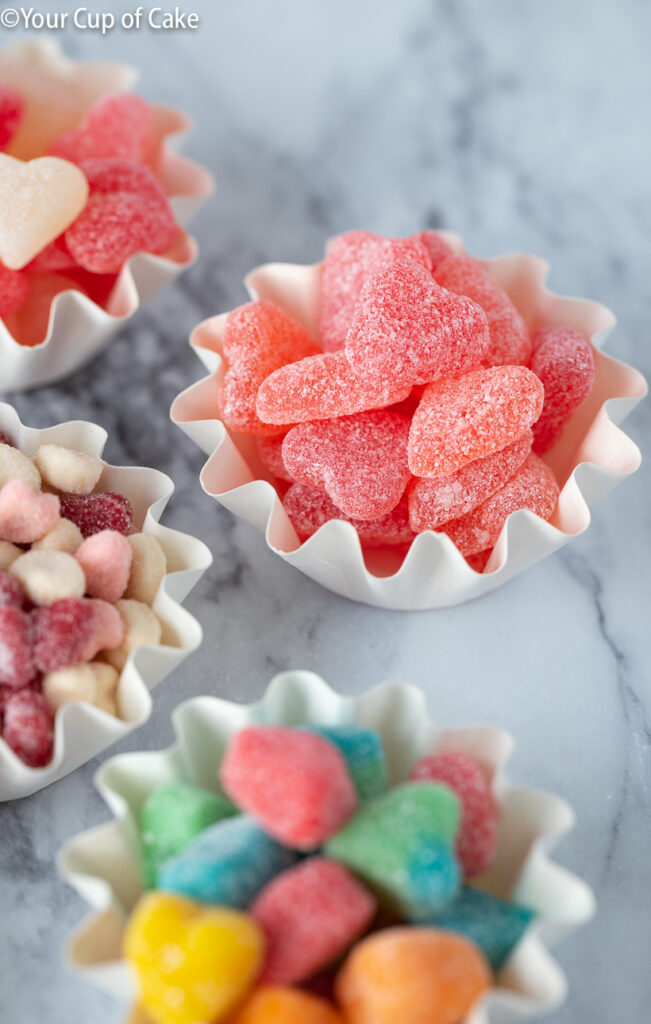 2 – Sour Patch Kids Hearts
Sour Patch Kids Hearts take the second place slot and for about $3 this is a huge win! Okay, so they aren't quite as cute to look at as the See's version but they are still sour and have the same texture as you would expect from Sour Patch candy which is a little more firm than the See's. I kept going back for these ones the next day and really liked the flavor.
3 – Albanese Sour Gummi Hearts
Albanese Sour Gummi Hearts were liked by all the women taste testers but not as much by the men… go figure! They are larger than any of the other candies and pillowy soft, which I loved but my husband thought it was too "fluffy." Their two flavors for the hearts are Wild Cherry and Strawberry-Banana. So if you hate strawberry-banana, don't get them! (One of our taste testers hated the strawberry-banana.) Albanese is famous for their sour gummi bears so it's still a beloved sour heart by many people. I had to order mine online and they were about $3.50 for the package.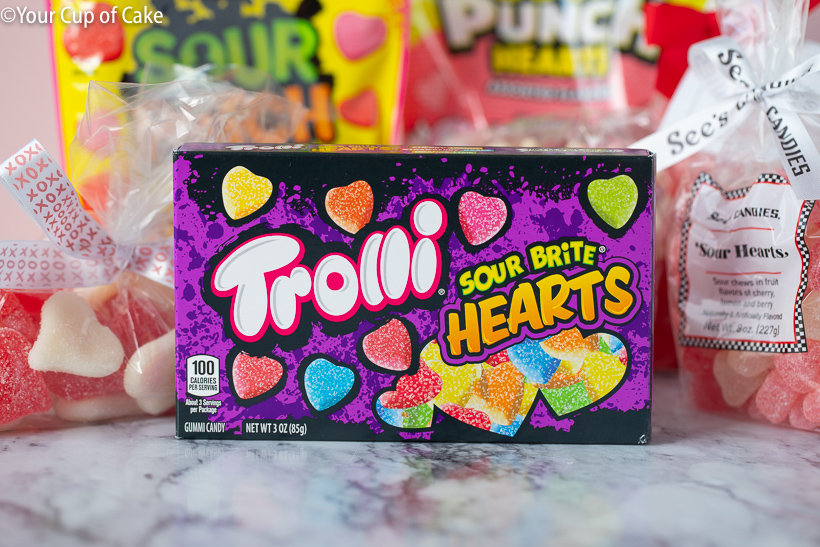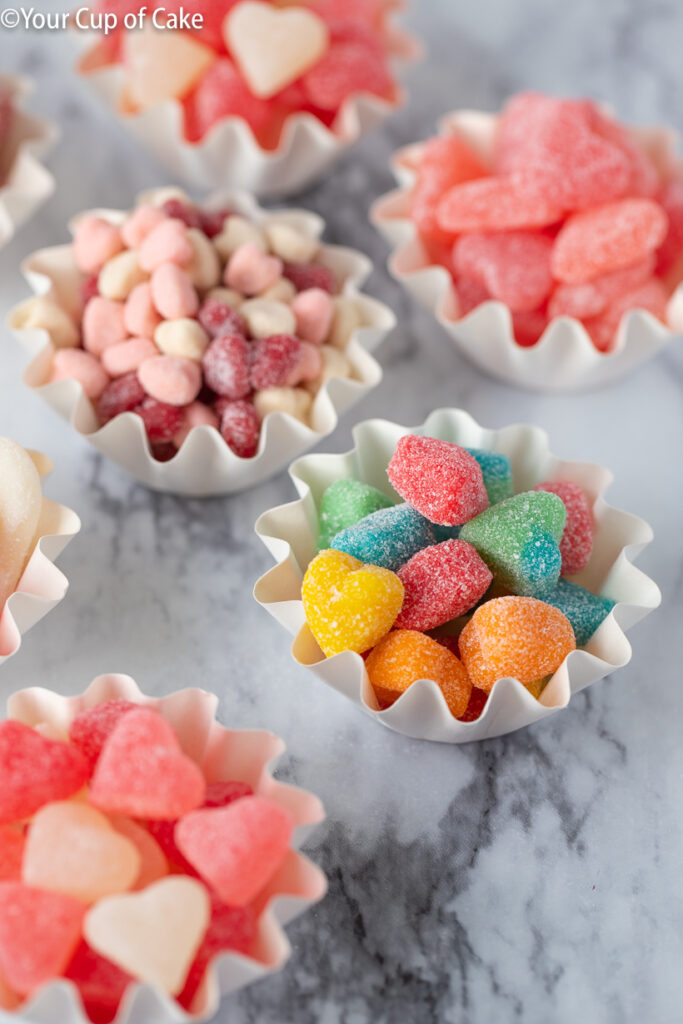 4 – Trolli Sour Brite Hearts
Trolli Sour Brite Hearts are exactly what you would expect them to be. If you like their sour gummi worms you'll like these. The colors, flavors and textures are all the exact same. Not super cute for a candy dish unless you have all boys and are avoiding a pink and red color scheme. The price ranges from $1-$3 depending on which size package you get.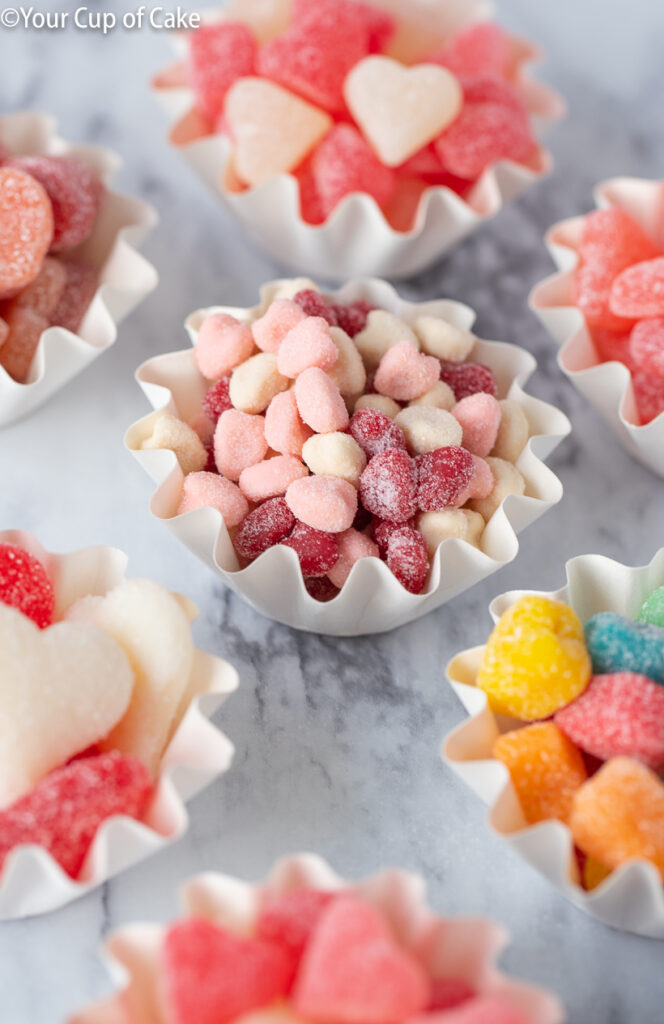 5 – Jelly Belly Petite Sour Hearts
Petite Sour Hearts by Jelly Belly ($8). I had such high hopes for these because a popular instagram account RAVED about them but me and all of my taste testers didn't like them. They are tiny and very firm, too firm to comfortably chew and enjoy. They are grape flavored so they definitely have their own taste but overall no one liked these. But Jelly Belly did make a good sour gummi I'll talk about a little later in the post! (These Petite Hearts are available at local candy shops and online.)
And at the bottom of our list…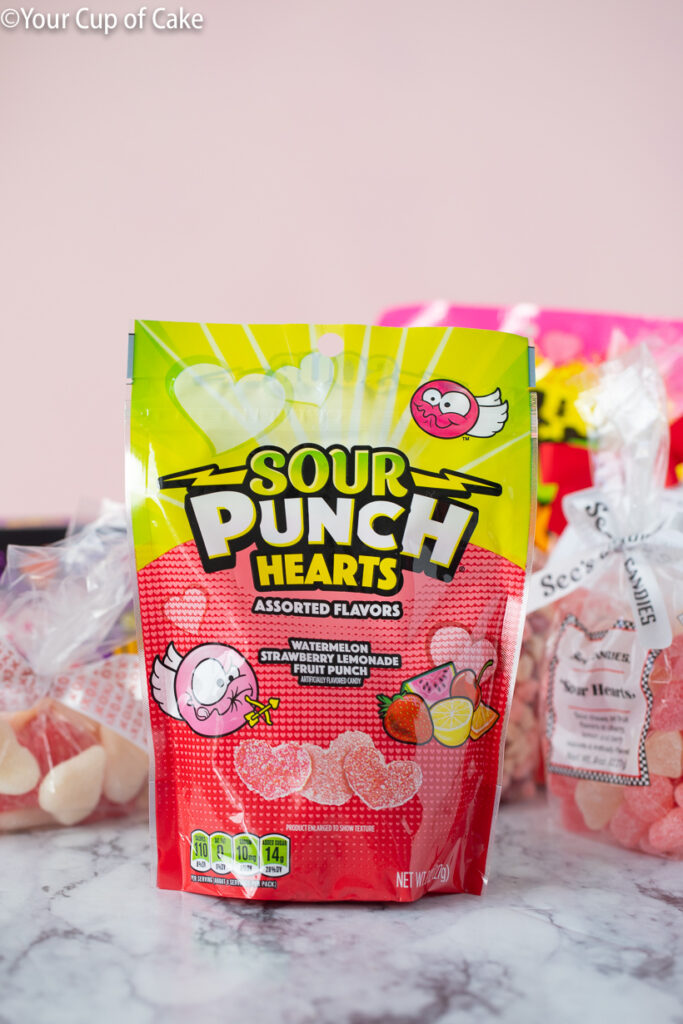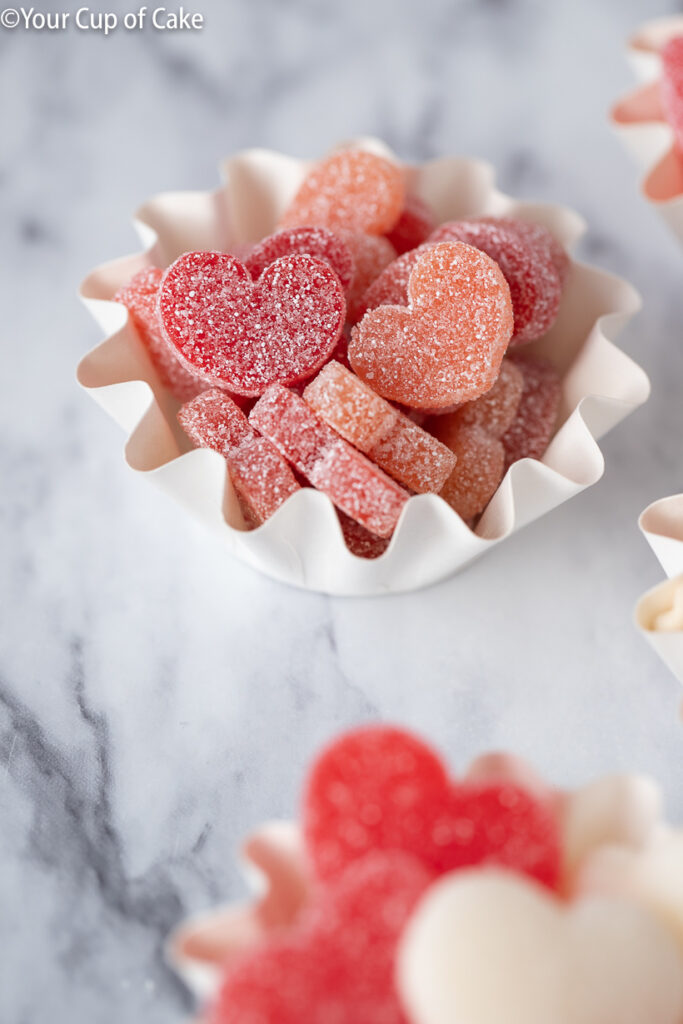 6 – Sour Punch Hearts
Sour Punch Hearts ($3). If you're thinking to yourself "I love Sour Punch Straws so I'll love these…" just stop right there. You won't love these. The shape is very cute but they are very firm and just aren't worth your time. My taste testers assumed they were organic by the looks of them because their colors were also very dull. We're assuming that because Sour Punch Straws are hollow they seem softer and taste better but because these are just bricks… it just doesn't go over well.
We taste tested 7 brands but as mentioned above, Williams Sonoma sells the See's Candy just repackaged so we didn't give them a second ranking.
More Valentine's Day Candy Talk
We couldn't stop there. We had one more "face-off" between two similar candies and then a few candies I've found along the way that I love!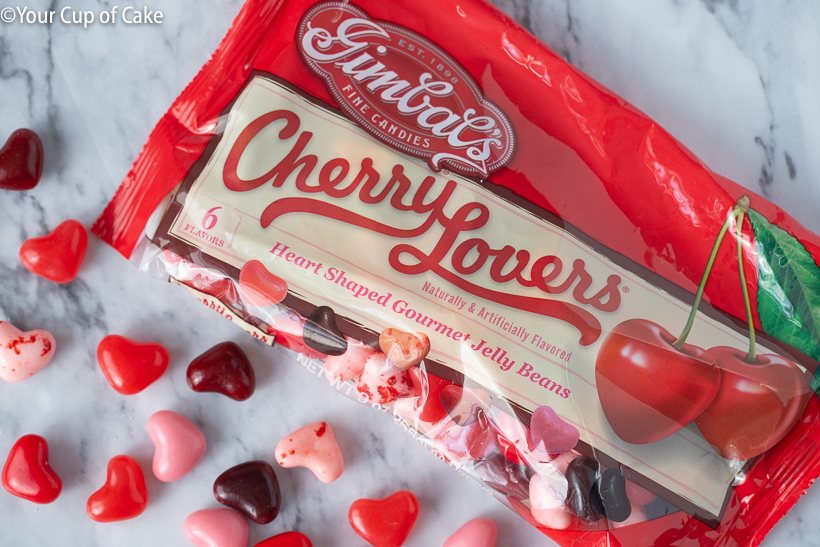 Gimbal's Cherry Lover's vs. Jolly Rancher Jelly Hearts. Both of these are cute hardshell heart candies… but which is better? Well, that might depend on your age! The older generation tends to love the Gimbal's where as all the millennials prefer the Jolly Rancher. Fun Fact: Williams Sonoma also repackages the Gimbal's Cherry Lovers and sells them with their own brand name!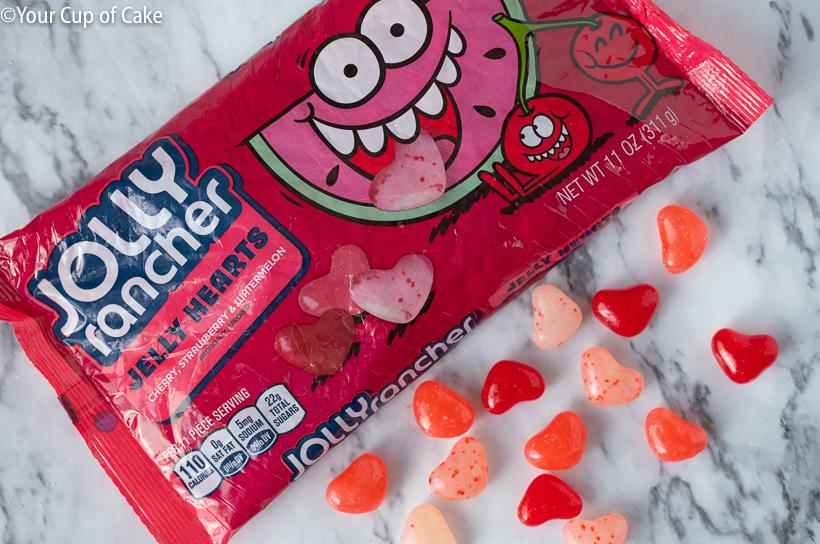 Jelly Belly may have failed us with the Petite Hearts but these Sour Pucker Lips are good! Plus they are much easier to find in stores! I picked these up at my local Target for $2 and they are so adorable!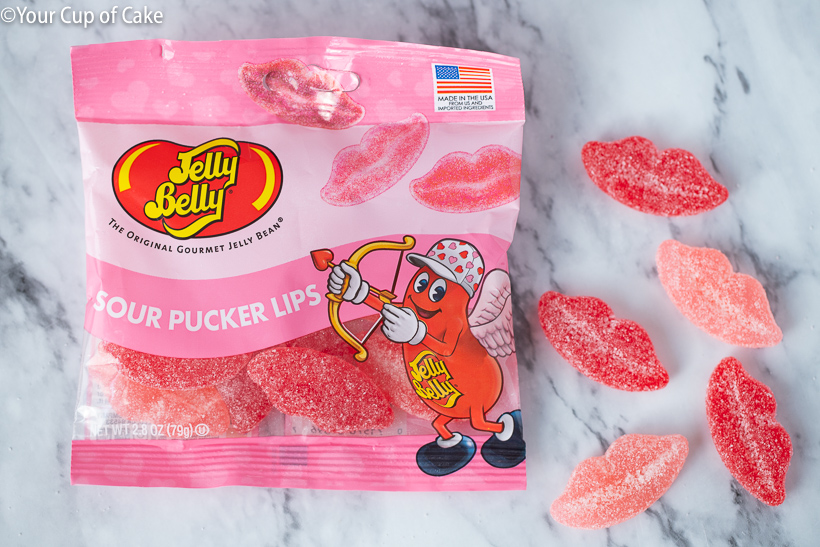 Hidden Gem: My final review is on these Russell Stover Sweet Talkers. They are heart shaped marshmallows dipped in milk chocolate and WOW are they delicious! The marshmallow is so soft and it's just the most perfect bite for Valentine's Day! I bought these on a whim and I had to go back and buy another bag to share with friends. Can't wait to include these in my neighborhood Valentine's treat bags!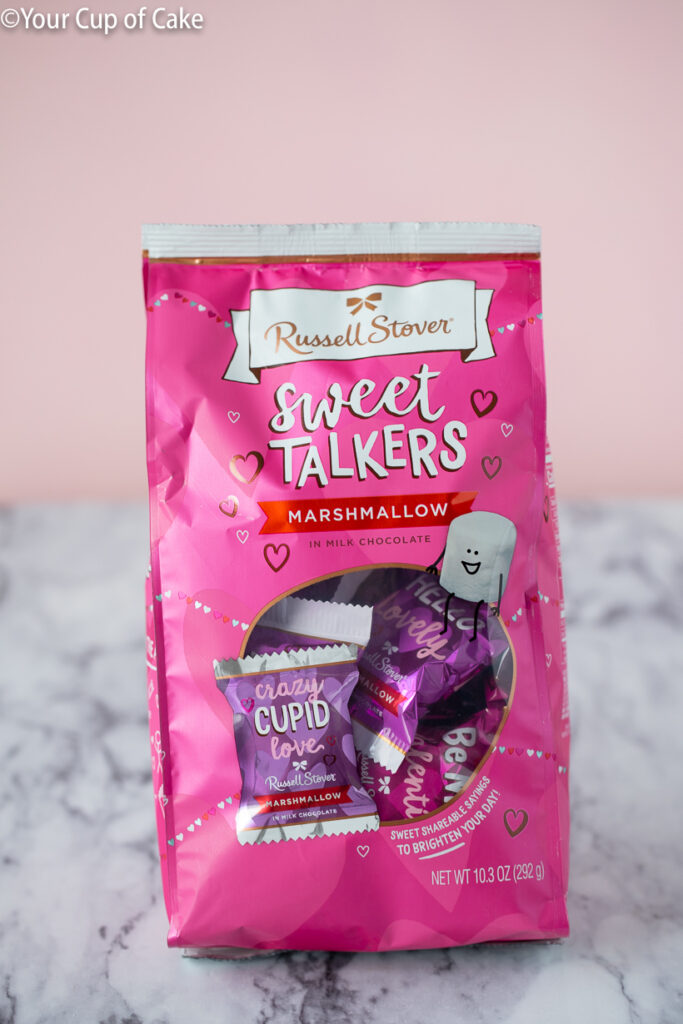 I hope you've enjoyed my post on the Best Sour Valentine Gummy Candy to buy! I know it's different than my regular type of recipe post but I find myself loving these types of rankings so I thought I would share my findings! If you try any of the candy above or think we missed something, please comment and let me know!