The Story:
Truffles have always scared me. They just seem like something you get during the holidays from fancy stores, not something I could do myself. But I gained some confidence when I went to my boyfriend's sister's house and saw her making these sweet things. I thought, "Hm, maybe I can do this." So here you go.
Just because Christmas is over, it doesn't mean hot chocolate season is over too! Crush all those extra candy canes and get rolling!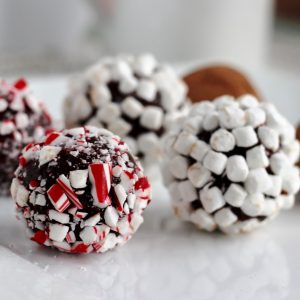 Hot Chocolate Truffles
Ingredients
2 3/4

cups

semi-sweet chocolate chips

1

cup

heavy cream

1

tablespoon

sugar

¼

teaspoon

salt

2

teaspoons

vanilla extract
cocoa powder, crushed candy canes, mini chocolate chips for rolling
Instructions
1. Place all ingredients in a pot and melt together on low heat until smooth. Stir constantly.

2. Let cool in the fridge until stiff enough to scoop.

3. Make small scoops, about 2 Tablespoons each. And place them in the freezer for and hour.

4. Remove scoops, roll into balls.

5. Roll in your choice of decoration. Crushed candy cane, cocoa, cinnamon, mini marshmallows. (If you try the mini marshmallows, you really have to push the marshmallows into the chocolate balls.)

6. Wrap each ball in suran wrap and keep chilled until ready to use.

7. When ready, drop chocolate balls into 1 ½ cups of hot milk and stir!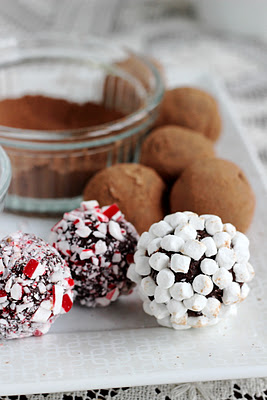 2.