These Quick and Easy Cheese Bombs are made with Grands Buttermilk Biscuits and mozzarella string cheese! So simple to make and delicious to eat! Your entire family with FLIP for these fun bites!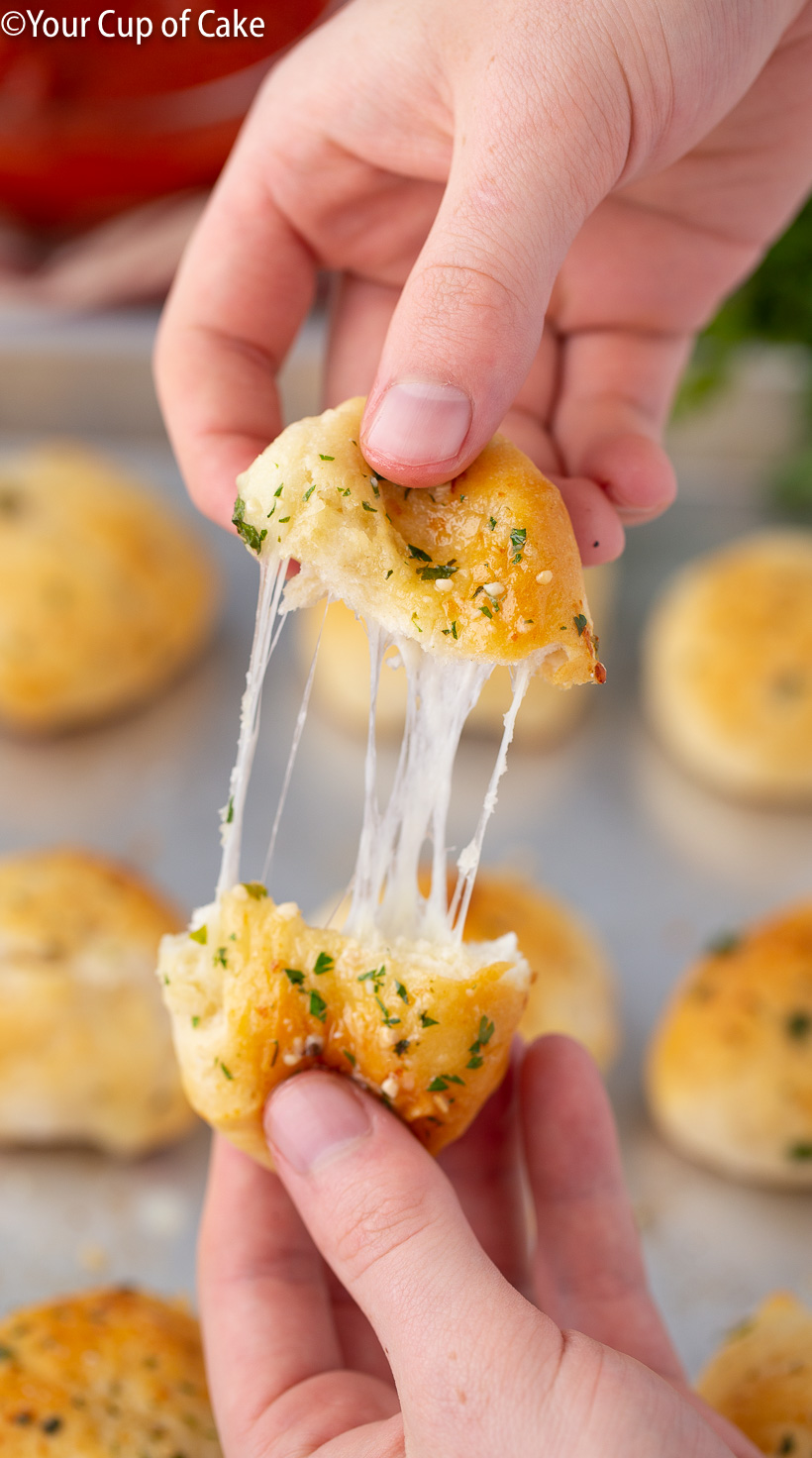 Quick and Easy Cheese Bombs for Dinner Rolls!
I love making fun little appetizers for dinner or for when I have people over for game night! These Quick and Easy Cheese Bombs come together so fast and everyone loves them! Dip them in warm marinara sauce or eat them plain, they're busting with flavor and filled with warm, gooey mozzarella cheese, yum!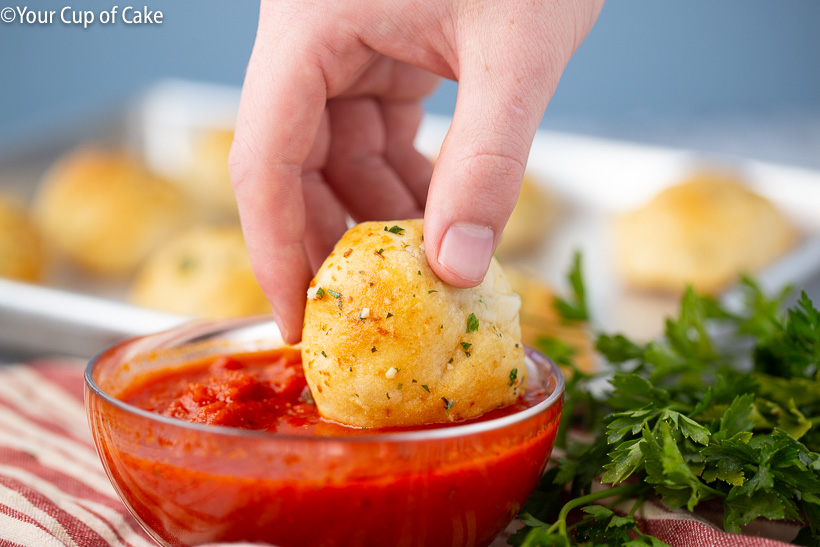 What are Cheese Bombs?
Cheese Bombs are like mini rolls or bread bites stuffed with ooey gooey melted cheese inside! It's like garlic bread on steroids in all the best ways! It's perfect to eat with pizza night, a side for a pasta dinner, or just on their own as a fun snack! Kids and adults go crazy for these and the kids can help make them too.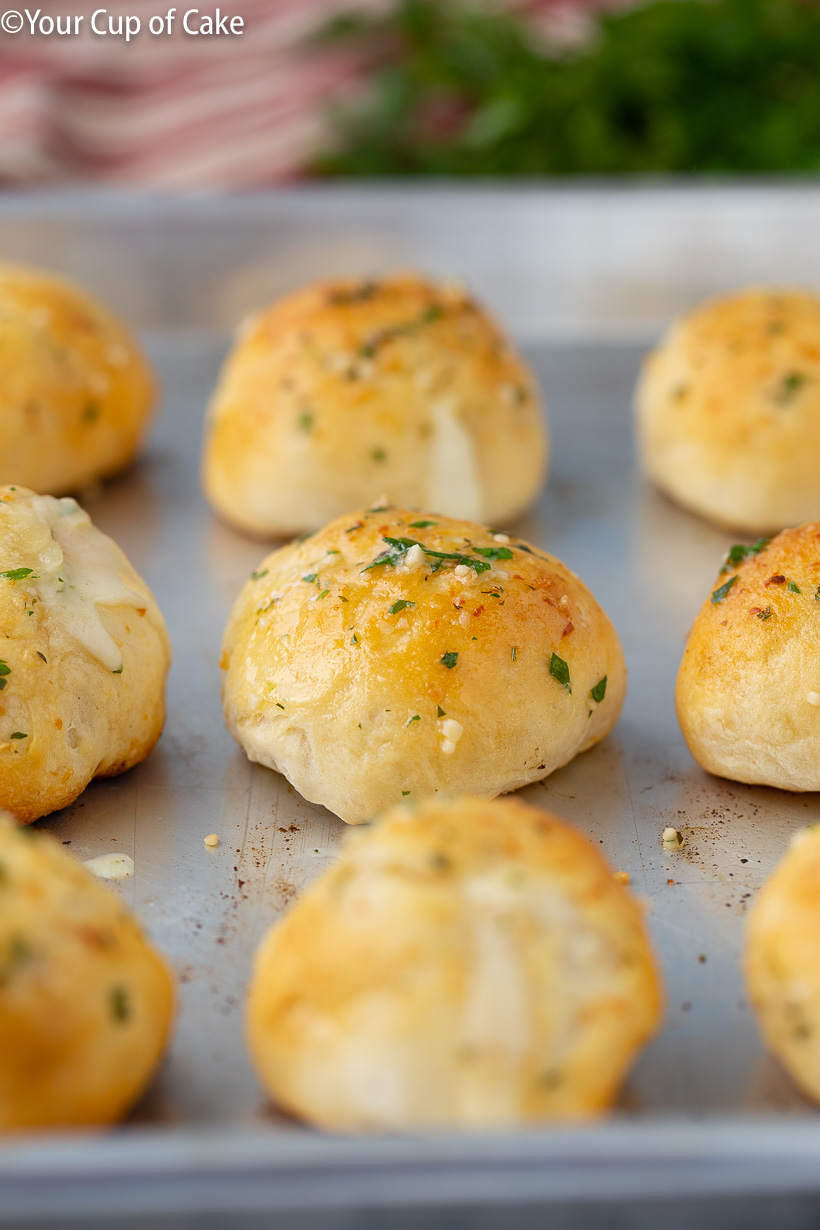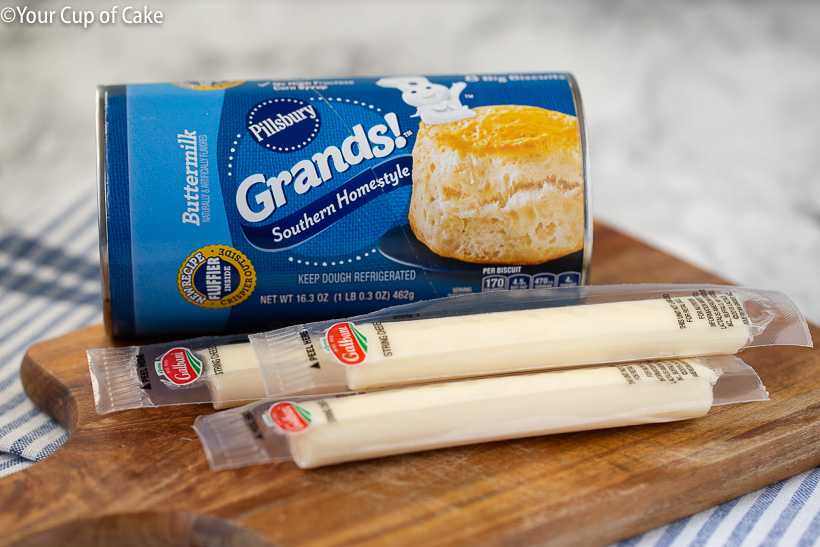 How to Make Easy Cheese Bombs:
These Cheese Bombs really are so easy to make! We start with pre-made dough so the hardest part is already done. I used Grands Buttermilk Biscuits that I picked up from the grocery store but you could use pizza dough as well! Most grocery stores or pizza places will sell you pizza dough, so keep that in mind next time you're picking up a pizza pie! Get some dough and make your own garlic knots or bread! All you have to do is cut each biscuit in half, fold in the cheese and pinch shut and brush with herb butter! Done! My biggest tip would be to make sure you really seal on the bottom to keep the cheese from leaking out.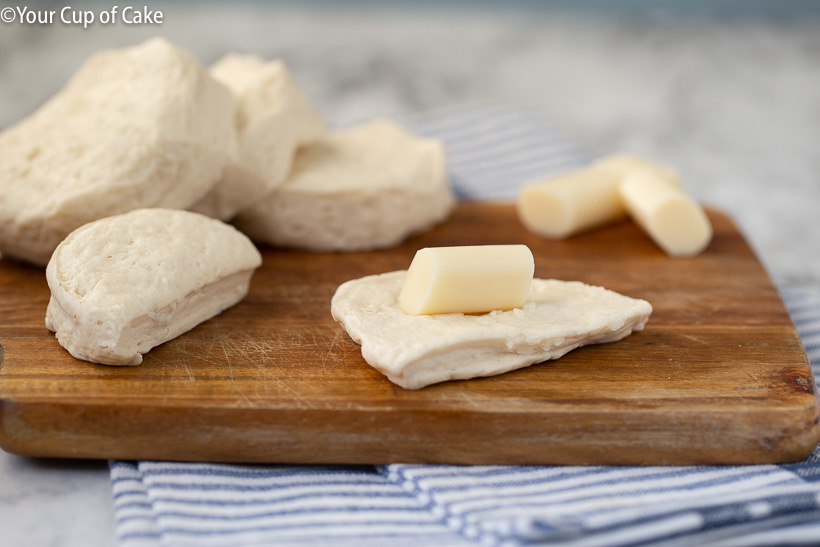 The photo above shows one big piece of string cheese going into the cheese bomb, but we decided when the cheese piece is cut into two smaller ones the bun closes up better, so that's how the recipe describes to do it!
Brush on some garlic herb butter before baking!!! Don't be stingy!
If you love butter, you can even brush on some more when they come out of the oven. My husband loves butter.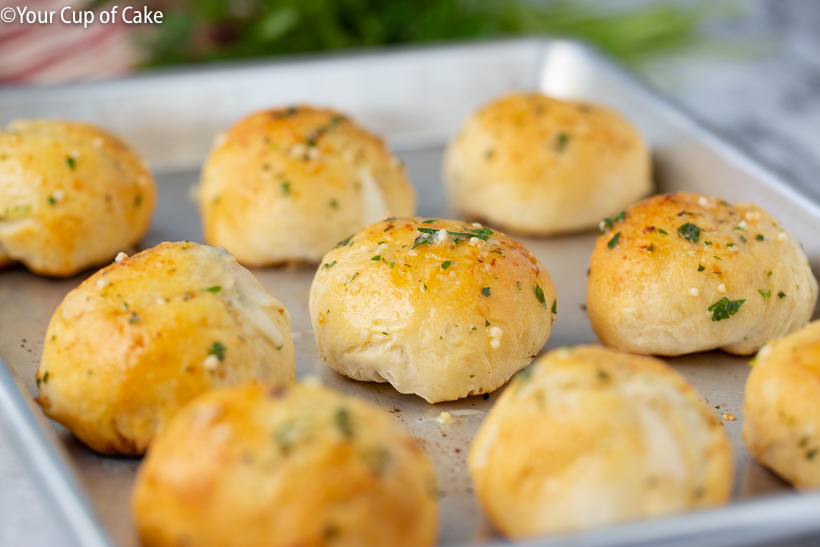 Better than at a Restaurant
Skip dominos, these Quick and Easy Cheese Bombs are way better! They're cheaper to make and don't take nearly as long as delivery! Plus, I love that you can make they exactly how you want. Love garlic? Add extra! Want to sprinkle a little parmesan on top? Go for it! You really can't beat these hot from the oven and dipped in marinara sauce, yum. Just look at that dreamy cheese…
We picked up some Rao's Marinara from our local grocery store and loved it! Sometimes grocery store canned goods can be a bit hit and miss but we will definitely be buying that one again!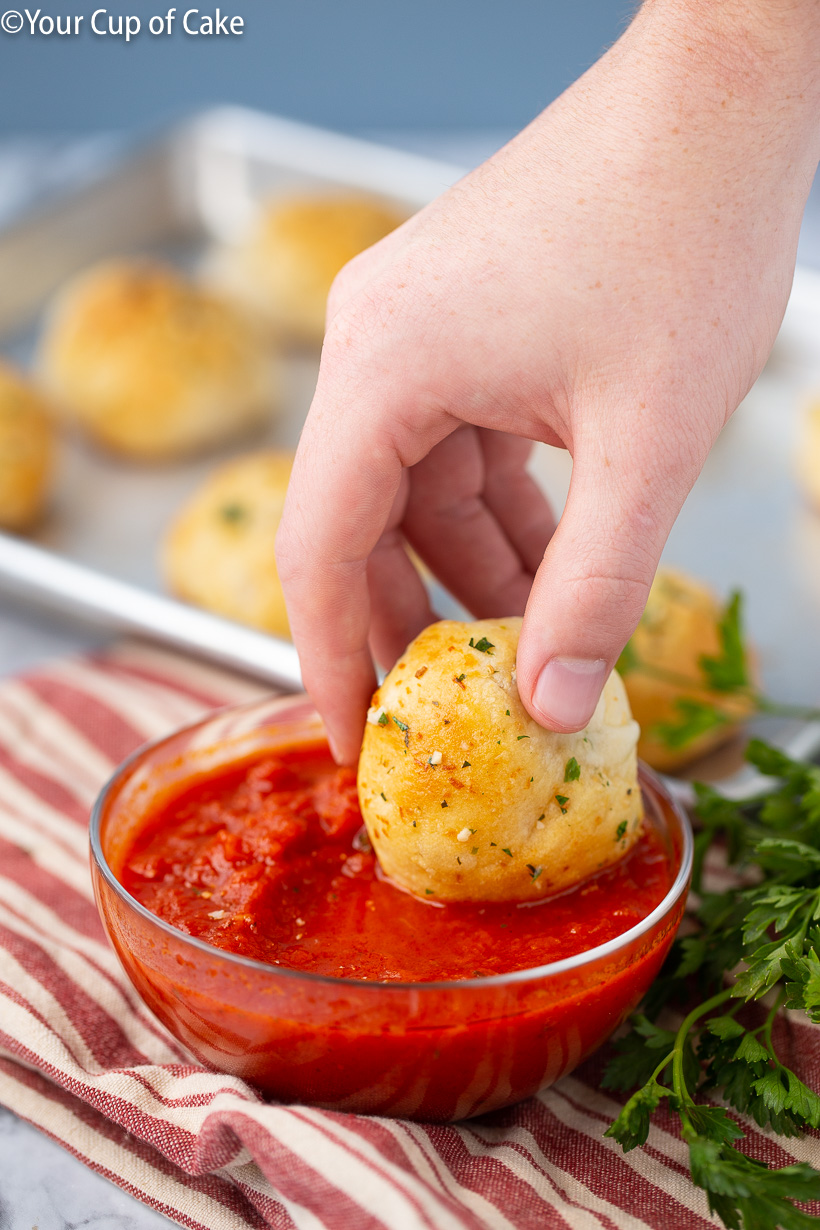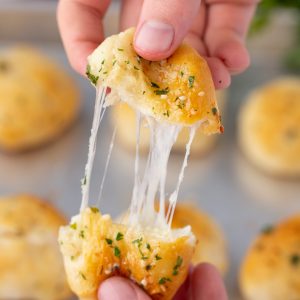 Quick and Easy Cheese Bombs
Garlic bread bites stuffed with melty mozzarella cheese! These Quick and Easy Cheese Bombs are the perfect appetizer for pizza night or any game night!
Ingredients
1

8 count can

Pillsbury Grands buttermilk biscuits

4

sticks

mozzarella string cheese

cut into eights

4

tbsp

butter

melted

1

tbps

minced garlic

2

tbsp

parsley

finely chopped

1

pinch

salt
Instructions
Preheat oven to 400 degrees.

Open the can of biscuits, separate the dough and cut each round in half. Roll or press out the dough so it is about 1/4 of an inch thick, trying to make the dough more round (does not need to be perfect).

In a small bowl add the butter, garlic, parsley, and salt. (Optional: you can replace the garlic with 1/4 tsp of garlic powder or 1 tsp of garlic salt. If you're using garlic salt, do not add a pinch of salt in addition to the garlic salt.)

Place 2 cut pieces of string cheese in the center of each piece of dough. Fold the edges over the center and seal as best as possible. Place each dough ball seam side down on a cookie sheet. Light colored sheets work better as darker can lead to burnt bottoms.

Brush with the melted butter mixture. Bake for 8-10 minutes or until the tops of the cheese bombs are golden brown. Remove from the oven, brush with butter again and serve.
Recipe Notes
If you have light and dark cookie sheets, bake them on the lighter colored ones!  We noticed when we bake them on dark cookie sheets the bottoms cook a little too fast.