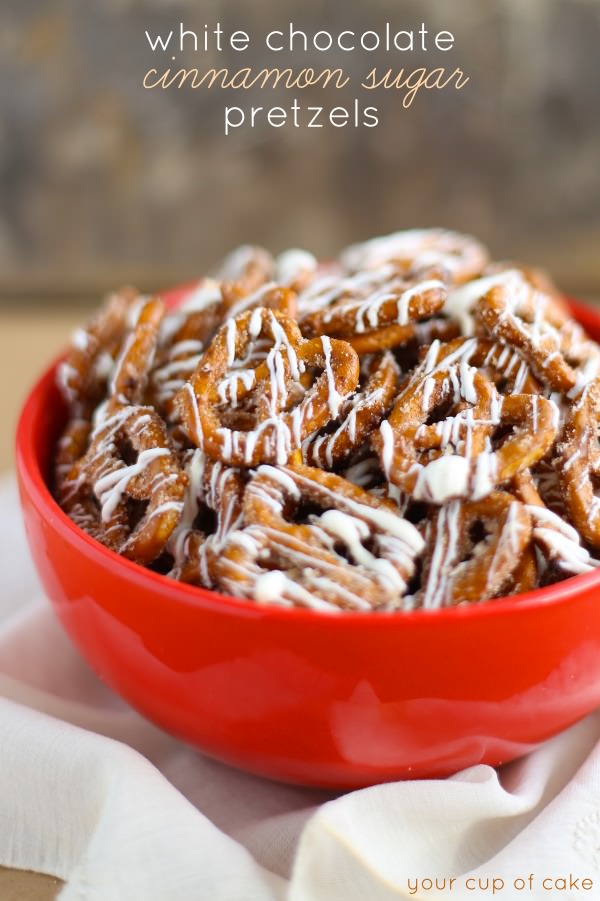 White Chocolate Cinnamon Pretzels are the most delicious little things you'll ever taste! They're a perfect sweet snack for goody bags, lunches or hikes!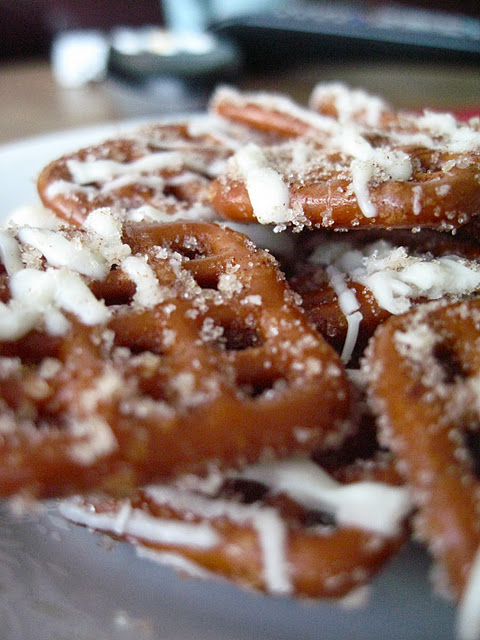 The Story:
It has been a very busy month with school and baking. I have so many new recipes and photos to share!
A few weeks ago, I was sitting in my finance class just dying to have some of the cinnamon pretzels I had at Leigh Anne's (Your Homebased Mom) house over Christmas. I was sitting in her kitchen surrounded by cookies of all shapes and sizes, fudge, caramels, cupcakes and muffins. But these little pretzels had me under their spell.
They are so easy and quick to make, and you can dye the white chocolate any color you want to fit a holiday or theme.
Ingredients:
1 bag of pretzels (16-18 oz) I used the thatch ones because they would catch more chocolate
2/3 cup oil
1/3 cup sugar
1 ½ teaspoon cinnamon
½ cup cinnamon sugar for sprinkling
1 cup white chocolate chips
Directions:
1. Whisk together oil, sugar, and cinnamon.
2. Pour pretzels into a microwave safe bowl and pour oil mixture in. Stir until coated.
3. Microwave for 1 minute, remove and stir. Microwave 45 seconds more.
4. Spread pretzels evenly onto two cookie sheets covered in parchment paper.
5. While still warm, sprinkle cinnamon sugar generously.
6. Melt white chocolate (on low heat, be careful not to burn) and drizzle over cooled pretzels.
7. Store in an airtight container.