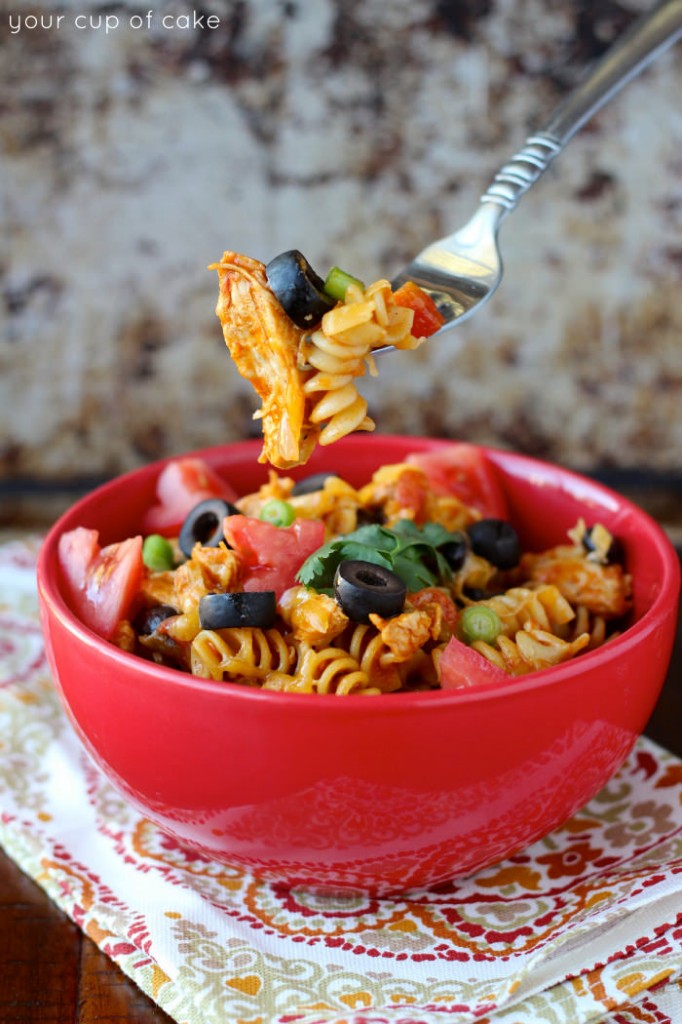 I'm a huge fan of quick and delicious meals with very few dishes to clean! This 1 Pot Chicken Enchilada Pasta is cheesy and fabulous! Feel free to use any type of meat you have in your kitchen, of you can leave it out all together! Now you may be thinking, "I thought this was a dessert blog." It still is! But sometimes I make something special for dinner and I like to share 🙂 Remember my amazing Crock Pot Chicken Enchilada Soup? Or my 15-Minute Taco Soup? Well I have a handful of savory recipes up on the blog and I'll be adding a few this fall!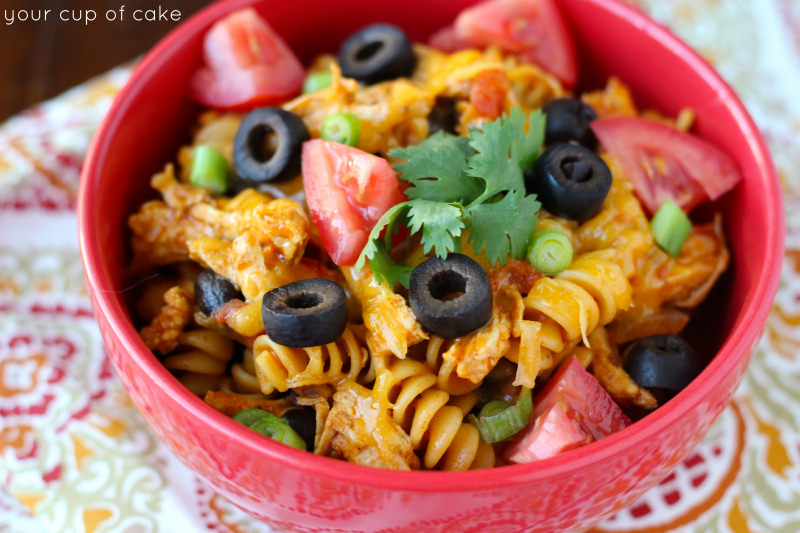 The Story:
Sometimes I just have to laugh at myself and my job.
I stand at the counter trying to find the most perfect leaf of cilantro, picking out the sliced olives that look the prettiest, and trying desperately to cut tomatoes as perfectly as my mother does. And then I gently place each item in the bowl being careful not to put two of the same kind next to each other. Because two olives touching would be the end of the world…
Trying to be meticulous but still having it look natural and elegant. It's a tough balance sometimes.
Oh, the life of a food blogger…
But don't worry! Most of the big-timers use steamers and pour oil over things to make them look hot and delicious, I never do that! I usually take the photos and then just sit there and eat what I took photos of 🙂 It would kill me to pour oil over something I had made just to get a good photo!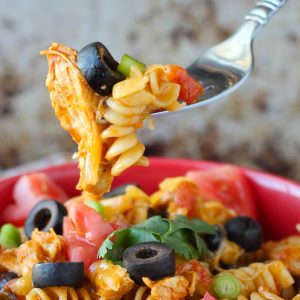 1 Pot Chicken Enchilada Pasta
Ingredients
1

Tbsp.

olive oil

2

cloves

garlic

diced

1/2

of a small yellow onion

chopped

12-19

oz.

enchilada sauce

1

10 oz. can Rotel

2

C.

water

2

C.

pasta

1-2

Tbsp.

taco seasoning

depending on how spicy you like it

1

15 oz. can black beans, drained and rinsed

1.25

lb.

cooked meat

I used chicken... See Note below

2

C.

shredded cheddar cheese

I always use Tillamook

Green onions

olives, roma tomatoes, and cilantro to garnish

NOTE: You can use anywhere between 1 pound and 1.5 pounds

don't fret over the exact amount! You can use ground beef or turkey, whatever you have on hand! If you use ground meat, you can throw it in raw with the onions to cook it!
Instructions
1. In a large pot, heat olive oil on medium high. Add onions and garlic and let brown while stirring occasionally.

2. Add enchilada sauce, Rotel and water. Bring to boil.

3. Add pasta and taco seasoning. Stir, cover and let cook for 5 minutes.

4. Add black beans and chicken, stir and let cook for 5 more minutes or until pasta is cooked.

5. Stir in 1 cup shredded cheese then remove from heat.

6. Sprinkle the final cup of cheese over the top and serve. Feel free to add green onions, olives, Roma tomatoes and cilantro for extra flavor and color!
Adapted from Chelsea's Messy Apron and No. 2 Pencil
Don't you just want to take a bite?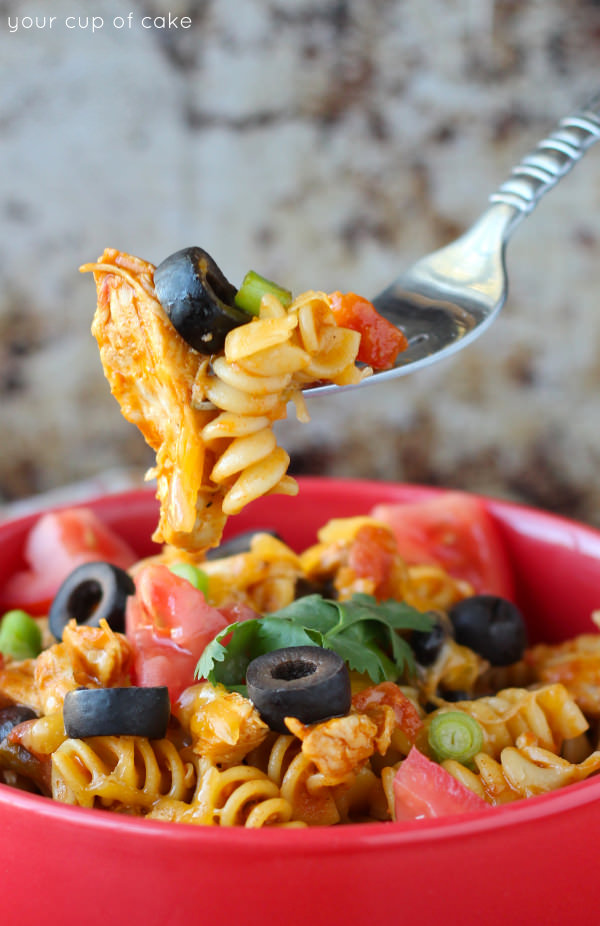 Here's a little step by step collage of what it all looks like! Don't mind the ugly pot, I still live with roommates who abuse the kitchen stuff 🙂
Stir after each addition! I didn't for photo purposes, but I promise I stirred right after I snapped the photo. And wow, it's a little tricky to shoot around steam!

As always, Tillamook cheese. It's the best. No competition.
But really, it totally is! I grew up an hour from Tillamook, Oregon so our fridge was always stuffed with their products. But when I went away for college, I tried to eat other cheese but it just wasn't the same. I'll always be a Tillamook girl.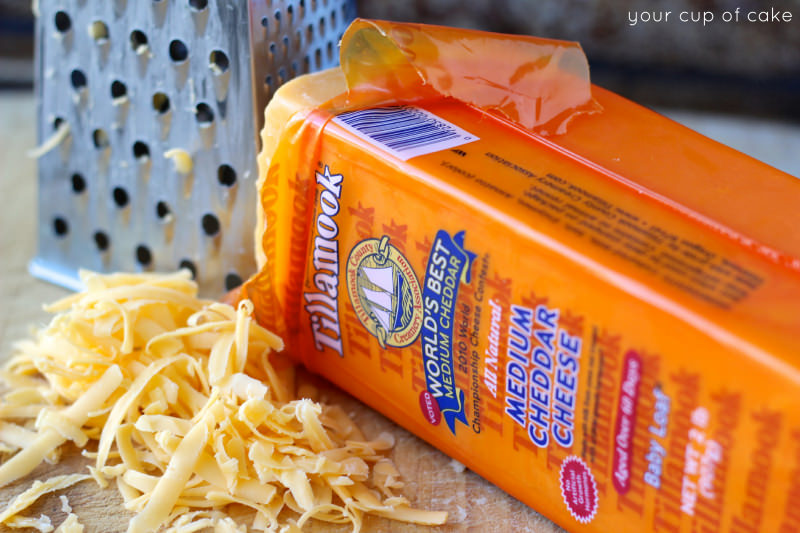 I love "dressing up" a pasta or soup with fun toppings! It just brings more color and a whole other layer of flavor into it! I was sort of craving a squeeze of lime juice on top too 🙂