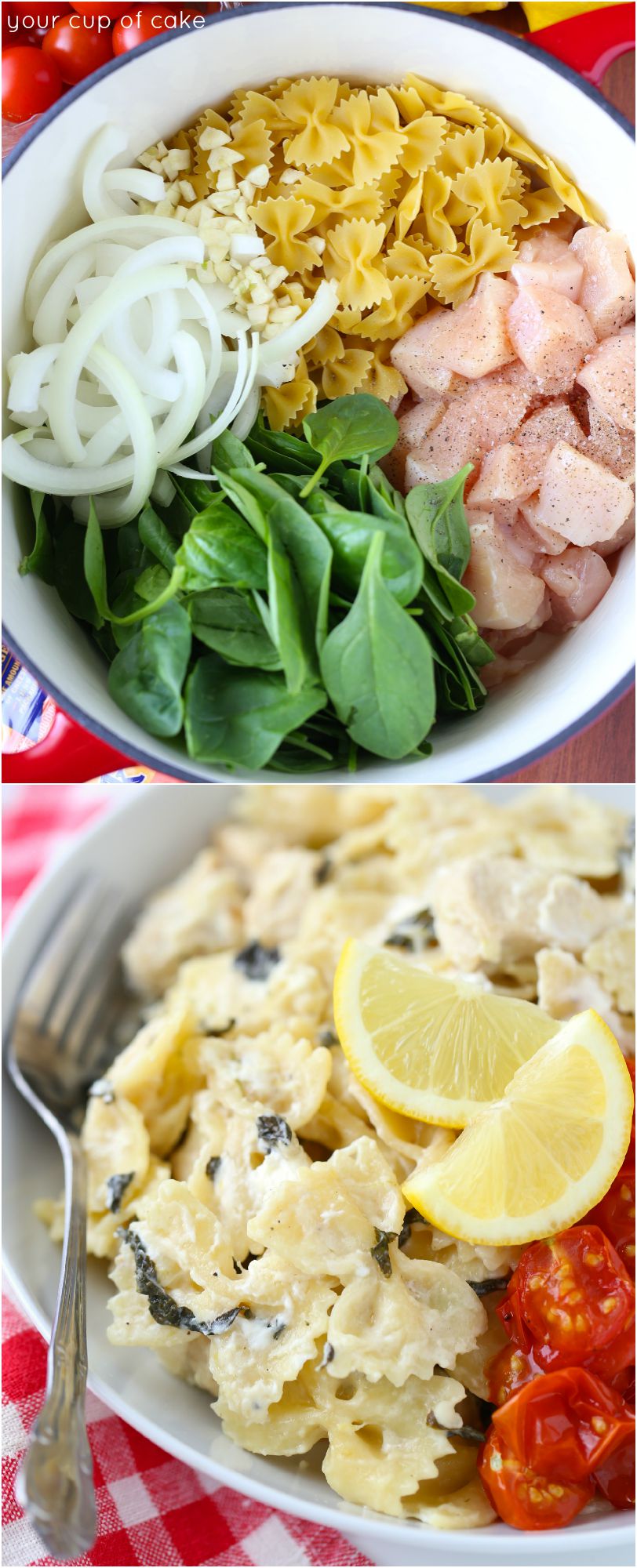 This One Pot Cheesy Chicken Lemon Pasta is a great way to sneak in some spinach to dinner! Plus, it's served with a side of roasted tomatoes to add a little sweetness and color to the dish. It's the cheesiest pasta around and the best part is you only have to clean one pot!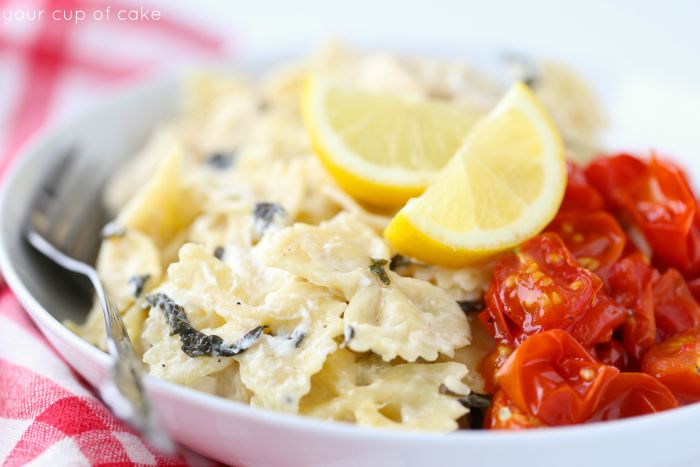 I'm a big fan of one pot meals like my One Pot Thai Peanut Pasta and my One Pot Chicken Enchilada Pasta. It just makes making dinner feel less intimidating after a long day. Because the last thing I want to do is pull out a recipe with 20 steps….
This pasta is great because who doesn't love a cheesy pasta? And with the lemon juice and zest the pasta doesn't feel heavy at all! You can also convince the kids to eat their spinach because it taste delicious in this 🙂
I had been wanting a Le Creuset pot for a long time. I always drooled over them but I couldn't bring myself to spend the money! So I started hunting for an alternative… and I found it! This Tramontina Dutch Oven is fabulous and I felt just like Rachel Ray cooking with it! The color is great and it cleans like a dream. It's my new favorite toy.
Let's get cooking! I left my onions in long strips because I think it's more fun to eat like that in pasta, but you can dice them up if you want. Cook them down with the olive oil until they're soft and then toss in your seasoned chicken and garlic. The chicken doesn't have to cook all the way through at this point, it won't. But that's okay because it will still be on the heat for a long time while the pasta cooks. So there's no need to check the doneness of the chicken!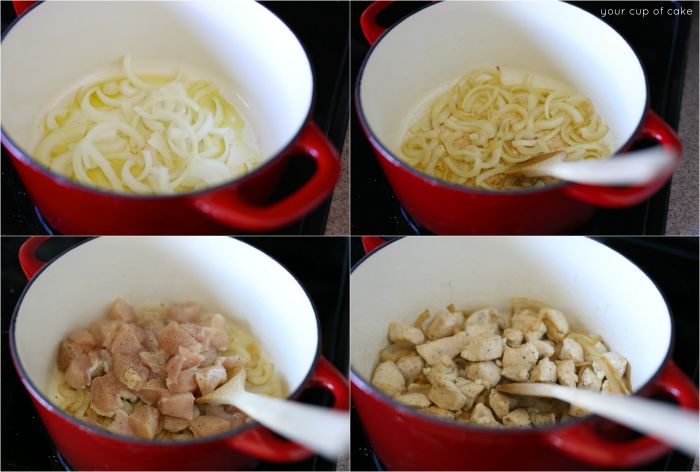 Here comes the fun part! Add in your pasta, broth, spinach and lemon juice. Give it a good stir and bring it to a boil and then cover for 9 minutes. Other similar recipes have it cook for 20 minutes but mine was done much sooner! So the cooking time might just depend on your heat and pasta.
Then it's cheese time! Thank you Tillamook 🙂 I'm a Northwest girl so I love my Tilla and can't help but use it.

So I cheated… I roasted these tomatoes that weren't part of the one-pot. But I covered the pan in foil so I didn't have to clean anything, so I still wanted to share.
And there you have it! Your fabulous one pot pasta meal that everyone will love. I shared a few bowls but ate most of it myself during the week 🙂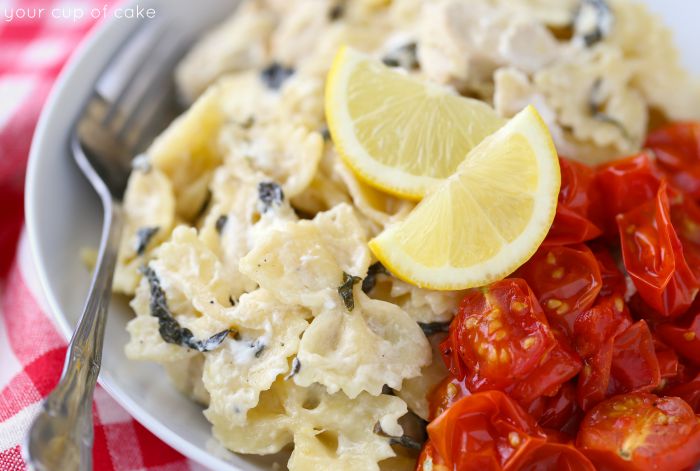 I stirred my tomatoes in and it was a great pop of sweetness to the cheesy, creamy dish. As you can see, I was happy to be done taking photos so I could just eat it!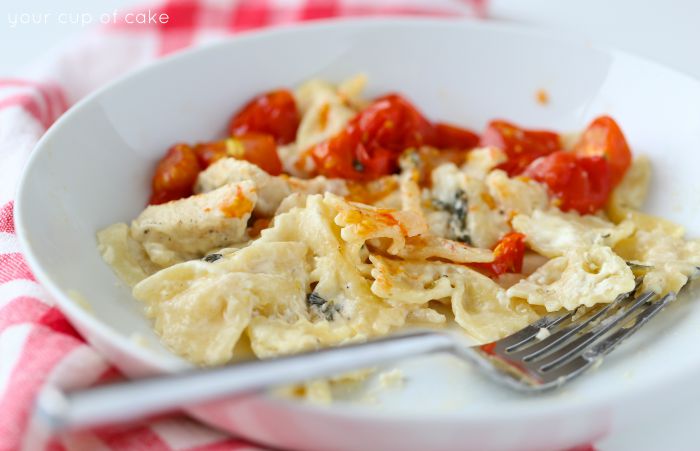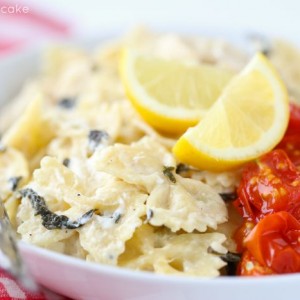 One Pot Cheesy Chicken Lemon Pasta
Ingredients
1

lb.

Chicken breast

cut into 1 inch pieces

salt and pepper

2

Tbsp.

olive oil

2/3

C.

yellow onion

chopped

1

Tbsp.

minced garlic

I used 3 cloves

2 1/2

C.

uncooked pasta

1 3/4

C.

chicken broth

which equals one 14 oz. can

3

Tbsp.

freshly squeezed lemon juice

3

C.

spinach

4

oz.

cream cheese

cut up into little pieces

2/3

C.

shredded mozzarella cheese

1/4

C.

grated parmesan cheese

zest from one lemon

OPTIONAL:

Cherry tomatoes

salt and pepper
Instructions
1. Cut your chicken into 1-inch pieces, sprinkle with salt and pepper and set aside.

2. In a large pot or enamel cast iron, place on stove with medium heat and heat olive oil.

3. Chop your onion. You can dice it or leave it in long strips like I did. Place onions in pan with olive oil and let cook for about 3 minutes or until soft.

4. Add chicken and garlic to pan and occasionally stir and let brown on all sides, about another 3 minutes.

5. Add pasta, chicken broth, lemon juice and spinach. Stir and bring to a boil and then reduce the heat to simmer. Cover pot and let cook for 9 minutes.

6. OPTIONAL: Okay, this is where I cheated a little and ventured out of the one-pot. I covered a pan with foil, cut up my cherry tomatoes and then gave them a dash of salt and pepper. I put them in the oven on broil for 4-6 minutes until they were swollen and a tad wrinkly.

7. Check the doneness of your pasta (go ahead and take a bite) and then cook for a few more minutes if needed. Also check on the amount of liquid in the pot. if you think there's too much leave the pot uncovered or if it's drying up, don't be afraid to add a little water to the pan.

8. When the pasta is al dente, remove from heat and add cream cheese, mozzarella, parmesan and lemon zest. Stir until cheese is melted and serve warm with a side of your roasted tomatoes.
Based on Spoonful of Flavor