My favorite one pot recipe that's done in less than 30 minutes! This One Pot Creamy Cajun Chicken Alfredo is perfect for the whole family, you won't be able to get enough this easy dinner recipe!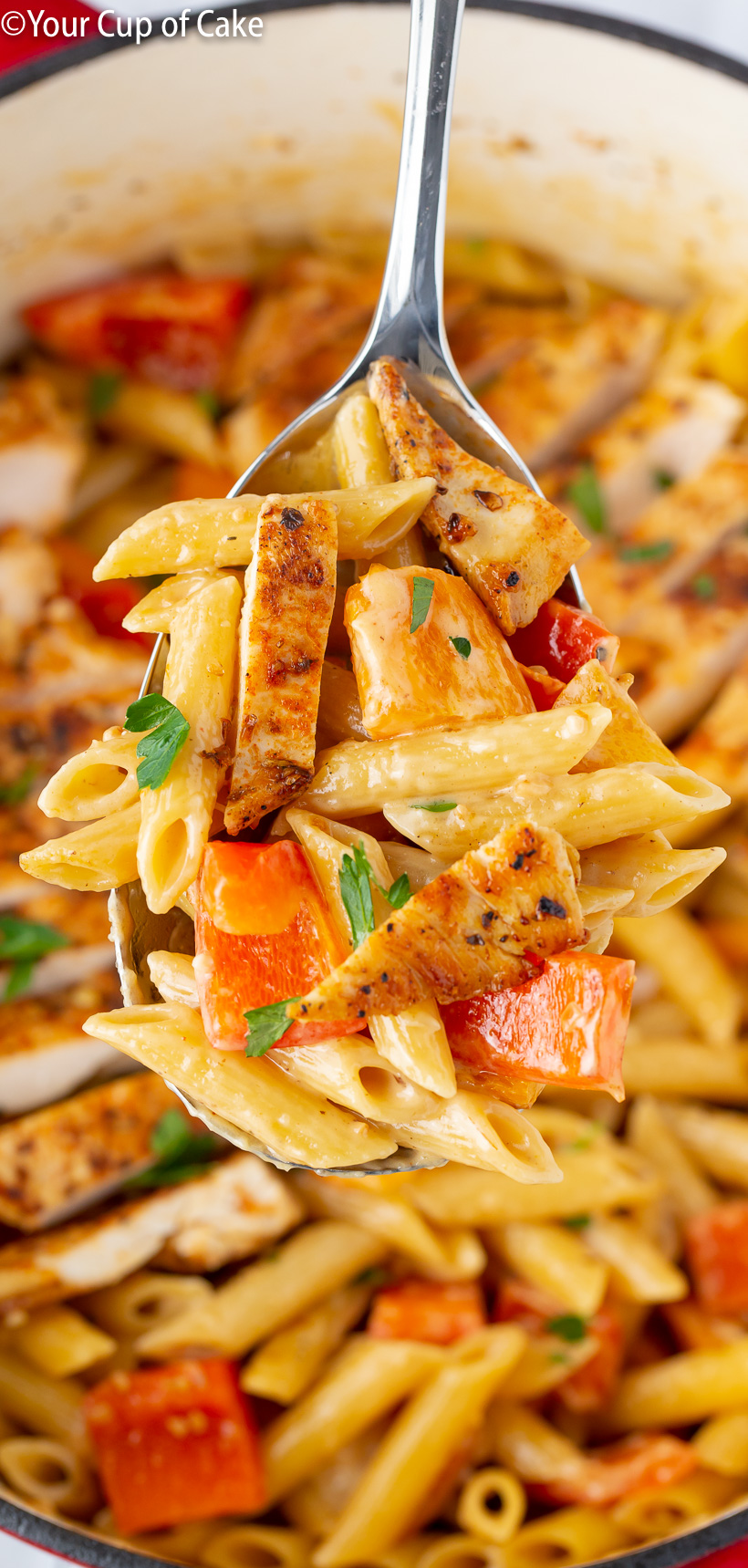 One Pot Creamy Cajun Chicken Alfredo Recipe
Need something quick and easy to make for dinner? This One Pot Creamy Cajun Chicken Alfredo is the perfect recipe for your entire family! It's packed with flavor and veggies which will keep you full all night (or day) long! One pot recipes are my favorite type of dinner to make! It means only one dish to clean (maybe a cutting board too) and they're usually very low maintenance so you don't have to babysit the pot or following a long list of directions. Because let's be serious, who has time for that? Since our baby Stella was born in march I have even less time to make dinner so you can bet I'll be making this One Pot Creamy Cajun Chicken Alfredo a couple of times a month. All my one pot recipes will get a lot of use once my husband starts school again this month!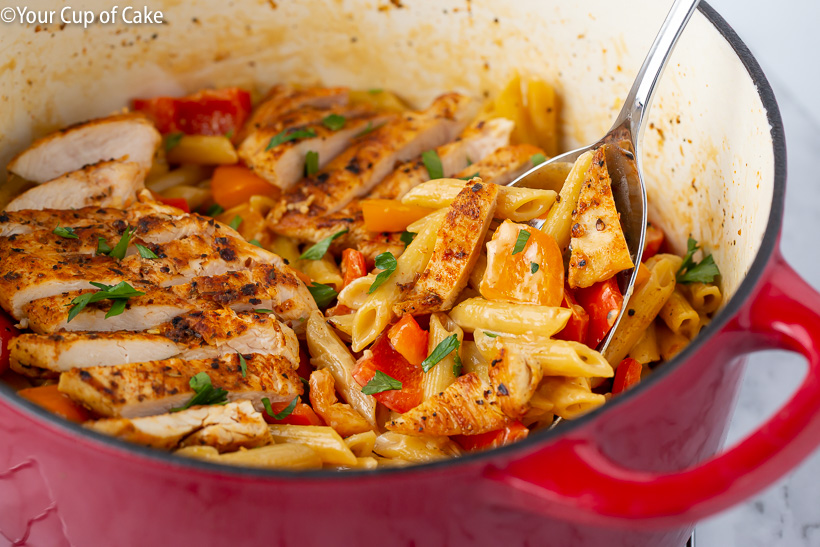 How Do You Make Creamy Cajun Chicken Alfredo
Let's dive right in! To make this delicious one pot recipe you'll first season the chicken and cook it up in your pot. I like to use a deep skillet or my enamel cast iron for all my one pot recipes because it distributes heat evenly and I can easily deglaze the pan and keep all that great flavor in the food! Once your chicken is almost cooked you'll add the veggies! Once that's all cooked you'll remove it from the pan (I like to put it in the serving dish) and then you'll cook the pasta right in that pan with all that good chicken flavor! Let the pasta cook in broth and then you'll make the sauce in the pan and add in the veggies and chicken! Super easy dinner recipe!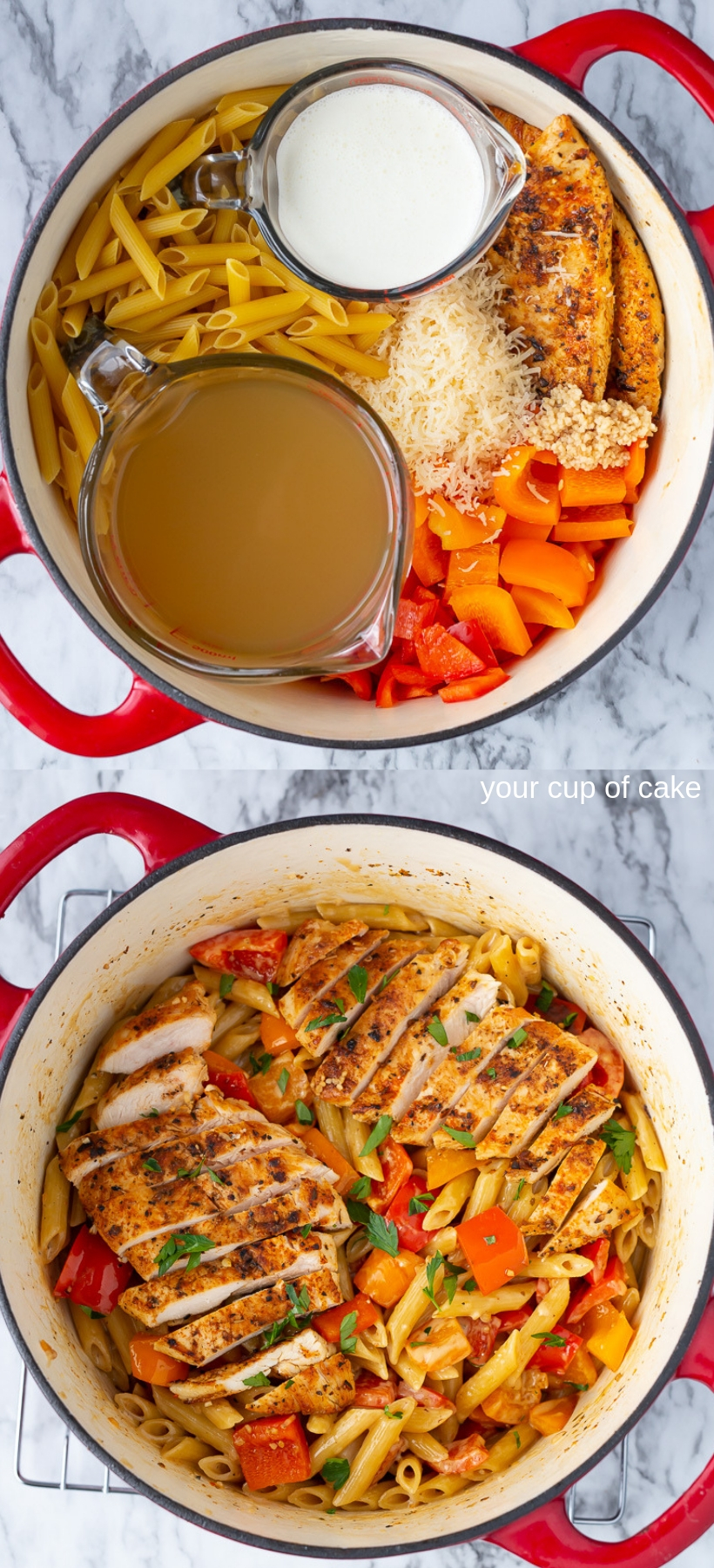 Is Cajun Pasta Spicy?
No, not really. If you want to make this pasta spicy you can add a lot of it but cajun seasoning is mostly made up of garlic, pepper, cayenne, onion, and salt. The combination makes a smokey flavor but not particularly spicy. The smokey flavor pairs perfectly with the alfredo sauce and the alfredo also tames any spice the cajun seasoning may bring to the dish.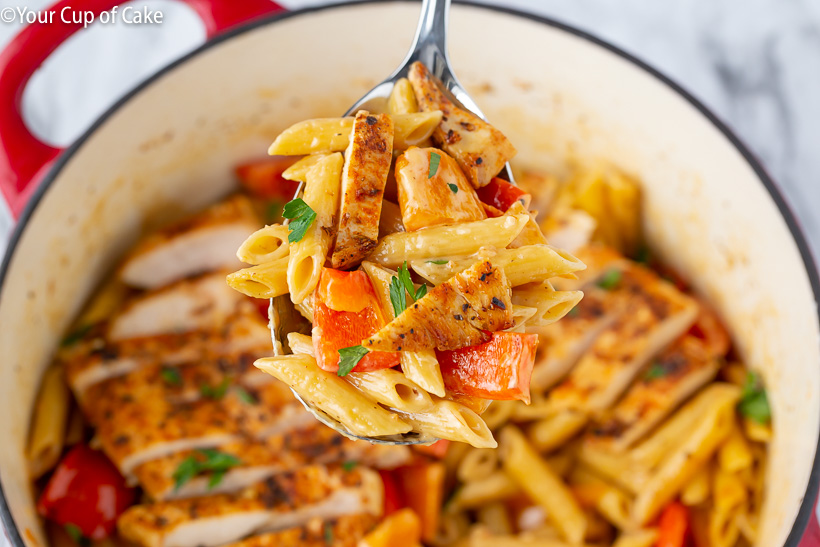 What Do You Serve With Cajun Pasta?
This One Pot Creamy Cajun Chicken Alfredo has protein, carbs and veggies all in the one dish, but if you're wanting to serve more than just this pasta I have some great recommendations. A simple salad (even a bag salad from the grocery store) will add even more veggies to the meal and pair great with this creamy dish. A fruit salad to balance out the temperature of this warm pasta or even more veggies! You can never go wrong with asparagus, carrots or brussels sprouts as a part of the meal. If you don't care about carbs, my husband loves eating this with garlic bread!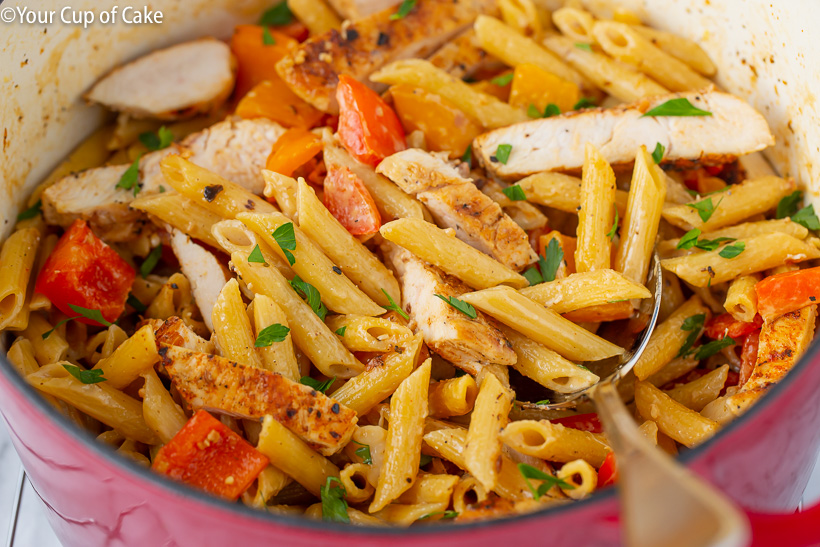 As I said before, I love my enamel cast iron pan! It's a must for one pot recipes and other cooking because of the even heat distribution! The bottom of the pan deglazes and keeps all the wonderful flavors in the meal!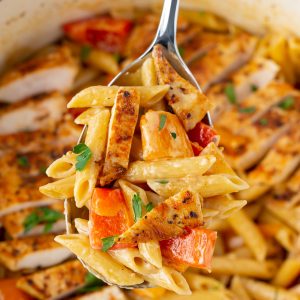 One Pot Creamy Cajun Chicken Alfredo
Ingredients
2

chicken breasts

1

tbsp

cajun seasoning

divided

2

tbsp

olive oil

1

orange bell pepper

cut in 1/2 inch pieces

1

red bell pepper

cut in 1/2 inch pieces

3

cloves

garlic

minced

2 1/2

cups

chicken broth

1

cup

heavy whipping cream

1

16 oz box

penne pasta

1

cup

parmesan cheese

grated

salt and pepper

to taste
Instructions
Coat chicken breasts with half the Cajun seasoning (1.5 teaspoons). In a large, heavy-bottomed pot heat olive oil over medium-high heat. Cook the chicken breasts until the internal temperature reaches 165 degrees, roughly 4-5 minutes per side. Remove and set aside.

Add the bell pepper to the pot and saute for 3-4 minutes. Add the garlic and saute for another 60 seconds being careful not to burn the garlic. Remove the peppers and garlic and set aside.

Add the chicken broth, heavy whipping cream, pasta, and remaining Cajun Seasoning (1.5 teaspoons) to the pot. Bring to a boil, cover, and cook for an additional 8-10 minutes, or until the pasta is al dente, stirring once halfway through.

Remove the lid. There should be enough liquid to melt the cheese and still coat all the pasta, about a cup of liquid. Add more chicken broth, cream, or milk, if necessary.

Add the cheese, stir until melted. Stir in the peppers and garlic. Cut the chicken into 1/2 strips against the grain and top the pasta with it. Add salt and pepper to taste. Serve while hot.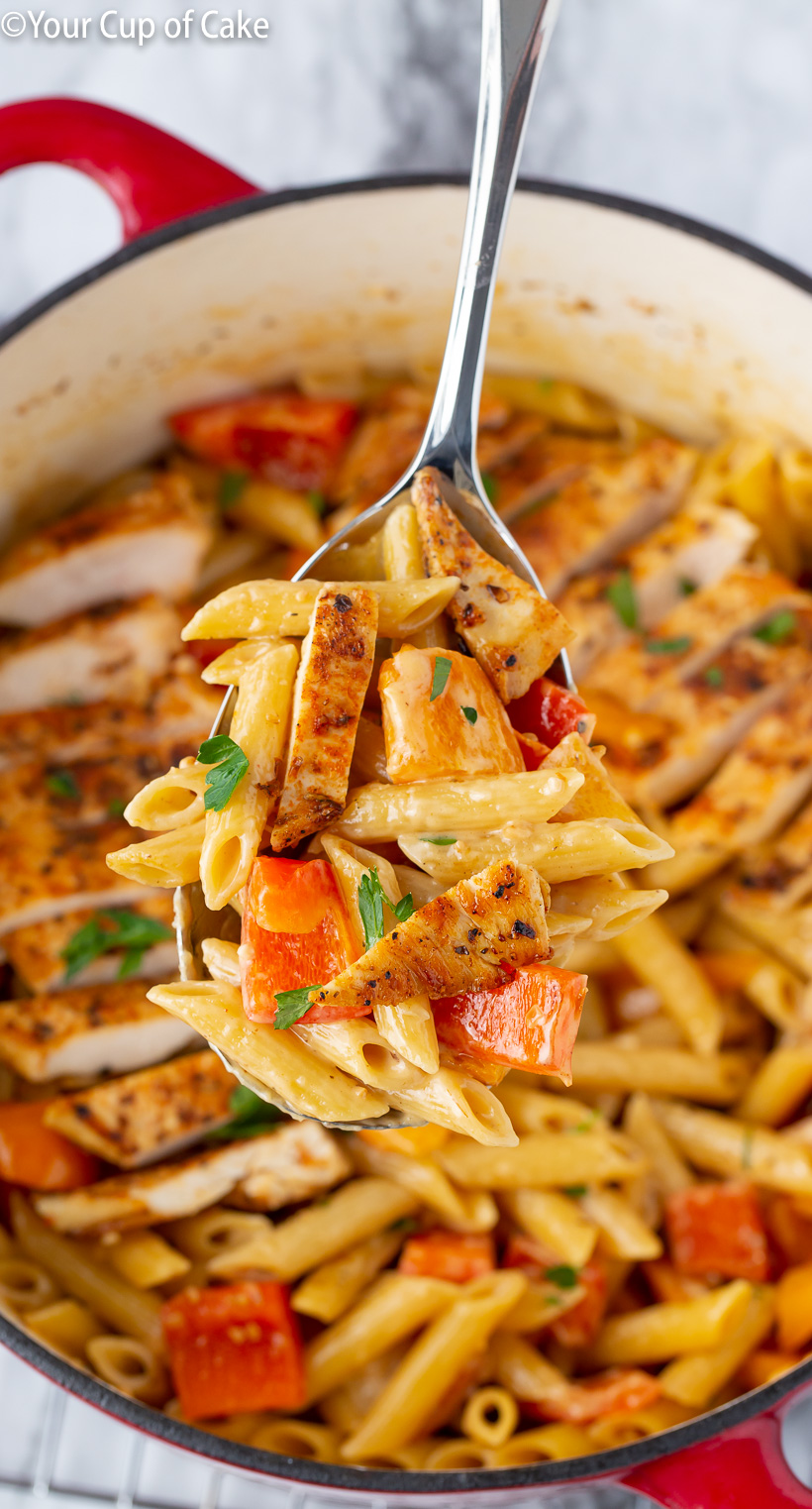 Yum… A little sprinkle of parsley makes any dish look professional!