4 ingredient Christmas cookies is always a good idea! These Hot Chocolate Cookies are made with a toasted marshmallow on top! No frosting needed!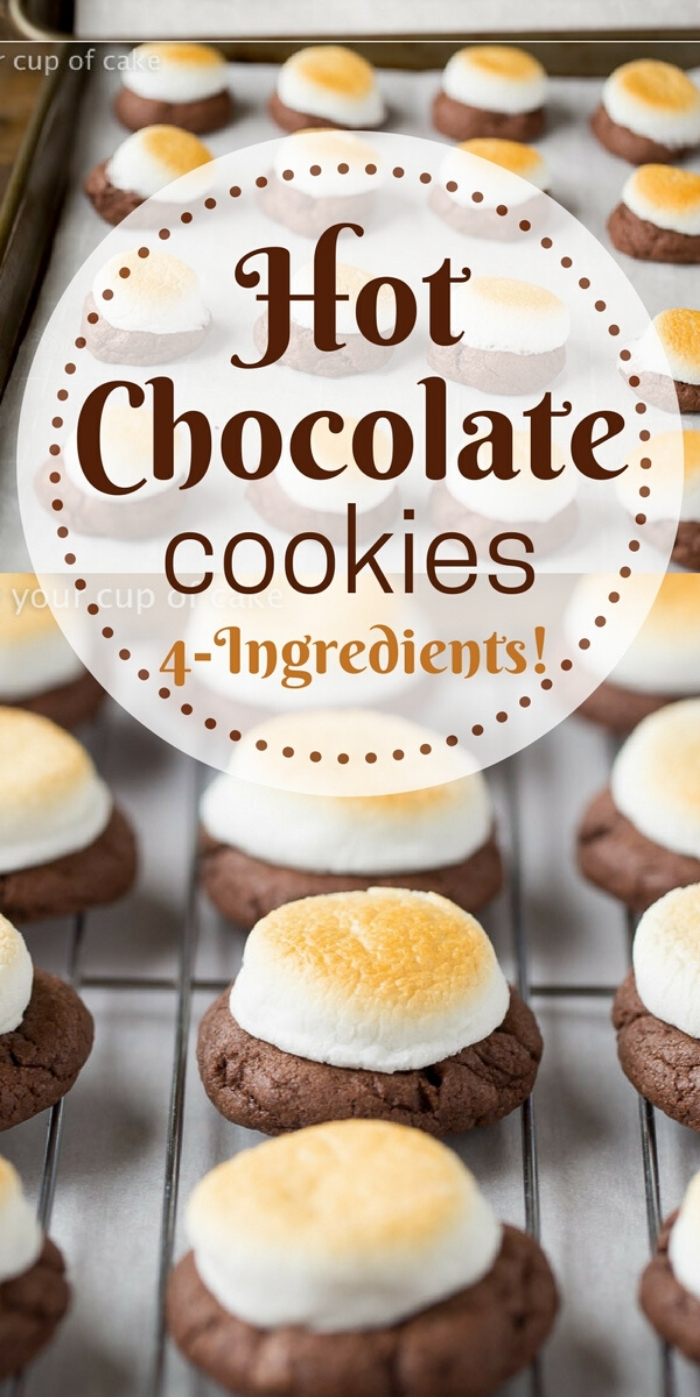 4 Ingredient Hot Chocolate Cookies for Christmas
I'm all about simple recipes, especially when the holidays can be so crazy! This is a great recipe because it only takes 4 ingredients and the frosting is replaced by this perfectly toasted marshmallow! It stays soft and melted in the middle so no matter when you eat these they're perfect! The cookie is soft and fudgey and if you eat them right out of the oven they taste like a warm cup of hot chocolate, hence Hot Chocolate Cookies!
If you want another super simple Christmas Cookies recipe, I have you covered!
The Best Cake Mix Cookies
The main ingredient in these Hot Chocolate Cookies is cake mix! I always use Pillsbury cake mixes especially when I make cake mix cookies because other brands sometimes spread out to be really thin. I used Devil's Food Cake Mix but you can also use the Pillsbury Purely Simple Chocolate Cake Mix if you're wanting something with zero artificial colors, flavors… all that stuff! Cake mix recipes have saved me so many times because they're so quick and easy!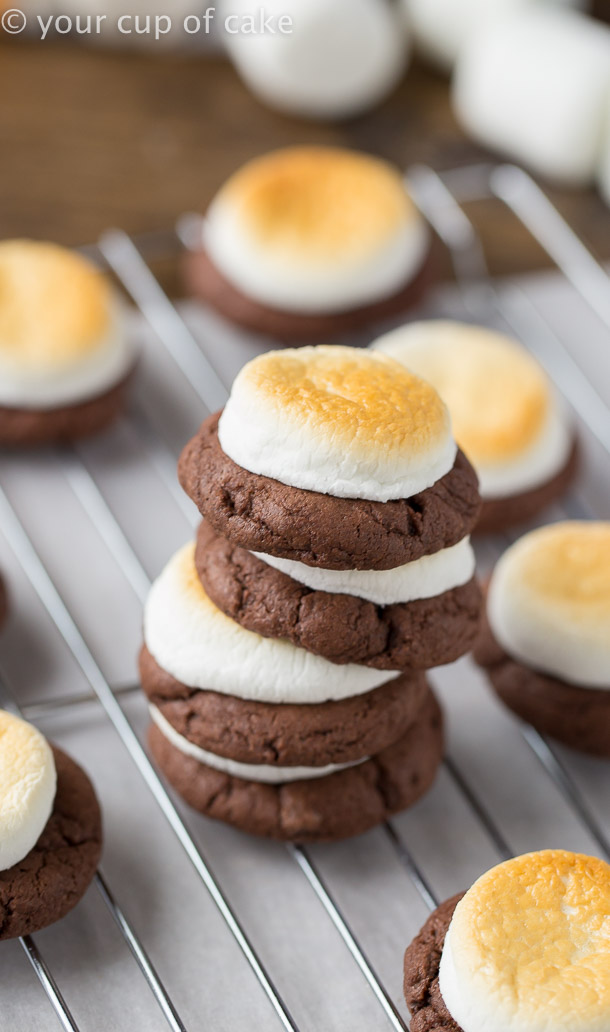 How to make easy Hot Chocolate Cookies
Are you ready? Mix up the 3 ingredient cookies and form dough balls, I always love using food scoops to help me with this so that they're the same size. It also takes way less time using a food scoop! I also always use parchment paper when I bake cookies. I NEVER use those Silpat baking mats. Those keep your cookies from getting fully done on the bottom so if you ever try to make fudgey cookies, you're in for a mess. Just buy a roll of parchment! I reuse every sheet multiple times before I through it out, so even though I bake all the time, I rarely have to buy another roll of parchment.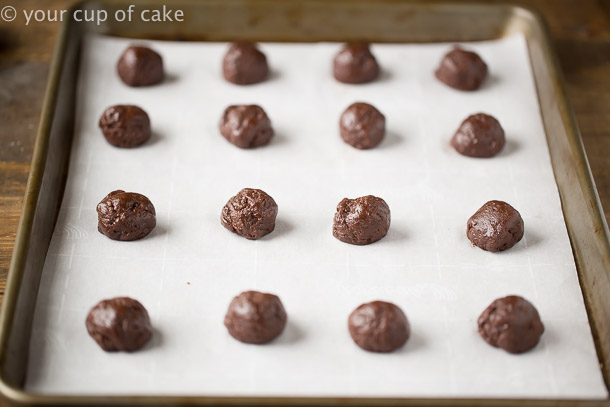 You'll bake the cookies until they're just about done and then you'll place half of a large marshmallow on top! Finish them off in the oven on broil so the mallows can get all toasty! But watch your cookies like a hawk because they can easily burn if you walk away.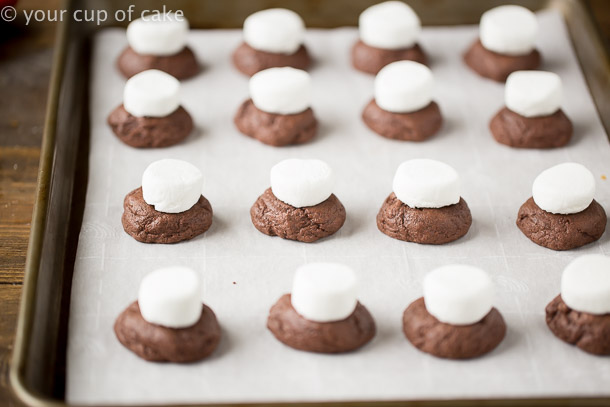 Toasted Marshmallow Cookies
I love that these Hot Chocolate Cookies don't need any frosting! And they're super friendly to package up since the mallows aren't sticky on the outside! So you can just pile them on top of each other in a tin, tupperware or decorative bag to give to neighbors. You an even pack them in the kid's lunch boxes! I baked these up and then hurried them off to my church Christmas party where they were gone is a flash!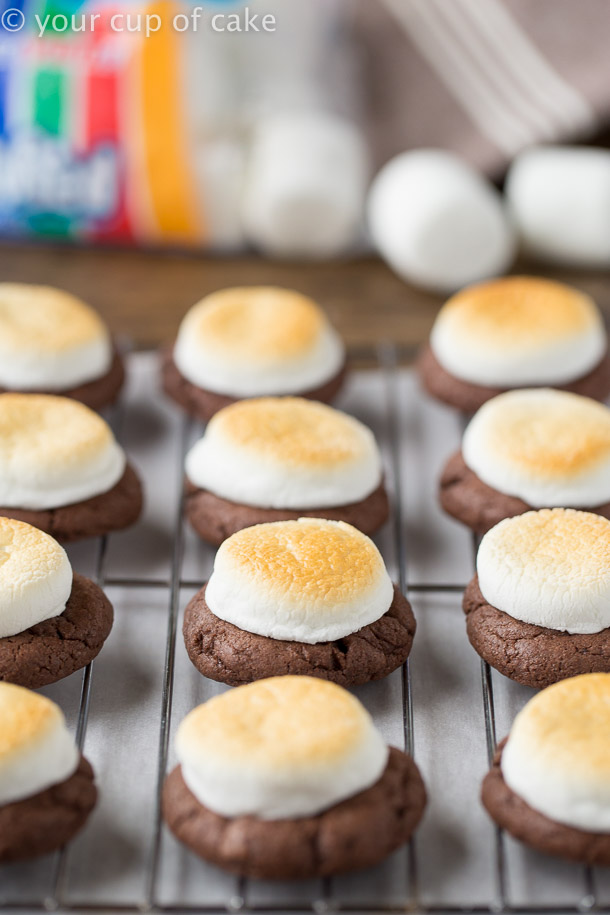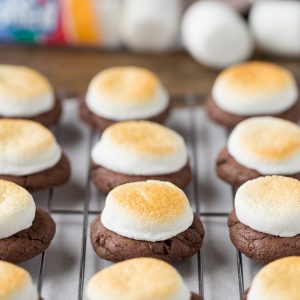 4 Ingredient Hot Chocolate Cookies (with Toasted Marshmallows)
Servings
32
small cookies
Ingredients
1

box Devil's Food Cake Mix

I prefer Pillsbury

2

eggs

1/3

C.

oil

16

large marshmallows
Instructions
1. Preheat oven to 350 degrees.

2. Combine cake mix, eggs and oil. Make small dough balls just bigger than a tablespoon and gently press down on them so they don't bake up too tall!

3. Bake for 4-5 minutes.

4. While baking, cute large marshmallows in half, when the cookies are done baking place mallows sticky side down on top of cookies. Place oven rack to the highest level and pop your cookies back in the oven on BROIL. Watch your cookies so they don't burn! It will only take about 2 minutes for the marshmallows to get toasted.

5. Remove from oven an let cool or eat right away!
Recipe Notes
Make sure you move your oven rack to the top level when you broil. You don't want to melt the whole marshmallow or else it will slide off the cookie!