Turtle Caramel Corn with pecans and drizzled with milk chocolate, this popcorn is perfect all year long not just at Christmas!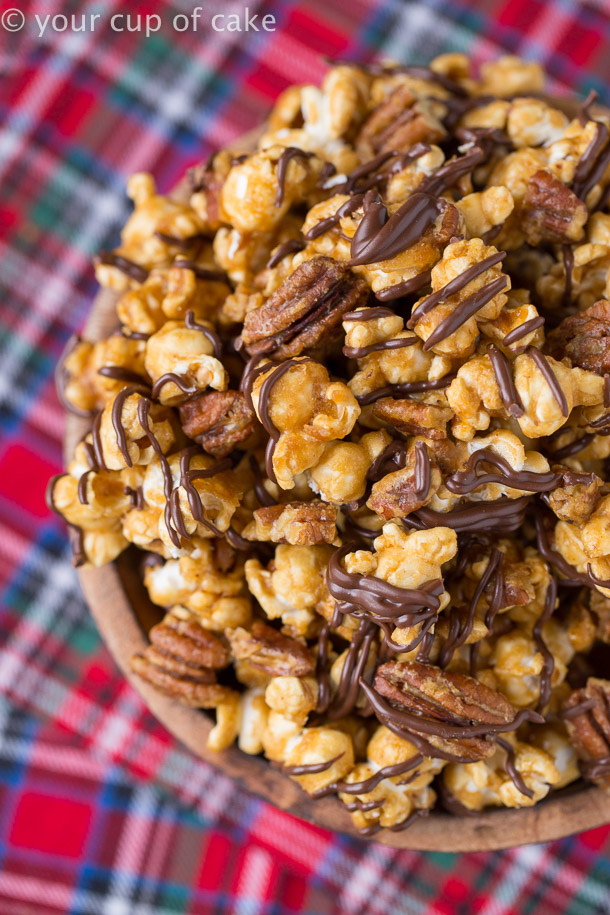 Turtle Caramel Corn with Pecans and Chocolate
Does anyone even know why the combination of caramel, chocolate and pecans is called a turtle? Okay, I just googled it's and because of how the candies were made traditionally. They looked like 4 legs with a shell on top, which I guess makes sense. But now whenever we use those ingredients we consider it to be "turtle." It doesn't matter, because it's delicious no matter that you call this caramel corn with pecans and chocolate! Turtle Caramel Corn just sounds cute!
If you're looking for a soft caramel corn recipe, my 5-Minute Microwave Caramel Corn is just what you're looking for. This Turtle Caramel Corn recipe is crisp and crunchy!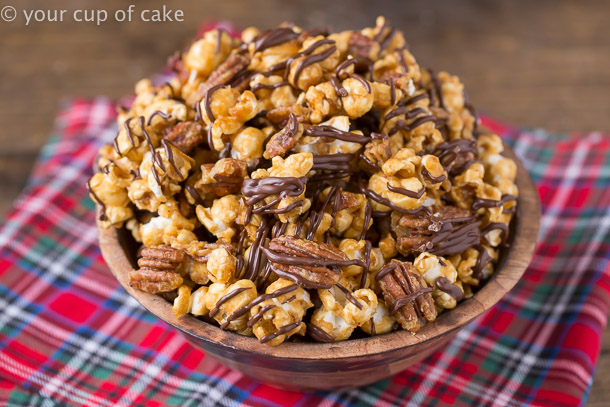 A Caramel Corn Caroling Family
My family always made caramel corn at Christmas. We made big batches in these huge foil roasters and packaged them all up and took the out caroling. We'd show up on doorsteps, sing a few songs and leave them with some caramel corn. Yes, we did this when we were in elementary school but we also kept doing it until we were in college! There was no stopping out caroling popcorn tradition!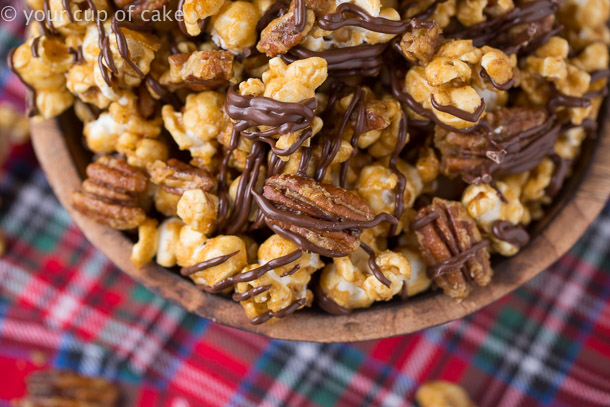 How to Make Turtle Caramel Corn:
For homemade caramel corn, an Air Popper is a must! You can make all types of flavored popcorn at home and it's so quick an easy! Plus, this isn't some heavy appliance, it's super light and fits on the top shelf in my pantry, I love it! Want to know something funny? You see that empty hole on the top of mine… yeah a measuring cup goes there (it comes with the popper) and then you're supposed to put it back once you start popping. I forgot and then 1o seconds after I took this photos some popcorn started flying up through it! It was a popcorn party in my kitchen!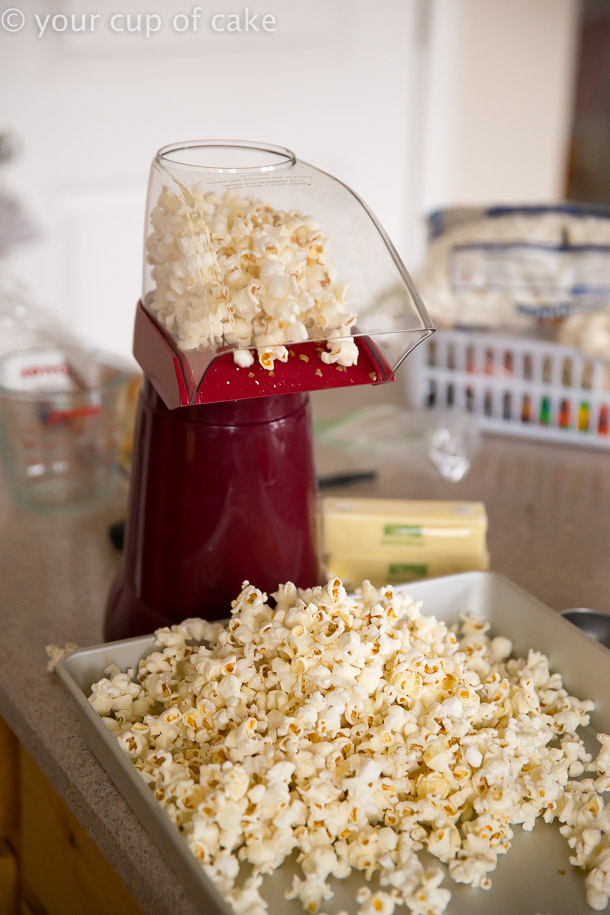 You don't have to use a candy thermometer for this recipe but they're very handy to have. It takes all the guesswork out and there are labels on them that tell you exactly what temperature you need for candies!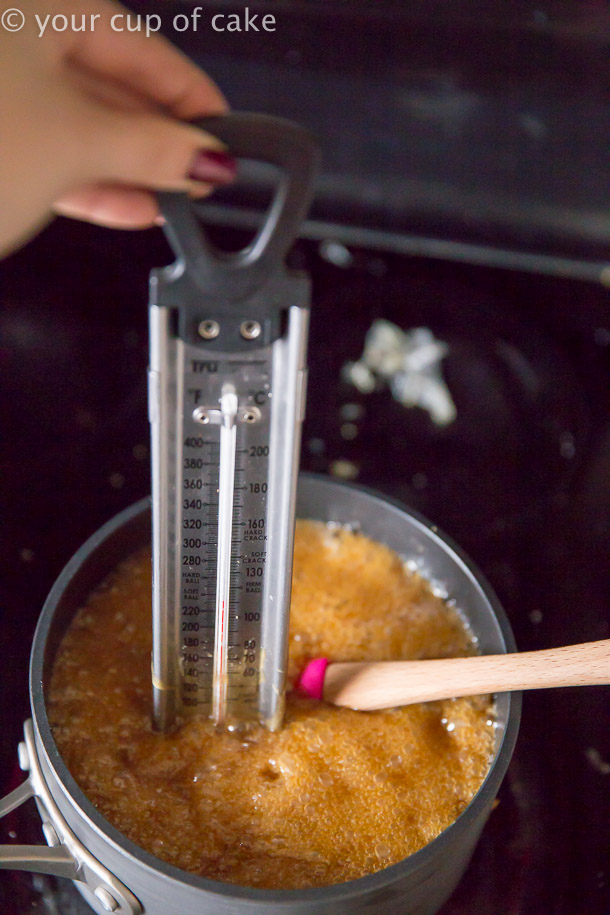 You'll have to stir the popcorn a few times while baking, but don't worry it's actually really easy to do because the caramel is thin and doesn't get too sticky. Use two pans so that the it doesn't get too full. It also helps to line them with parchment paper so the caramel doesn't stick to the pan. This will make stirring the popcorn easier.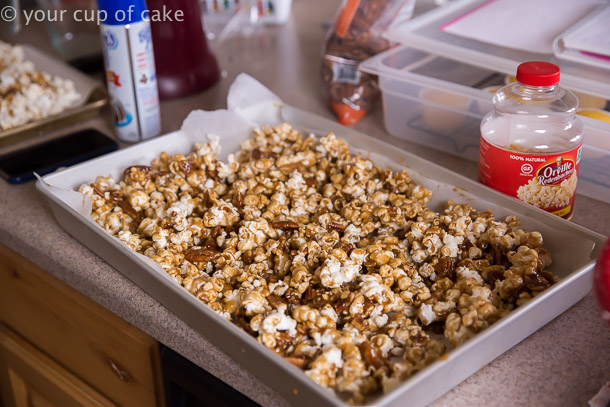 Taste the popcorn after you bake it, it's so good you'll want to keep this recipe for normal caramel corn without all the bells and whistles. You can drizzle as much or as little chocolate as you want. I only made half of my batch Turtle and kept the rest plain.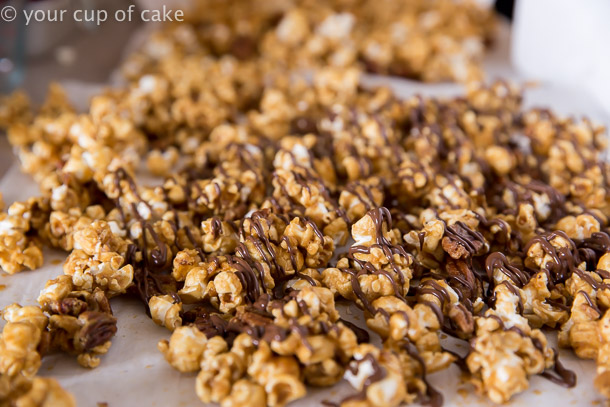 Well there you go, my Turtle Caramel Corn! Merry Christmas everyone, I hope you have fun family times planned!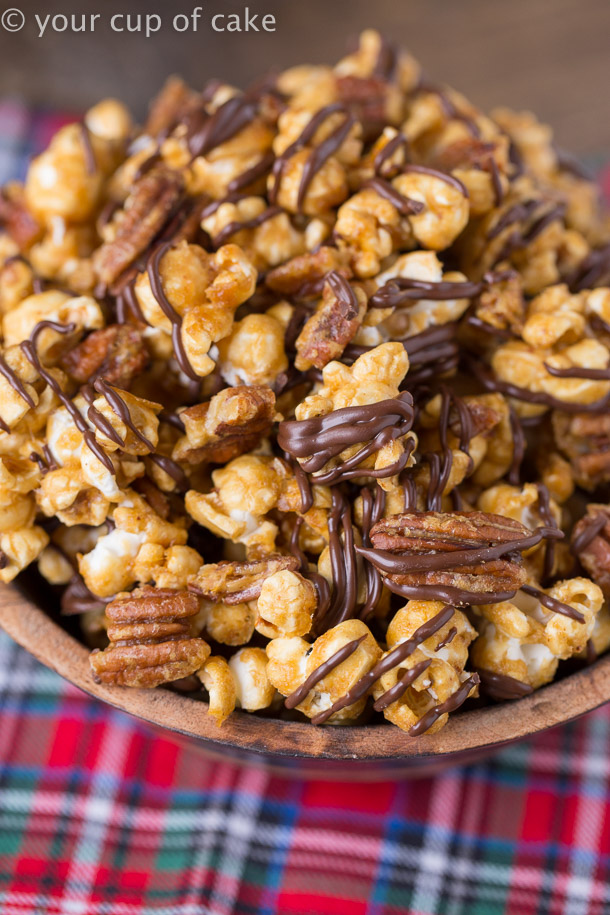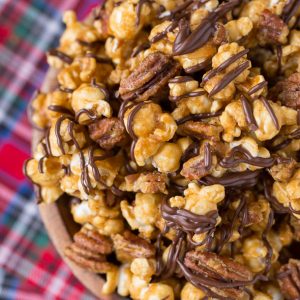 Turtle Caramel Corn (Gluten Free)
Ingredients
3/4

cup

un-popped popcorn kernels

3

cups

pecans

1

cup

butter

unsalted

1 1/4

cup

brown sugar

3/4

cup

dark Karo syrup

1/2

tsp.

salt

2

tsp.

vanilla

1

tsp.

baking soda

1/4-1/2

cup

chocolate chips

melted
Instructions
1. Preheat oven to 225 degrees and line 2 large pans (cookie sheets) with parchment paper or grease well, but I suggest using parchment paper.

2. Pop popcorn using an air popper and divide between pans. Add pecans to pans as well.

3. In a medium sauce pan melt butter over medium heat. Add brown sugar, Karo syrup and salt. Bring to a boil and then reduce to medium-low heat for 3 minutes then remove from heat. (If you're using a candy thermometer bring the caramel to soft-ball stage at 238 degrees.) Add vanilla and baking soda and whisk together, the caramel will bubble up so watch out!

4. Pour caramel over popcorn and pecans, stir to coat. Bake in the oven for 40 minutes, halfway through at 20 minutes.

5, Remove popcorn from pans to let cool (I just lifted up on the parchment paper and set it on the counter).

6. Once cooled, drizzle with as much chocolate as you want. Optional: Sprinkle with coarse salt before the chocolate sets.