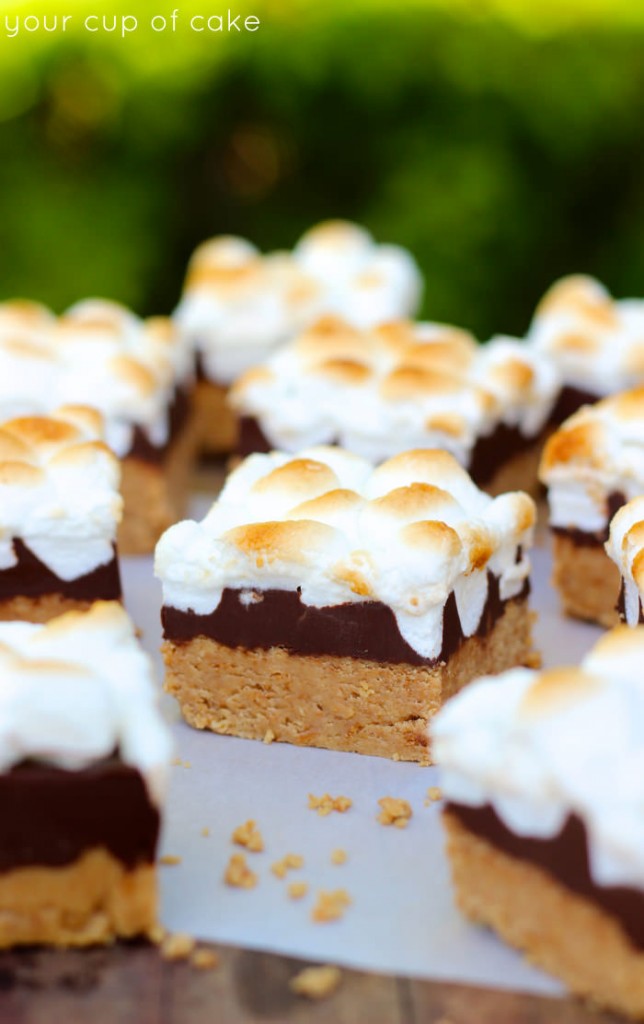 No bake desserts are incredible, let's face it. No need to turn on the oven and they are always quick and easy to make! Now… I cheated just a little to brown the top of the marshmallows and melt them all together BUT you can use a kitchen torch or you don't even have to brown them if you don't want to! These No Bake Peanut Butter S'more Bars are perfect for any picnic and pot-luck this summer!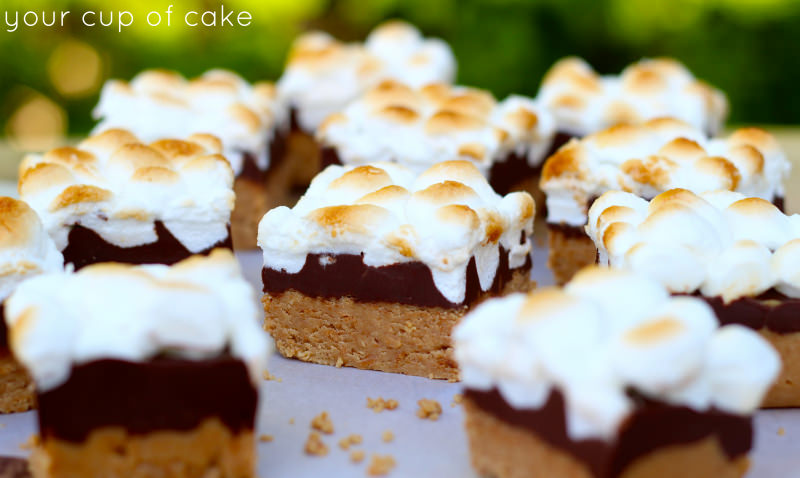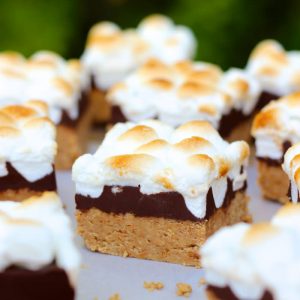 No Bake Peanut Butter S'more Bars
Ingredients
Peanut Butter Graham Cracker Layer:
1

C.

butter

1

C.

peanut butter

smooth

2

tsp.

vanilla extract

optional

2

C.

graham cracker crumbs

2

C.

powdered sugar
Peanut Butter Chocolate Layer:
1 1/4

C.

chocolate chips

1/4

C.

peanut butter

smooth

1 1/2

C.

mini marshmallows

more if needed to cover
Instructions
1. On the stove top, melt butter and peanut butter together. Stir until smooth and remove from heat.

2. Add in vanilla extract, graham cracker crumbs and powdered sugar and stir until well combined.

3. Spread into a 9 X 9 or 9 X13 pan (I lined mine with parchment to help lift it out easily.

4. Chocolate Layer: Place chocolate chips and peanut butter in a microwave safe bowl and heat in the microwave for 45 seconds. Remove and stir. Continue to heat in microwave in 20 second intervals until smooth.

5. Pour chocolate over graham cracker layer and shake pan to distribute evenly.

6. Wait for 5 or so minutes and then cover with marshmallows. Depending on your man you may need more than the recommended amount!

7. Place in refrigerator for 20 minutes to let set.

8. Serve as is OR you can put into the oven on "broil" for about 1 minute and 30 seconds. But watch carefully because marshmallows can burn FAST! I honestly just sit and watch the marshmallows and pull them out when they get toasty 🙂 You can pop the pan back into the fridge until ready to serve!
I like to line my pan with foil or parchment so that once the bars are set I can just lift up on the foil/parchment and pull the whole thing out easily to cut into squares 🙂