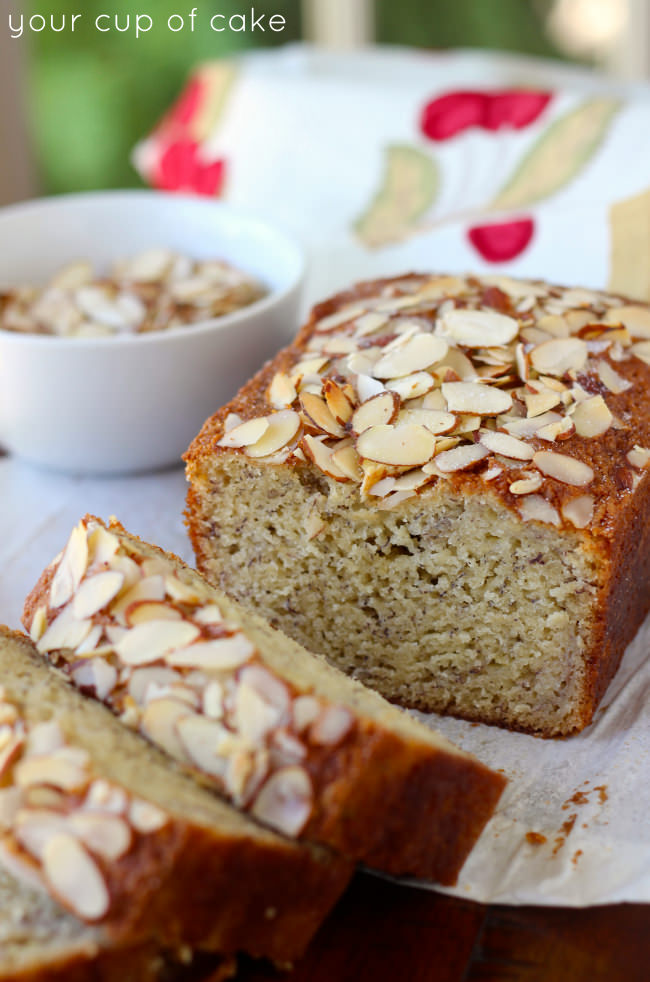 Alright, I am totally obsessed with my Perfect Banana Bread, it really is the best classic banana bread! It's dark and dense and incredible! Just like the stuff from Starbucks. But this new recipe, it's heavenly too! It's a lighter version (no brown sugar) and the almond touch makes it seem so fancy 🙂 But really, I am now addicted to two different banana bread recipes. This is trouble.
I really did call my mother the day I made this and told her she had to make it. So… you should be making this too! It won't disappoint.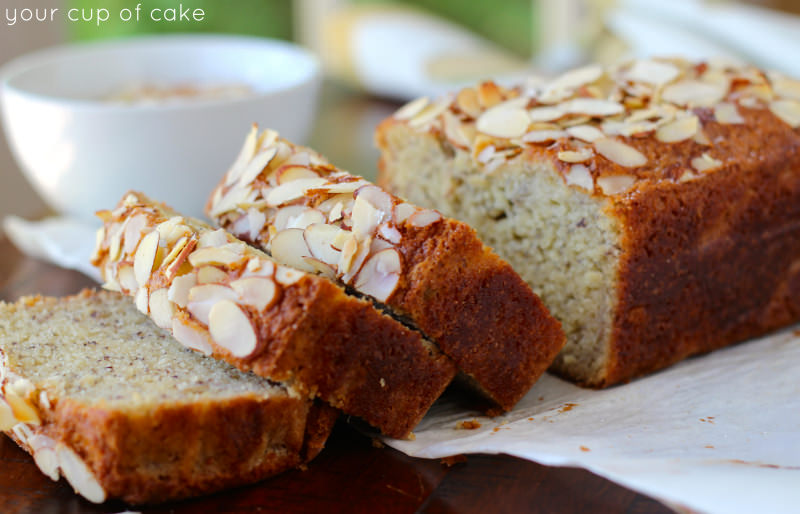 The Story:
Security lines at the airport are so weird to me. We wait and wait and wait and then all of a sudden it's like a race! Hurry! Take off your shoes and belt and empty out your pockets as fast as you possibly can! I always find myself laughing at people who wear lace-up shoes to the airport. Have you never flown before? Those just slow you down. C'mon. Get serious about your flying apparel. It's all about the yoga pants and sandals.
But this last time, the TSA worker gave me the most bizarre look as my purse went through the X-ray machine. He pulled my bag off the conveyer belt and reached in and pulled out a plastic bag. He said "Do you want me to throw these away for you?" I replied, "Of course not!"
He thought I was insane.
"They make great banana bread," I said with a smile.
He put the plastic bag back in my purse and I caught the next flight to Houston with my purse full of ripe bananas. I couldn't leave them at home! They would be no good by the time I got back! So I took them with me 🙂 It's a great carry-on item, it's not a weapon, liquid, or dangerous–just dangerously delicious.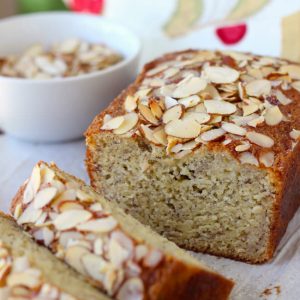 Almond Banana Bread
Ingredients
1/2

C.

butter

room temperature

2

C.

sugar

2

eggs

1

C.

milk

2

tsp.

vanilla extract

2

tsp.

almond extract

3

C.

flour

1

tsp.

baking soda

2

tsp.

baking powder

1/2

tsp.

salt

3

bananas

mashed

1/2

C.

sliced almonds

optional

extra sugar for sprinkling

optional
Instructions
1. Preheat oven to 350 degrees and prep two large loaf pans by greasing. I like to also lien mine with parchment paper to easily remove my bread.

2. Beat butter and sugar until creamy.

3. Add eggs, milk, vanilla and almond extract and stir until combined.

4. In a separate bowl. combine flour, baking soda, baking powder and salt.

5. Add dry ingredients to wet slowly. Follow immediately by adding mashed bananas. Mix just until combined.

6. Pour into prepared pans.

7. Sprinkle a layer of sliced almonds on top and lightly sprinkles some sugar on top. This adds extra texture and makes the bread really beautiful, but it's totally optional!

8. Bake for 40-60 minutes or until an inserted knife comes out clean.

9. Let cool in pans and then remove and serve!
The almonds on top really add an elegant touch.. plus they're delicious!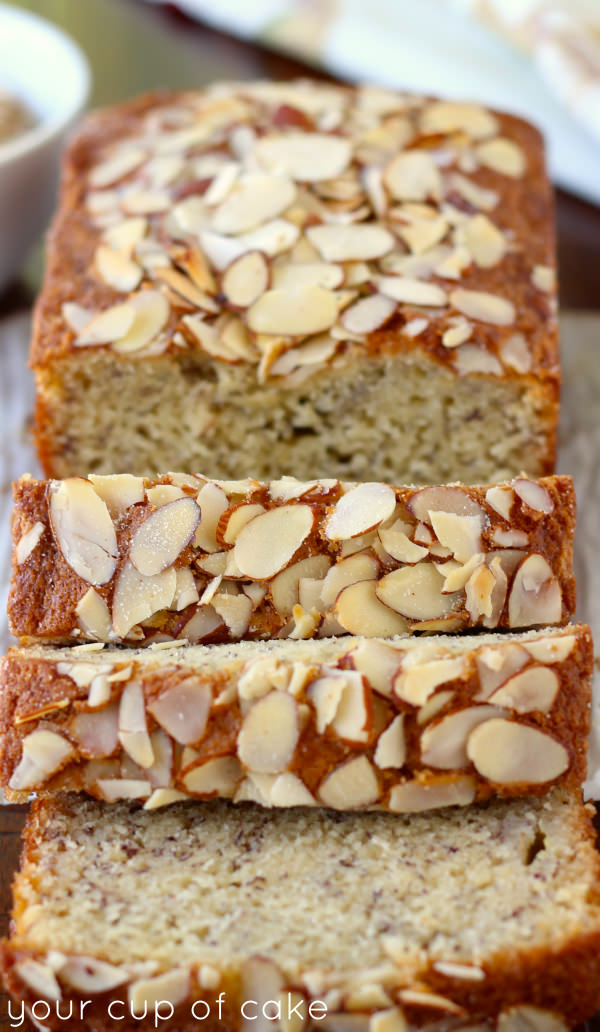 Before it went in the oven. I like to bake my bread with parchment going off the sides, that way when it's cooled, I can just lift up on the parchment to get the loaf out easily. It's not necessary though, most people don't have to take photos of their bread 🙂