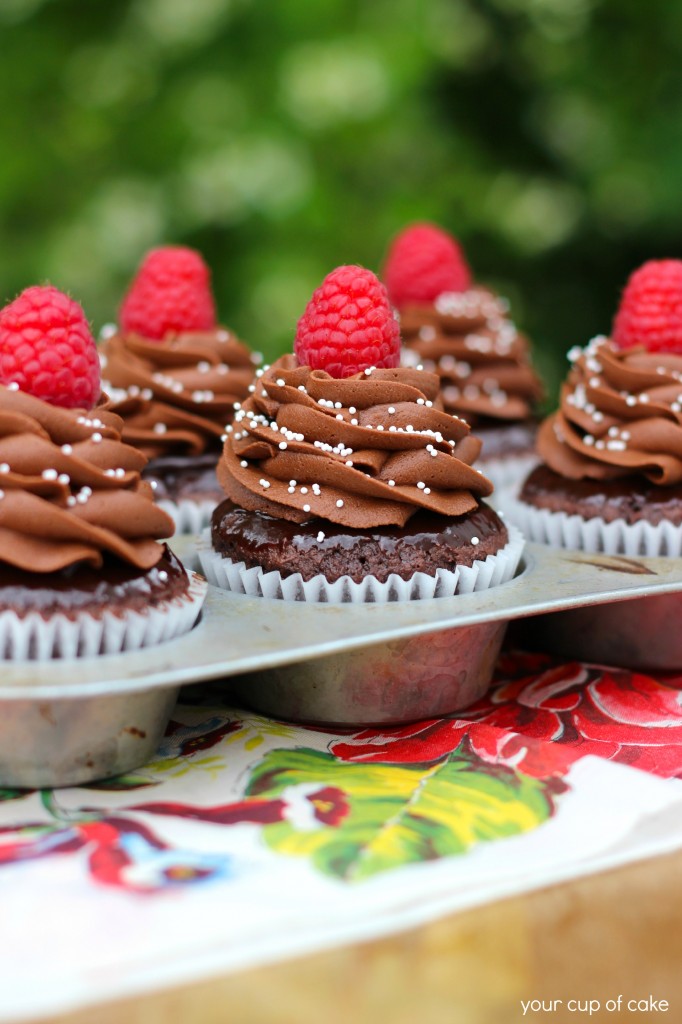 The Story:
Going to the grocery store is quite an event. I don't have three toddlers to wrangle through the aisles or 4 teenage boys to feed at home but I do have quite a lot of people to please.
I get weird looks at the checkout stand. But who can blame them? All I have is chocolate, cookies, cake mix, butter, sour cream, candy, powdered sugar and the occasional assortment of nuts. I'm also the crazy woman who closely examines every container of berries in produce section. I dig through the crates, shake the containers to move them around looking for the right coloring, the right size and all the other picture perfect qualities. And yes, occasionally I get told by the store employees to "pick one already!" To which I just respond with a smile.
Chocolate Almond Raspberry Cupcakes
Ingredients
Chocolate Raspberry Cake:
1

Box Devil's Food Cake Mix

3

eggs

1/2

C.

oil

1

C.

buttermilk or milk

1/3

C.

sour cream

1

tsp.

vanilla extract

1 1/3

C.

raspberries

fresh or frozen
Chocolate Almond Ganache:
1

C.

chocolate chips or melts

1/3

C.

heavy whipping cream

1 1/2

tsp.

almond extract
Chocolate Buttercream:
1

C.

butter

softened

1 1/2

tsp.

vanilla extract

1 1/2

tsp.

almond extract

optional

1/2

C.

unsweetened cocoa powder

1-3

Tbsp.

milk

2-3 1/2

C.

powdered sugar
Fresh Raspberries and Sprinkles for decoration
Instructions
1. Preheat oven to 350 degrees and line pans with cupcake liners.

2. Sift cake mix into a small bowl and set aside.

3. In a large bowl, combine eggs, oil, milk, sour cream and vanilla extract until smooth.

4. Stir in cake mix.

5. Gently fold in raspberries.

6. Fill cupcake liners 3/4 full and bake for 16-22 minutes or until an inserted knife comes out clean.

7. Chocolate Almond Ganache: Place chocolate chips and heavy whipping cream in a microwave proof bowl and melt in microwave. Pull out while there are still chunks and just stir until smooth, then if it really won't melt down zap it for 10 more seconds. Stir in almond extract.

8. Chocolate Buttercream: Beat butter for 2 minutes. Add vanilla extract, almond extract and cocoa powder and beat again. Add 1 Tablespoon milk and slowly add powdered sugar until you reach your desired consistency. Add more milk if it gets too thick.

9. To assemble, dip the tops of cooled cupcakes into the ganache and then let set for about 10 minutes (depending on the heat of the room it will take more or less time). Pipe frosting over ganache and top with fresh berries and sprinkles.