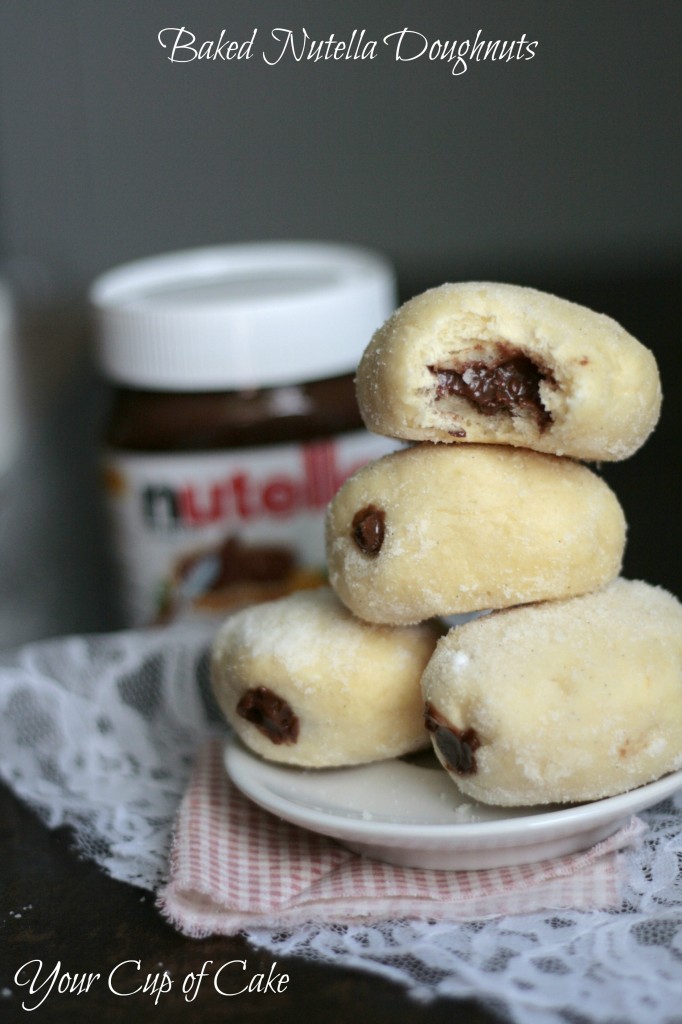 I am proud to have my first Guest Post here on Your Cup of Cake from Ellen at Indigo Scones. I hope you enjoy this beautiful post and Ellen's delicious photography. If you're looking for other Nutella recipes, you can try out some Nutella cupcakes!
-Lizzy Mae
The Story:
There's something to be said about the world of social media. Through it, I have met and connected with numerous people, including Lizzy here, Joy the Baker, my English friend Jo (whom this recipe was adapted from), and many others. Suddenly, I'm getting comments from people I've never known, being re-tweeted by people like SprinkleBakes, co-administrating a facebook foodie group, and all this stuff that I never would have believed to happen if you told me it would've six months ago.
Guest post requests are included in this craziness. This is my second one and I'm so happy to be here! Many thanks to Lizzy for letting me be her first, she is a gracious host with awesome hair.
I hope you're happy too, but if not…I brought doughnuts. And step-by-step photos.
You: "Ughhh, great, so now I have to dig out my fry thermometer and stand over a big pot of hot oil for hours on end when it's like 100 degrees out. Great! Woohoo."
Well, guess what, these are baked! The only special equipment you need is a stand mixer and biscuit cutters, which I'm pretty sure 95% of the world has. And you 5%? Borrow a mixer. You could try to mix up this dough by hand, but dude, it's a sticky mess; I don't recommend it. The biscuit cutters? Aw, come on, they're cheap-o and easy to find. And you can totally use them for things other than doughnuts. Like, ya know, biscuits. And sugar cookies!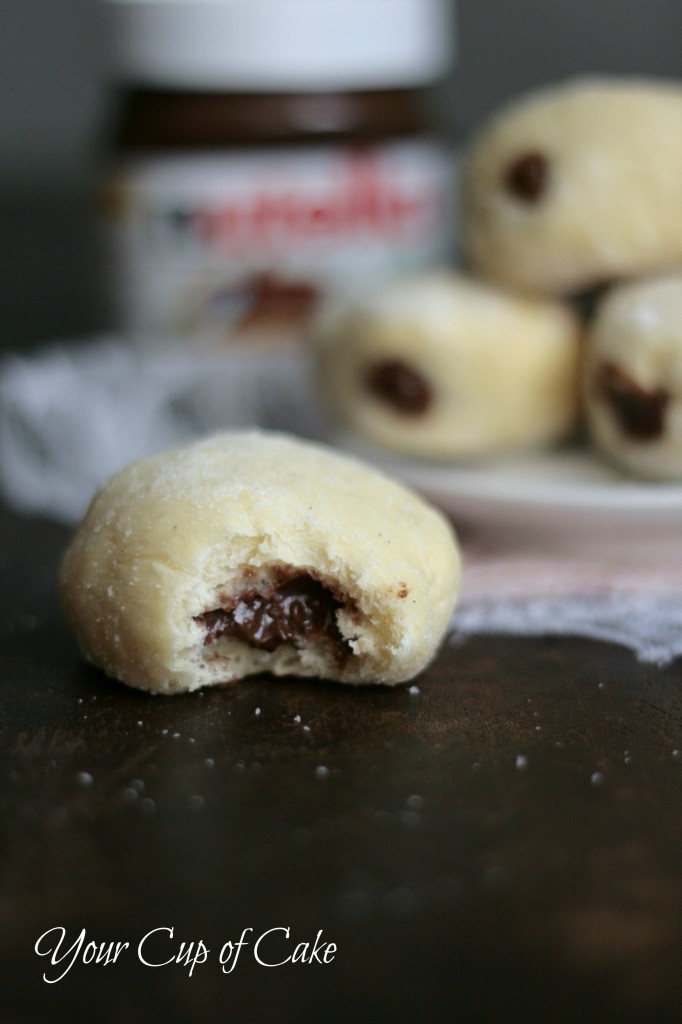 My aforementioned friend Jo first titled these as Little Pillows from Heaven. I couldn't agree more. The moment I saw her post, I knew that they needed to be in my life.
But the day I decided to make them, I had no orange zest, and very little jelly. It took me about three minutes to look at my pantry, grab my jar of nutella, hit up the internet, and find a whipped nutella filling that was just screaming to be stuffed into fluffy yeast doughnuts. When I made them, they literally came off the pan, were stuffed with nutella, and shoved into a container to take a gathering which I'd promised to make treats for.
I crossed my fingers that they'd hold up, and shoved them in the fridge as soon as I arrived to keep the filling from totally oozing out of the warm doughnuts. Soon after, the container was accosted by greedy hands that couldn't get enough. I came home with only 2 of the 24 that I had brought to a gathering of about 10 people. Do the math, these are a total crowd pleaser.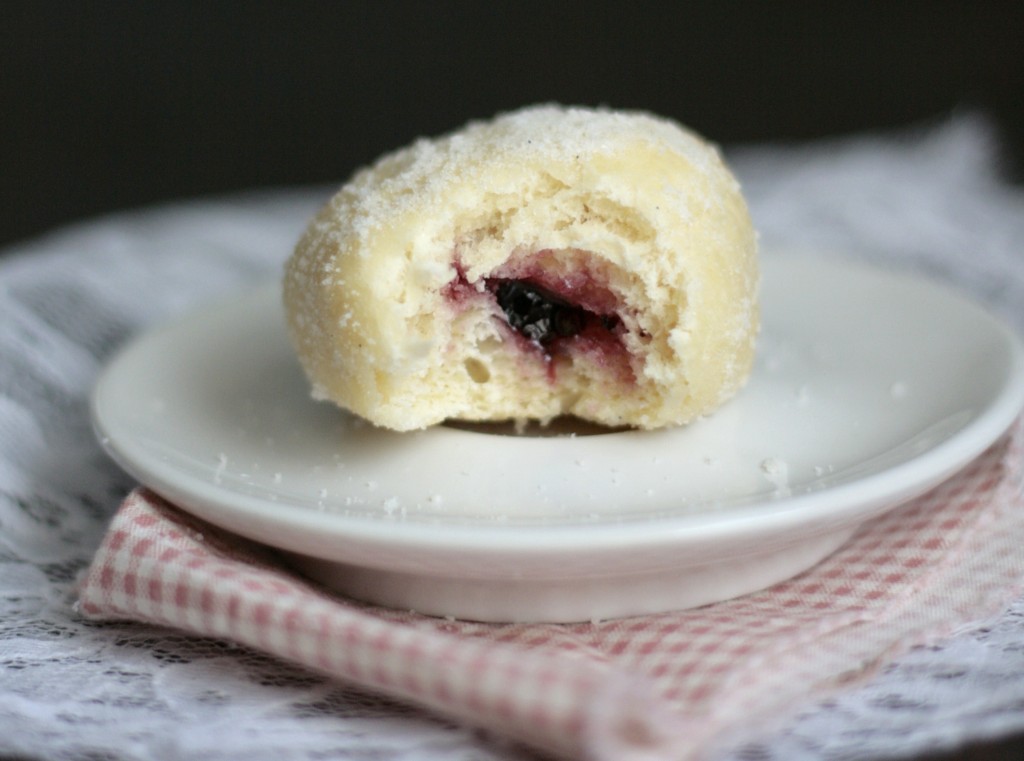 And, just so you know, these are indeed quite delectable with jelly. You can even get all creative and throw lemon or orange zest into the dough! Blackberry and lemon is pretty amazing, hint hint.
I consider these doughnuts to be a blank canvas, but I've yet to find anything that beats nutella. Enjoy! And thanks for having me, you guys are the bombdiggity.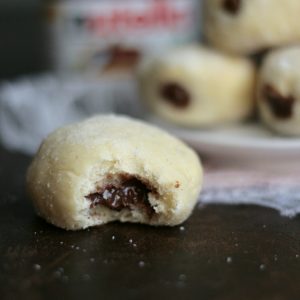 Baked Nutella Doughnuts
Servings
20
-24 doughnuts
Ingredients
Doughnuts:
2 1/4

cups

plus 2 tablespoons

425 grams white bread flour

2 1/2

teaspoons

10 grams instant dry yeast (AKA bread machine yeast)

1/4

cup

plus 2 tablespoons

75 grams superfine sugar (AKA caster sugar)

1/2

teaspoon

salt

2

large eggs

lightly beaten together

5

tablespoons

75 grams unsalted butter, at room temperature

3/4

cup

175 mL milk (any fat percentage will do, although I prefer whole)

3

tablespoons

43 grams unsalted butter, melted (for brushing onto the baked doughnuts)

6

tablespoons

superfine sugar

for rolling the baked doughnuts in
Nutella filling:
3/4

cup

6.5 ounces Nutella

2 1/2

tablespoons

unsalted butter

softened

6-8

tablespoons

heavy cream
Instructions
1. In the bowl of an electric mixer fitted with the dough hook attachment, combine the flour, yeast, sugar, salt, and eggs.

2. Heat the milk to just below boiling, then remove from heat. Add the 5 tbsp. of room temperature butter and whisk until well-combined. Start up the stand mixer on low speed. Once the ingredients in the bowl are combined, add the warm milk mixture in a steady stream.

3. Continue to knead for 5 minutes, until you have a stretchy, very thick and sticky batter (It does not come together in a smooth, rounded ball like yeast bread dough.).

4. Cover with lightly greased plastic wrap and allow to rise in a warm place for about 1 hour, or until doubled in size.

5. Tip the dough onto a well-floured surface and knead for about 30 seconds, until it is no longer unmanageably sticky.

6. Pat out to 1/2 inch (1 cm) thickness.

7. Cut out the doughnuts with a 2-2 1/2 inch (5-6 cm) biscuit cutter (they may seem small, but keep in mind they will at least double in size).

8. Place each disc onto a parchment-lined baking sheet, about 2 inches (5 cm) apart. Cover with lightly greased plastic wrap and let rise in a warm place until doubled in size, about 45 minutes to 1 hour. Don't be worried if they rise a little unevenly, baking will sort them out.

9. When ready to bake, preheat oven to 350 degrees F (180 degrees C). Remove plastic wrap and bake in the center of the oven for 10-12 minutes - until risen, puffed, and very lightly golden; you'll be able to just about smell them wafting out of the oven.

10. Once baked, brush each doughnut with the 3 tbsp. melted butter, top and bottom. Toss each buttered doughnut in a shallow dish filled with the 6 tbsp. superfine sugar, then leave to cool completely.

11. Once cool (which doesn't take long), prepare the nutella filling. Beat all ingredients together on high speed (using a handheld mixer or stand mixer fitted with the paddle attachment) until fluffy. Add more cream as needed. Place a filling tip (I used a Wilton 230) into a small piping bag. Fill the bag with nutella fillling.

12. Grab a doughnut and push in the tip, twisting just enough to make an entrance into the doughnut.

13. With the tip inside the doughnut, gently squeeze the bag, pulling back as you do so. Fill just until you see the nutella reach the surface (Anymore and you'll have on loaded doughnut, and it will overflow!)

14. For best presentation, serve immediately. Store any leftovers in an airtight container; but beware, they do get rather sticky the day after (although they're still delicious!). Eat within 1-2 days.
Mixing dough and letting is rise

Rolling out the dough, cutting out doughnut circles, letting the dough-balls rise.

Fill your doughnuts with Nutella using a small piping tip.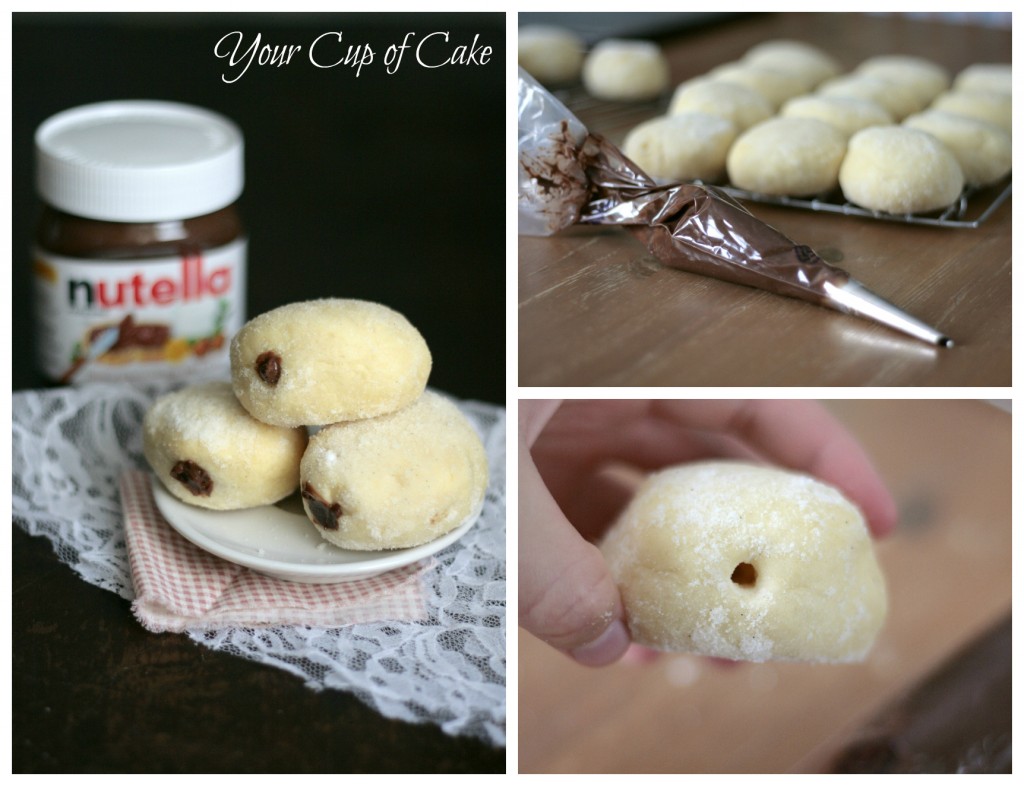 Sources: adapted from Jo Blogs Jo Bakes, filling from The Sweet Art