Popcorn covered in white chocolate and crushed candy canes just took Christmas movie munching to a whole new level! Peppermint Bark Popcorn will be your new favorite treat this season! And if you don't eat it all, stuff it cute goody bags and give it away to the neighbors.
Now, this may be my first popcorn recipe on the blog but I am a huge fan of little snacks and munchy treats! Like the White Chocolate Cinnamon Sugar Pretzels from last week and the Peppermint Bark Muddy Buddies from last year! Oh my, and don't forget about the Chocolate Candy Cane Truffles that are so easy and melt in your mouth… Mmm…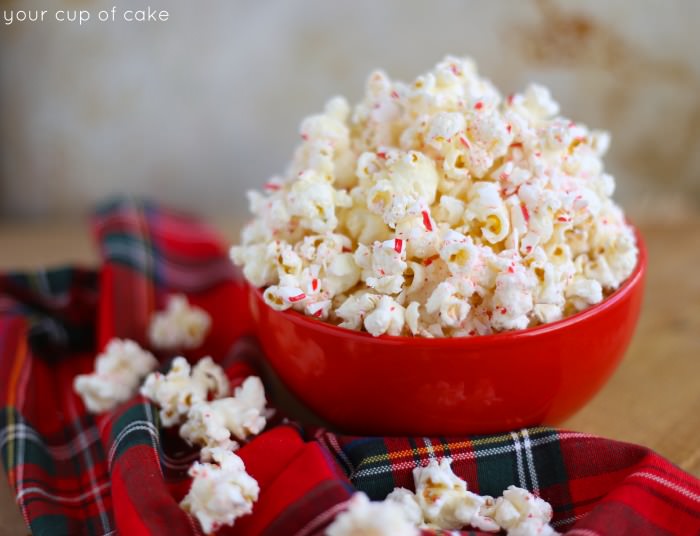 Popcorn is dangerous for me because of two reasons. One: I won't stop eating it. It's just so light, crunchy and fabulous! Plus, it means I get to settle in for a movie, which I love! Two: all those little pieces that don't make it into my mouth make it into my hair. I look like I'm saving some for later. So cute.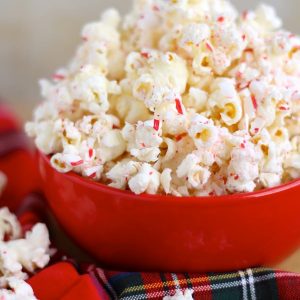 Peppermint Bark Popcorn
Ingredients
20

C.

popped popcorn

2 microwave bags or 3/4 C. kernels popped

12-16

oz.

white chocolate or melts

just one bag of chips will do, I used 2 C. melts

12

candy canes

crushed

NOTE: You can use butter microwave popcorn for a richer taste OR plain popped corn if you want to save a few calories.
Instructions
1. Place popcorn in a large bowl (or two if you don't have one big enough).

2. carefully melt white chocolate in the microwave and then pour over popcorn and gently fold until coated.

3. Dump out onto cookie sheets (I covered mine in wax paper for an easy clean-up).

4. Generously sprinkle crushed candy canes over popcorn while still hot.

5. Let cool, then break up and serve! If you used white chocolate chips, you may want to speed up the cooling process by putting the pan of popcorn in the fridge.
I really couldn't stop eating this stuff. It was my first try at a candy popcorn and the white chocolate is just magical! And the crushed candy canes made it taste like Christmas! I was one bowl away from blasting Rockin' Around the Christmas Tree.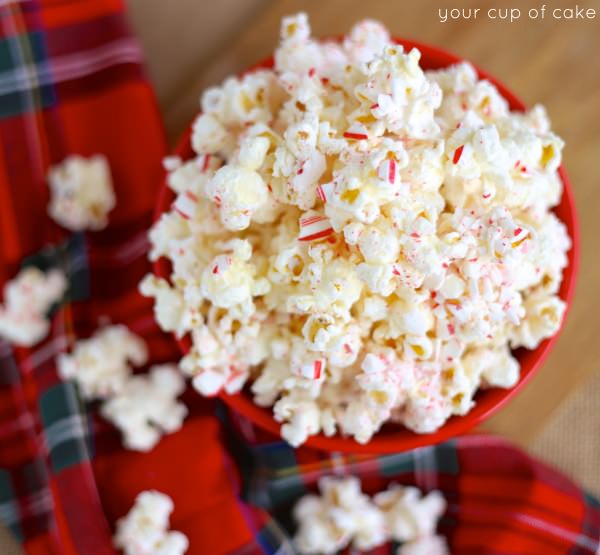 I've had this Popcorn Popper in my amazon cart forever. Not sure why it took me so long to buy but I love it! Not much else beats fresh popped popcorn… unless it's covered in white chocolate and crushed candy canes 🙂