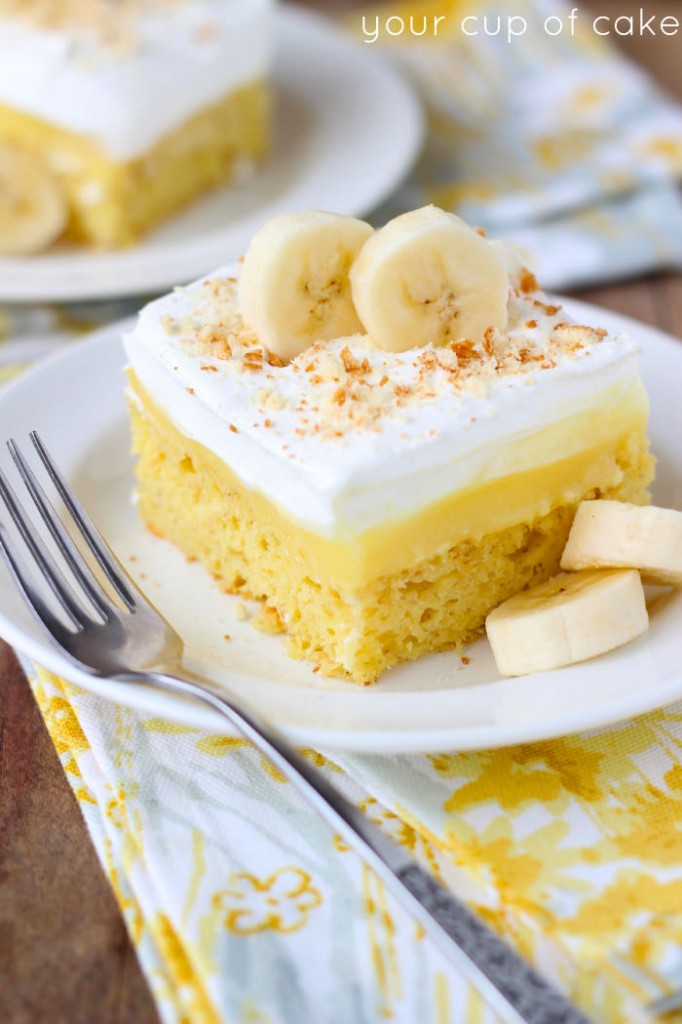 This Banana Pudding Cake is so easy you'll want to make it for every event! Jazz up a yellow cake mix with some ripe bananas, add some instant banana pudding, Cool Whip and Nilla Wafers and you'll be off to the ball! And yes, it tastes as good as it looks. AND (even better) it cuts really well too! Just pop it into the fridge to keep i cold unit you serve it so it keeps it's shape and is easy to cut and serve 🙂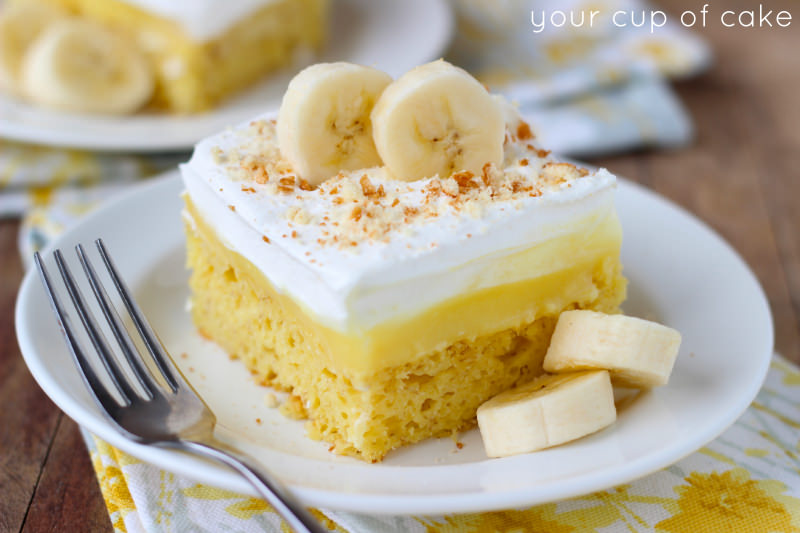 The Story:
Trifles sort of scare me.
Personal/mini-sized trifles are fine and I think the big ones are beautiful, but unless I'm the first one to dive in, I just don't know if I trust them. Everything gets mixed together and covered in pudding and whipped cream and I just can't tell what's what anymore. So when my brother's girlfriend (now wife) brought a trifle to Thanksgiving a few years ago, I desperately wanted to try it but the trifling fear inside of me was just too great. It was a banana pudding trifle with Nilla Wafers and banana slices. I still think about hat trifle all the time… so I made a version I was a little less afraid of 🙂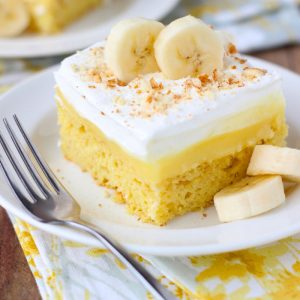 Banana Pudding Cake
Ingredients
Banana Cake:
1

box yellow cake mix

3

eggs

2

ripe bananas

mashed

1/3

C.

oil

1

C.

sour cream

2

tsp.

vanilla extract
2 small instant banana pudding pkg. prepared as directed
Instructions
1. Preheat oven to 350 degrees and grease a 9 X 11 pan.

2. Sift cake mix into a large bowl, add eggs, mashed bananas, oil, sour cream and vanilla extract and stir well.

3. Pour into prepared pan and spread out evenly.

4. Bake for 15-20 minutes or until an inserted knife in the center comes out clean.

5. Let cool.

6. After you have prepared pudding as directed (but don't let the pudding set in the fridge!), you can either pour the pudding right on top of the cake and spread it out OR you can poke holes in the cake and then pour the pudding over and let it sink into the cake.

7. Cover cake and place in the fridge until the pudding sets.

8. Remove cake from fridge and cover with Cool Whip, crushed Nilla Wafers and banana slices!
Love banana cream pie desserts?