Buttery, silky smooth and easy to make! These Homemade Soft Caramels are my favorite thing to make for Christmas!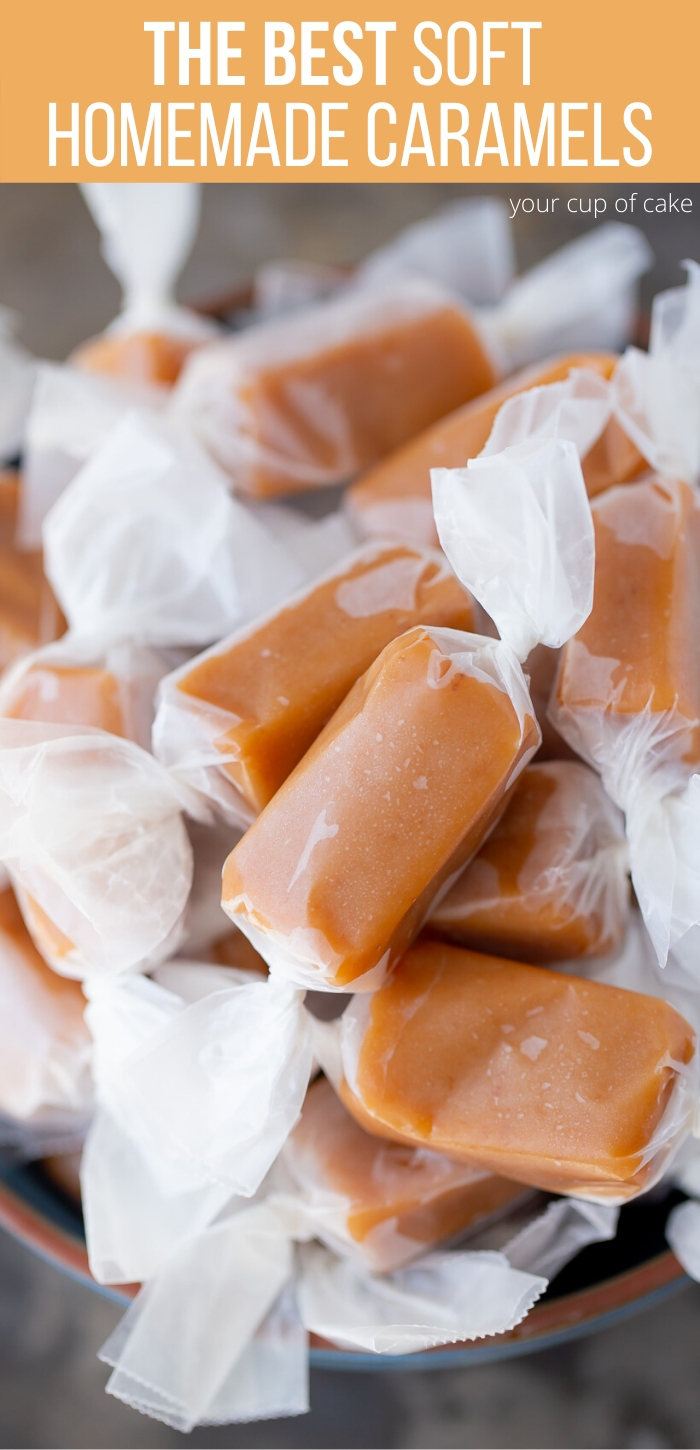 Friends and Neighbor Christmas Gifts
THIS is what I make my neighbors every year. I give them a tin of these homemade caramels and my white chocolate cinnamon pretzels. The pretzels are addictive and can be made in just a few minutes. These caramels take some time but are super easy to make as well. And WOW are they delicious! I can't tell you how many compliments I get about them every year because they taste like I bought them from a fancy candy store. The batch makes around 80 caramels! So they will go a long way! I have tried so many caramel recipes but this one is my favorite. It calls for evaporated milk and no heavy cream so that's always a plus when it's pantry items! I don't always have cream on hand.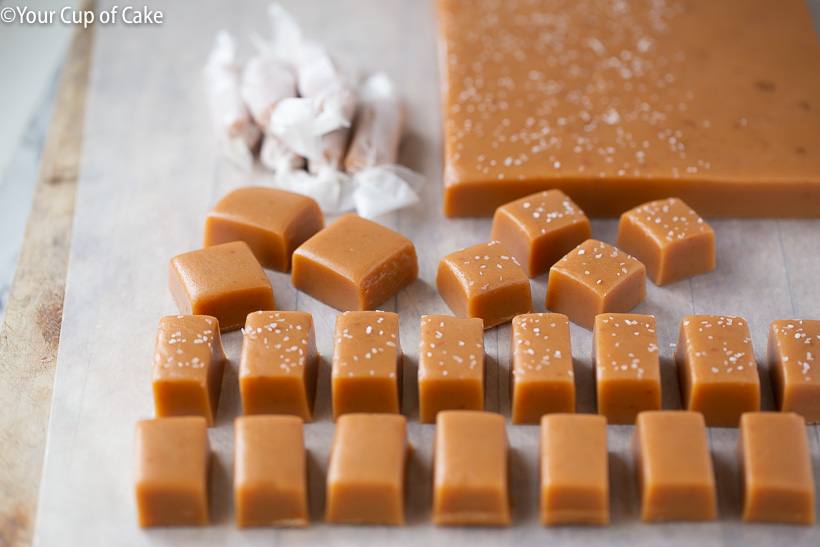 The BEST Soft Homemade Caramels
Caramels can seem daunting but all you need to make them perfect is a little patience and a candy thermometer! You drizzle in the evaporated milk a little at a time, that's to help it absorb evenly and makes the silky smooth texture. Remember, be patient! Once you try these caramels you will be obsessed and being making them every year like me. One big tip is to not stir the mixture too intensely. You don't want it to come up too high on the sides of the pan because then you might get some crystallization, which is what you don't want!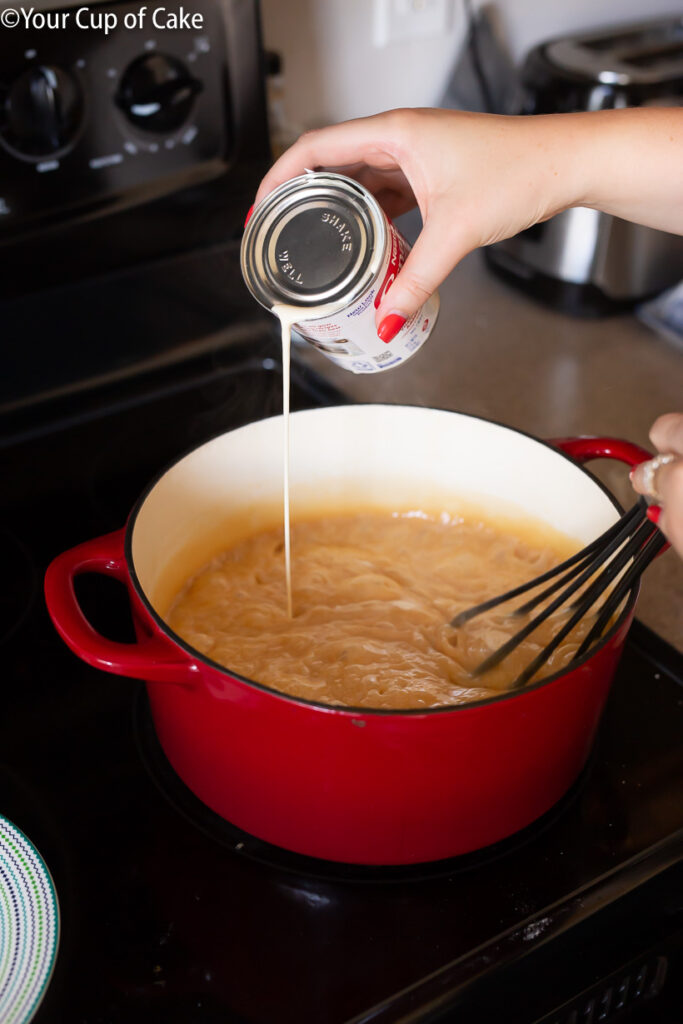 Stirring. Homemade soft caramel candies mean a lot of stirring. My best advice is to hop on the phone with a friend or your mama to pass the time. Make sure when you stir you really focus on hitting all the spots on the bottom of the pan. You don't want your caramel cooking unevenly! I prefer to use a whisk over a spatula only because I'm pouring in that evaporated milk at the same time.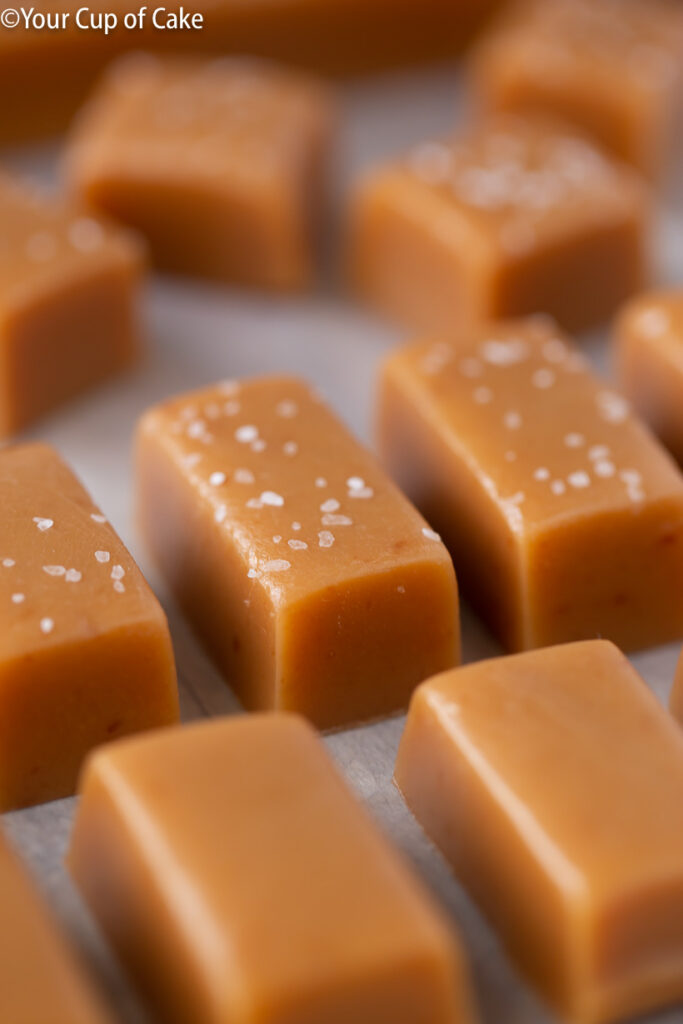 How to Make Homemade Caramels
Use your candy thermometer and pay close attention to the temperature! If you overheat the mixture your caramels won't be soft. Have your dish that you'll pour your caramel into already prepped and ready so as soon as you reach the right temperature, you can pour them into the dish to set. If you're old school or at a high altitude you can always do the cold water test to find the exact soft ball stage for your town. But I have made some recipe notes for higher altitudes! It's what I personally bake/cook at so I always list adjustments for us high-living folks. But if you're at sea level, the traditional candy temperatures will work perfectly for you!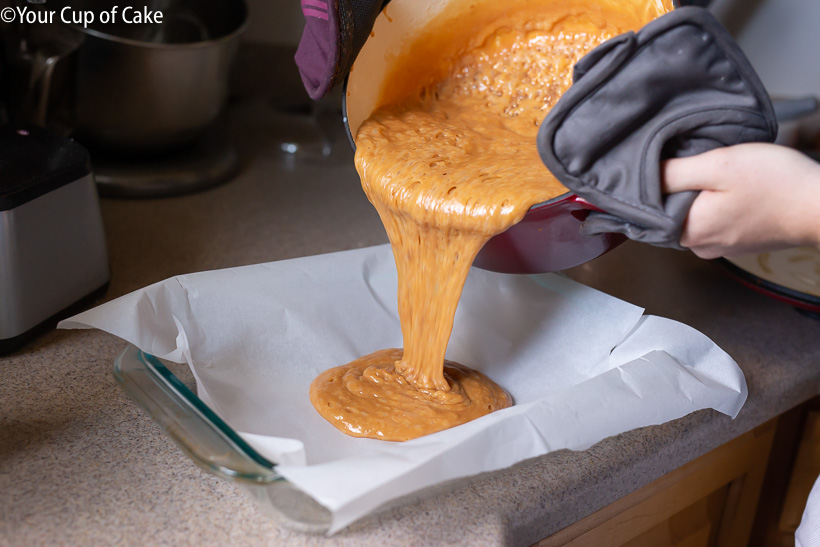 Part of the fun of making your own caramels is that you can cut them into any shape you want! Long pieces, squares, big pieces, small pieces, it's up to you! I usually end up with a variety of sizes. I use pieces of wax paper to wrap my caramels to give them a polished look when I deliver them.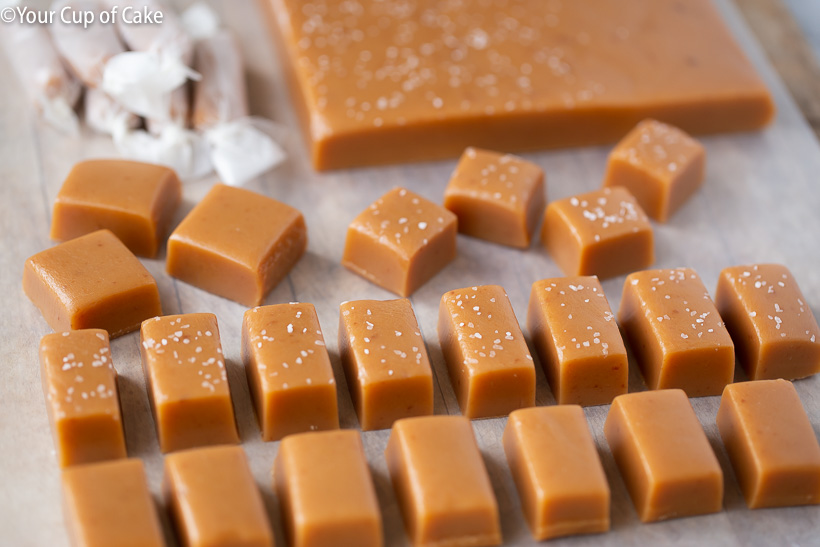 Salted Caramels
You can add other things to your caramels to suit your specific taste! We sprinkled a little sea salt on ours to make them salted caramels. I sprinkled it on about 5 or so minutes into the cooling process. I'm going to make another batch next week and pour the caramel over nuts to make them caramel and nut chews! You can also dip the pieces in chocolate!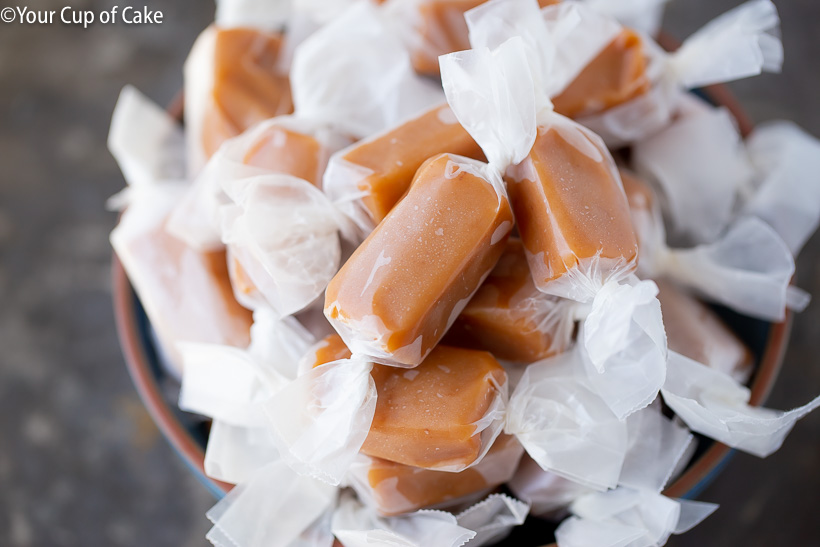 How to Cut Caramels
Cutting homemade caramels is always a struggle! I have tried buttering the knife, oiling the knife, using an insanely sharp knife… it still sticks to the knife and makes a mess. But chilling your caramel slab is the trick! Let the caramel set at room temperature, I like to leave it overnight. And then pop it into the fridge for 15 minutes or so. They'll cut into beautiful pieces using a sharp knife!
I have a microwave caramel corn recipe I'm in love with, so if you are a big caramel lover, check it out!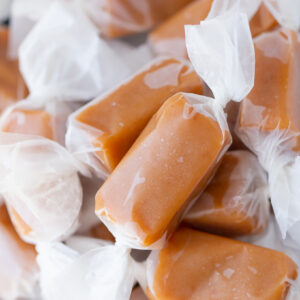 The BEST Soft Homemade Caramels
THIS is what I bring to my neighbors and family every year for Christmas. These homemade caramels are buttery soft! It's not Christmas without them!
Ingredients
4

Cups

sugar

1

Cup

butter

unsalted

2

Cups

white corn syrup

one 16 oz. bottle

1

teaspoon

kosher salt

Two

12 oz.

cans evaporated milk
Instructions
Line a 13X9 inch casserole dish with parchment paper and set aside.

Place sugar, butter, corn syrup, and salt in a large, heavy-bottomed saucepan or pot over medium heat to melt. (The caramel will bubble up so make sure it's a large pan, I like to use my enamel cast iron)

Bring the mixture to a boil, then slowly add evaporated milk a little at a time. Take about 10-12 minutes per can. Stir constantly.

After the evaporated milk is added, continue to stir until the mixture has reached 238 F, no hotter! Use your candy thermometer. (See recipe notes for high altitude adjustments)

Pour into your prepared dish and let cool completely. Cut (see my tips above in the post) and enjoy!
Recipe Notes
Temperature adjustments for high altitude:
When I'm in Utah I cook the caramel to 234 degrees
When I'm in Colorado I cook the caramel to 232 degrees
You can always use the soft ball test (drop a little bit of caramel into a glass of cold water and see if it gets firm) to check before you take your caramel off the heat!
Note:
You can add 1 tsp of vanilla extract if desired
I hope you love these homemade caramel candies and share them will all your friends!