We made WAY too many rolls this year for Thanksgiving. So with some of the last ones that were getting a little old, I decided to hop back on the bread pudding train, add an apple, and go to town.
10 slices day old bread (15 rolls)*
1 granny smith apple, chopped
3 tablespoons melted butter
½ teaspoon almond (optional)
1.
Preheat oven to 35o degrees and grease a 9X11 pan.
2.
Tear bread into large bite sized pieces and place in pan with raisins and apple slices.
3.
In a bowl, beat eggs and then add milk and sugar. Whisk and add butter, cinnamon, nutmeg, vanilla and almond extract if desired.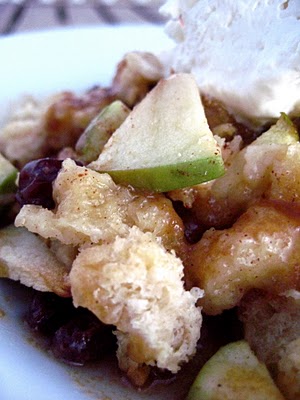 4.
Pour mixture over bread, raisins and apples and bake for 45 minutes or until the eggs mixture becomes firm.
5.
Maple Sauce: In a saucepan, mix brown sugar, sugar, melted butter and milk over medium/high heat until it boils. Stir for two minutes and then add syrup. Stir for two more minutes then remove from heat and add vanilla.
6.
Pour sauce over bread pudding as soon as it comes out of the oven.
7.
Serve with whipped cream or vanilla ice cream.
*If your bread is fresh, you can tear it up and lightly toast it on a cookie sheet in the oven to take some moisture out. (About 8 minutes on 250 degrees will do the trick.)