The Christmas treat that I always look forward to is the bag of glazed pecans we get from our neighbors every year. I am usually the one to find them at the doorstep and I tend to fill up a plastic bag with half of them and hide them away in a drawer for a later time. But this year, I wanted Christmas to come early.
These are not the same pecans we are given, but I saw this recipe online and it was so simple, I couldn't resist. They are great gifts for friends and fabulous toppers for cupcakes.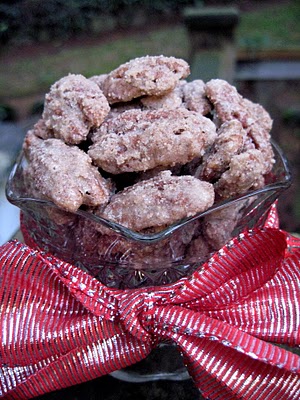 1 egg white
Directions:
1.
Preheat oven to 250 degrees.
2.
Beat egg white and water until frothy.
3.
In a separate bowl, fist together sugar, salt and cinnamon.
4.
Stir vanilla into egg mixture, then add pecans and mix until coated. Pour pecans into sugar mixture and stir well.
5.
Spread pecans onto a cookie sheet with parchment paper and bake for 1 hour, stirring the pecans every 15 minutes.
Peppermint Cupcakes (on repeat)
I needed to make another batch of peppermint cupcakes but this time I decided to use yellow batter and dye it pink. But to make it even more chocolatey, I cut holes in the cupcakes before I dipped them and then I filled the hole with extra chocolate peppermint ganache. Being a true chocolate lover, I think I will stick with the chocolate cake and do this extra dose of ganache in the center next time.