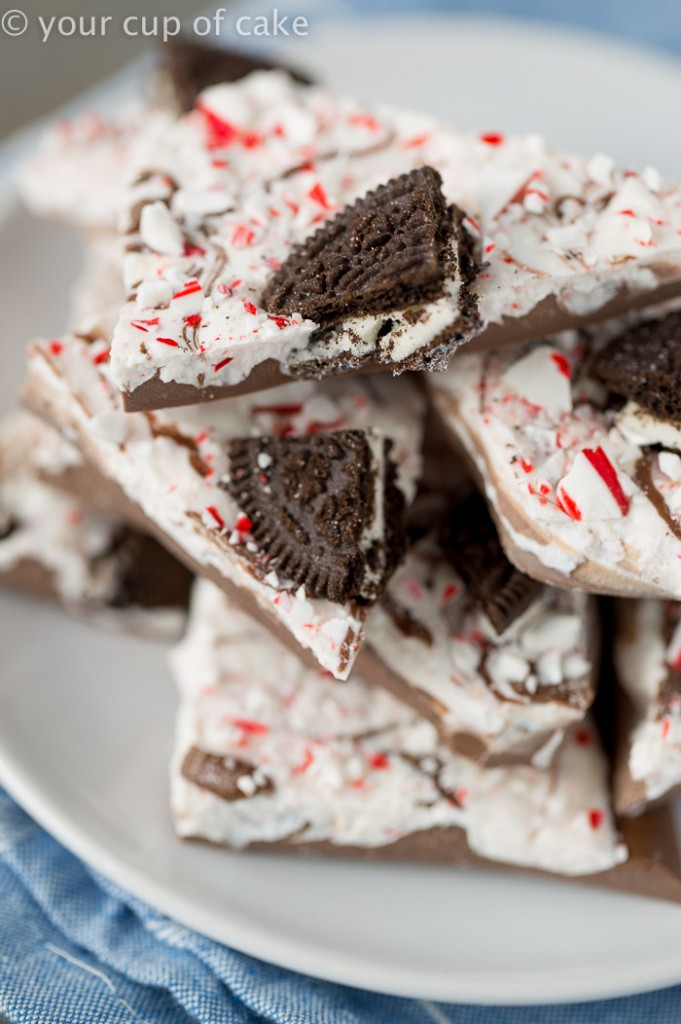 Need a last minute Christmas treat? Put those candy canes to good use in this amazing Oreo Peppermint Bark! You can make it in just a few minutes and the kids and adults will go wild for this! Plus, it's only 4 ingredients, not much beats that. Well maybe my 4-ingredient christmas cookies… but still!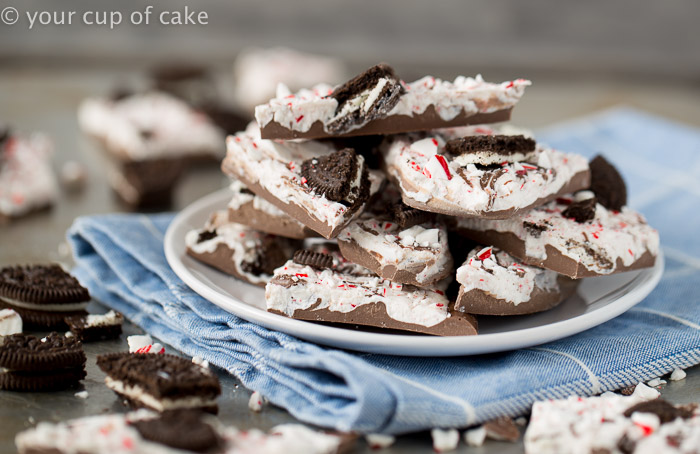 Chop it up and throw it in a bowl, a goody bag, or mix it in with some mint M&M's!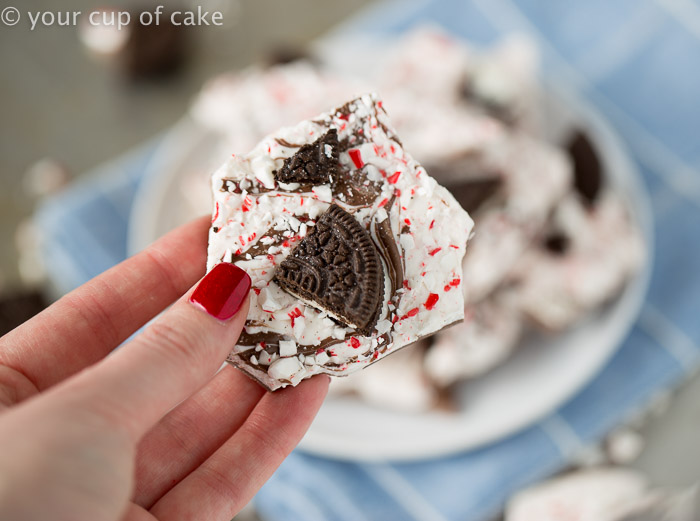 I like to make my bark on parchment paper because it really makes for zero mess. Pour on the chocolate and then spread it out using a spatula or a spoon. I like to mix in some candy canes with the white chocolate because it makes the whole bark explode with peppermint crunch. (You can also mix in some finely crushed Oreo pieces to the chocolate too.) Swirl the chocolate together, give the pan a good shake and then throw on the toppings! I added more Oreos than in the photos but I had to work fast so that the chocolate wouldn't set up!

See? You gotta mix in the candy canes to the white chocolate to make this stuff extra special! I like biting into the chocolate and having it riddled with peppermint crunchies… yum.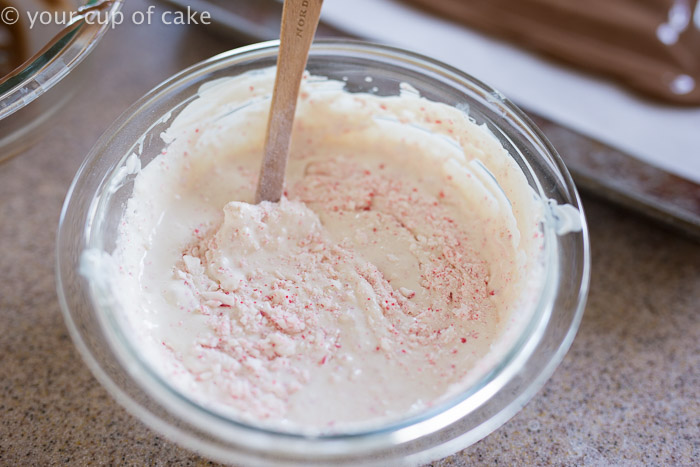 Sometimes I think I make Oreo treats just so I can have an excuse to eat all the extras…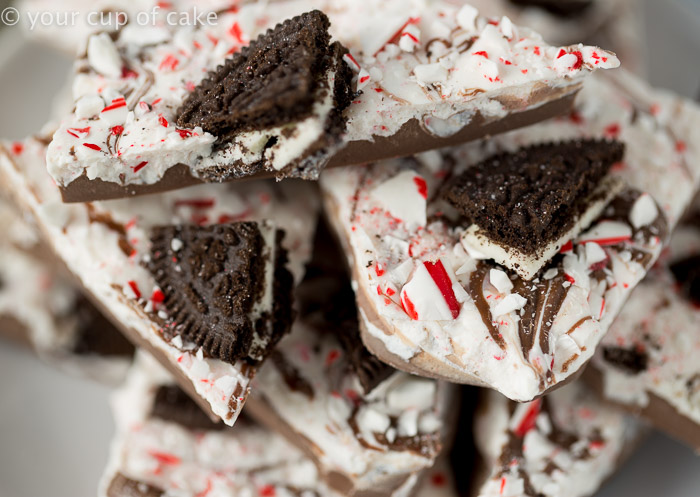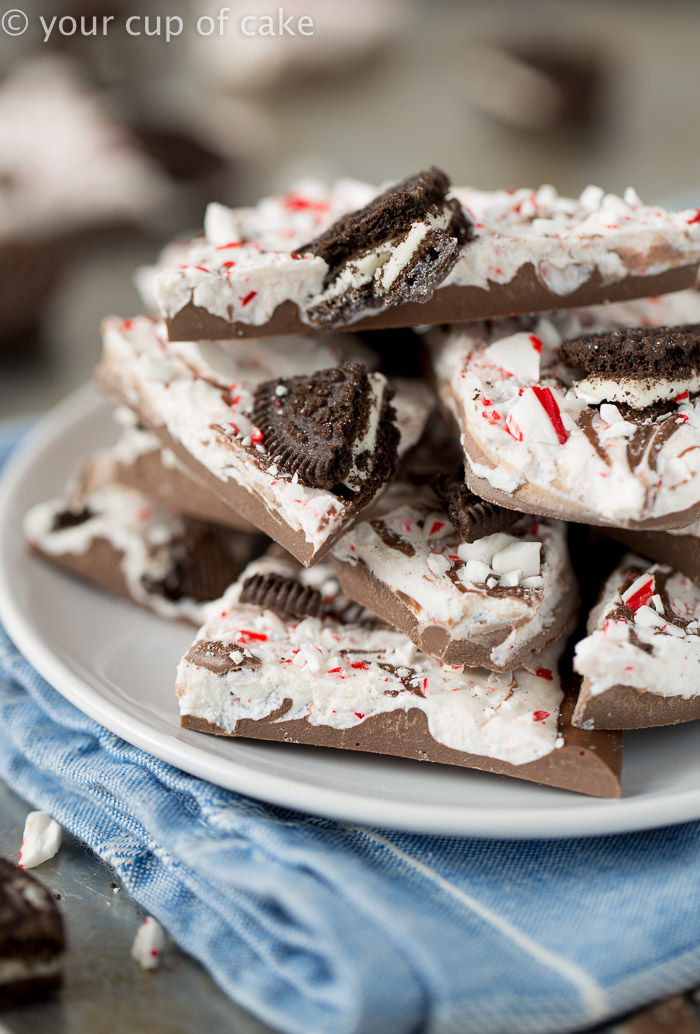 Santa Clause is comin' to town… to eat this!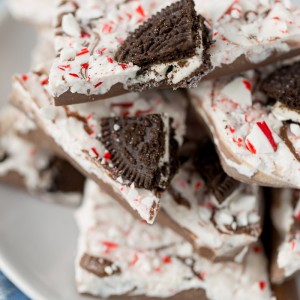 Oreo Peppermint Bark
Ingredients
1 1/2

C.

Chocolate chips

I used almond bark

1 1/2

C.

White chocolate chips

I used almond bark

10

crushed candy canes

10

crushed Oreos
Instructions
1. Melt chocolates in separate bowls. If you use chocolate chips, you can use a little coconut oil to thin them out a little.

2. Pour the dark or semisweet chocolate onto a cookie sheet covered in parchment.

3. Mix some of the crushed candy canes into the white chocolate (I used the really finely crushed pieces) and then drop scoops over the dark chocolate and use a toothpick or knife to swirl.

4. Shake pan to smooth and them cover with crushed candy canes and Oreos.

5. Let set in the fridge or on the countertop and then break and serve in a bowl or hand out in goody bags!