The Story:
I love working with cake mixes if you can't tell. But I figure it's a great thing because it takes MUCH less time and its more difficult to mess up when you're experimenting.
Chocolate Banana Cakes:
1 box Devil's Food Cake Mix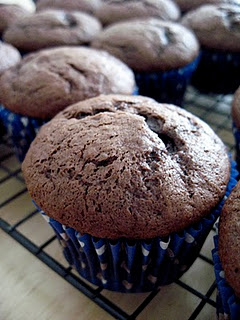 1 cup ripe bananas, mashed (about 3 bananas)
Chocolate Ganache:
5 tablespoon unsweetened cocoa
6 tablespoon buttermilk (I use 5 ½ tablespoons milk and ½ tablespoon lemon juice)
1 teaspoon vanilla extract
Cream Cheese Buttercream: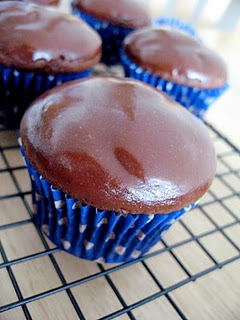 1 package 8 oz cream cheese, softened
6 tablespoons butter, softened
Directions:
1.
Preheat oven to 350 degrees and fill muffins tins with cupcakes liners.
2.
Whisk together oil, eggs and vanilla.
3.
In a separate bowl, mash bananas thoroughly so that you don't end up with chunks of banana in your cupcakes.
4.
Sift cake mix into oil/egg mixture (or don't sift if you don't mind taking more time to stir). Fold in bananas.
5.
Bake for 12-15 minutes. Be careful not to over bake, they bake faster than normal cupcakes and they look like they aren't done from the oven window, but check them or perish!
6.
Prepare ganache while cupcakes are in the oven.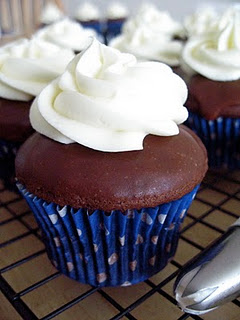 7.
Ganche: Sift powdered sugar into a bowl. In a separate bowl, melt butter and add buttermilk and chocolate. Bring to a boil and remove from heat. Pour over powdered sugar and whisk until smooth, add vanilla.
8.
When your cupcakes are out of the oven, place them on a cooling rack. Once you can pick them up without burning yourself, dip the tops into the ganache. (If the ganache is too cool to dip, just microwave for a few seconds.) If your cupcakes or your is too hot, the ganache will run over the edge of the cupcake, so just wait a minute and try again.
9.
Buttercream: Beat cream cheese and butter for 5 minutes. Add as much powdered suagar as you like, add vanilla and pipe onto cooled cupcakes.
*You can sprinkle a little cinnamon on top for decoration. If you have extra ganache, keep it in the fridge and reheat it for another day to top browies or even a bowl of ice cream.