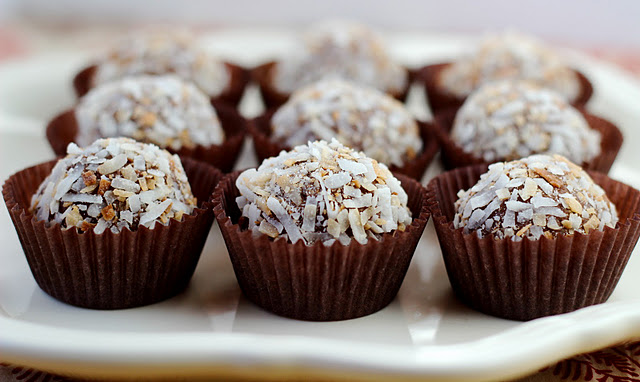 The Story:
Alright, truffles may be a new favorite. First of all, they are totally easy and low maintenance! Second, they are so simple to transport. I freak out when I drive with cupcakes. I seriously need a "Cupcakes on Board" sign for my car window because I drive like an old woman with that precious cargo. These amazing little treats just melt in your mouth. [end-story]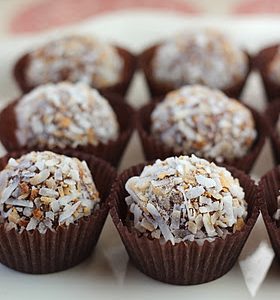 Chocolate Coconut Truffles
Ingredients
4 oz cream cheese softened
1 cup powdered sugar
1 cup milk chocolate chips
½ teaspoon vanilla extract
1 ¼ teaspoon coconut extract
½ cup shredded coconut
Instructions
1. Beat cream cheese and powdered sugar until smooth. Scrape down bowl as necessary.

2. Melt chocolate chips in the microwave or using a double boiler.

3. Mix melted chocolate into cream mixture until smooth and white streaks are gone.

4. Add vanilla and coconut extract, mix again.

5. Place in a Tupperware and refrigerate until able to scoop (15 minutes).

6. Toast Coconut: Place coconut on a cookie sheet and bake for 5-7 minutes on 200 degrees until it starts to turn golden brown. Let cool, then put in a ziplock bag and crush using a rolling pin. (smaller pieces stick better to the truffles,)

7. Scoop into small balls (1 ½ tablespoon size).

8. Place in freezer for 30 minutes, then remove and roll into balls using your hands.

9. Roll chocolate balls in toasted coconut and place in mini cupcake liners.