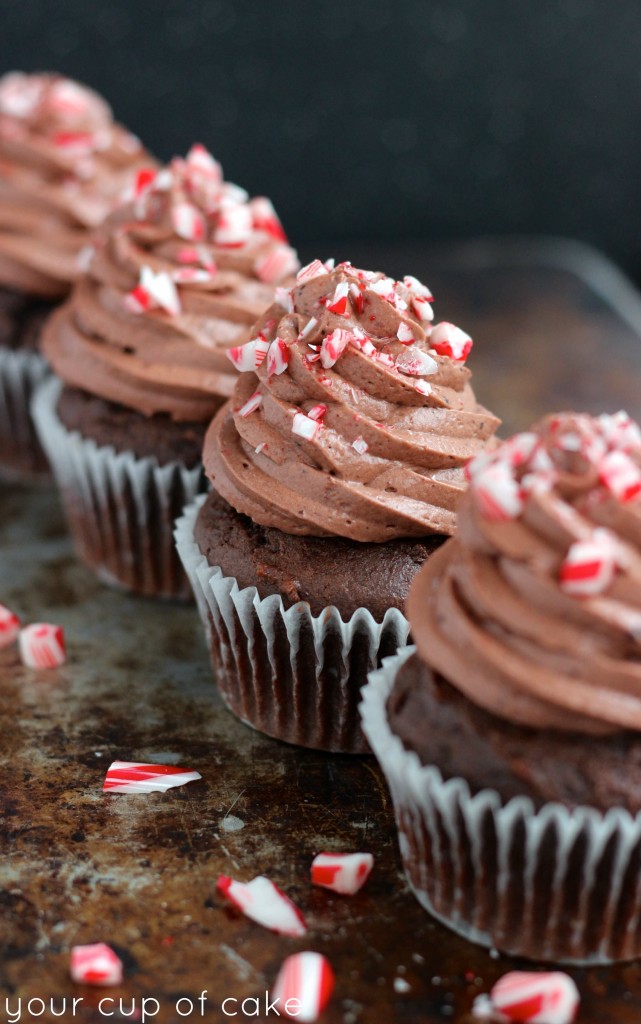 The Story:
I used to have a tradition in high school. I would go over to my friend Cassie's house on the weekend, take a million selfies on her Apple computer, make something way too sugary, and watch a chick flick with her sister. One night we decided we wanted chocolate mousse. But we had no clue how to make it. So we just improvised. We took some whipping cream and some chocolate chips and did what we could. It didn't really come out as "mousse" but it was still chocolate and whipped cream so we happily ate it as we watched "Ever After" for the 3rd time that month.
And as for all the selfie photos we took…they're still on computers and on Facebook and I always laugh and roll my eyes when they surface. We thought we were sooo cool 🙂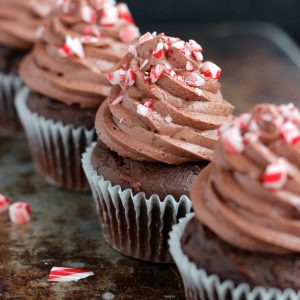 Chocolate Mousse Cupcakes with Candy Cane Crunch
Ingredients
Chocolate Cake:
1

Box Chocolate Cake Mix

I used Pillsbury's Dark Chocolate Mix

3

eggs

1/2

C.

butter

melted and slightly cooled

1

C.

milk or buttermilk

1/2

C.

sour cream or plain yogurt

2

tsp.

vanilla extract
Quick Mousse:
1

C.

heavy whipping cream

1

small pkg. instant chocolate pudding mix

1

can Eagle Brand Sweetened Condense Milk

1/2

C.

cold milk.
Crushed Candy Canes, for decoration
Instructions
1. Preheat oven to 350 degrees and line pans with cupcake liners.

2. Sift cake mix into a small bowl and set aside.

3. In a large bowl, combine eggs, butter, milk, sour cream and vanilla extract until smooth.

4. Add cake mix and stir.

5. Fill cupcake liners 3/4 full and bake for 16-20 minutes or until an inserted knife comes out clean.

6. Quick Mousse: In a chilled metal bowl, beat heavy whipping cream with a whisk (or whisk attachment) until stiff peaks form. Remove from bowl and set aside. Combine pudding mix, Eagle Brand sweetened condensed milk and milk until smooth (I did this in the same bowl I mixed up my cream in, no need to wash it yet!). Fold the whipped cream and chocolate/condensed milk together. Refrigerate for 5 minutes or until thick.

7. Pipe or spread onto cooled cupcakes and top with your favorite Christmas candy for decoration!
Sweetened condensed milk is sort of a secret weapon, that's how people make all those delicious "poke" cakes! They pour this over their sheet cake and let it sink in… Mmmm.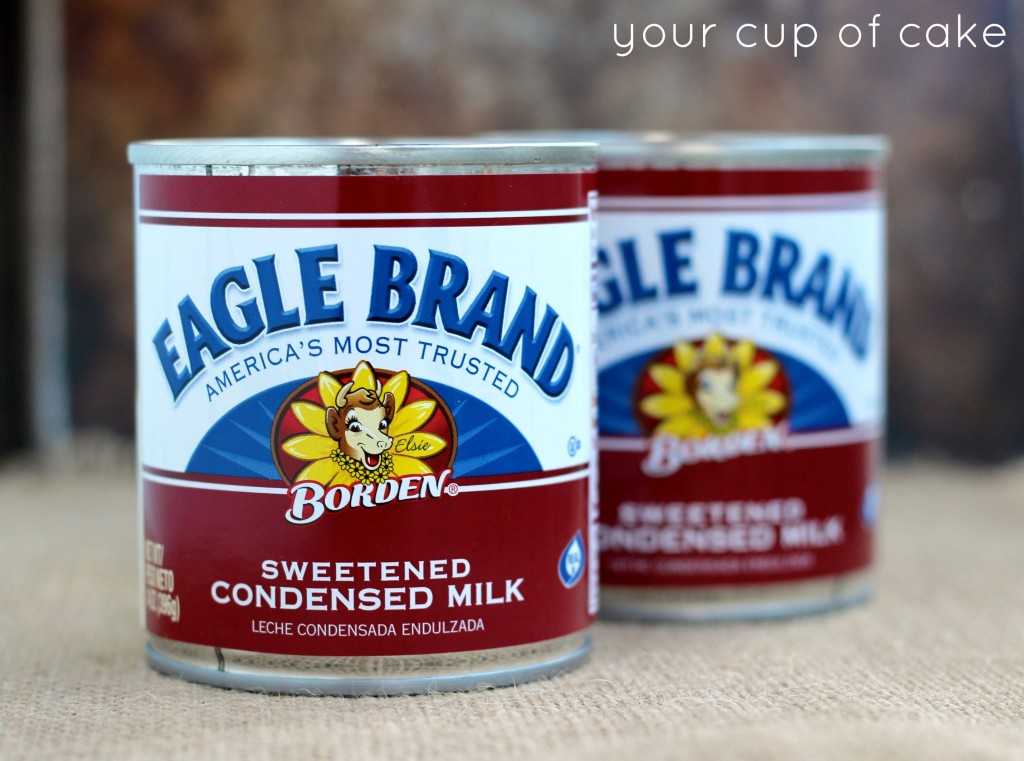 You don't have to use candy canes, I just thought they looked festive!