For the baby shower a few weeks ago, I made two cupcakes, The Lemon Raspberry Cream Cupcakes and then this Chocolate Strawberry Cream Cupcake. I needed to make a chocolate cupcake because I knew a lot of men would be at this office baby shower. But I was always supposed to make it look pink and girly.
Baby Shower Shower Cupcakes Part II: Chocolate Strawberry Cream Cupcakes
Cupcakes: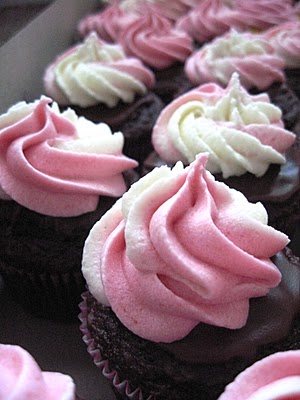 1 box Devil's Food Cake Mix
1 teaspoon vanilla extract
Ganache:
5 tablespoons unsweetened cocoa
1 teaspoon vanilla extract
Strawberry Cream:
1/3 cup strawberry jam or jelly
1 ½ – 2 ½ cups powdered sugar
Directions:
1.
Preheat oven to 350 degrees and line 24 muffins tins with cupcake liners.
2.
In a large mixing bowl, lightly beat eggs.
3.
Add milk, water, oil and extract and whisk together.
4.
Sift or pour in cake mix and mix until well combined,
6.
Fill cupcake liners about ¾ full and bake for 12-18 minutes or until an inserted knife comes out clean.
7.
Ganache: In a small bowl, sift powdered sugar and set aside.
8.
Melt butter and add cocoa, milk and lemon juice and bring to a boil while whisking.
9.
Remove from heat and pour over powdered sugar and whisk until smooth. Add vanilla.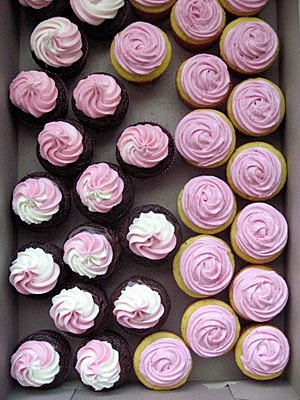 10.
Let cupcakes cool for a few minutes, and then dip the tops in the ganache OR cut little holes at the top of each cupcake and spoon ganache into the hole. The hole does not need to be deep because the warm ganache will be absorbed into the cake.
11.
Strawberry Cream: Beat butter and cream cheese until light and fluffy.
12.
If the jam is not seedless, sift out the seeds. Add the jam/jelly to the butter mixture and beat well.
13.
Add as much powdered sugar as desired and color with the red food dye. ( I only put strawberry and dye in half of my cream and then put both the white and the pink in the piping bag.)
14.
Pipe into cooled cupcakes filled with ganache.