Summer is coming to a close, but not before I share my Strawberry S'mores Cupcakes!
I was compensated by Campfire® Marshmallows for my time in developing this recipe and post but all opinions are my own! And I was so happy when Campfire® reached out to me! I have been using their marshmallows all summer long and just couldn't get enough! I would sometimes just have a few plain from the bag as my nighttime treat 🙂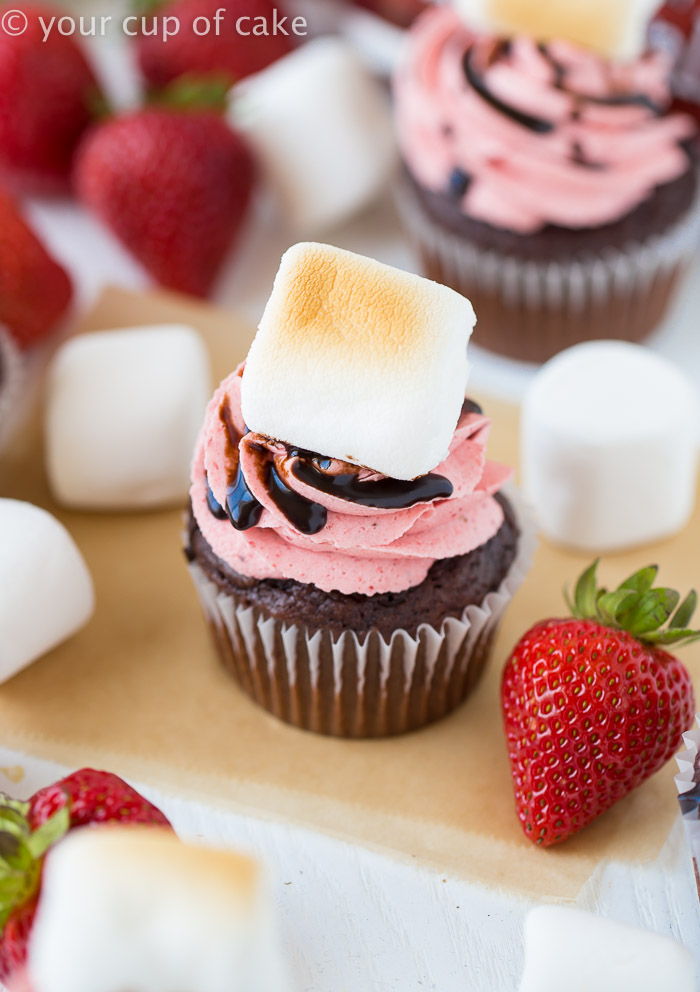 Let's talk mallows. Marshmallows that is. I'm all for saving a few pennies and buying generic on most products, but not my marshmallows! Seriously. Campfire® mallows are just that good! They're soft and fluffy all the way through and when you roast them… oh my! And it's okay if you don't have a fire pit out back, because I'm going to teach you how to perfectly broil your marshmallows in the kitchen! Some people think they taste even better from the oven and not over a fire!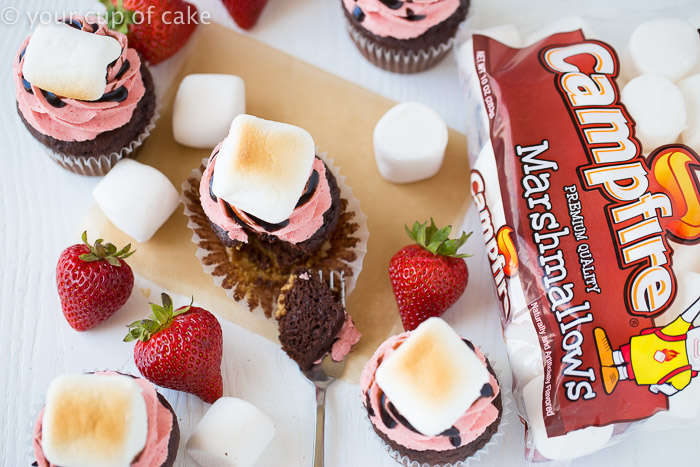 These cupcakes have a graham cracker crust at the bottom, chocolate cake, strawberry frosting, chocolate sauce and that toasted marshmallow on top!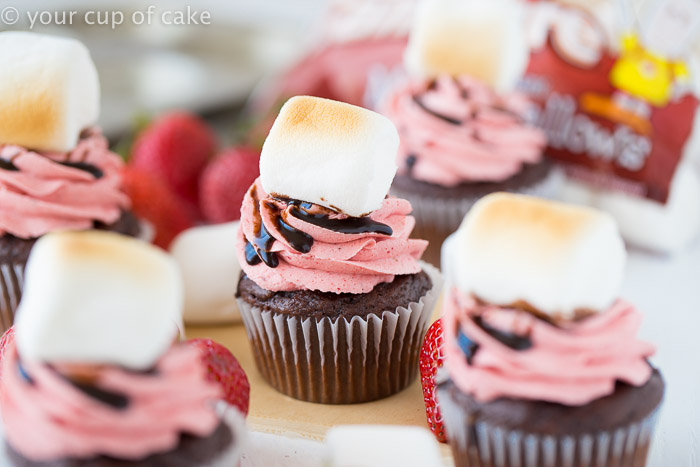 The broiled marshmallows on top are really the star here. The inside of the marshmallow stays soft and gooey for hours after so it really does feel like you're on a decadent camping trip.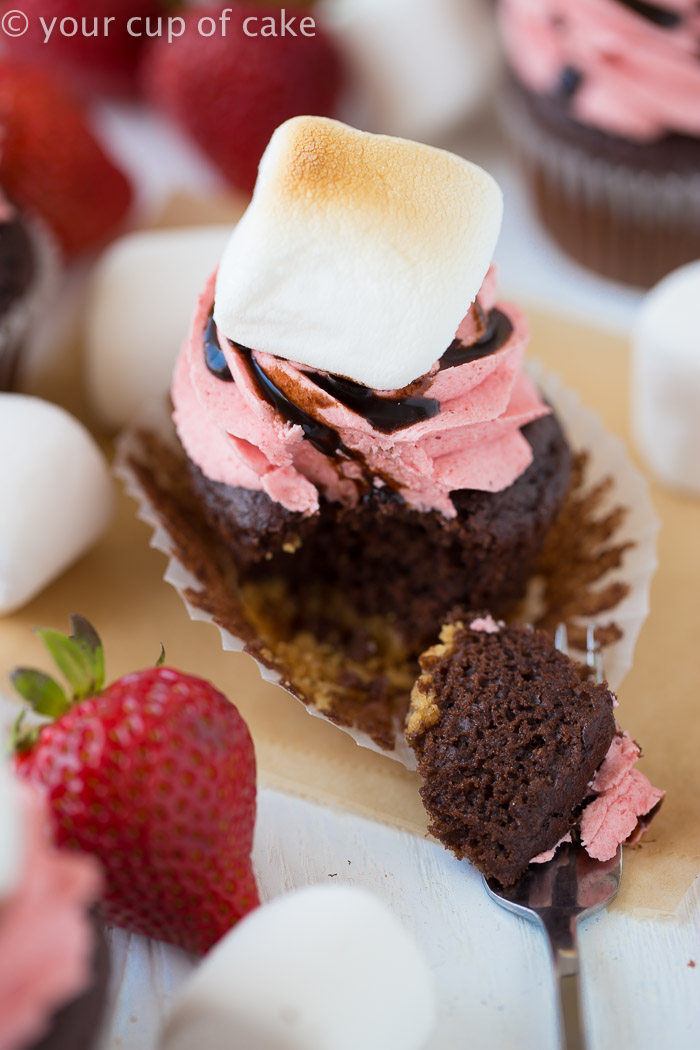 Marshmallows help to make my favorite treats but also can be added to fruit salads and a million on things! I was shocked when I checked out Campfire®'s recipe page! Ice cream with marshmallows? Who knew!?!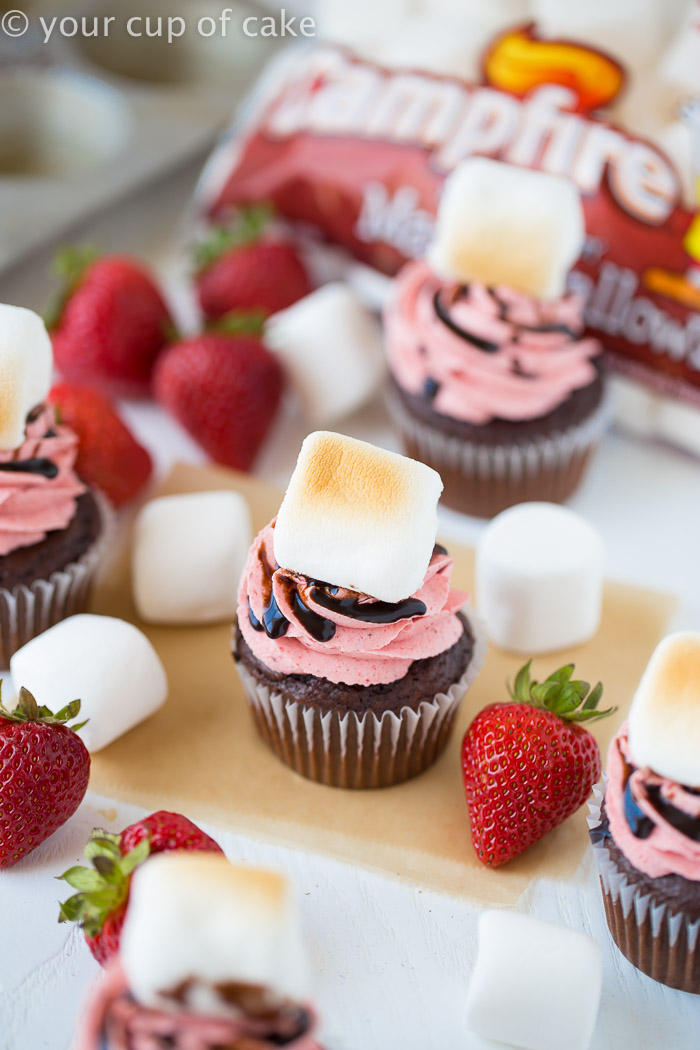 There are even Ghostbusters marshmallows! How fun would it be to bring those to a s'mores party? It's hard to impress little boys sometimes, but that would definitely do it! The Facebook page has some photos of those!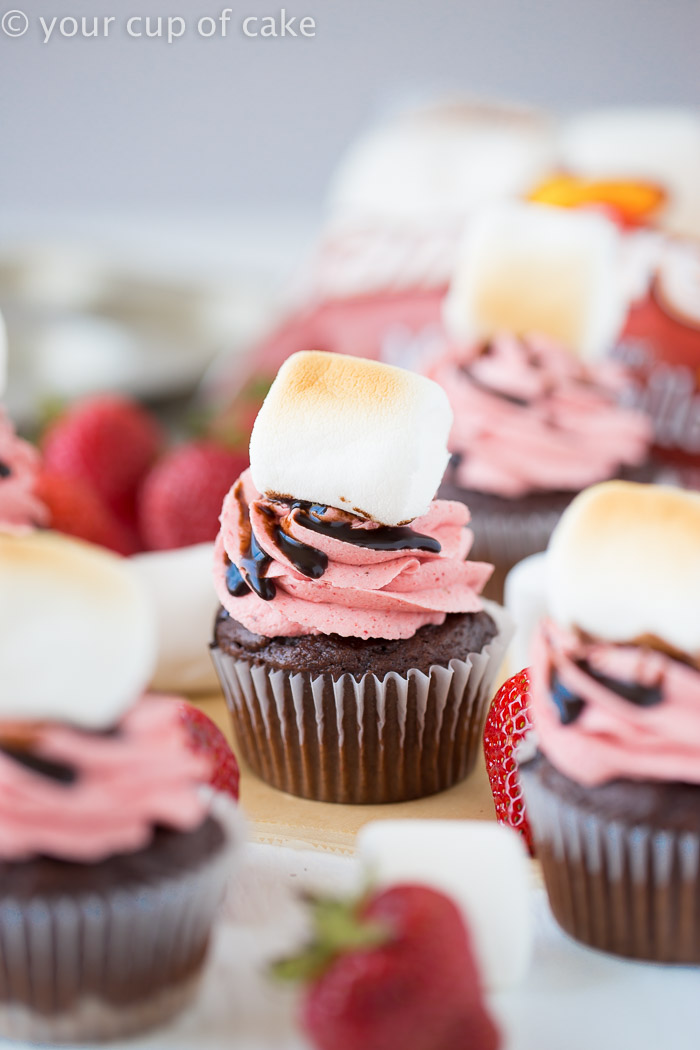 This recipe calls for freeze dried strawberries which I love using because you get so much more flavor and natural color as opposed to using fresh berries because fresh berries have a lot of moisture in them so you can't add too much! My Strawberry Frosting post has step by step photos for using them and where to get them!
Strawberry S'mores Cupcakes
Ingredients
GRAHAM CRACKER CRUST:

1

C.

crushed graham crackers

3

Tbsp.

melted butter

CHOCOLATE CAKE:

1

box devil's food cake mix

3

eggs

1/2

C.

oil

1

C.

sour cream

1/2

C.

milk

STRAWBERRY FROSTING:

1

C.

butter

softened

1

1.2 oz package freeze dried strawberries, or 3 Tbsp. strawberry puree

1

tsp.

vanilla extract

3-4

C.

powdered sugar

CHOCOLATE SAUCE

CAMPFIRE® MARSHMALLOWS
Instructions
1. Preheat oven to 350 degrees and line muffin tins with cupcake liners.

2. Combine crushed graham crackers with melted butter and spoon a little into each cupcake liner (20-24). Use your fingers to gently press the crumbs down flat.

3. Combine cake mix, eggs, oil, sour cream and milk. Fill cupcake liners 3/4 full and bake for 15-20 minutes or until an inserted knife comes out clean. Let cool.

4. Frosting: Beat butter until smooth. If you're working with freeze-dried strawberries make sure to read my post linked above for step by step photos. The quick directions are finely crush the berried in a blender and then use a sifter to only use the finer pieces. Add it to your butter and then continue to add vanilla and powdered sugar until you reach your desired consistency. (If you're using strawberry puree which is just a few fresh strawberries blended in a blender, just add that to your butter and continue on!)

5. The fun part! Set your oven to broil on HIGH and line a cookie sheet with parchment or foil. Arrange 20-24 Campfire® Marshmallows on the pan so they aren't touching each other. Once the oven is heated, place the pan on the highest or second to highest rack. Close the oven door and flip your oven light on and WATCH. this will only take 1-3 minutes depending on your oven but they can burn if you leave them in even 10 seconds too long, so just watch them and take them out when they're golden brown!

6. Frost your cupcakes and top with chocolate sauce (I used store bought) and your big fluffy delicious marshmallow!