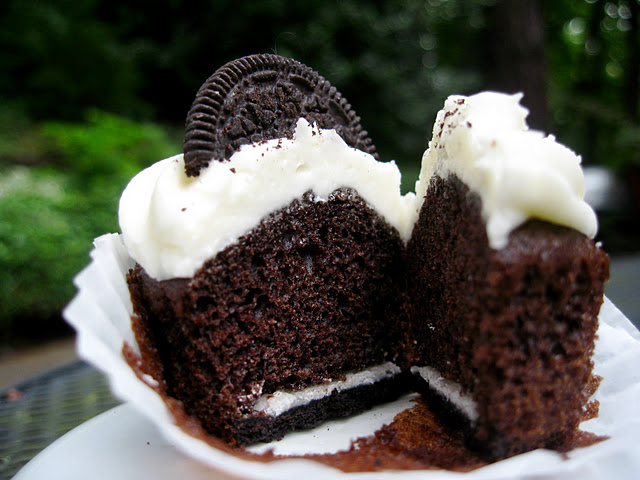 The Story:
When I was a kid, we didn't have big name brand sweets in the house. But when I went to a friend's house, there were two things I always looked forward to: Gushers and Oreos.
Thankfully, I no longer have hankerings for Gushers, but Oreos are such a classic cookie. They have been around since 1912, and though the icing color changes from one holiday to the next, the originals can always be found in every grocery store.
I often browse the cupcake photo galleries online to try to spark some ideas. I found an Oreo cupcake with the cookie baked at the bottom of the cupcake and had to try it.
These cupcakes seem pretty childish, but adults love them just as much as the kids do. The Oreo at the bottom is always a fun surprise and I tend to think of these types of cupcakes as cupcakes for the soul. You can play up the fact that they are "Oreo" cupcakes only as much as you want to by how you top them off.
Chocolate Buttermilk Cake:
Devils Food cake mix (or any chocolate flavor)
3 eggs
1/2 cup oil
3/4 cup buttermilk
1 cup sour cream
24 Oreos
Cream Cheese Frosting:
8 oz cream cheese
½ cup butter
1 teaspoon vanilla extract
3-4 cups powdered sugar
Directions:
1. Preheat oven to 350 degrees.
2. Separate Oreo sandwiches and place one in each cupcake liner cream side up
3. Mix eggs, oil, buttermilk and sour cream until combined.
4. Add to cake mix (for easy mixing, sift cake mix)
5. Fill cupcake liners 2/3-3/4 full over Oreos. Make sure to gently shake the pan side to side to allow the batter to settle. (If not, the cupcakes will have tall peaks from the Oreos at the bottom.)
6. Bake according to back of cake mix box, usually it will not take the full baking time.
7. Frosting: Combine cream cheese and butter and whip until light and smooth. Add vanilla and as much powdered sugar as needed for desired taste.
Feel free to play around with the Oreos. You can crumble them up and put them in the batter, put the whole Oreo in the middle of the cupcake, or crush them so they fit through a sifter and add them fold them into the frosting. (If you try to pipe the frosting out and the crumbles are too large, your piping back will clog.)