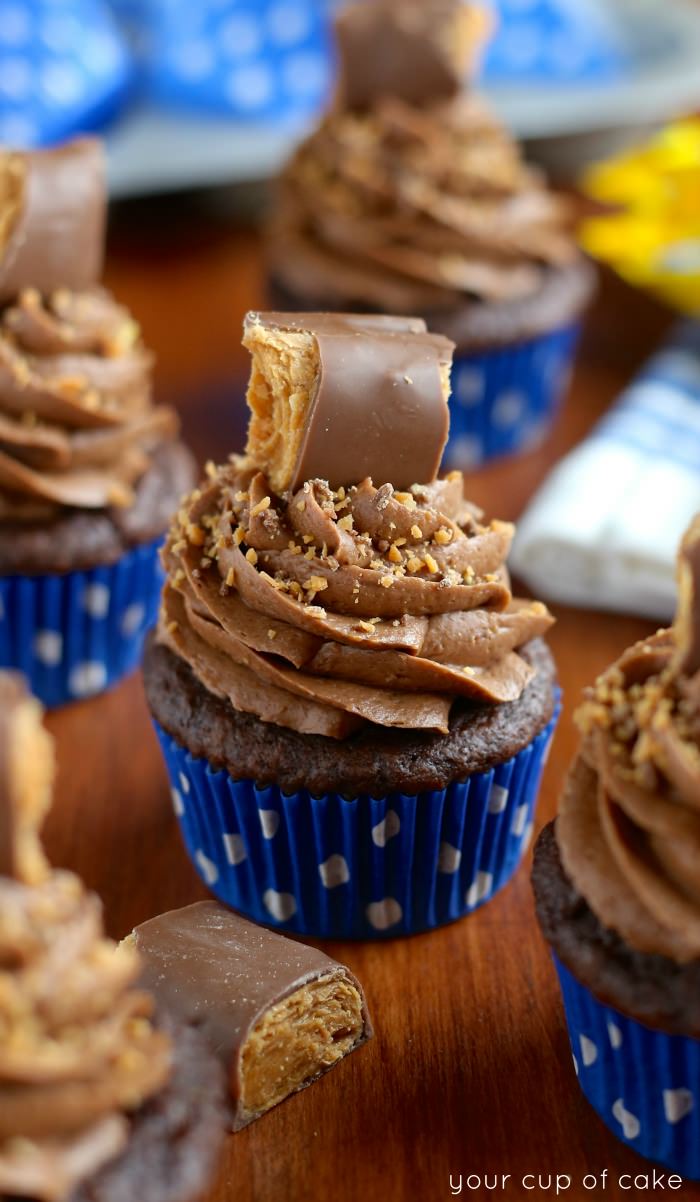 A crushed Butterfinger is the secret ingredient to this delicious frosting! These Double Chocolate Butterfinger Cupcakes will have you stocking up on Butterfingers until the new millennium! Get ready to fall in love.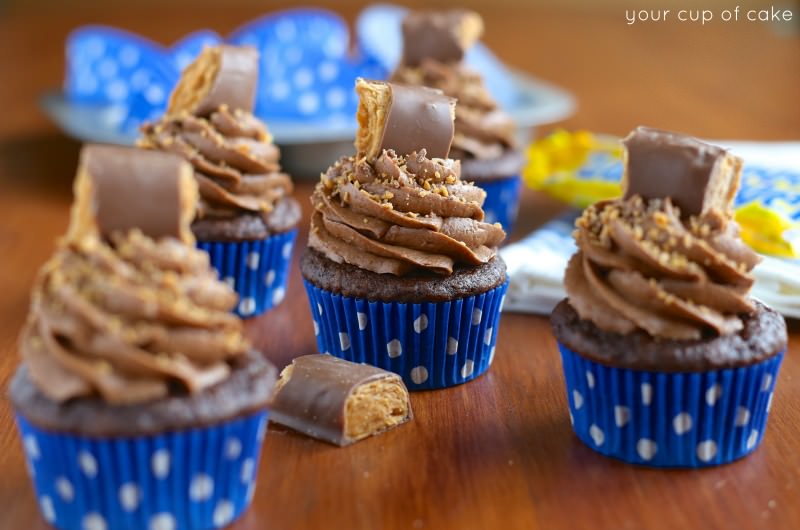 Now, I love my original Butterfinger Cupcakes and it's been a go-to recipe of mine for big parties, but I wanted to take it up a notch and give the recipe an extra chocolatey kick!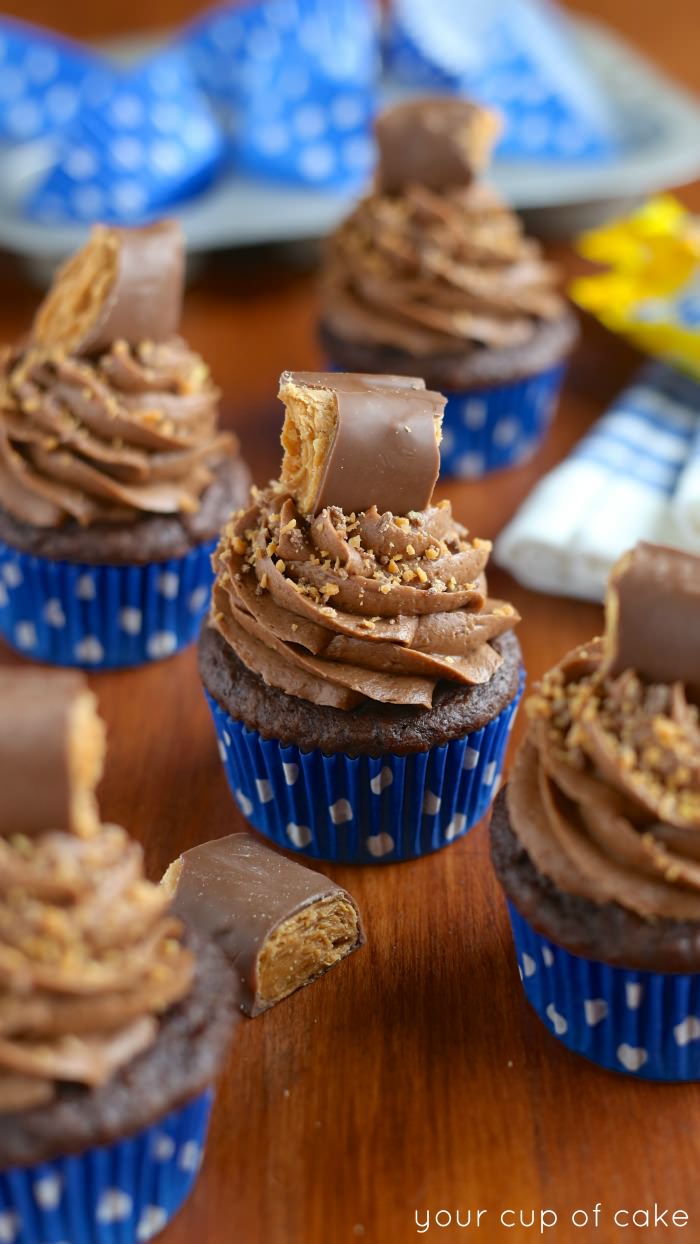 Can I tell you a secret about party cupcakes? The cupcakes topped with candy bars go like hot cakes! I'm serious. No matter what event I'm bringing cupcakes to, no matter how glamorous all the other cupcakes are, the ones with a piece of Snickers, Heath, or Butterfinger on top always run out first. Plus, topping your cupcakes with something (even a cherry or a mini cookie) help to cover up any imperfect piping skills.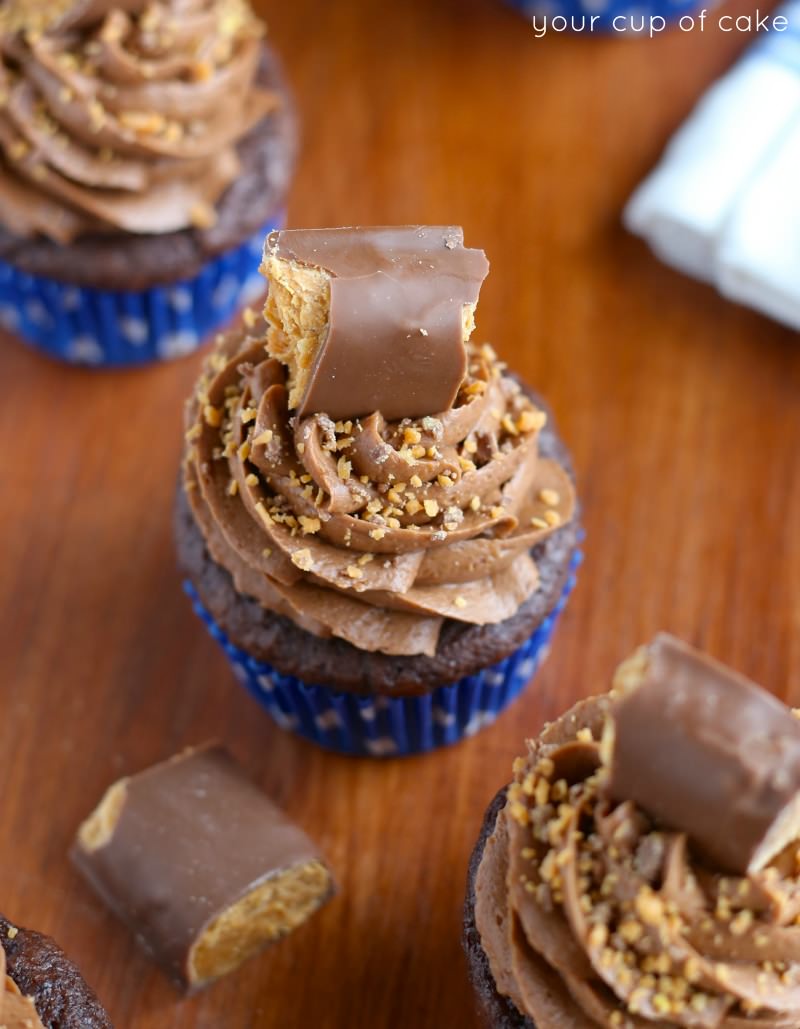 As I said, the secret to this to-die-for frosting is the crushed Butterfingers. I just zipped mine in my blender (though a food processor would work much better) and then sifted it to use only the tiny pieces that fall through. That way, the piping tip won't get clogged. But don't worry, I didn't waste the big pieces that didn't fall through, I used those as my Butterfinger "sprinkles."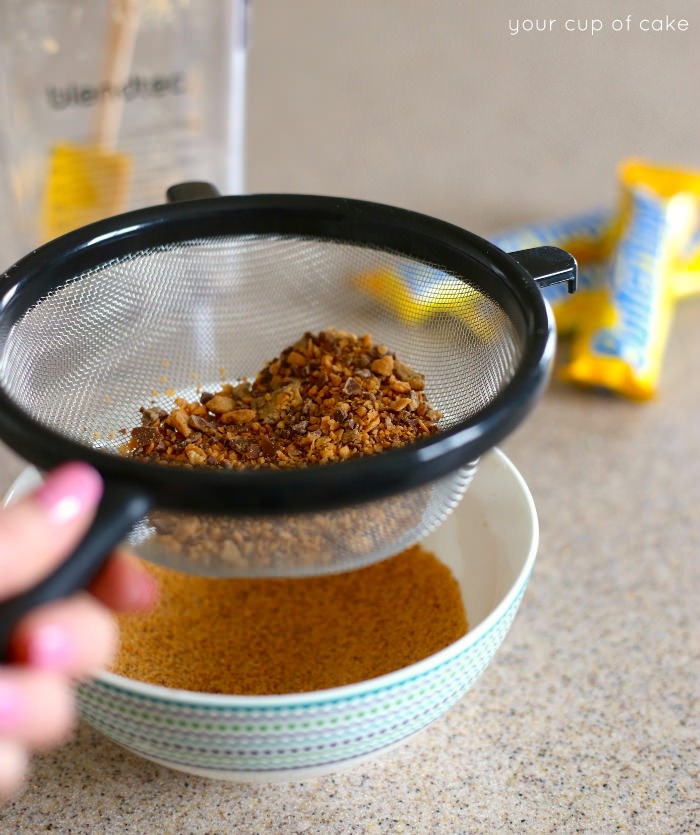 Just typing up this recipe is making me want to make my Butterfinger Rice Crispy Treats again! Oh my, rice crispy treats are a major weakness of mine…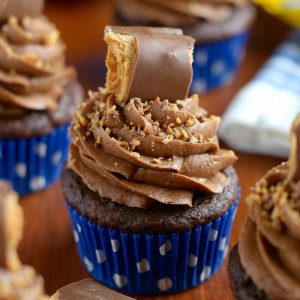 Double Chocolate Butterfinger Cupcakes
Ingredients
Chocolate Cupcakes:
1

box Devil's Food Cake Mix

I prefer Pillsbury

3

eggs

1/2

C.

oil

3/4

C.

sour cream

1/2

C.

milk or buttermilk

2

tsp.

vanilla extract
Butterfinger Frosting:
1

C.

butter

softened

1/3

C.

unsweetened cocoa powder

2

tsp.

vanilla extract

2-3

Tbsp.

milk

1-2

Tbsp.

creamy peanut butter

optional (for extra peanut butter taste)

2-3

C.

powdered sugar

3

regular sized Butterfingers

crushed and sifted
Instructions
1. Preheat oven to 350 degrees and line pans with cupcake liners.

2. Sift cake mix into a large bowl to remove any lumps.

3. Add eggs, oil, sour cream, milk and vanilla extract. Stir until smooth.

4. Fill cupcake liners 3/4 full and bake for 15-20 minutes or until an inserted knife comes out clean.

5. Let cool.

6. Chocolate Butterfinger Frosting: Beat butter until smooth. Add cocoa powder and beat again. Add vanilla extract and 2 Tbsp milk. Slowly add in powdered sugar until you reach your desired consistency. If it becomes too thick, add more milk. Add crushed Butterfingers. (As explained above in the photos, crush your butterfingers finely and then shake the pieces through a sifter and only use what falls through! This will keep your piping tip from getting clogged. You can then use the pieces that didn't fall through as "sprinkles" to top your cupcakes with! It's best to use a food processor to crush your Butterfingers.)

7. Pipe onto cooled cupcakes and top with extra Butterfingers!
Love Butterfingers as much as I do? You need to try this Butterfinger Chow!