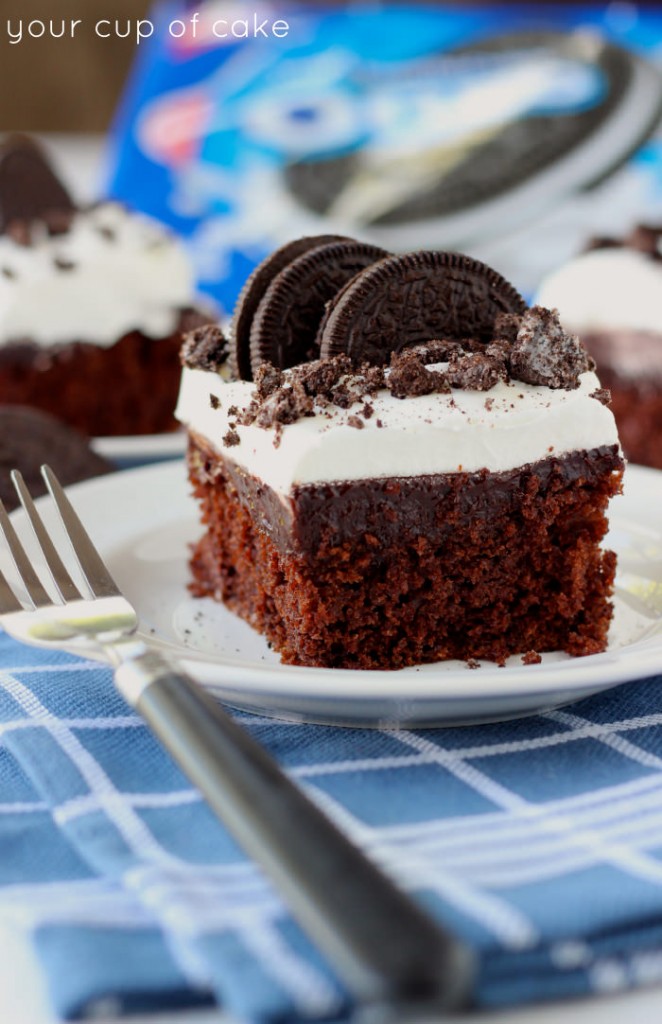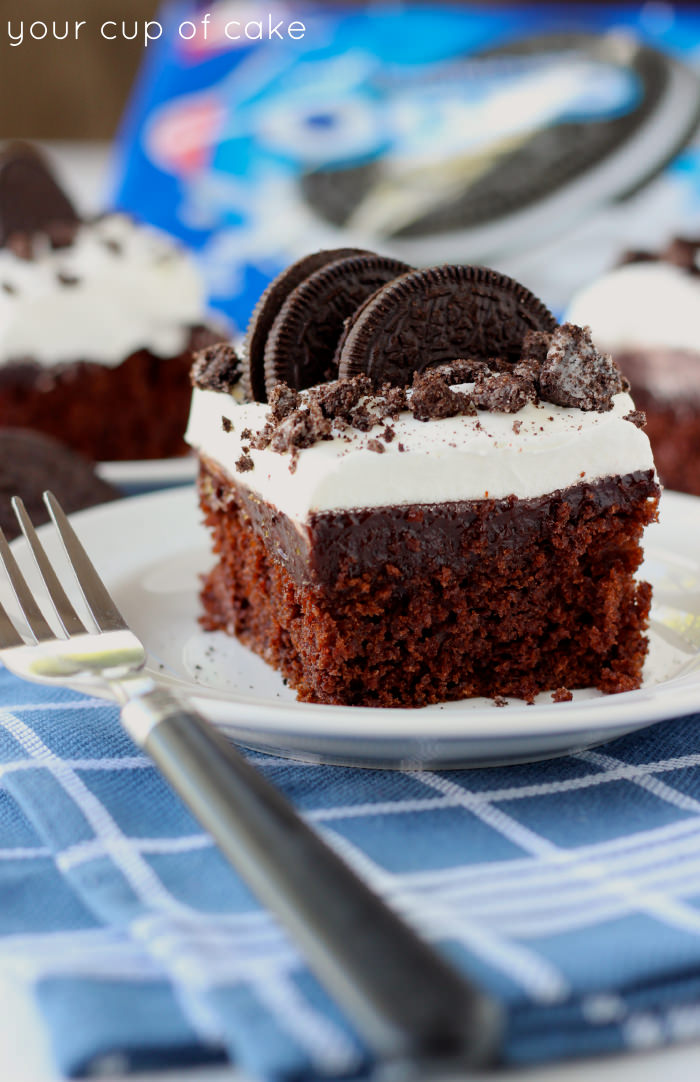 Oreos are a total weakness for me. After the end of a long day (or after a terrible date) all I need is a few Oreos, a mug of cold milk and a spoon. Well this Oreo cakes basically from heaven. Easy chocolate cake made with a cake mix, a chocolate pudding layer, Cool Whip and crushed Oreos.
The Story:
One of the most heated arguments I get into is probably the stupidest thing to fight over.
Fork, spoon or fingers? How do you eat your Oreos?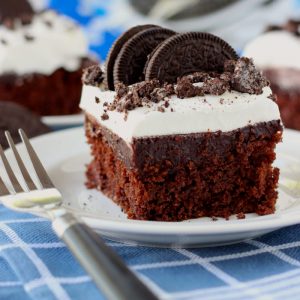 Easy Oreo Cake and Signed Cookbook Giveaway
Ingredients
Chocolate Cake:
1

Box Devil's Food Cake Mix

3

eggs

1/2

C.

oil

3/4

C.

buttermilk or milk

1/2

C.

sour cream or plain yogurt

2

tsp.

vanilla extract
Chocolate Pudding:
1

large or 2 small pkg

chocolate pudding prepared as directed (You can do instant or cook)
Cool Whip or whipped cream
Instructions
1. Preheat oven to 350 degrees and grease a 9X13 inch pan.

2. In a large bowl, sift in cake mix to remove any lumps.

3. Add eggs, oil, buttermilk, sour cream and vanilla extract and stir until smooth.

4. Pour into pan, spread out evenly and bake for 25-30 minutes or until an inserted knife comes out clean.

5. Let cool.

6. Prepare pudding according to directions. Two small boxes will give you more pudding, but just do what is easiest for you! While the pudding is still warm or before it "sets" pour over cake. (You can "poke" your cake with the end of a wooden spoon to let the pudding soak into the cake or you can just let it layer on top!)

7. Put cake with pudding on it in the refrigerator for 10 minutes or until the pudding is firm.

8. Spread Cool Whip or whipped cream over cake and top with crushed Oreos! Refrigerate Until ready to serve!
My little photo set up by the window. It's really simple, but it's all I need!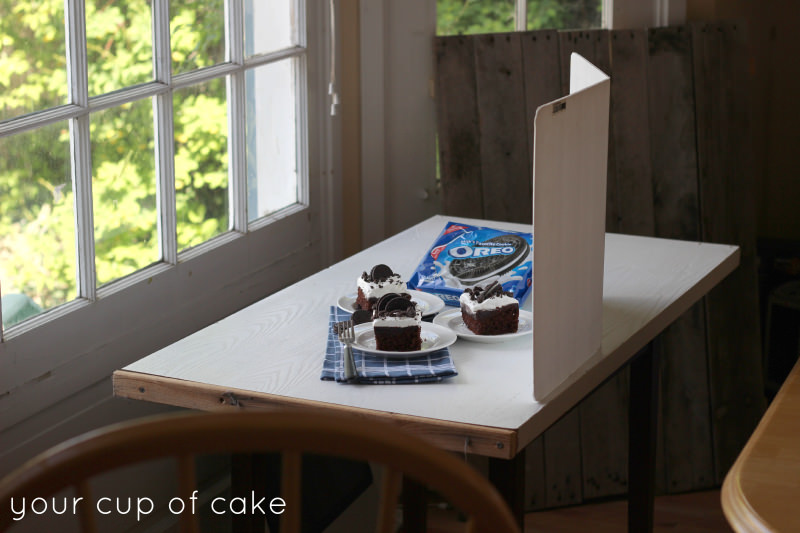 Giveaway time is the best time!
Alright, so I have teamed up with a bunch of bloggers who all started giveaways today! Be sure to check out their posts and enter to win their fun prizes. As for my prize… you can win 2 signed copies of my newest cookbook Make it with a Cake Mix! So one for you and maybe one for your Mom (since Mother's Day is coming up 🙂 )
Find out how to enter below!!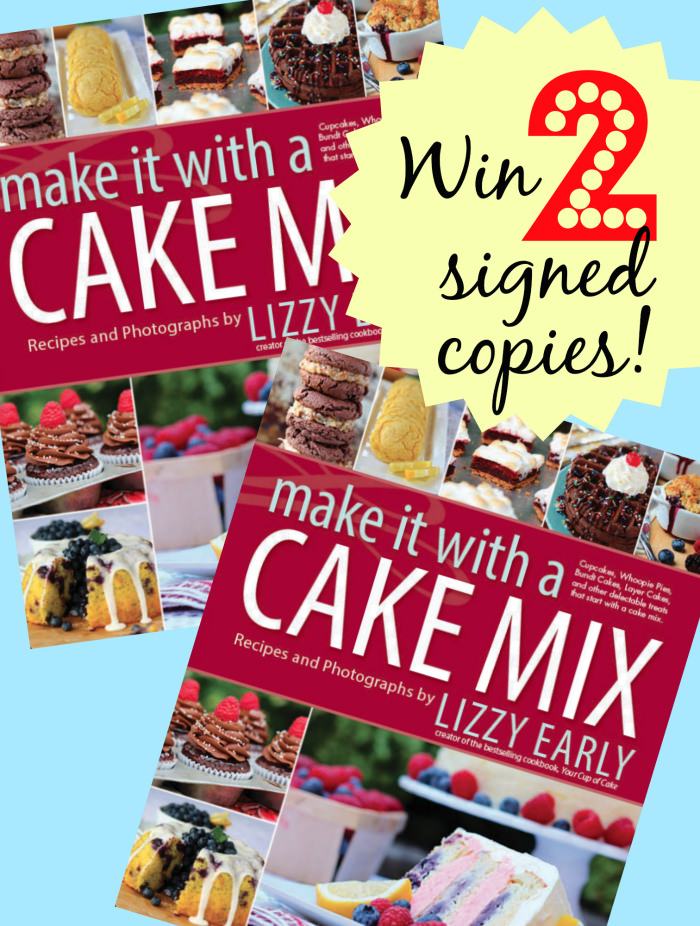 5 Ways to Enter:
1. Comment below telling me who you would give your second copy to!
2. Follow Your Cup of Cake on Facebook AND "share" one of the posts from the page! (comment below telling me you did that!)
3. Follow Your Cup of Cake on Instagram (and comment below telling me you did it)
4. "Pin" 3 posts from Your Cup of Cake on Pinterest (comment telling me you did it)
5. Bonus: "Pin" 3 posts from Your Cup of Cake on Pinterest (comment telling me you did it)
NOTE: Please make separate comments for each entry, because I use a random number generator to pick the winner and each entry is assigned a number 🙂
Looking for something to "Pin?" Check out these recipes:
24 Puppy Chow (Muddy Buddy) Recipes– Most Popular Recipes
Almond Maraschino Cherry Cupcakes
Peanut Butter Chocolate Rice Crispy Treats
Chocolate Banana Cream Pie Cupcakes
Homemade Oreos (these are INCREDIBLE)
Chocolate Almond Raspberry Cupcakes
Giveaway Ends May 10, 2014 11:59 pm EST. Winner will be selected randomly and will be notified via email. Winner must respond within 24 hours or a new winner will be chosen.
And for all those other awesome giveaways I was talking about that start TODAY…!!!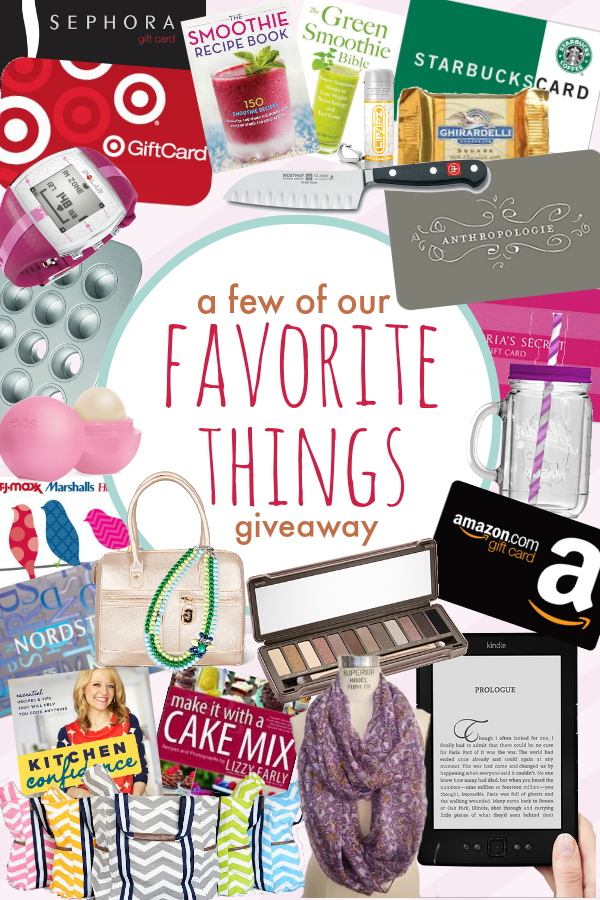 Enter to win LOTS of other great prizes on these blogs:
Capturing Joy with Kristen Duke