Banana cakes topped with milk chocolate whipped cream, it's a dream come true! Banana lovers will love these Banana Chocolate Whipped Cream Cupcakes!

Easy Banana Chocolate Whipped Cream Cupcakes
I've gone bananas! This summer has been jam packed with so many fun adventures and working hard over here on the blog for all of you! Parker (my husband) is helping out from time to time when he's not busy applying to med school. We're bringing some of our favorite meals to the blog! Since my brain feels like it's gone bananas I thought I would may a light and fluffy banana cupcake, Banana Chocolate Whipped Cream Cupcakes topped with chocolate sauce.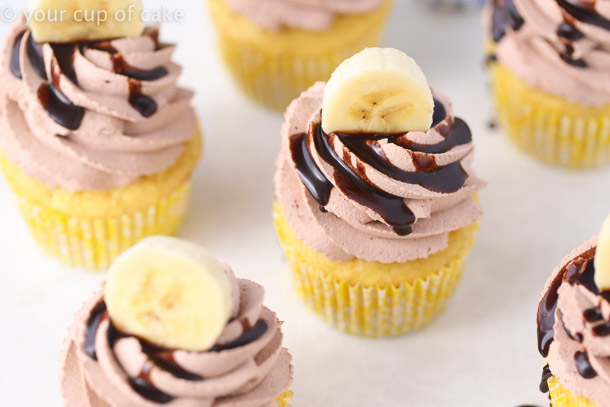 How to Make Chocolate Whipped Cream
Whipped cream is magical made at home. You can add as much powdered sugar as you want and a bit of vanilla extract to really make it perfect! But even better… you can flavor it! Chocolate Whipped Cream is great with strawberries, on hot chocolate, with pies… even just with graham crackers! To make a simple chocolate whipped cream just add about 1/4 cup of powdered sugar and 1/4 cup of unsweetened cocoa powder to your liquid heavy cream and then whip! Add in a splash of vanilla too! But since we are piping out our chocolate whipped cream on cupcakes I added a stabilizer to keep it from "melting" later on. And this is a stabilizer you probably already have in your pantry! Check out the recipe!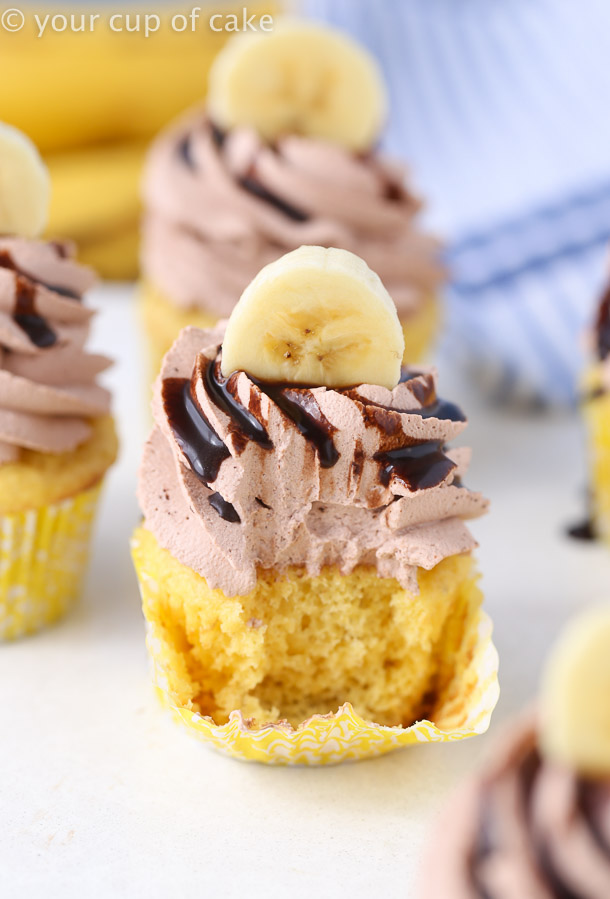 Frosting for People who say they don't like Frosting:
Whipped cream frosting is perfect for all those people who say they don't like frosting. It's light and fluffy and never too sweet! It's basically just a thicker whipped cream when you add the stabilizer (instant pudding mix). Plus, with that chocolate drizzle… who can resist? Not me!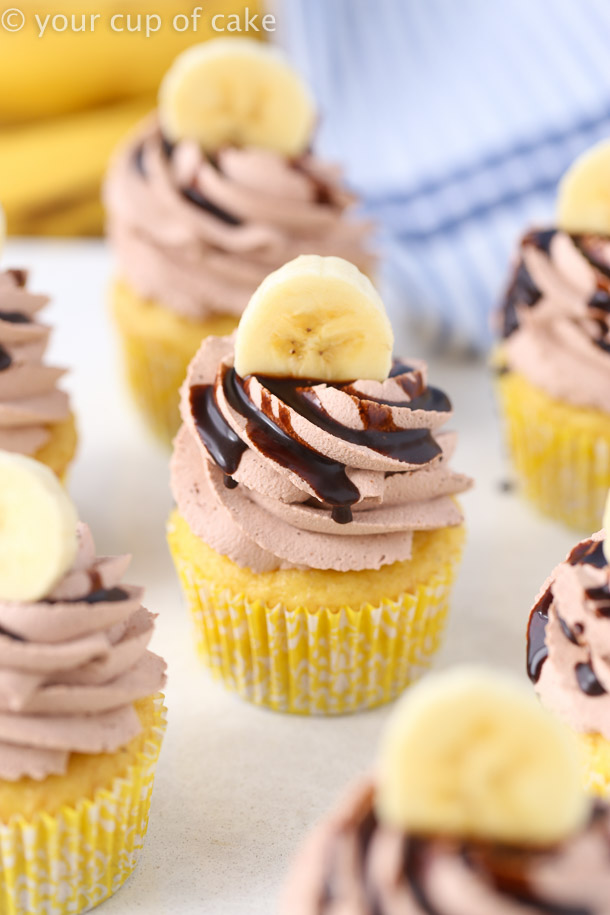 The Secret to Making your Cupcakes Look Professional
Whenever I do a cupcake demonstration, I tell people the secret to making your cupcakes look profession and bakery perfect is topping them off! These cupcakes would look fine with just the whipped cream frosting… but adding the drizzle of chocolate sauce and fresh banana take them to a whole new level! Now they're mouth watering!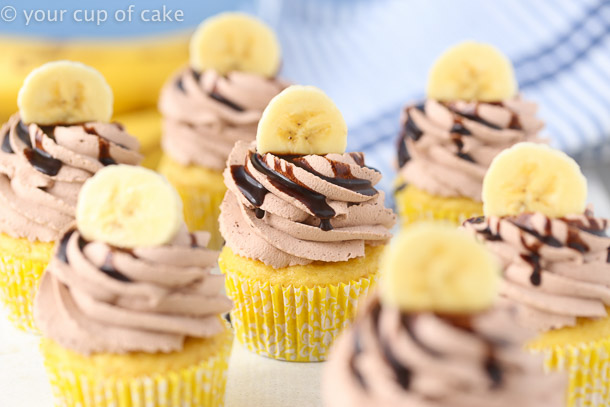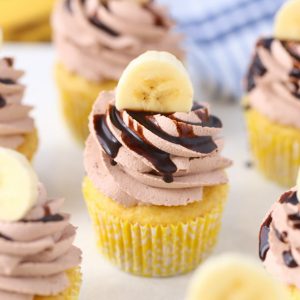 Banana Chocolate Whipped Cream Cupcakes
Ingredients
BANANA CAKE:

2

medium ripe bananas

mashed

1

box yellow cake mix

3

eggs

1/4

C.

melted butter

or oil

3/4

C.

buttermilk or milk

2

tsp.

vanilla extract

CHOCOLATE WHIPPED CREAM:

1

pint

heavy whipping cream

1/4

C.

unsweetened cocoa powder

1/4

C.

powdered sugar

1

tsp.

vanilla extract

2

tsp.

chocolate instant pudding mix

to help stabilize it
Instructions
1. Preheat oven to 350 degrees and line muffin tins with cupcake liners (about 20).

2. In a large bowl, use a fork to finely mash bananas. Add cake mix, eggs, melted butter, buttermilk and vanilla extract. Stir until smooth.

3. Fill cupcake liners 3/4 full and bake for 15-18 minutes or until an inserted toothpick comes out clean.

4. Let cool.

5. In a stand mixer using the whisk attachment, add heavy whipping cream, unsweetened cocoa powder, powdered sugar, vanilla extract and chocolate instant pudding mix to the bowl. Whip until stiff. Taste, if you want it sweeter, add more powdered sugar!

6. Pipe onto cooled cupcakes and top with chocolate sauce and banana slices! Enjoy!