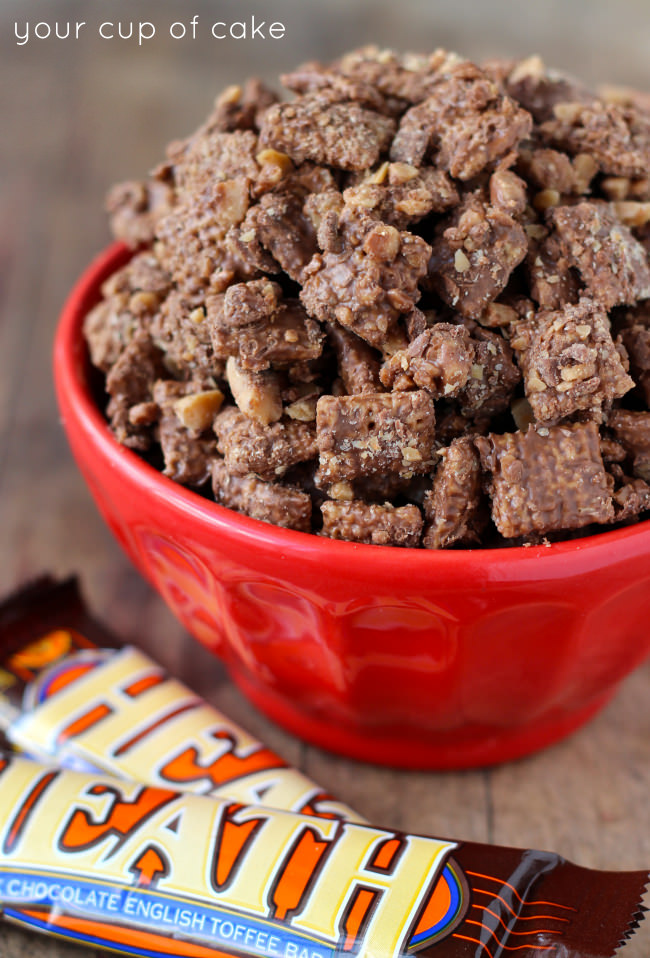 You know I love a good Puppy Chow/ Muddy Buddy recipe! I mean I've made more than 20 recipes! These are definitely chocolatey and borderline dangerous because they're so addicting. Heath Bars alone are incredible, so you know this combo is irresistible!
Also, it's the last day to enter my $100 giveaway so head over and do that! But I also have another awesome giveaway coming to the blog on Sunday!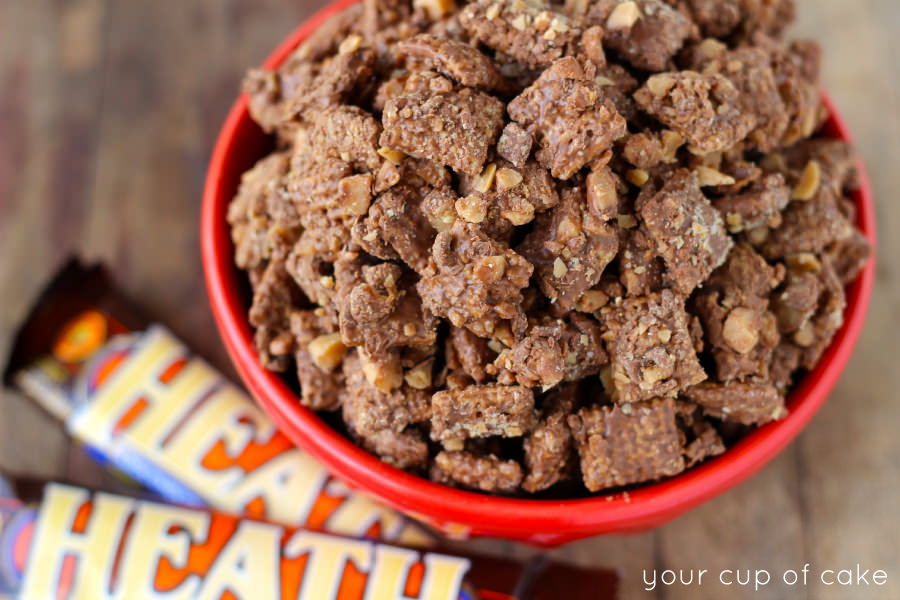 Okay, I kept typing up stories and kept deleting them because no matter how I write it it sounds like some pathetic date story. And it's not. It just sounds a little pathetic and maybe borderline creepy. So I'll spare you all from the details 🙂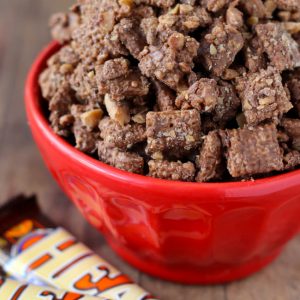 Heath Muddy Buddies
Ingredients
7

C.

Rice Chex Cereal

2

C.

chocolate melts

or chocolate chips plus 1 1/2 Tbsp. oil

1

pkg. Heath Baking Bits

Extra Heath Bars for decoration

optional
Instructions
1. Place cereal in a large bowl and set aside.

2. Melt chocolate melts (our chocolate chips and oil) in the microwave and stir until smooth.

3. Pour over cereal and gently fold until covered.

4. Dump into plastic bag (or tupperware with a lid) and add Heath Baking Bits. Shake, shake, shake! Now, you'll notice that the chocolate from the "bits" will melt and these muddy buddies will be much more chocolatey than the normal stuff, but that's okay! They will be delicious. But if this does worry you, you can add a few Tablespoons of powdered sugar or brownie mix!

5. Dump onto a cookie sheet, spread out and let cool!

6. Serve with chopped up Heath Bars if desired!
I found these in the baking aisle, but if you can't find them, get about 8 or 9 heath bars and just crush them up!