Grab the kids and whip up a batch of these Easy to Make Snowman Cupcakes made with sprinkles, chocolate chips and orange candies.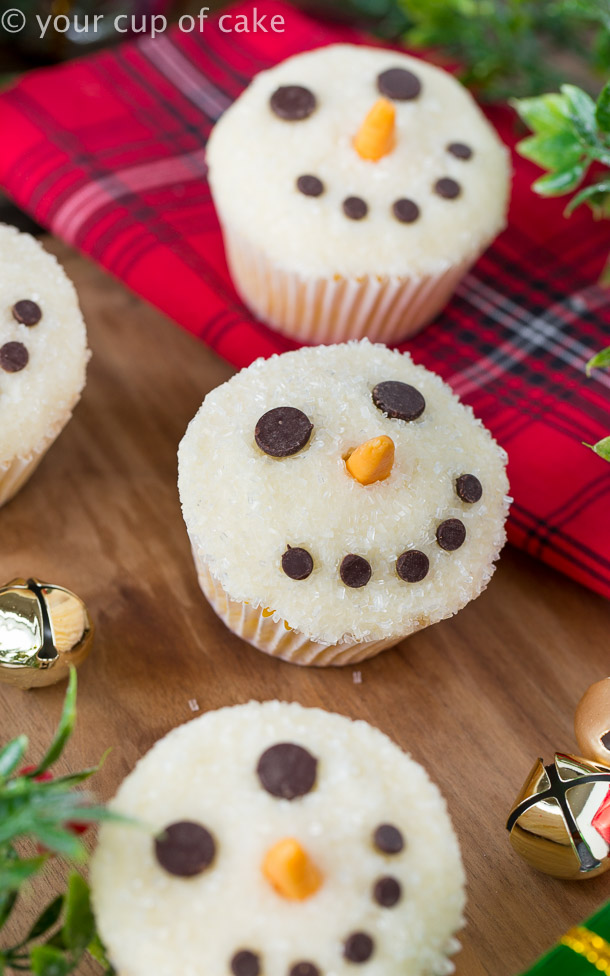 Easy to Make Snowman Cupcakes for Christmas
Christmas has tons of over the top cute desserts. They usually take hours to make and only seconds to eat… which can be a little defeating. So here is an easy and simple Christmas cupcake! Now of course, I have plenty of other simple decorating ideas like my Christmas Tree Cupcakes, Rudolph Brownies, or Ornament Sugar Cookies! But these Easy to Make Snowman Cupcakes may be the easiest of all and they're beyond perfect for the kids to help decorate!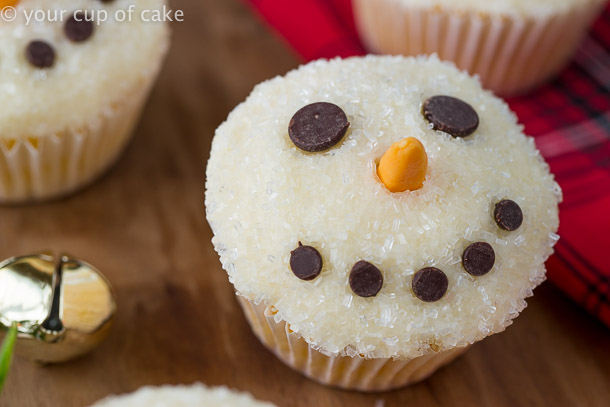 How to Make Snowman Cupcakes
I used clear sprinkles, regular chocolate chips, mini chocolate chips and orange tootsie rolls but there are plenty of swaps you can make! I used the chunky clear sprinkles because they look like snow, but you can use none at all…just white frosting! For the eyes I used regular chocolate chips but you can use mini chocolate chips or brown M&M's! For the mouth I would suggest sticking with the mini chocolate chips because they're easy to find and work perfectly. And for the nose you can use any orange candy! Even a butterscotch chip would work. If you use an orange candy like I did or even an orange Starburst you'll just need to cut the candy to look like a carrot! And there you have it… Easy to Make Snowman Cupcakes!

Aren't they adorable? And perfect for Christmas! You can make them with with any type of cupcake you want! Chocolate cake with coconut frosting, yellow cake with vanilla frosting, strawberry cupcakes with almond frosting… you name it! Just keep the frosting white so it still looks like a snowman!
By the way, this is my favorite cupcake pan because it has 24 wells in it and its a tad shallower than most pans so you never get that ugly dark rim around your vanilla/yellow cupcakes! Yay! Best baker's Christmas gift ever!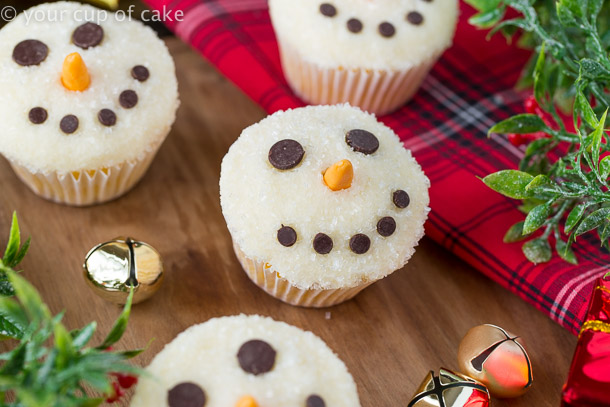 The countdown to Christmas is ON! Presents are wrapped (almost all of them), the kitchen smells like caramel corn, the tree is all aglow! Now I just need some snow in the mountains to make it official! Enjoy my Easy to Make Snowman Cupcakes with your family!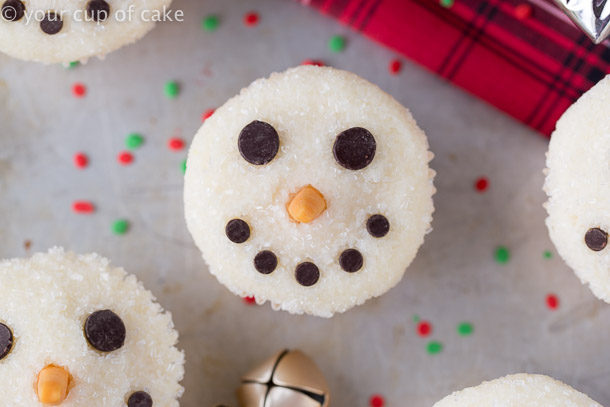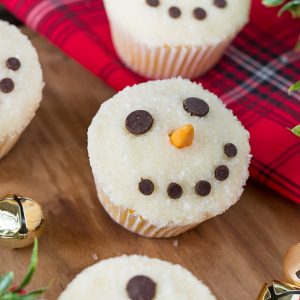 Easy to Make Snowman Cupcakes
Ingredients
Cupcakes

any flavor

White Frosting

any flavor

Clear Sprinkles

optional

Regular Sized Chocolate Chips

Orange Candies

like tootsie rolls or Starbursts

Mini Chocolate Chips
Instructions
1. Let cupcakes cool.

2. Frost with white frosting and roll in a bowl (or plate) of sprinkles. (See video above)

3. Place regular chocolate chips upside down to create "eyes."

4. Cut orange candies to make a carrot "nose" and place into cupcake.

5. Use mini chocolate to place upside down to make a "mouth."

See above for all my ingredient swap ideas!