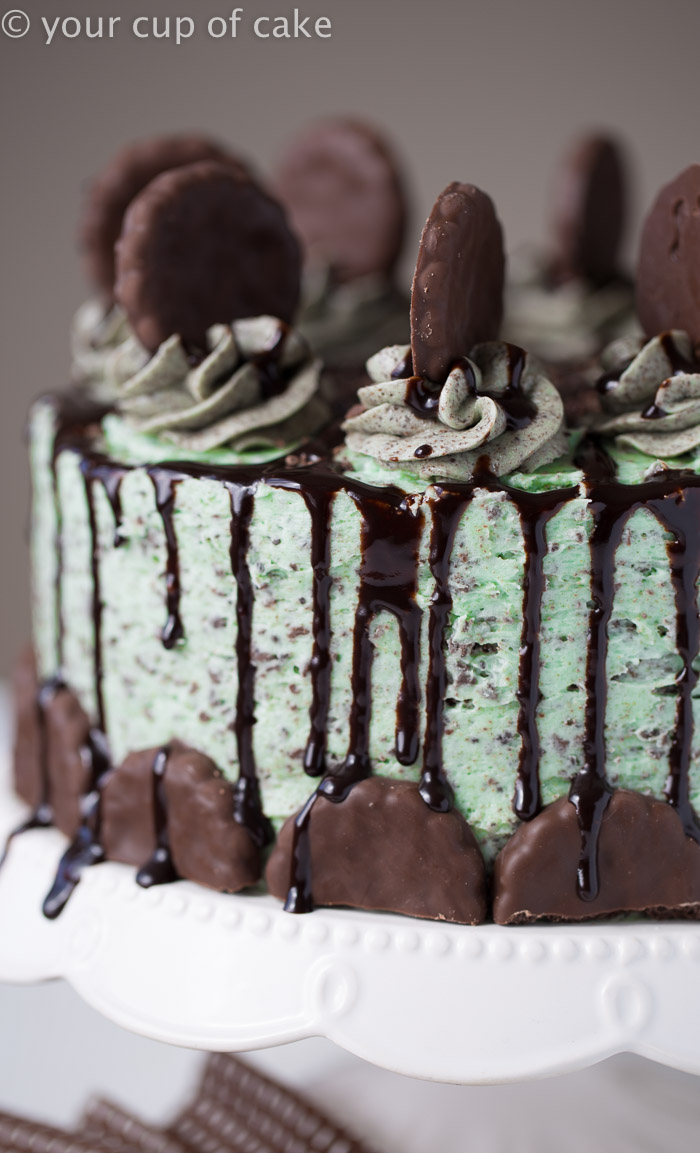 Chocolate Thin Mint Cake with crushed up cookies in the frosting, chocolate cake, and smothered in chocolate sauce. Could life get any better? Well maybe if it was zero calories, but don't hold your breath for that!
I've been on a bit of a Thin Mint kick with my Thin Mint Poke Cake and my Thin Mint Fudge Cupcakes but that's because St. Patrick's Day is coming up!! And I mean, Thin Mints are pretty much the best so I just need excuses to keep buying them and eat the extras…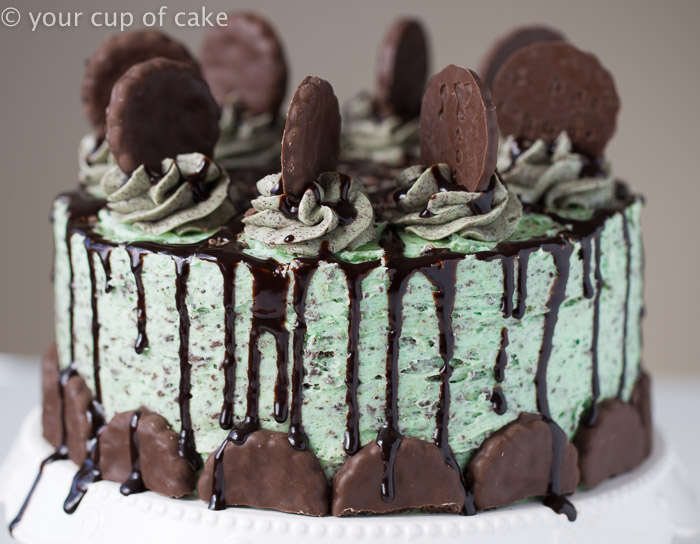 I'm not going to lie, I sort of messed up decorating this cake, I meant to put the chocolate drizzle on right after I did the base frosting but I forgot! Ah!!!! But oh well, it still looks pretty scrumptious I would say.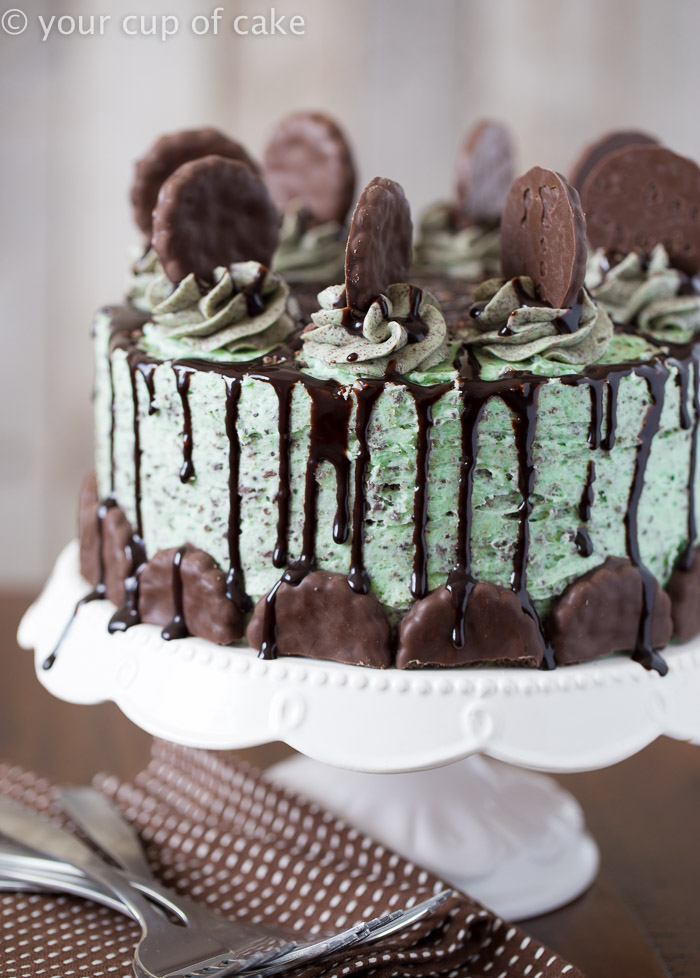 I broke a bunch of the cookies in half to try and make a little scalloped border.
Decorating a cake at home can be so easy! I don't use a rotating cake stand because I hate getting the cake from the rotating one to the pretty one. But the trick is to have plenty of frosting to work with!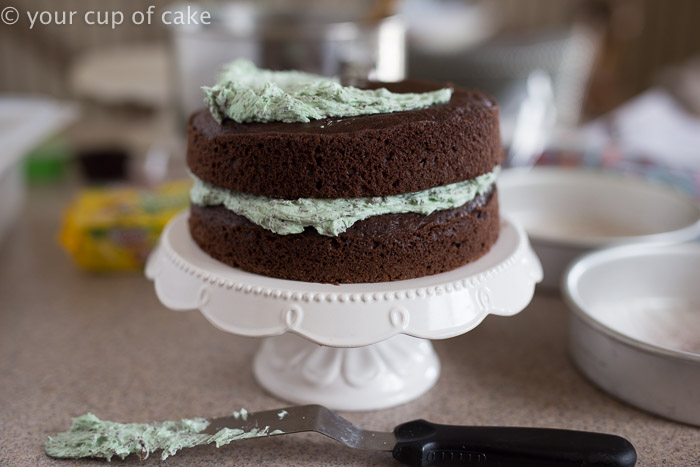 You want to make a sharp edge between the sides of the cake and the top! That's what makes a bakery cake look professional! I pipe little dollops of frosting on my cakes but you can just drizzle with chocolate sauce and top with cookies!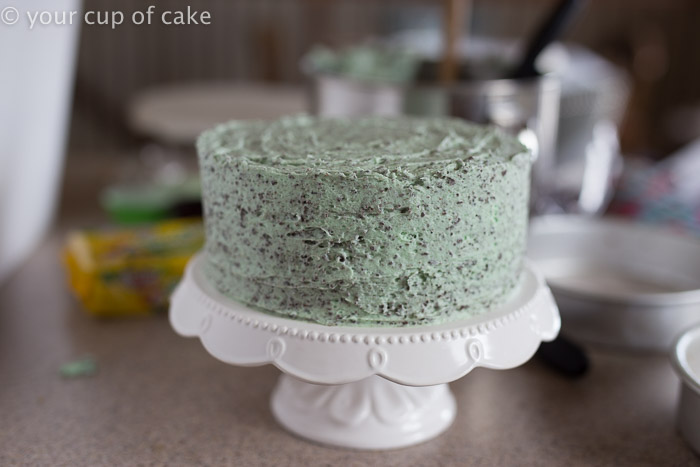 Everything looks better dripping in chocolate.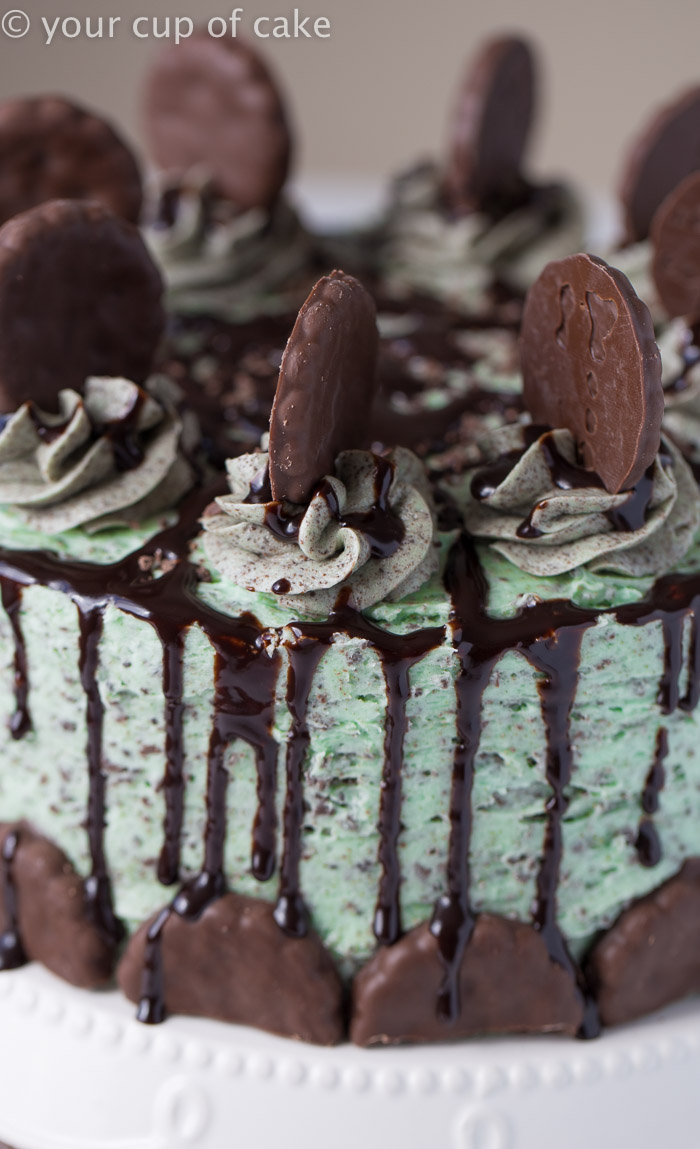 Drooling?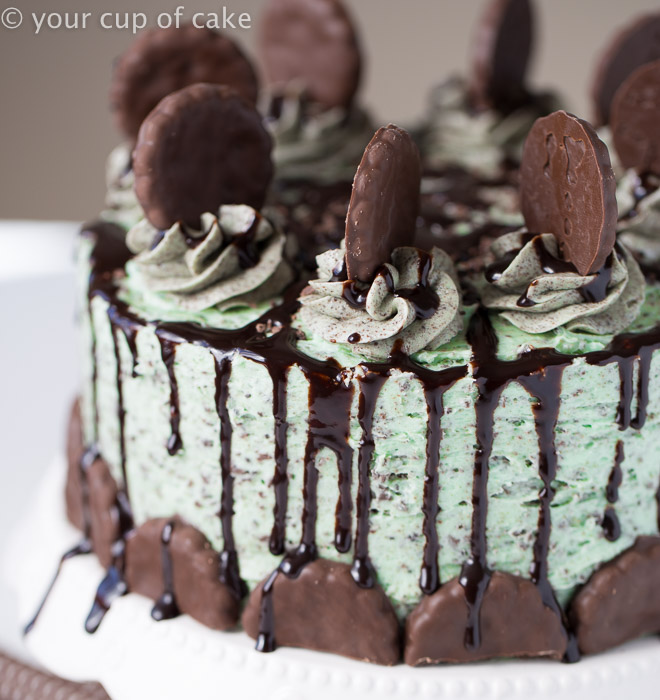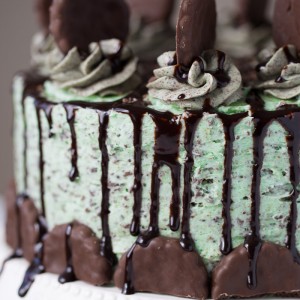 Thin Mint Cake
Ingredients
CHOCOLATE CAKE:

1

box Devil's Food Cake Mix

3

eggs

1/2

C.

butter

melted

1

C.

milk

1/2

C.

sour cream

2

tsp.

vanilla extract

THIN MINT FROSTING:

12

Thin Mints

crushed (I used a blender)

1

C.

butter

softened (If you like a lot of frosting you can add an extra 8 oz. cream cheese or 1/2 C. butter)

1

tsp.

vanilla extract

1

tsp.

peppermint extract

1

Tbsp.

milk

2-4

C.

powdered sugar

green food dye
Instructions
1. Preheat oven to 350 degrees and grease 2- 9 inch pans (or 8 inch pans are my fav).

2. Combine cake mix, eggs, butter, milk, sour cream and vanilla extract until smooth and then pour into pans and spread out evenly.

3. Bake for 17-22 minutes or until an inserted knife comes out clean.

4. Let cool.

5. Thin Mint Frosting: Beat butter until smooth. Add vanilla, peppermint, milk, and 2 cups powdered sugar. Continue to add powdered sugar until you reach your desired consistency (you'll want it spreadable). Use food dye to get a green color and then stir in your crushed Thin Mints.

6. Frosting cooled cake and top with extra Thin Mints and chocolate sauce (mine was just store bought but you can make a ganache using chocolate chips and cream!)