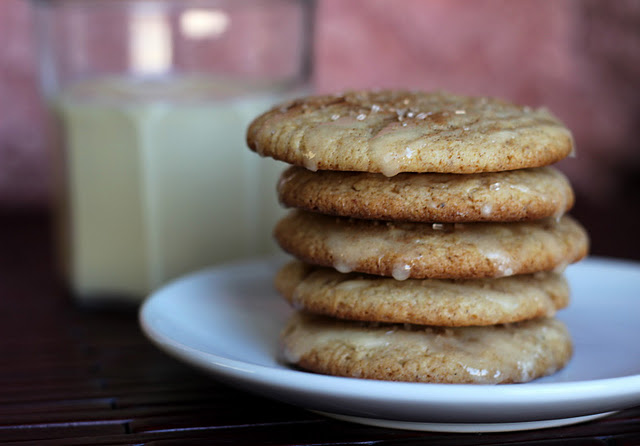 The Story:
When I see eggnog next to the milk in the grocery store, I know it's the holiday season. I love everything about it—the richness, the flavor, the texture. But I hate how fast it goes when I go home for Christmas. I don't think it even makes it into the fridge. It just goes from the grocery sack straight to glasses.
Cookies:
Glaze: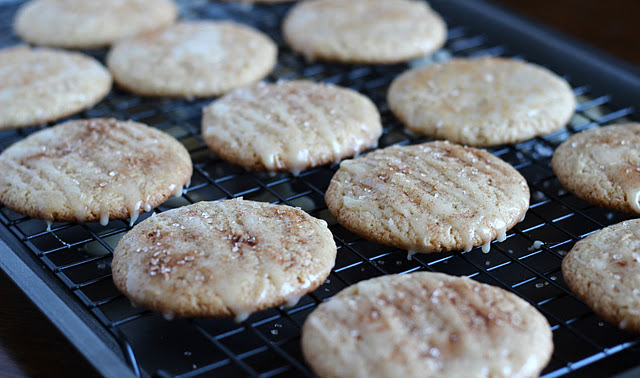 Directions:
1.
Preheat oven to 350 degrees and line cookies sheets with parchment paper.
2.
Beat sugar and butter until light and fluffy, 3 minutes.
3.
Add egg yolks one at a time on slow.
5.
In a separate bowl, combine flour, malt, baking powder, nutmeg and cinnamon.
6.
Pour half of the flour mixture into the egg/sugar mixture.
8.
Pour in remaining flour mixture. Stir only until combined,
9.
Make small dough balls (dough may be sticky) and freeze in a tupperware for 10 minutes.
10.
Place on cookie sheets and bake for 12-18 minutes or until the edges are barely brown.
11.
Glaze: combine all ingredients using a whisk or a fork. Drizzle over warm cookies and top with cinnamon sugar.