This 5-minute Garlic Parmesan Butter will turn any ordinary dinner roll into an out of this world experience! Grab a butter knife and get ready!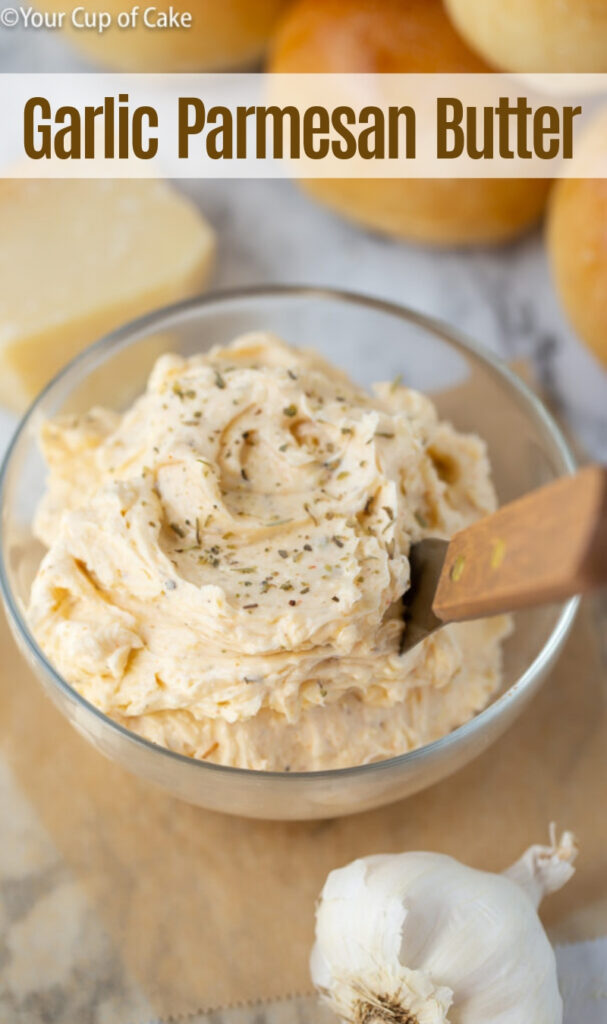 The Best Garlic Parmesan Butter
Flavored herb butter can be a secret weapon at dinner. Even if you feel like you're not a great cook or baker, you can can make this delicious Garlic Parmesan Butter. All you have to do is add the ingredients to a bowl and combine! Bring this to Thanksgiving, Christmas or any ole dinner and you will be the hit of the party!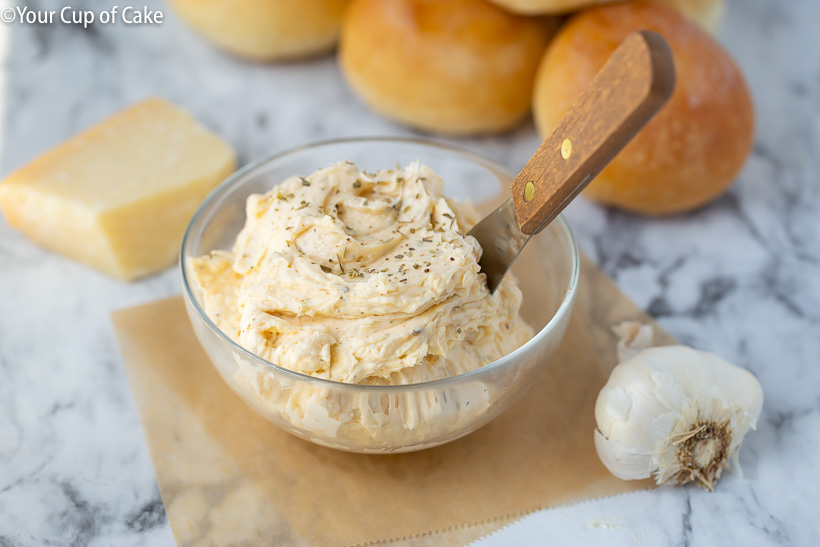 Herb Butter for Thanksgiving Dinner
Thanksgiving and other big dinners can feel overwhelming with a long list of things to make. I love homemade rolls and have been making my World's Best Potato Rolls for years but if you don't have the time (or energy) to make homemade rolls don't worry about it! Make this 5 minute garlic butter to elevate store bought rolls and everyone will be too busy talking about how good the butter is! Or if you're going to dinner somewhere, bring a little dish of this butter to wow the crowd!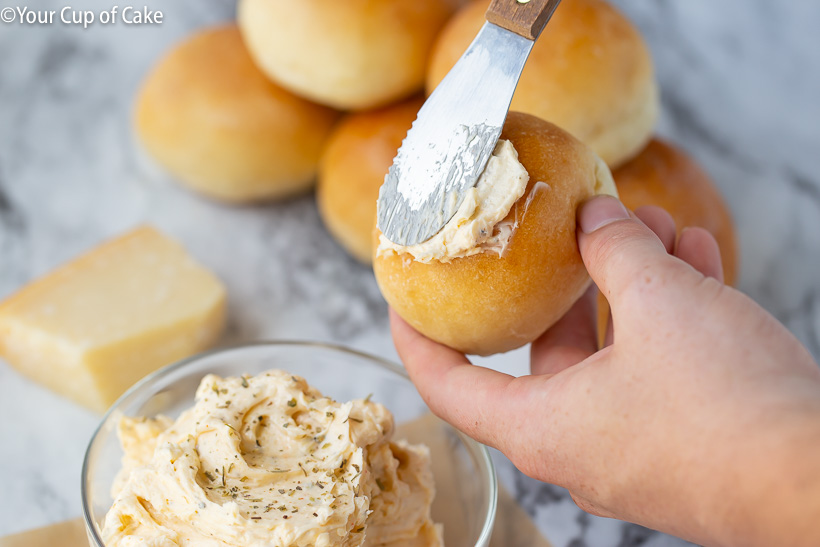 How to make Whipped Herb Butter
To make this recipe super simple, you'll need the help of a food processor. If you don't have one, that's fine but you'll just spend a few extra minutes chopping. If you do have a food processor, throw all the ingredients (besides the butter) into it and let it finely chop everything for you. Then all you need to do is mix that into the butter! Done! If you want this to be whipped butter, use a whisk attachment of a stand mixer or hand mixture to combine the butter and whip it for a few minutes!
We sprinkled a little extra Italian seasoning on top for color.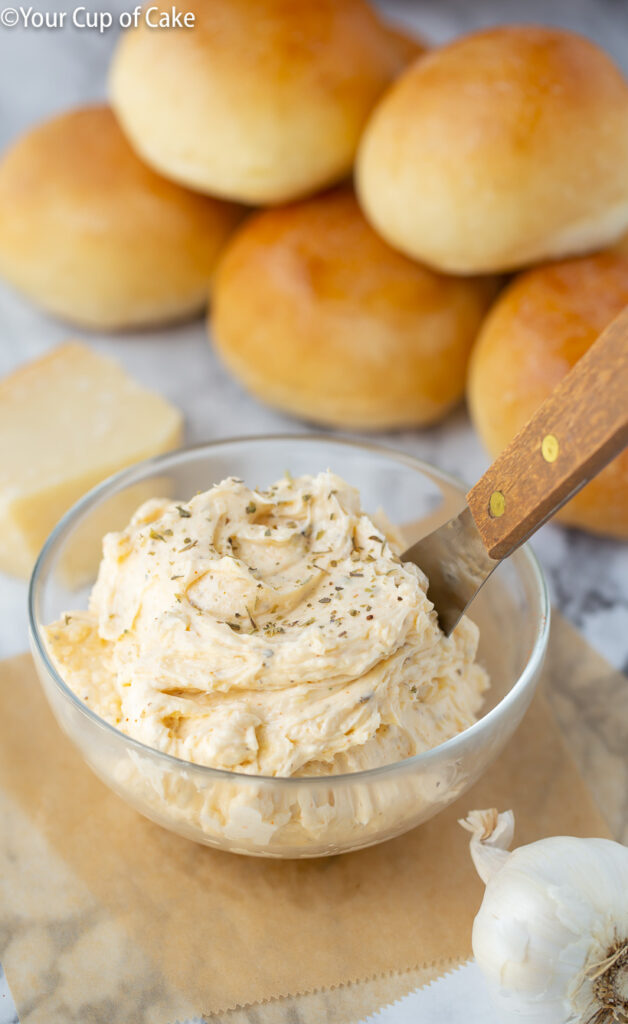 What do I use Herb Butter for?
Herb butter is most commonly used on dinner rolls and steaks. But you can use it wherever you would use normal butter in a savory context. For example, on grilled cheese! Spread some of this onto the bread before it hits the pan and WOW will this add a ton of flavor to a basic grilled cheese sandwich! You can also use it to make your pizza crust even more delicious or melted over cooked veggies.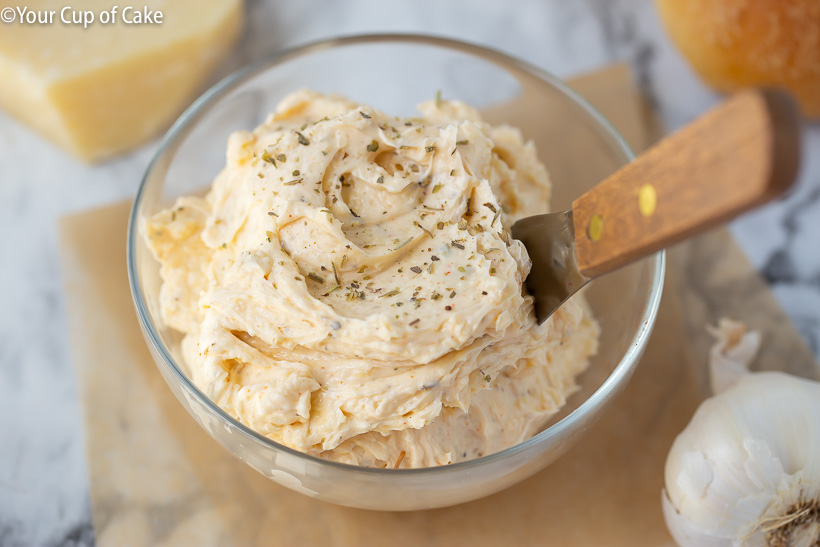 I cannot wait for Thanksgiving! Parker (my husband) will have a few days off from school, we'll smoke a turkey and maybe get to sleep in a little with baby Stella let's us! But either way we will be well fed with pie, stuffing and this garlic parmesan butter on warm rolls!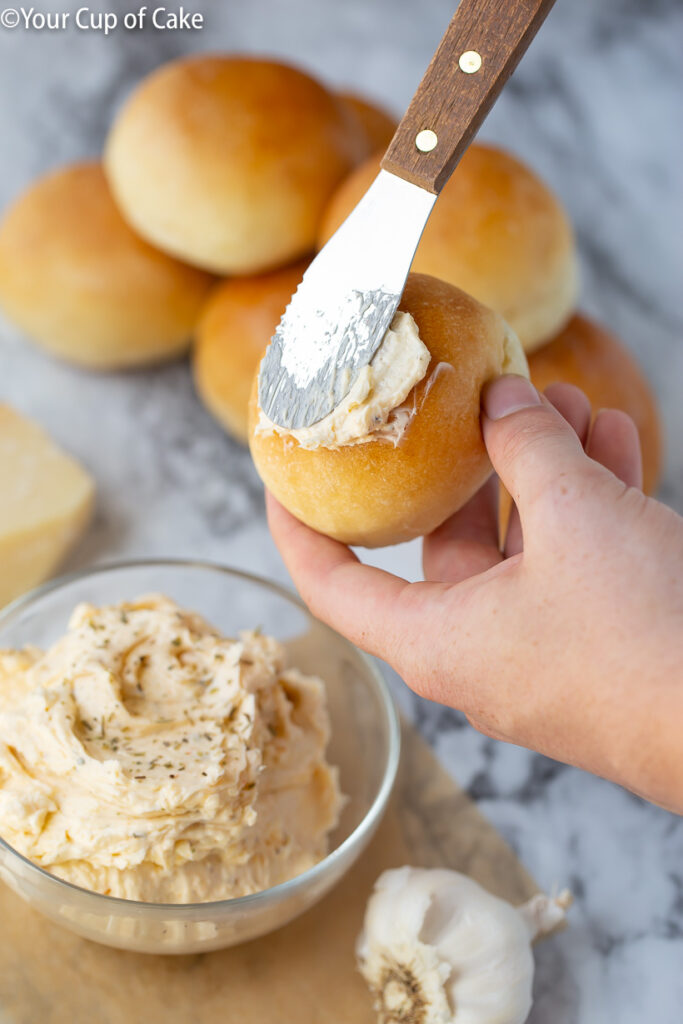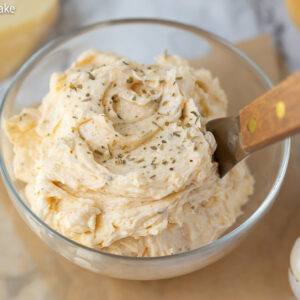 Garlic Parmesan Butter
This 5 minute Garlic Parmesan Butter will turn any ordinary dinner roll into an out of this world experience! Grab a butter knife and get ready!
Ingredients
3

cloves

garlic

or 4 cloves if you really LOVE garlic

1/2

teaspoon

salt

1/2

cup

parmesan cheese

1/2

teaspoon

Italian seasoning

1/4

teaspoon

paprika

1/4

teaspoon

pepper

1

cup

unsalted butter

if using salted butter omit salt in recipe
Instructions
Add all ingredients (expect butter) to a food processor and finely chop. If you don't have a food processor, finely chop garlic cloves.

Combine butter and the rest of the ingredients using a stand mixer or hand mixer. Use the whisk attachment if you want whipped butter. Beat for at least 4 minutes to help bring out all of the flavors.

Keep in refrigerator until ready to serve!