This is everything you need to know about how to cater a wedding! Especially if you're making cupcakes, I have a few special tips and tricks for you cupcake lovers out there! It all comes down to planning and thinking ahead and a few special tools to really save you time and stress.
I get a ton of emails from people making large batches of cupcakes for parties and weddings. They all have the same sort of questions and I thought it was enough buzz to warrant a post.
This is how I cater weddings, but everyone is different and it will vary from person to person. Find what works best for YOU.
You first need to figure out WHAT you are going to bake. I like to have a conversation with the bride, figure out how many and then talk through flavors and colors. As far as flavors go, don't have too many choices. It makes it hard on you as the baker and it makes it hard on the guests at the wedding trying to decide. Three or four flavors is plenty.
It's always nice to tie in the wedding colors, but it isn't a must. It actually can sometimes be a disaster. Brides usually don't know what looks good or bad, YOU are the expert. An easy way to tie in the color is with the cupcake liners. I prefer to stick to either 1 color of liner for all the cupcakes, or 1 color and white liners. It starts to look "messy" if you have different liners for everything. But again, it's the bride's choice, so make her happy. For colored liners, make sure to use a greaseproof kind to keep the color after baking.
After all the prep work has been done during the initial planning stage, (which can be done months in advance) I like to break the occasion into a 3-day extravaganza.
DAY 1: Prep and Grocery Shopping
1. Make sure you will have the proper equipment to store all your goods in. Have enough tupperware to store your cupcakes and frosting and whatever else you may need.
2. Plan out every recipe and make a grocery list of what you will need. Don't forget things like powdered sugar, butter and sprinkles (sometimes I ignore these because I always have them on hand.. which I do, but sometimes not enough for 400 cupcakes).
3. Plan out WHERE you are going to grocery shop. I usually make my list according the the store. So I have a Costco list, and Winco list, and a Michaels list.
4. Make sure you have fridge space to keep everything cold over night.
5. Get in your car and go!
6. Bring it home, double check you have everything you need and enjoy the rest of your day. Prepare for battle in the kitchen tomorrow.
My beautiful industrial tupperware. I get it from restaurant supply stores.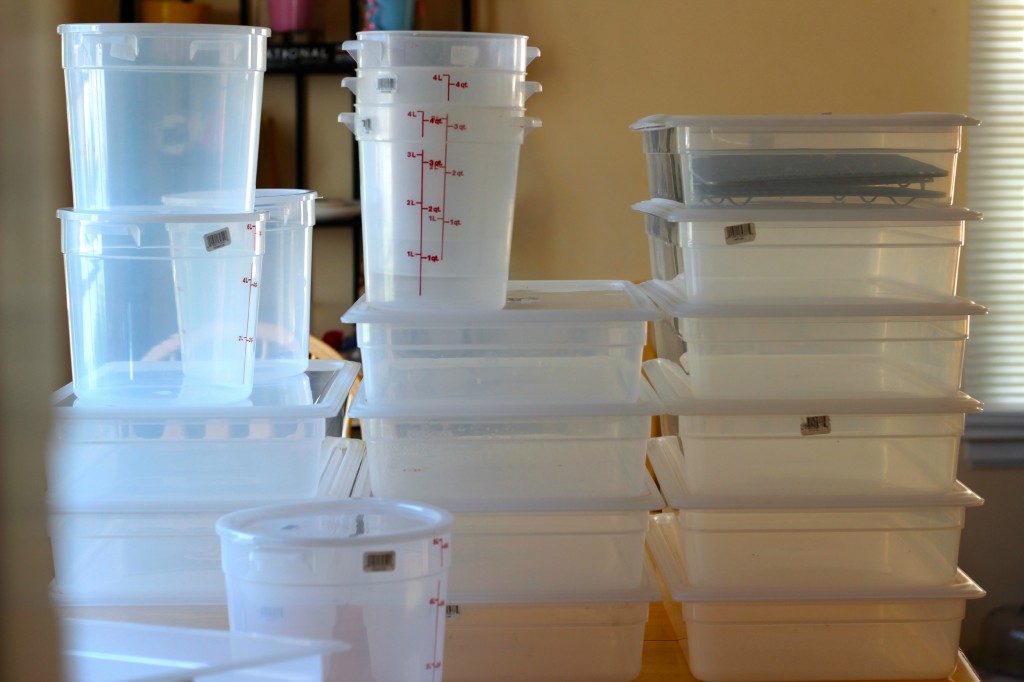 Some of the workers at Costco know me by name… probably not a good thing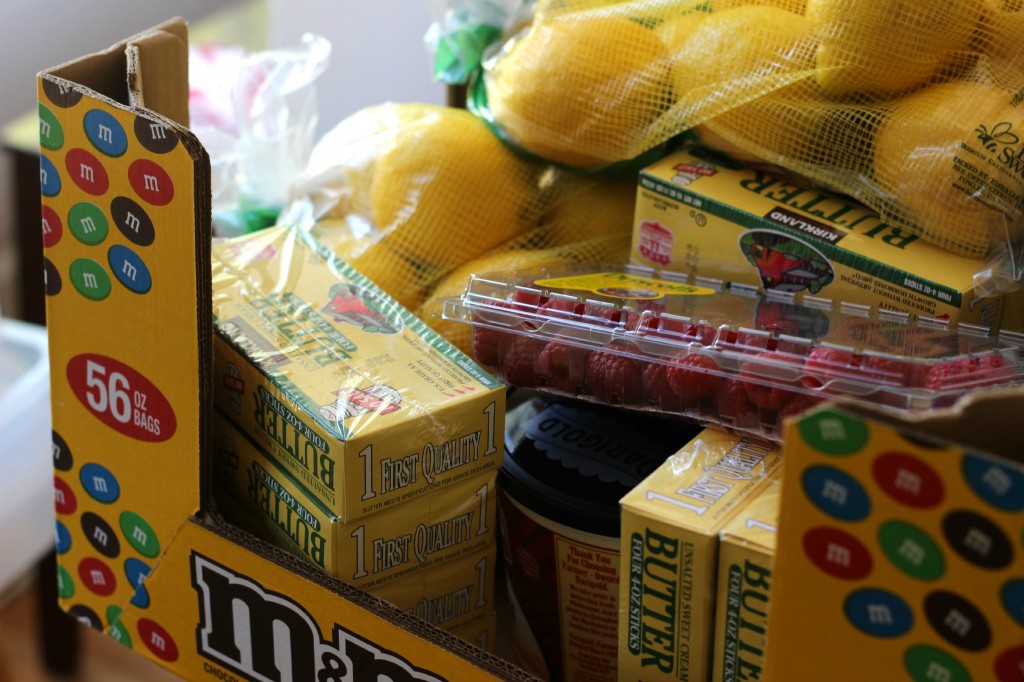 I always buy too much buttermilk, but that's alright because I use it every other day anyway.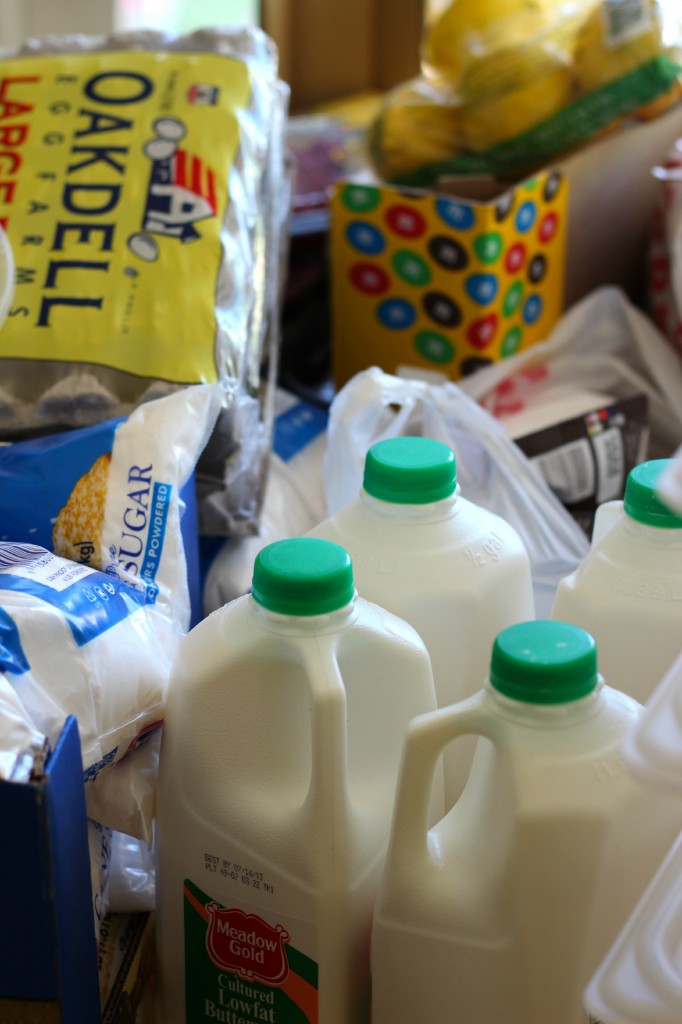 Day 2: Baking
1. I like to start early in the morning because you can be done in the early afternoon and still have the rest of you day to play.
2. Double every batch. I had to ditch my cute mixing bowl for a bigger, ugly one. But it does the trick. (For this wedding I had to make 400 cupcakes. which means roughly 18 batches, then divided by 2 because I double each batch and that's only 9! I only have to mix up batter 9 times! It feel much less overwhelming when you say 9 batches instead of 400 cupcakes.)
3. Use a 24 cupcake pan if you have one, if you have TWO that's even better because then when you pull one batch out you can pop in the next 24!
4. Use a cupcake scoop, it's a huge time saver and keeps all the cupcakes the same size.
5. Let cool and store in a cool place overnight in tupperwares.
6. If you need to ganache or fill any cupcakes, I always do it on the day of my baking. Ganache helps to seal in moisture and you just want to get everything you can done the day before the wedding.
My glamorous baking outfit. And tie up your hair! No one likes a hair in their cupcake.
Put on some music so you don't go insane. Yes, Andy Grammer and Newsies are some of my favorite tunes in the kitchen.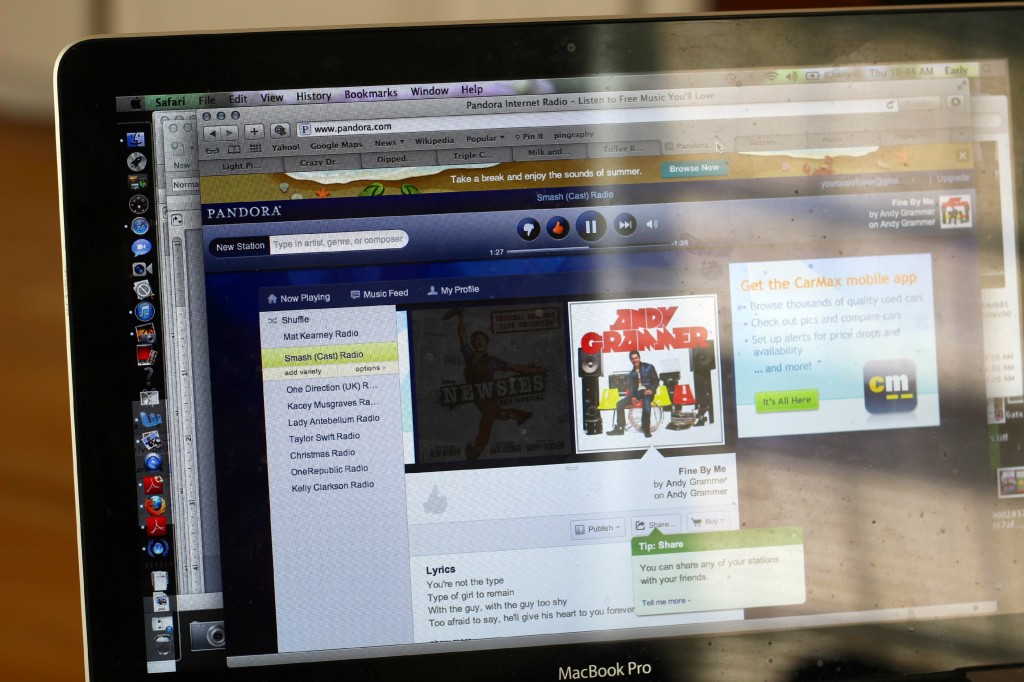 Costco Eggs… a total bargain and I used all 60 🙂
Big, ugly bowl but it works great!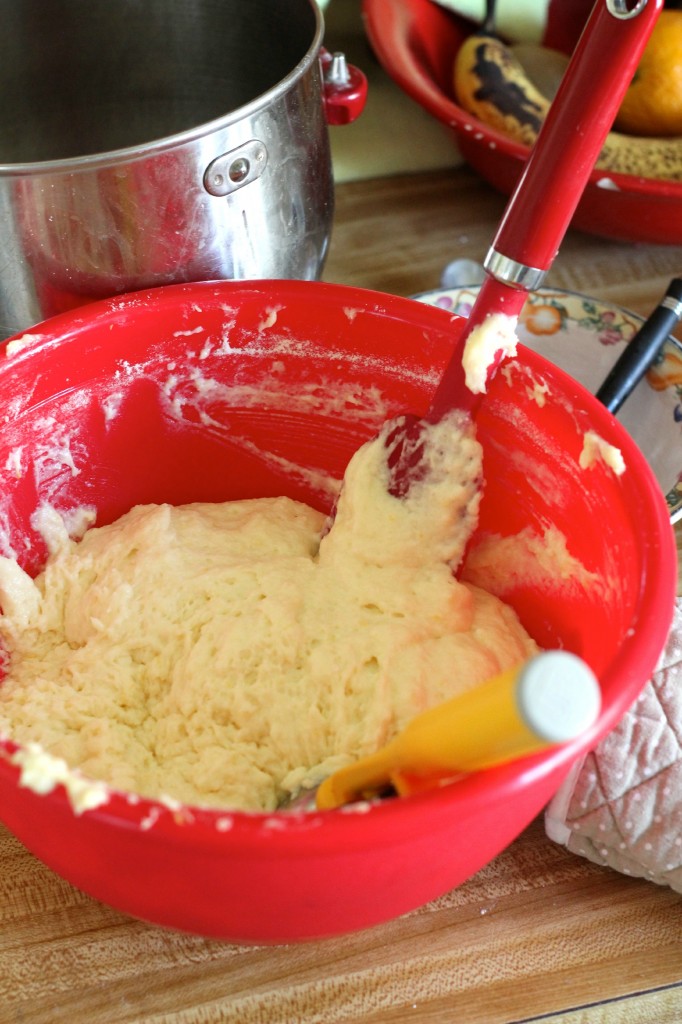 Handy, dandy cupcake scoop. I use different sizes for different cakes depending on how they rise. You can get them at restaurant supply stores or online. Search for "food scoops" and most companies have the same color coordination. I like the yellow and royal blue scoops the best.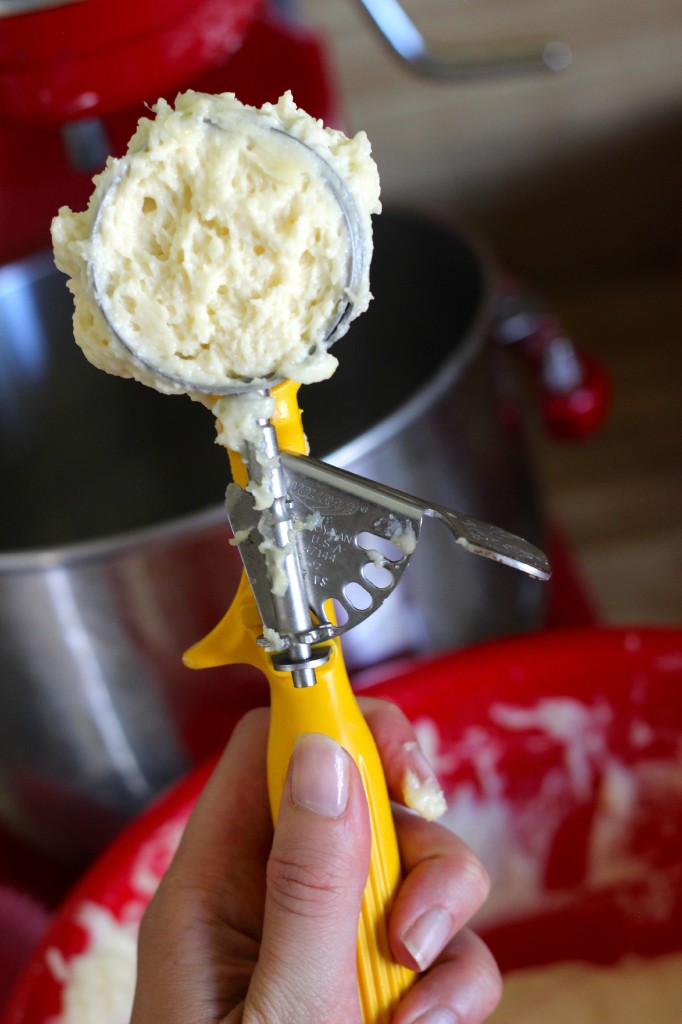 My Thunder 24 pan. Love it. Seriously love it.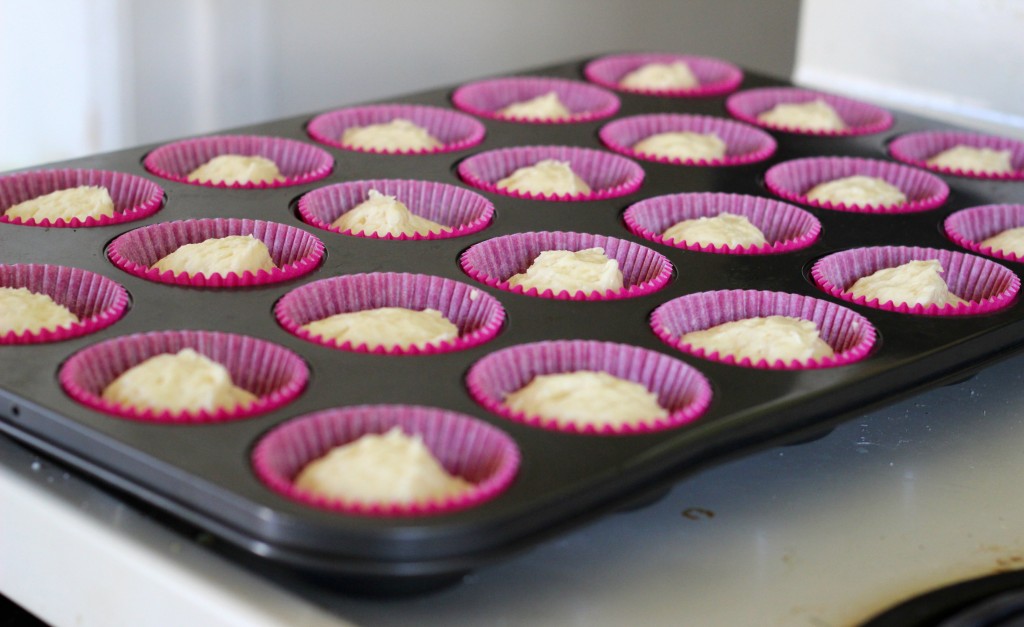 A made a dozen gluten free for the bride and her sisters
Sweet cream cheese filling…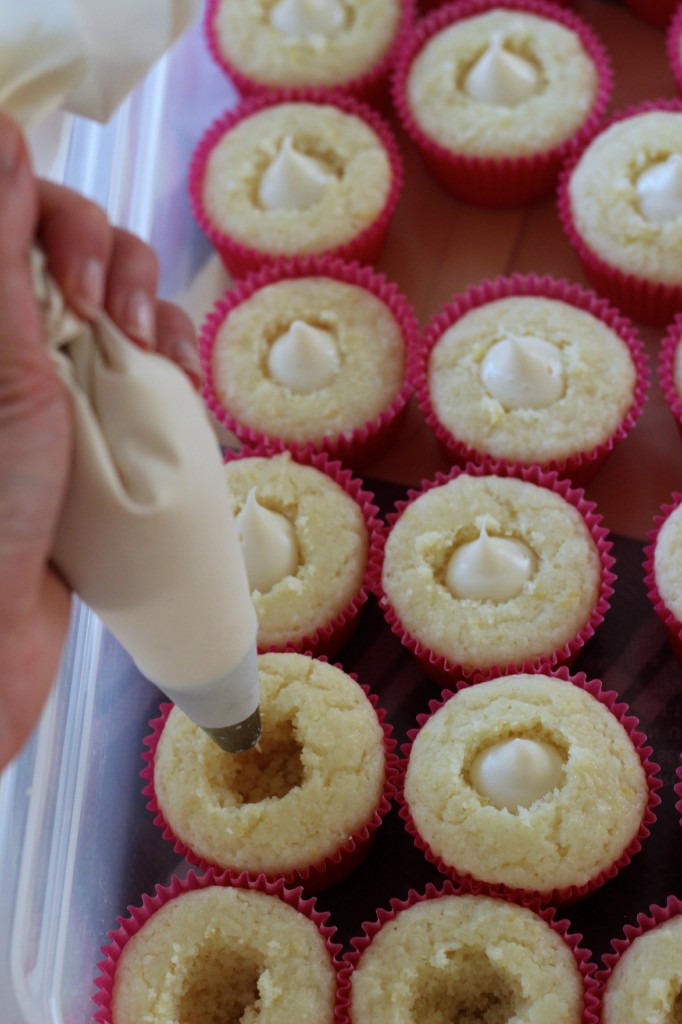 Day 3: Frosting, Packing, Delivery and Decorating
1. Make your frostings. I do double batches again, then put them in large containers for travel.
2. Make extra frosting. The worst thing is getting there and running out of frosting, so make an extra batch of each flavor just in case.
3. If you are topping your cupcakes with fresh fruit, I always do this the day of. It can be a tad risky because what if Costco is out of raspberries… but I usually call ahead to make sure they are in stock. I like my berried to be as fresh as possible.
4. Pack up the car. Pack it so that everything is sturdy and won't tumble over. I pack my backseats and my trunk.
5. Pack a container of your piping tips, piping bags, sprinkles, fresh fruit, spatulas (one for each flavor), paper towels, extra powdered sugar (for hot outdoor weddings your frosting may need to be thicker to withstand the heat), and milk (in case you need to thin out your frosting).
6. Put the AC on full blast and hit the road. Plan to be at the wedding 2 hours before the event starts to give yourself plenty of time to get everything done.
7. Find a room that's cool and has enough table space to get your work done. I like to find a room away from people. Because people love to watch you decorate cupcakes right? But then they ask a ton of questions and slow you down. You're not there to socialize, you are there to work. Get done early and then you can charm everything and teach them how to pipe a cupcake or two.
8. Find out where the cupcakes will be and how they are wanting to serve them. Do they want them all out at once or do they have servers bringing trays in to refresh the display?
9. Pipe your cupcakes one flavor at a time and place them on serving trays or maybe right on to the table display.
10. Keep your area clean and professional.
11. Pack up all your containers (I always do the cleaning at home.)
12. I like to leave before the festivities begin, just so that I'm not in the way or seen as mooching or pushing my business. But be sure to leave behind cards with your information just in case people ask who did the cupcakes.
13. Drive home, pop in a movie, eat something other than a cupcake and go to bed…the dishes and unloading can wait 'til morning.
The day of: Wear something comfortable and I like to brand myself while I'm at it (sorry for the mirror reflection, I promise it's not backwards in real life). I tied up my hair… don't worry. Usually I would wear the shirt with color colored cropped pants but….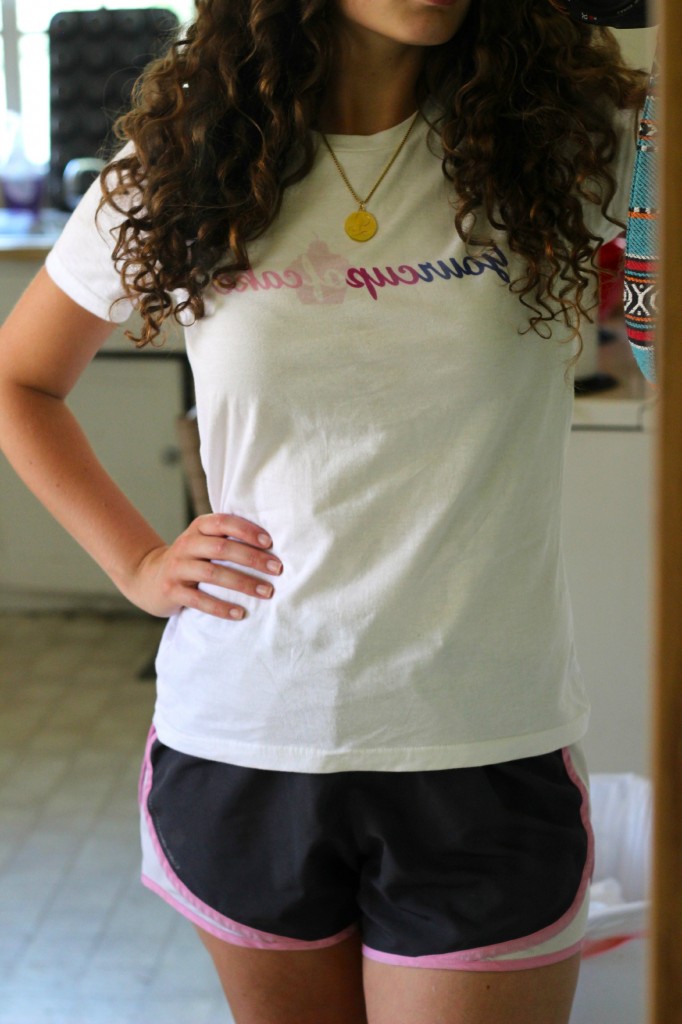 It was a hot day with no AC in my house. I thought the bride would be happier getting cupcakes from me in running shorts than me with my face looking like a red velvet cupcake.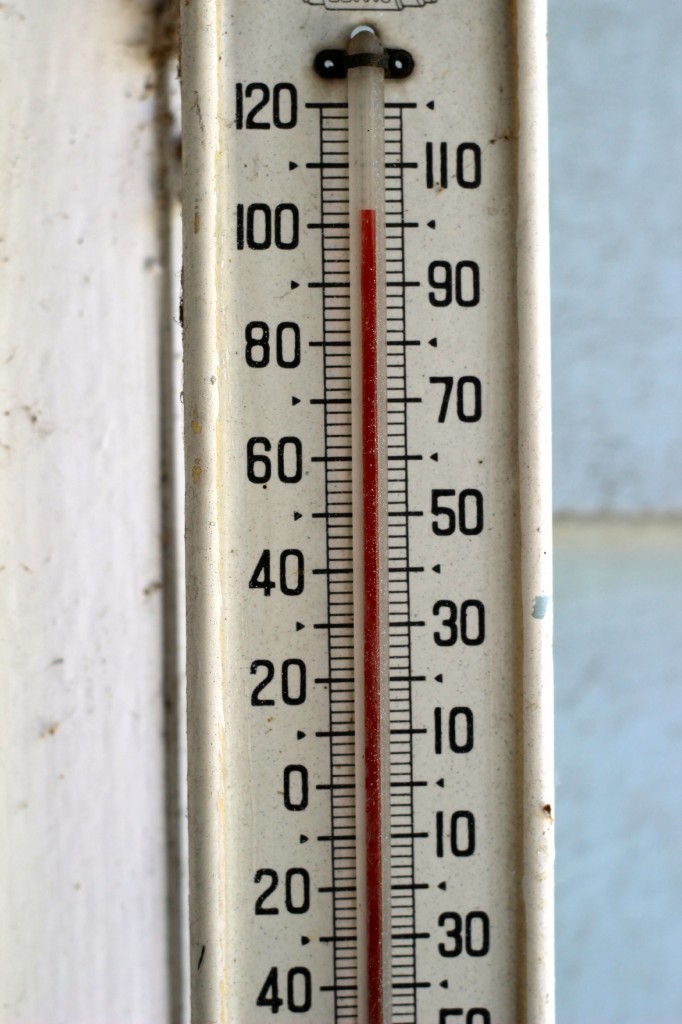 Mix up that frosting!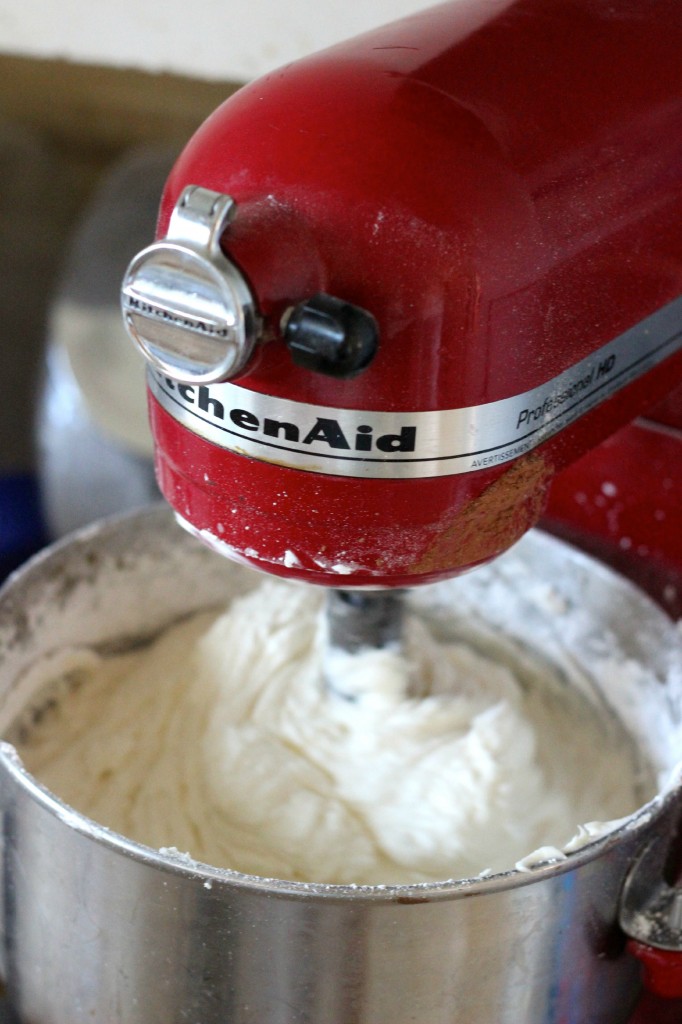 Chocolate coconut cupcakes are great for weddings and they are always great for me and you because you can frosting them before you get there. They aren't delicate because you roll them in coconut, no there's no worries about them making it there safely. Just roll and go!
Double check…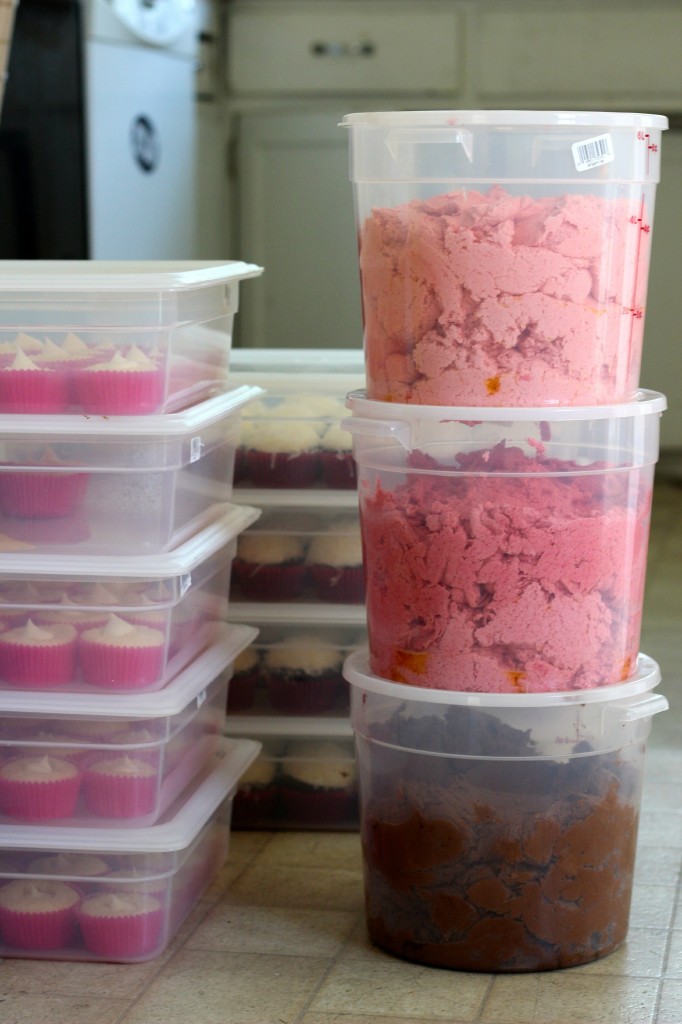 Don't forget what you need to assemble and decorate the cupcakes with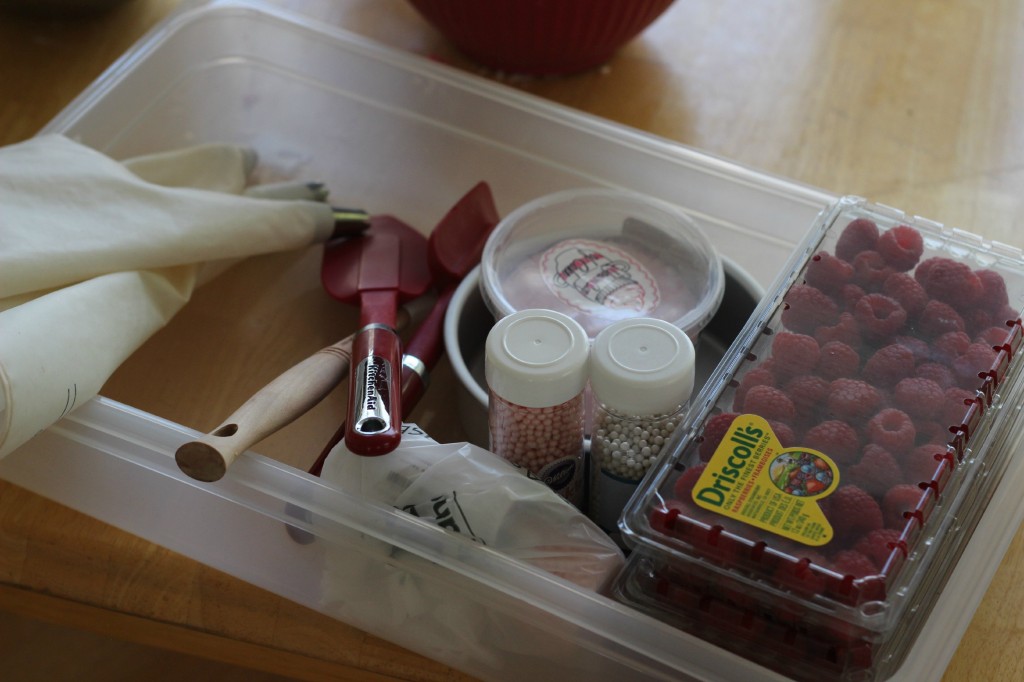 Pack up. I also like to take a few minutes to air out my hot car so that the ganache doesn't melt off the cupcakes on the drive.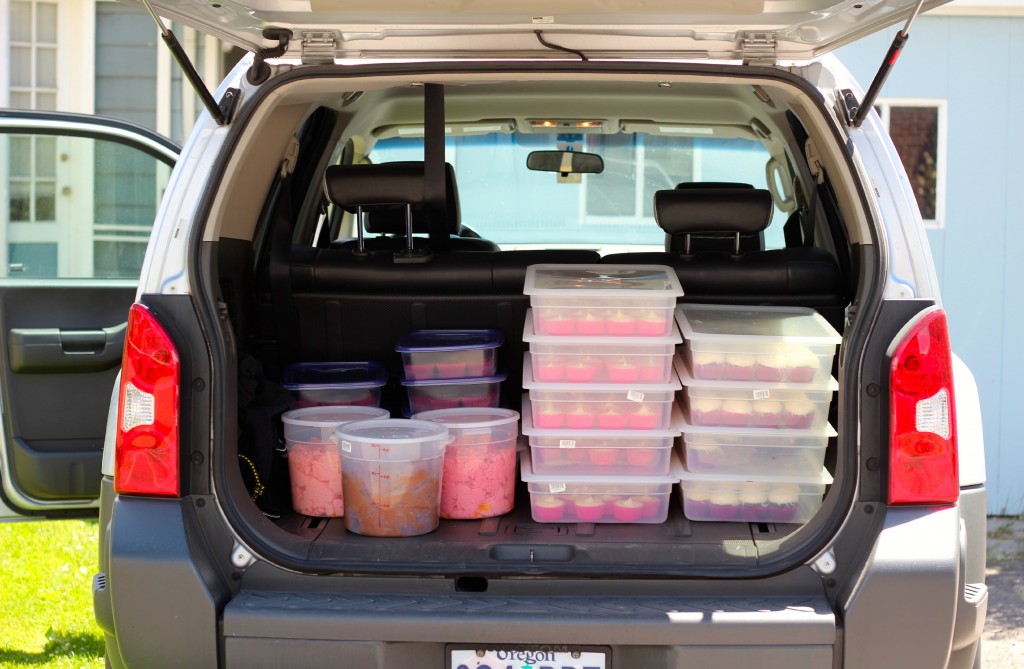 Pipe away! My hand always cramps up after 200 cupcakes, so that's usually when I'll go and grab something to drink.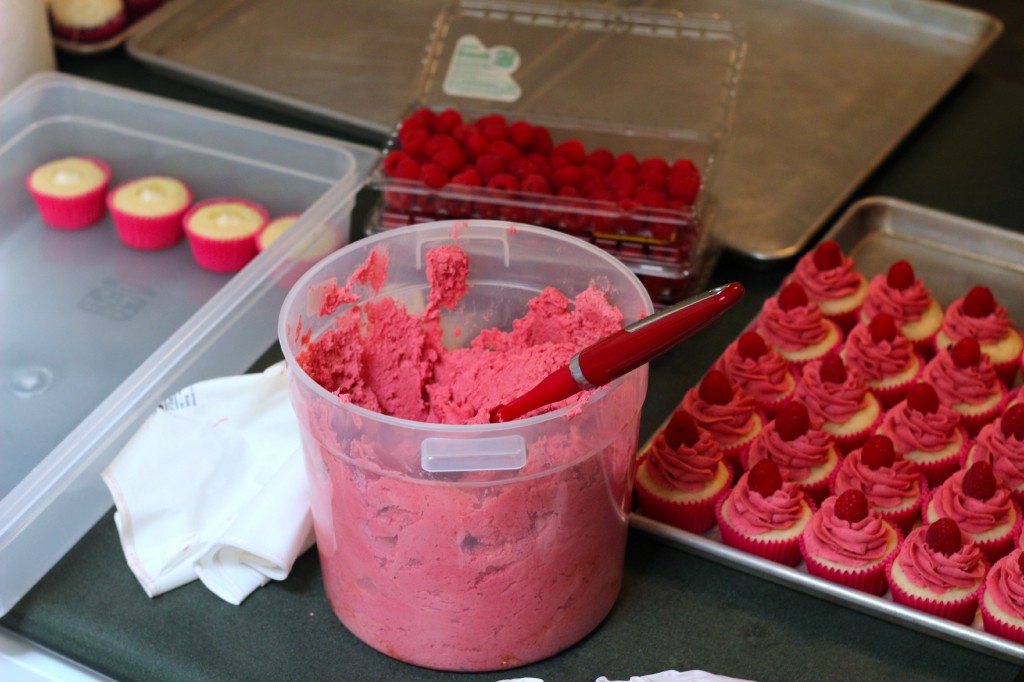 Ta dah! You're done and you survived!
Now, a lot of people have questions about freezing cupcakes. Yes you can do it, but it leaves the tops of the cupcakes really sticky and you need a top of freezer space to do it. So that's why I always like to do the baking the day before the event. Why break it up over a few weeks when I could just have it take over 1 day? You will be shocked how quickly you can bake the cupcakes, especially using my cake mix recipes.
Well, I hope I answered all the questions about that.