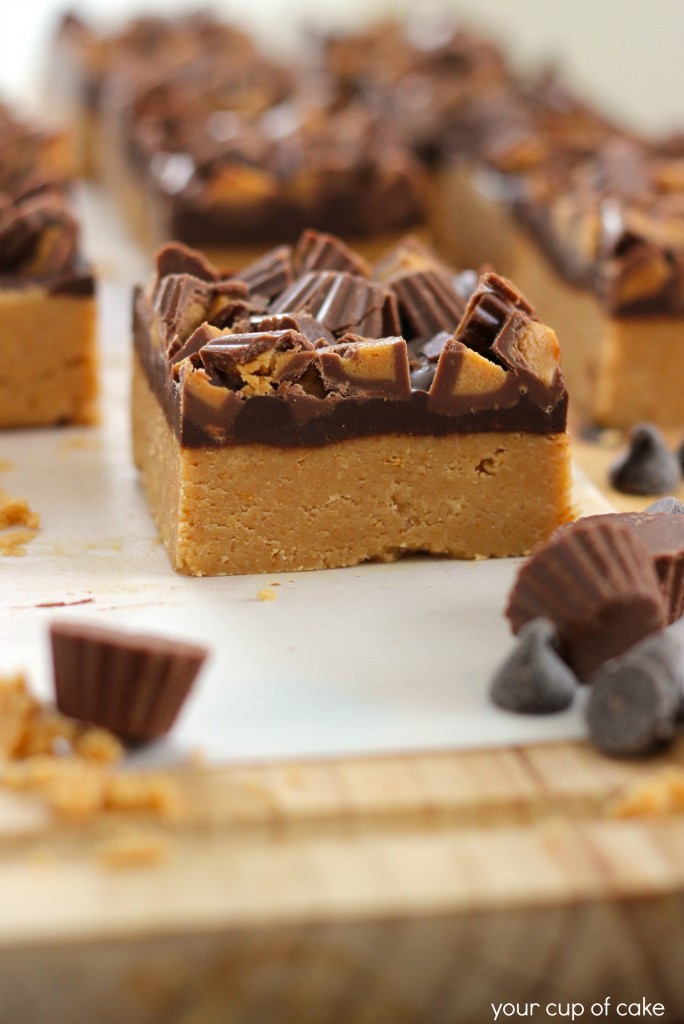 The Story:
Alright, I have seen these bars EVERYWHERE. People are obsessed with them because it only takes 6 ingredients and you don't have to use an oven. Well la…tee…dah… Guess what? I think the way everyone else has made them is sorta…ugly. They make the peanut butter layer and then dump chocolate on top and call it done. Come on! Just add a few chopped up Reese's cups, Reese's Pieces or crunched Butterfingers to the top to make them more special!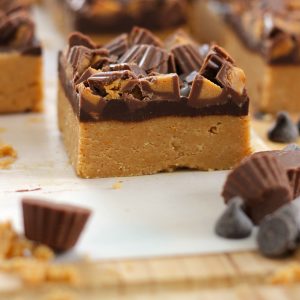 No Bake Peanut Butter Chocolate Bars
Ingredients
Peanut Butter Layer:
1

C.

butter

1

C.

peanut butter

smooth

2

tsp.

vanilla extract

optional

2

C.

graham cracker crumbs

2

C.

powdered sugar
Chocolate Layer:
1 1/4

C.

chocolate chips

1/4

C.

peanut butter

smooth
Peanut Butter cups, Reese's Pieces, or Butterfingers chopped for decoration
Instructions
1. On the stove top, melt butter and peanut butter together. Stir until smooth and remove from heat.

2. Add in vanilla extract, graham cracker crumbs and powdered sugar and stir until well combined.

3. Spread into a 9 X 9 or 9 X13 pan (I lined mine with parchment to help lift it out easily.

4. Chocolate Layer: Place chocolate chips and peanut butter in a microwave safe bowl and heat in the microwave for 45 seconds. Remove and stir. Continue to heat in microwave in 20 second intervals until smooth.

5. Pour chocolate over peanut butter layer and shake pan to distribute evenly.

6. Wait for 5 or so minutes and then sprinkle your peanut butter cup (or other candy) on top of the chocolate.

7. Place in refrigerator for 20 minutes to let set.