Sweet, tangy and perfect for summer! This Pineapple Mango Bruschetta is the best appetizer for BBQs and all your summer parties!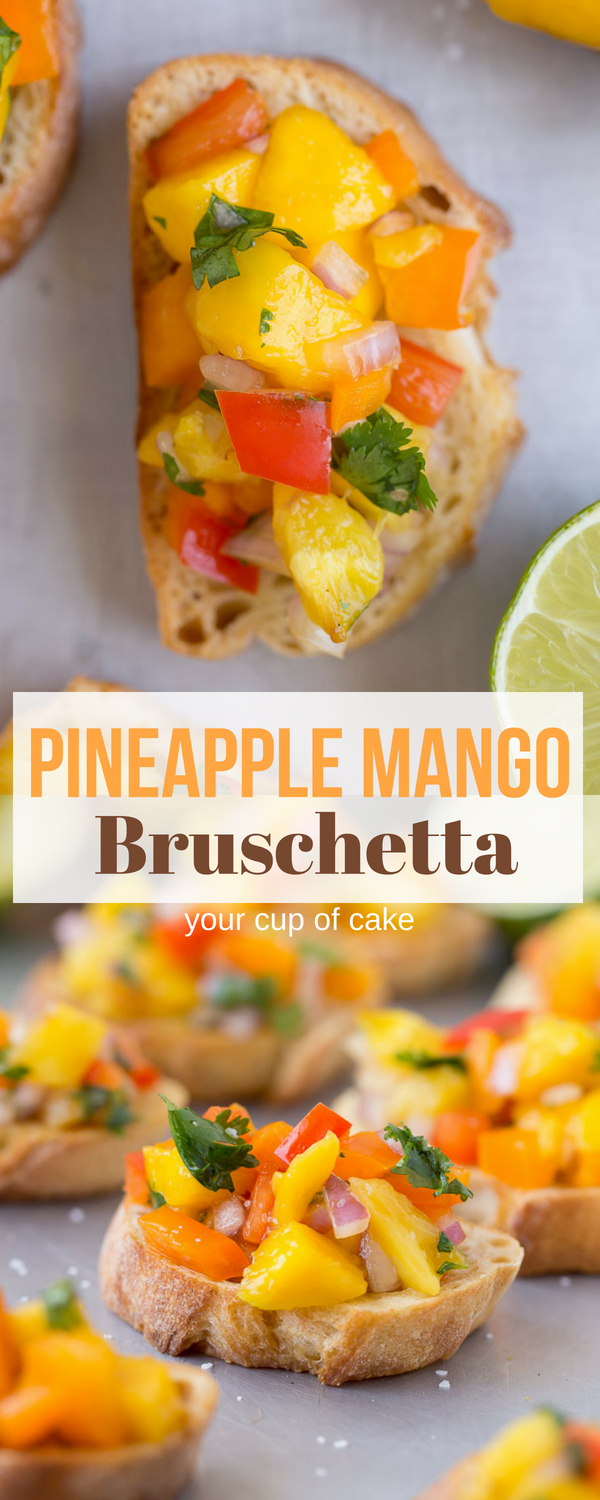 Pineapple Mango Bruschetta
Parker and I have been in love with all the summer flavors this year! This summer we are spending all our time cooking before Parker starts medical school since he won't have as much time this fall. We have our grill and smoker out and have been eating fresh fruit every day. We wanted to make something new and delicious, something we would be obsessed with! Well, we both love bruschetta and I have been eating a lot of mangos lately. So Parker hopped in the car and came back with all the ingredients for Pineapple Mango Bruschetta! Wow! This is our new favorite appetizer this summer! If you like the peach salsa from Costco this is right up your alley, but I promise it's better than that salsa.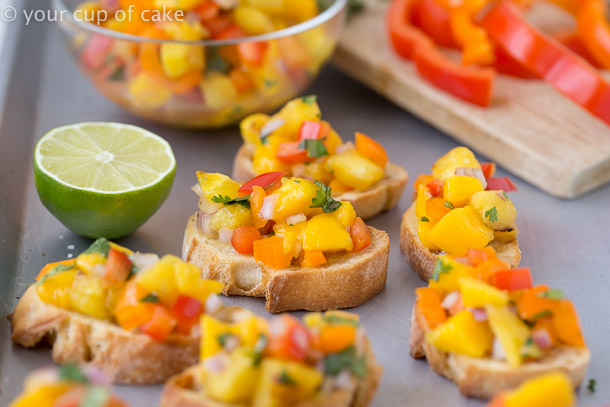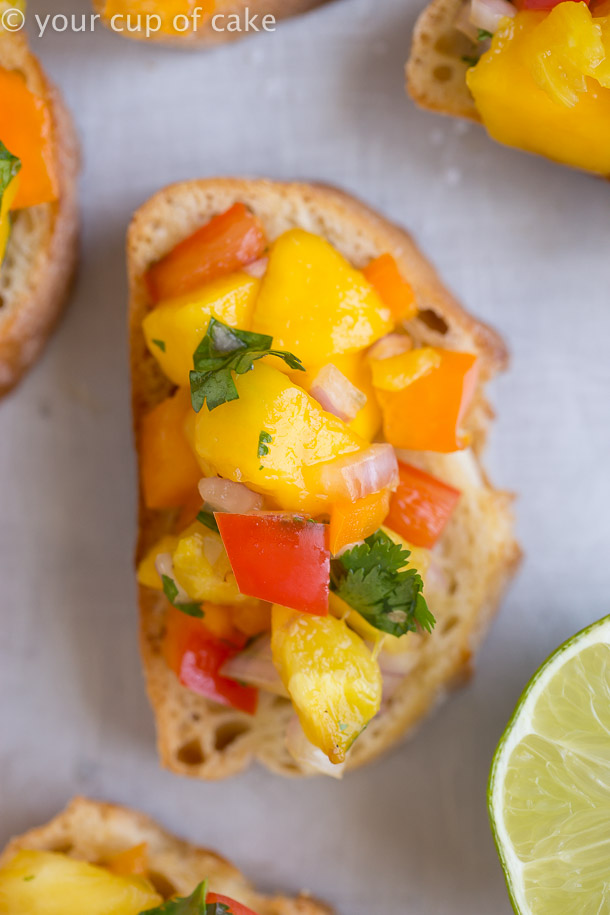 The Perfect Summer Appetizer
Parker and I just kept saying "It's so fresh!" after every bite of this Pineapple Mango Bruschetta! And it really is! All the brightness of the fruit and the lime juice just makes it dance on your tastebuds. This makes it the perfect appetizer for BBQs and other summer parties where you need something fruity to balance out the meal. You can even just use it as a salsa if you don't have a baguette! Speaking of baguettes… have you tried the baguettes from Cotsco? They come in packs of 2 so Parker and I only get them for parties but they are super good!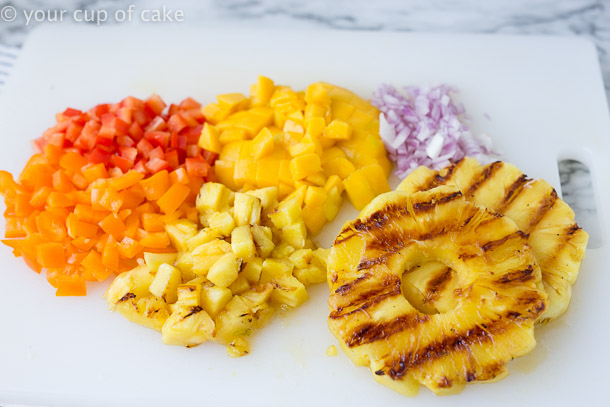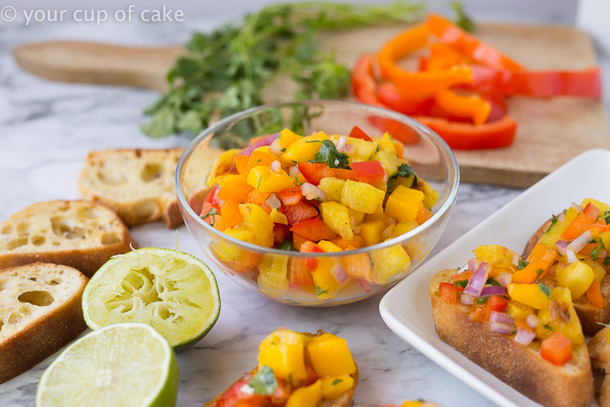 Grilled Pineapple Bruschetta
We grilled our pineapple rings but you don't have to! We just love the caramelization that happens from grilling and since it's summer, Parker will find any excuse to grill just about anything! Once you mix all the topping ingredients together you can just let them hang out in the bowl while your crostini finishes baking. The flavors will start to marry and taste even better! We sprinkled our with a little kosher salt at the end to balance out the sweetness of the mango and pineapple. I can't wait to make this amazing Pineapple Mango Bruschetta again!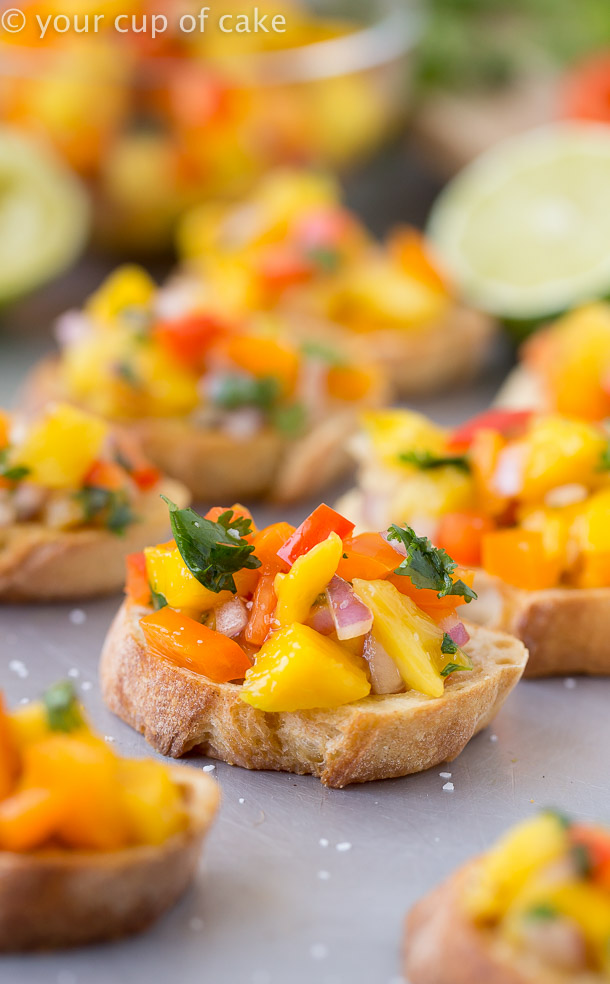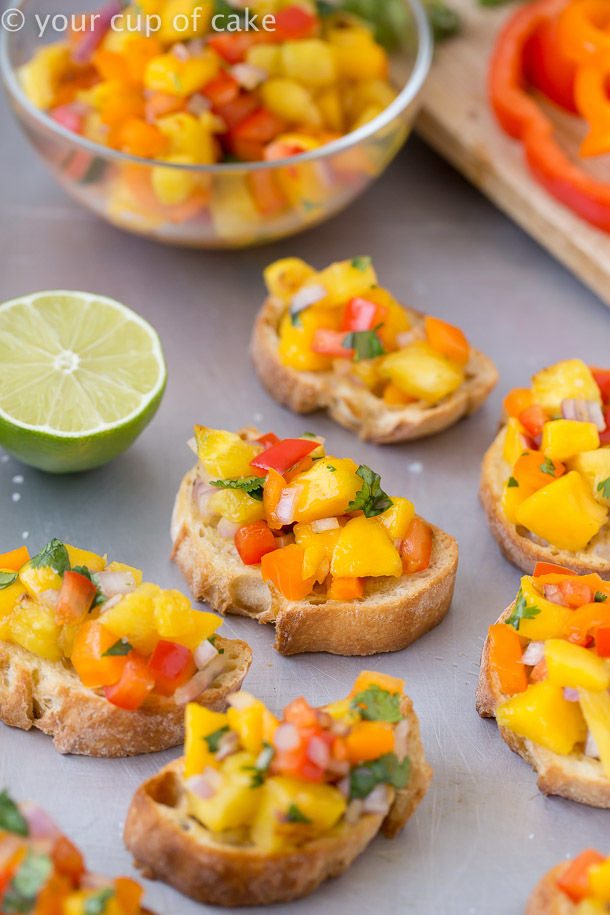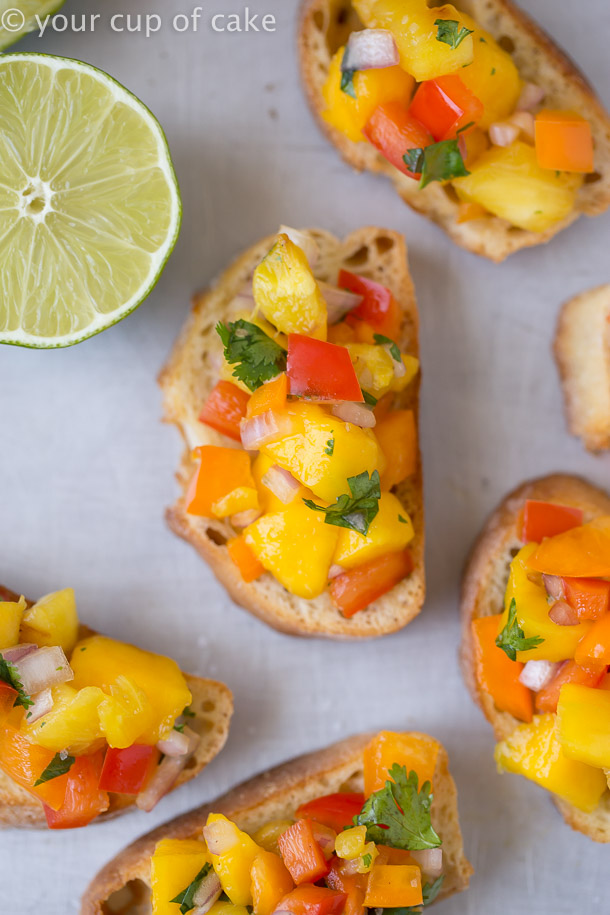 I married into a family that loves off of appetizers! The Cox family will have an entire meal of just cheeses, crackers, olives and salami! I love it! Their Christmas Eve tradition is this type of meal and it's perfect because everyone can just grab as much or as little as they want and they can wander back into the kitchen whenever they get hungry again. Low-stress meals are always my favorite. This bruschetta will fit right into the appetizer dinner and may even steal the show!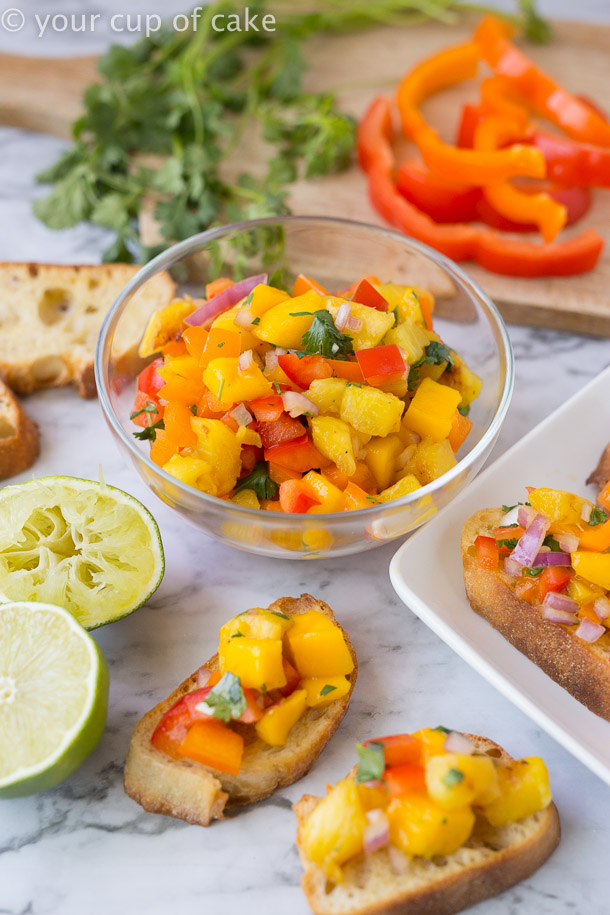 Dive into this deliciousness and kick your summer off right! Whether your making it for a party, your family, or to eat by yourself while your kids are at the pool (no shame!) then slice up some bread and you'll be enjoying this Pineapple Mango Bruschetta in no time. All you need now is an ice cold glass of lemonade and you're set!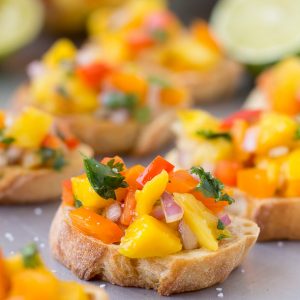 Pineapple Mango Bruschetta
Ingredients
PINEAPPLE MANGO TOPPING:

1

Can of Pineapple Rings or 1/2 of a Pineapple

cut into rings

1

Mango

Diced

1

Bell Pepper

Diced

1/4

Red Onion

Diced

1/4

C

Cilantro

Chopped

Juice of 1 lime

salt

to taste

CROSTINI:

1

French Baguette

Cut in 1/2 Inch Slices

1/4

C

Olive Oil
Instructions
Topping:

1) Grill the pineapple over medium-high heat for 2-3 minutes per side, let them cool and then cut into cubes. (You can opt to not grill the pineapple at all.)

2) Mix all ingredients in a medium bowl and stir.

3) Let the mixture rest for 15 minutes to let the juices mix, allowing the flavors to come together.

Crostini:

1) Preheat oven to 400

2) Place the bread slices on a sheet pan and brush with olive oil

3) Toast the bread in the oven for 10-12 minutes or until they reach your desired crispiness Note, shiny pans reflect heat and may cook the bottom faster, so keep an eye on them and check them after 7-8 minutes.

Top the bread slices with a spoonful of the pineapple mango topping and enjoy!