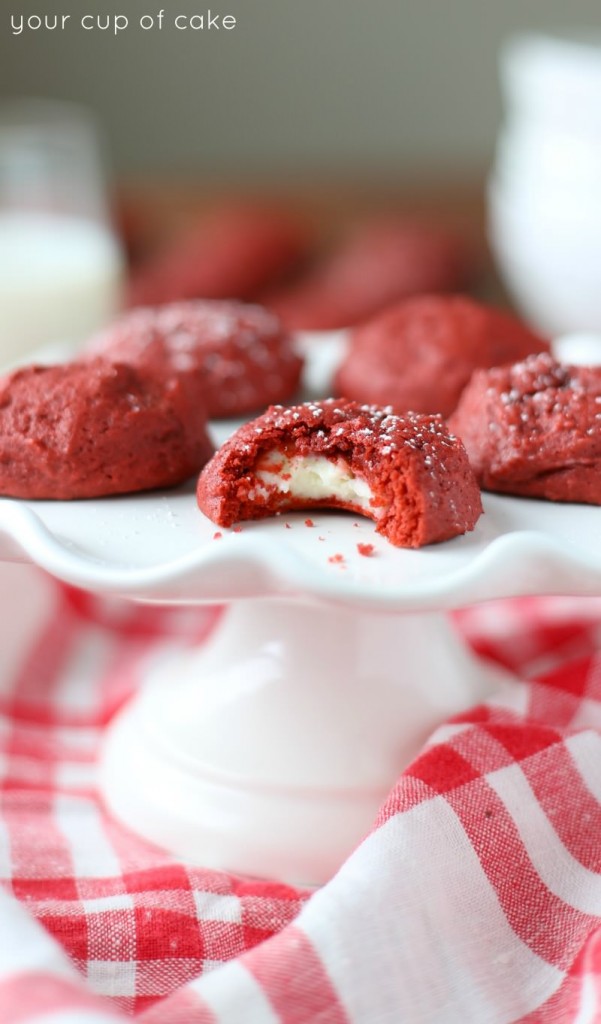 Decadent Red Velvet Cookies filled with Cream Cheese. That's right, the sweet cream cheese frosting is baked right in the middle of the cookie! It's like a little "surprise!" when you bite into each one! You can drizzle the finished cookies with white chocolate, icing or dust them with a little powdered sugar, which is what I did 🙂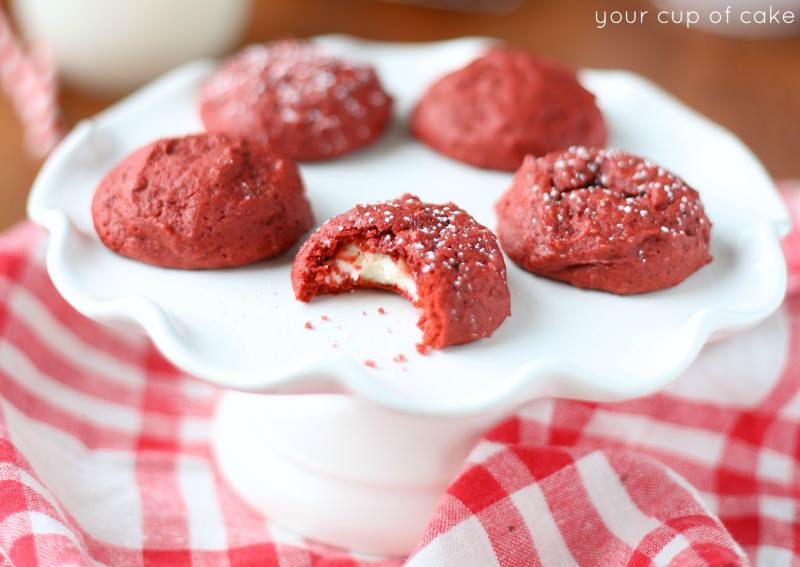 You don't have to have a cookie scoop to make this recipe work, but I can't seem to make cookies without my handy dandy scoops any more 🙂 I guess I'm a tad spoiled in the kitchen…
Just fill the scoop a little bit, add some sweet cream cheese and top off the scoop with more dough and then put the dough ball on the cookie sheet! Ta-dah!
Valentine's Day is almost here– I can't even believe it! Where did the time go? I feel like the last year just flew by! I hope you all have fun dates planned! Or maybe just a night with the gal pals watching old movies and eating Chinese food 🙂 If all else fails, you can always watch the NBA Dunk Contest, because nothing says romance like millionaire men showing off in tank tops…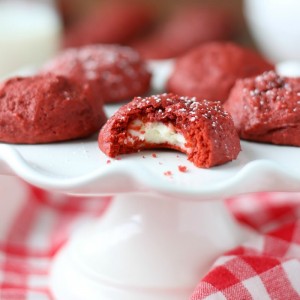 Red Velvet Cookies filled with Cream Cheese
Ingredients
Red Velvet Cookies:

3

C.

flour

1/4

C.

unsweetened cocoa powder

2

tsp.

baking powder

1/4

tsp.

baking soda

3/4

tsp.

salt

3/4

C.

butter

softened

1 1/3

C.

sugar

3

large eggs

at room temperature

1

Tbsp.

milk

1 1/2

tsp

vanilla extract

2

tsp.

lemon juice

4-5

tsp.

liquid red food coloring

Cream Cheese Filling:

8

oz.

cream cheese

3/4

C.

powdered sugar
Instructions
1. Preheat oven to 350 degrees and line pans with parchment paper.

2. Sift flour, cocoa powder, baking powder, baking soda and salt together. Set aside.

3. In a stand mixer, beat butter and sugar until blended and creamy (about 2-3 minutes).

4. Mix in eggs one at a time and scrape down the sides of the bowl as needed.

5. Add milk, vanilla extract, lemon juice and red dye.

6. Slowly add in dry ingredients and stir just until combined.

7. (If you want a taller cookie, cover dough and chill for 30 minutes. Cold dough is also a little easier to handle.)

8. Cream Cheese Filling: beat cream cheese and powered sugar together until smooth.

9. Fill your cookie scoop half way full and then put a dollop of cream cheese mixture in the scoop. (See photos.) NOTE: I put my cream cheese mixture in a small plastic bag and snipped off the corner to make a mini piping bag and just piped a dollop into the cookie scoop. It was easier and less messy for me this way. Then continue to fill the rest of the cookie scoop with more dough.

10. Place dough balls on cookie sheets and bake for 8-11 minutes depending on how chewy or crunchy you want your cookies to be!

11. I dusted some of mine with a little powdered sugar when they were cool! It's an easy way to dress them up a little 😉
Funny thing about these photos… I was seriously struggling with them for the first half hour. I kept trying different plates ad napkins and colors but I just couldn't seem to get it right. The cookies were so cute and adorable and none of the photos were turning out right! I was just about to give up when I tried this cake stand and red picnic napkin. Magic.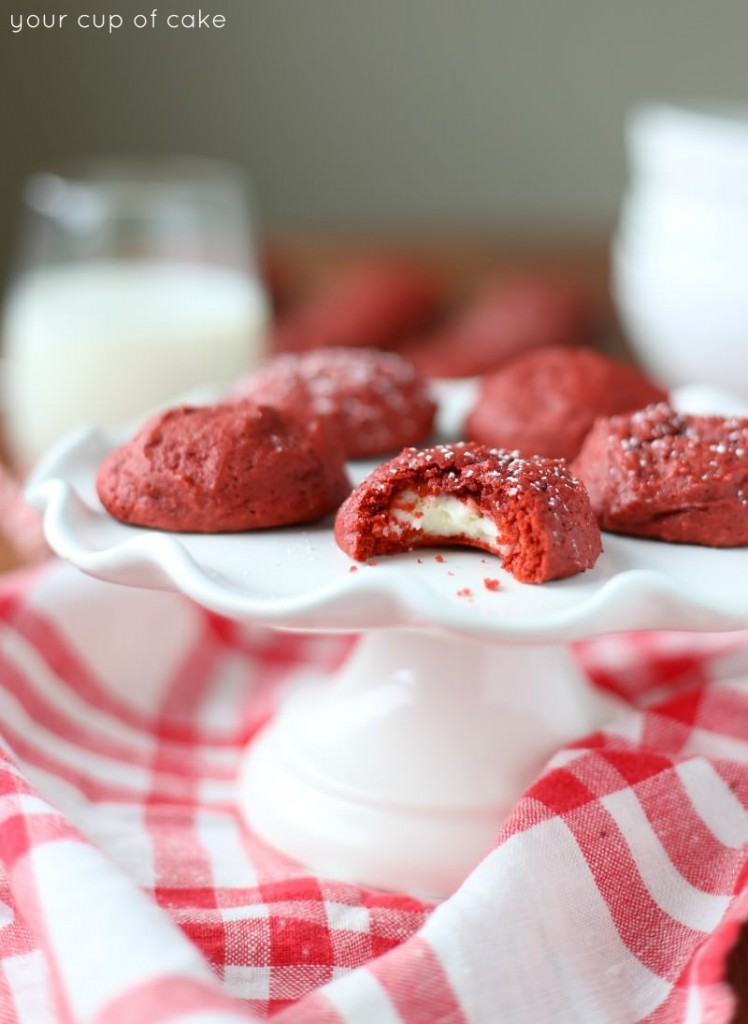 Be sure and check out all my Cookie Secrets!