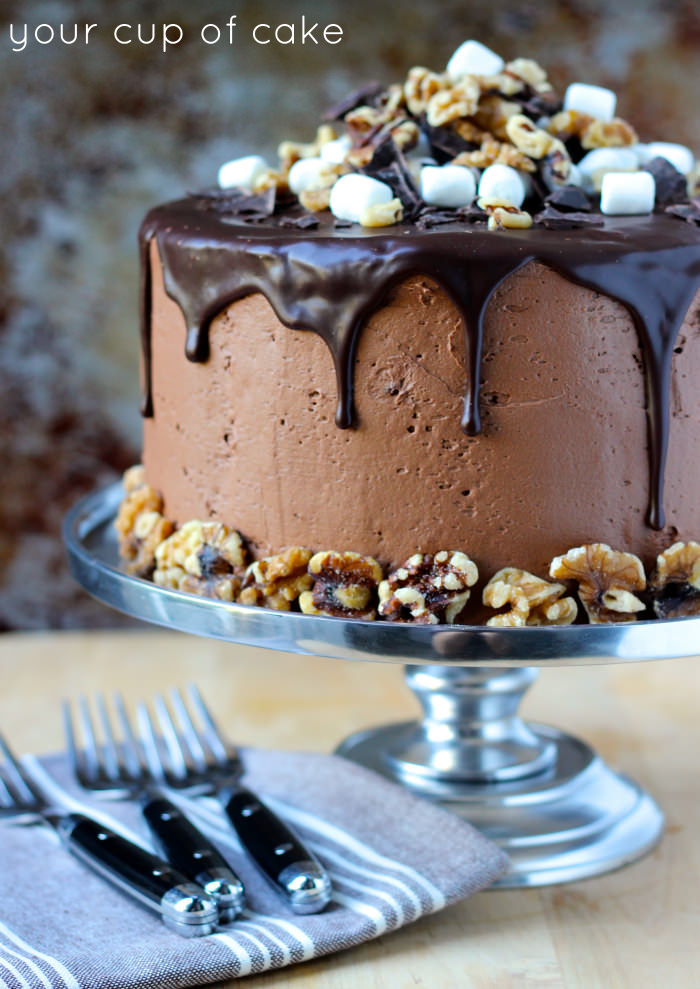 Easy Rocky Road Cake
The Story:
I love when parents ask their kids something, knowing that they'll just do whatever they want no matter the answer. For me, it was always the question my father would ask, "What kind of ice cream do you want?" I would stand there in the freezing grocery aisle looking up at all the flavors. I would pick out some fun choice with a cartoon character on the carton and my father would say "No, you don't want that… How about Rocky Road?" Before I could respond, he would take a container from behind the glass door and place it in the cart and I would start pushing it to the check out stand. He never failed to convince me that Rocky Road was just the flavor I have been craving.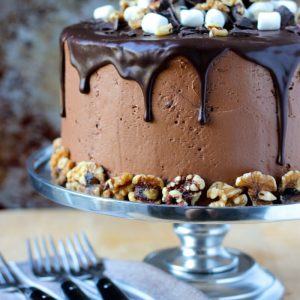 Rocky Road Cake
Ingredients
Chocolate Cake:
1

box Devil's food cake mix

3

eggs

½

C.

oil

1

C.

milk or buttermilk

½

C.

plain yogurt or sour cream

2

tsp.

vanilla extract

1 ½

C.

mini chocolate chips
Chocolate Buttercream:
2 ½

C.

butter

softened

¾

C.

unsweetened cocoa

powder

2

tsp.

vanilla extract

¼

C.

milk or sour cream

5-6

C.

powdered sugar
Ganache:
½

C.

chocolate chips

½

C.

heavy whipping cream
Filling/Decoration:
2

C.

marshmallows

2

C.

walnuts or sliced almonds

½

C.

chopped chocolate or chocolate chips
Instructions
1. Preheat oven to 350 degrees and grease 3 8-inch pans. (I like to line the bottoms of my pans with foil or parchment for easy removal.)

2. Sift cake mix into a small bowl and set aside.

3. In a large bowl, combine eggs, oil, milk, yogurt and vanilla extract until smooth.

4. Stir in cake mix and chocolate chips.

5. Divide batter evenly between your prepared pans and use a spatula to spread batter flat.

6. Bake for 17-22 minutes or until an inserted knife comes out clean. (If you are making only two layers, it will take 20-25 minutes in the oven.)

7. Let cool completely.

8. Chocolate Buttercream: Beat butter for 2 minutes. Add cocoa, vanilla extract and milk and beat again. Slowly add in powdered sugar until you reach your desired consistency.

9. Ganache: Place chocolate chips and heavy whipping cream in a microwave proof bowl and heat for 40 seconds. Stir and continue to heat in 10-second increments until smooth.

10. To assemble your cake, place your first layer of cake on your cake place and frost and layer of chocolate buttercream on top. Sprinkle marshmallows and walnuts onto of the frosting and gently press it into the buttercream layer. Place a another layer of cake on top and repeat with the buttercream, marshmallows and walnuts. Cover entire cake in buttercream. Pour warm ganache slowly over cake and let set. Then cover with extra marshmallows, walnuts and chopped chocolate.
For each layer of filling… frost, then put on marshmallows and nuts, and then gently press them down into the frosting before adding the next layer of cake!