Shamrock Shake Cupcakes with minty green cake and topped with the fluffiest whipped cream mousse you will ever taste! They're the perfect St. Patrick's Day Cupcakes and with a cherry on top, no one will be able to resist! Plus, I added adorable straws to finish off the "shake" look.
That's right, I said it… St. Patrick's Day! And Easter will be here before we know it! Red Velvet is so last week *insert dramatic eye roll*. Now it's all things minty and green! Well good thing I did that delicious Andes Mint Round Up and you can never go wrong with my gorgeous Mint Brownies. But more about these cute cupcakes…
I did what I like to call a "mousse," I use the quotes because it's more of a quick-cheat mousse but it's so good! I just whip up some whipped cream and add some instant pudding mix to it! This adds the sweetness the cream needs and most importantly, it stabilizes the whipped cream. No melty mess! I piped these cupcakes and they sat in the sun and then on the counter all day and never started to melt or lose their shape! It's like a baker's magic trick…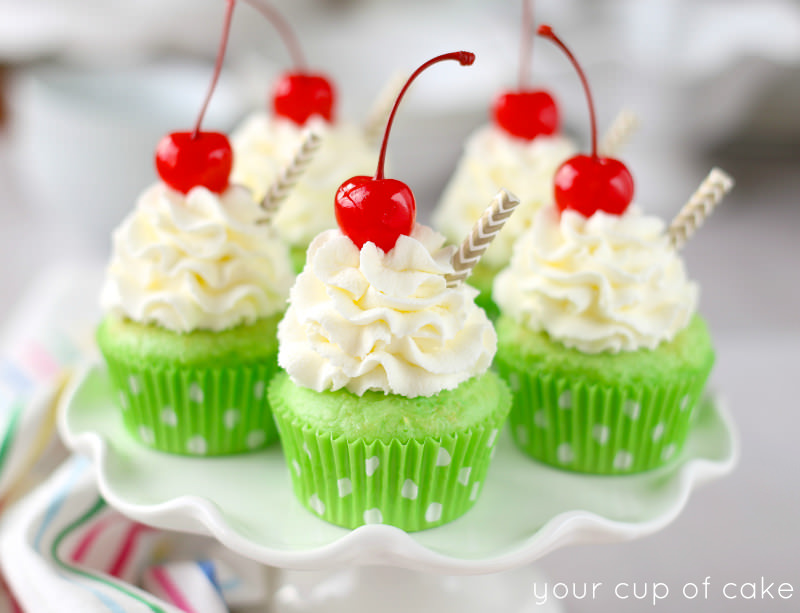 I like to show some behind the scenes shots sometimes because it's so fun to show you that I don't have some glamorous studio. I just shoot by a window in my office on a plank of wood from IKEA. I let the cupcakes do all the work 🙂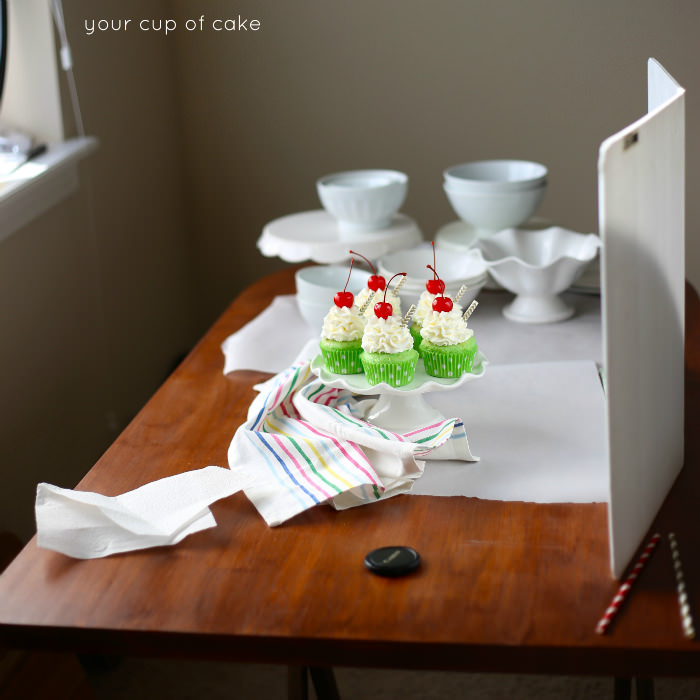 So cute, right? The cupcake liners and straws (which I just cut up from a regular size) are from Sweets and Treats and I actually had to hunt down some maraschino cherries with stems. I kept finding stores that only sold them without stems, how lame is that? Food blogger problems…
Any minty recipes you want to see this season? Or Easter stuff? I would love some input and ideas! Love you all!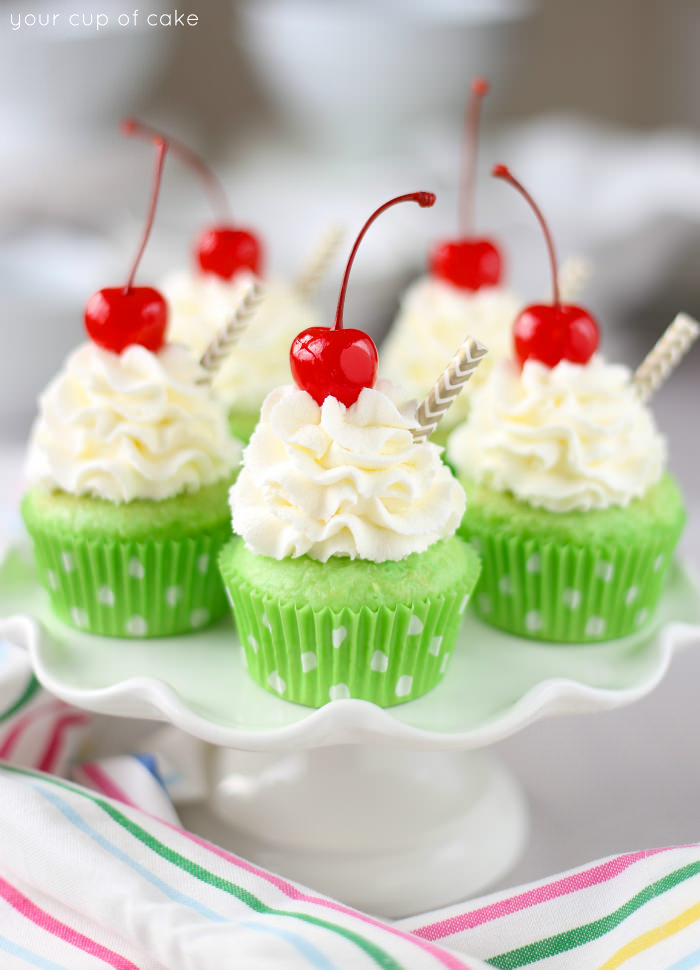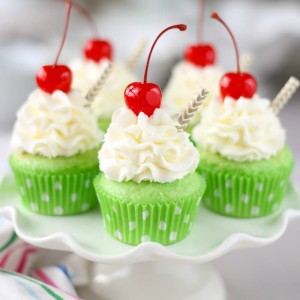 Shamrock Shake Cupcakes
Ingredients
Scratch Cake:

1 3/4

C.

cake flour

1 1/4

C.

flour

2 1/2

tsp.

baking powder

1

tsp.

salt

1 3/4

C

sugar

1

C.

butter

room temperature

4

eggs

1

C.

buttermilk milk

2

tsp.

vanilla extract

3

tsp

mint or peppermint extract

liquid green dye

as much as desired

Cake Mix version:

1

box white cake mix

3

eggs

1/3

C.

oil

1/2

C.

buttermilk or milk

1

C.

sour cream

2

tsp.

vanilla extract

2 1/2

tsp.

mint or peppermint extract

liquid green food dye
Whipped Cream "Mousse":
1

pint

heavy whipping cream

cold from the fridge

2

Tbsp.

white chocolate instant pudding mix

Hershey's makes a box, but cheesecake flavor or vanilla will work, though vanilla will dye it yellow
Instructions
1. Preheat oven to 350 degrees and line pans with cupcake liners.

2. Scratch Cake: In a small bowl, combine cake flour, flour, baking powder and salt together. In a stand mixer, combine sugar and butter and cream for 2 minutes. Add eggs one at a time and scrape down the sides of the bowl after each addition. Alternate between adding the dry (flour mixture) and the buttermilk to the stand mixer. Add vanilla, mint and as much green dye as needed for the color you want. Don't over mix.

3. Cake Mix version: Sift cake mix into a large bowl to remove ay lumps. Add eggs, oil, buttermilk, sour cream, vanilla extract and mint extract and stir until smooth. Add as much green food dye as desired.

4. Fill cupcake liners 3/4 full and bake for 15-20 minutes or until an inserted knife comes out clean.

5. Let cool.

6. Whipped Cream "Mousse": In your stand mixer using the whisk attachment, beat whipping cream and instant pudding mix until the whipped cream is stiff.

7. Pipe topping onto cooled cupcakes and finish with maraschino cherries and straws!
Happy Sabbath! I hope you enjoy these Shamrock Shake Cupcakes!