These bakery style pumpkin muffins with iced crumb topping really are The Best Pumpkin Muffins Ever! Your family and friends will be begging you for more!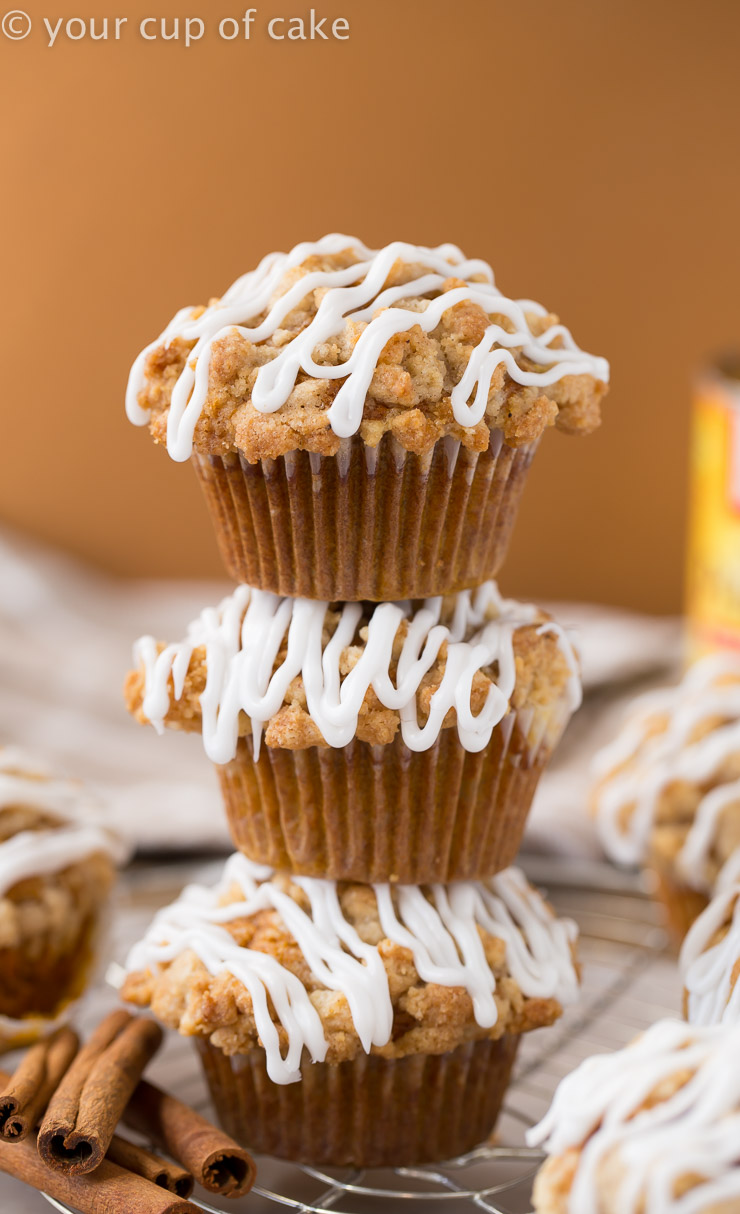 The Best Pumpkin Muffins Ever…Seriously.
I have made a lot of pumpkin muffins in my life. Some have been filled with cream cheese, others have a Nutella Swirl (which are quite delicious), some have chocolate chips and others are more plain. But these top them all! These pumpkin muffins are like the dream bakery pumpkin muffins. They look gorgeous and they taste even better! They are The Best Pumpkin Muffins Ever and you can eat the whole batch and I won't tell a soul! I brought them to a little football party and everyone was asking where I bought them because they looked too perfect to be homemade and tasted like I had been working on this recipe for years!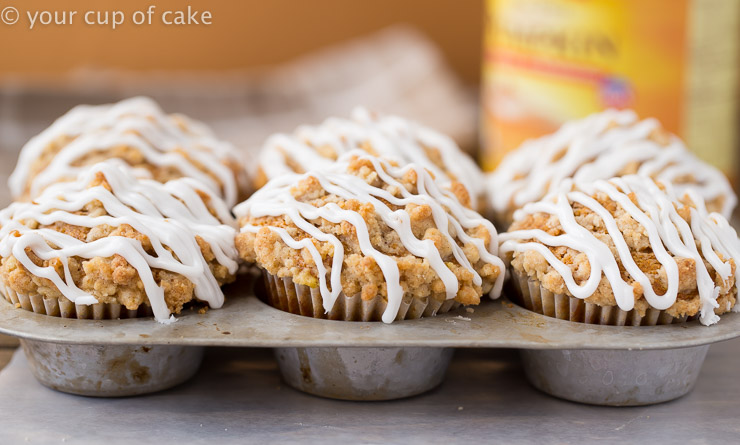 The Trick to Perfect Round Muffins Tops
Round muffins tops can be hard to achieve. I don't have a great oven so I always have seemed to struggle with tricks that work for me! But let me tell you, I think I nailed one down! Bake your muffins at a hotter temperature for 5 minutes and then decrease the oven temp for the rest of the baking time! This tip plus making sure you're filling your muffin tins enough should give you that perfect muffin top.
The icing on these muffins is totally optional! They are so pretty even without this final touch, so if you want to skip the icing you can! I sometimes like to have more control over my drizzle so I will put it in a little ziplock bag and snip off the corner on and drizzle is this way.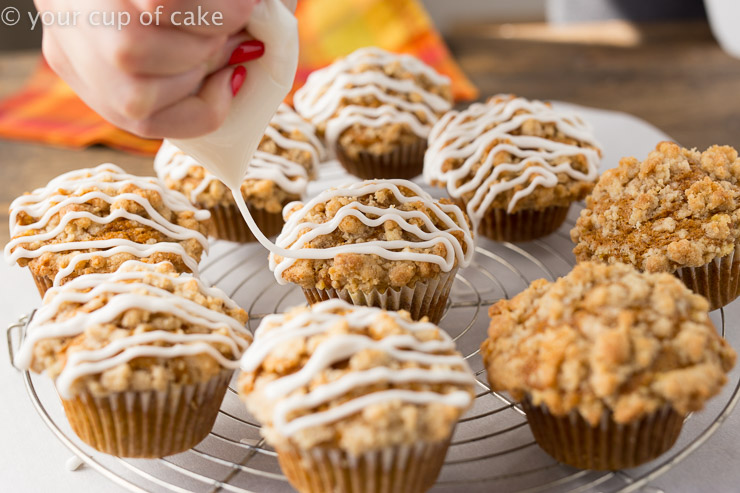 A huge mistake people make for all their pumpkin dessert recipes is using pumpkin pie mix instead of pumpkin puree. So always double check what your recipe calls for!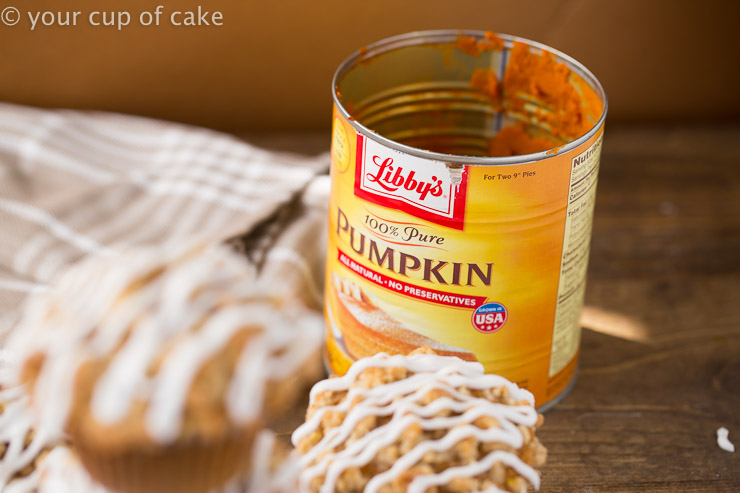 Bakery Style Pumpkin Muffins
I sure do wish I had another batch of these pumpkin muffins in my oven right now! I remember when I was younger and the fall came around my mother would always take me to the local Starbucks and we would sit and drink hot chocolate with treats from the bakery. It was always so fun to feel all grown up with fancy treats and sitting in cozy chairs. These pumpkin muffins seem like something I would order to eat with my steaming cup of hot chocolate.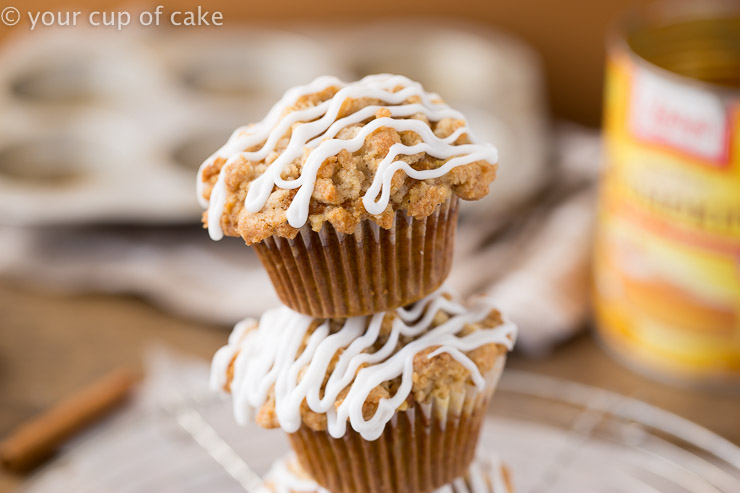 Yum! The Best Pumpkin Muffins Ever!
Just like with banana recipes (banana bread, cookies…) and pumpkin pie, these amazing pumpkin muffins also develop more flavor over night! So they are perfect for making the day before you want to eat them! Don't get me wrong, I LOVE eating these warm from the oven but I also love to eat them the next day. So make a big batch and enjoy them all week long!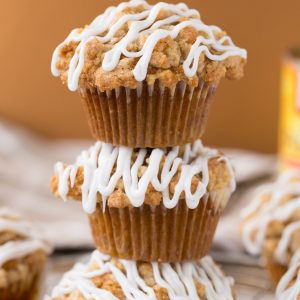 The Best Pumpkin Muffins Ever
Ingredients
1 3/4

Cup

flour

1

tsp

baking soda

1

tsp

baking powder

2

tsp

cinnamon

1

tsp

pumpkin pie spice

1/2

tsp

salt

1/2

Cup

vegetable oil

1/2

Cup

sugar

1/2

Cup

brown sugar

packed

1 1/2

Cup

canned pumpkin

not pumpkin pie filling

2

eggs

room temperature

1/4

Cup

milk

room temperature

1

tsp

vanilla extract
Topping
3/4

cup

flour

1/4

cup

sugar

1/4

cup

brown sugar

packed

6

Tbsp

unsalted butter

melted
Icing, optional
1 1/2

cup

powdered sugar

3

Tbsp

milk
Instructions
Preheat oven to 425 degrees and spray or line muffin tins. Recipe yields 14-16 muffins.

In a large bowl combine flour, baking soda, baking powder, cinnamon, pumpkin pie spice and salt together and set aside. In a separate bowl whisk together oil, sugar, brown sugar, pumpkin puree, eggs, milk and vanilla extract. Pour into the dry ingredients and stir only until just combined, don't over mix.

Fill muffins tins. I like to fill mine very full.

Crumble Topping: Combine all ingredients and then spoon or sprinkle over muffins batter. Gently press in the topping just slightly to make sure it sticks to the muffins when they rise.

Bake muffins for 5 minutes and then reduce the oven temperature to 350 degrees (don't open the oven door when you do this). This trick helps to give you rounder muffins tops! Bake for an additional 10-15 minutes or until an inserted toothpick or knife comes out clean. Let cool.

Icing is optional! To make icing simply whisk powdered sugar and milk together! Add more milk to make the icing thinner or add more powdered sugar for a thicker glaze. Drizzle on top of cooled muffins and enjoy!