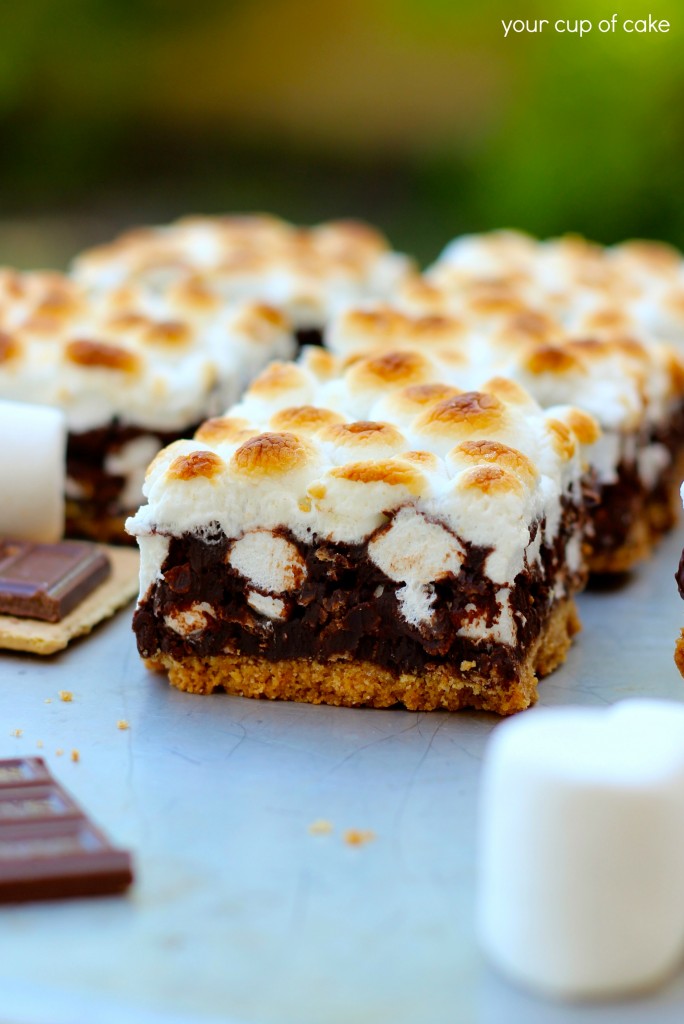 The Story:
Tying your own shoes, taking off the training wheels, leaving the floaties at home, and learning how to make the perfect s'more is the first taste we get of "growing up."
I remember a trip to Lake Powell for a family reunion when I was about 7. My grandfather scoffed at all my cousins who were sticking their marshmallows deep in the flames and pulling out a sizzling, black mallow. They would blow it out, then pop it in their mouths. My grandfather did not approve. He took great pride in a slow roasted, perfectly golden, gooey all the way through marshmallow. I remember him sitting there, teaching me to keep my stick away from the flames and instead hover it over the hot coals to the side. Slowing rotating, patiently waiting until it was about to fall off the stick, then you know it's done.


S'mores Bars
Ingredients
7

Tbsp.

butter

2

C.

graham crackers

2

Tbsp.

sugar

16

oz.

chocolate

dark or semi sweet

1

C.

whole milk or heavy whipping cream

2

C.

of Cocoa Pebbles

optional (regular Rice Puff cereal will work too)

4

C.

mini marshmallows
Instructions
1. Preheat oven to 350 degrees and line a 11 X 13 pan with foil. Let it hang over the edge to you can easily pull up on it to remove your dessert when finished.

2. In a medium-sized microwave proof bowl, melt butter in the microwave.

3. Stir in graham crackers and sugar and mix well.

4. Dump into foiled pan and press evenly into the bottom.

5. Bake for 10-12 minutes and let cool.

6. In another microwave proof bowl, melt chocolate and milk together and stir until smooth. Let cool for 10-112 minutes.

7. Stir cocoa pebbles and and 2 cups of marshmallows into the cooled (it was be warm, just not hot) chocolate and dump over baked graham cracker crust.

8. Sprinkle remaining 2 cups of marshmallows on top, gently press in and place in the oven on broil for 1-3 minutes. Check CONSTANTLY. Seriously, the marshmallows can be white one moment and black the next.

9. Place in the fridge for 2 or more hours and life up on foil to remove and cut. (A warm, buttered knife helps with cutting.)
I know, my pan is smaller… I cut the recipe down a bit because I didn't large my larger pan.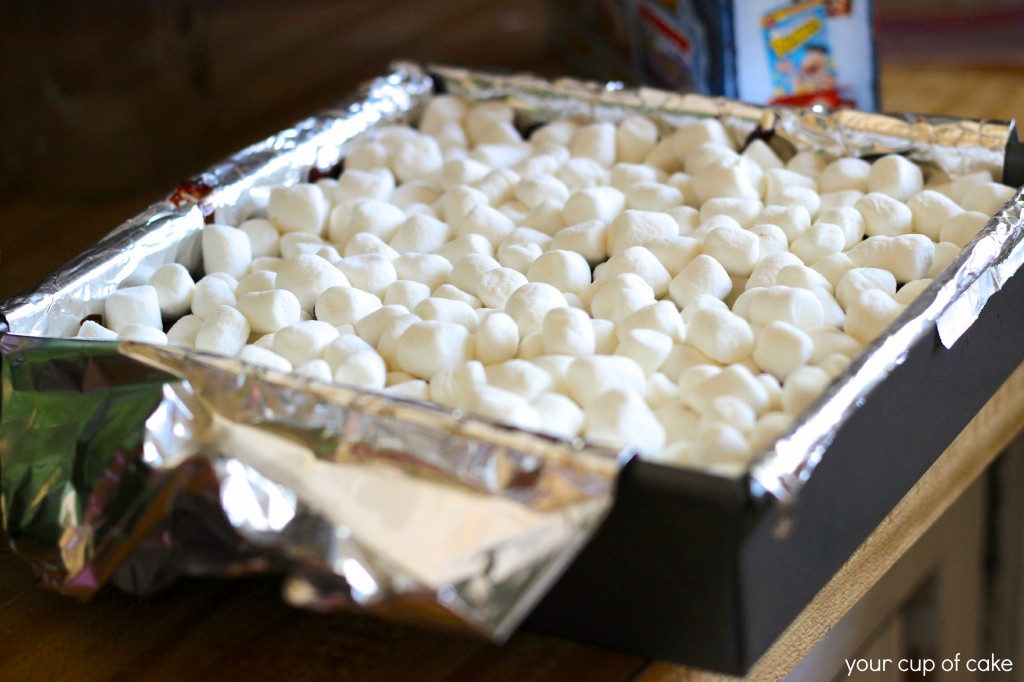 perfectly golden…