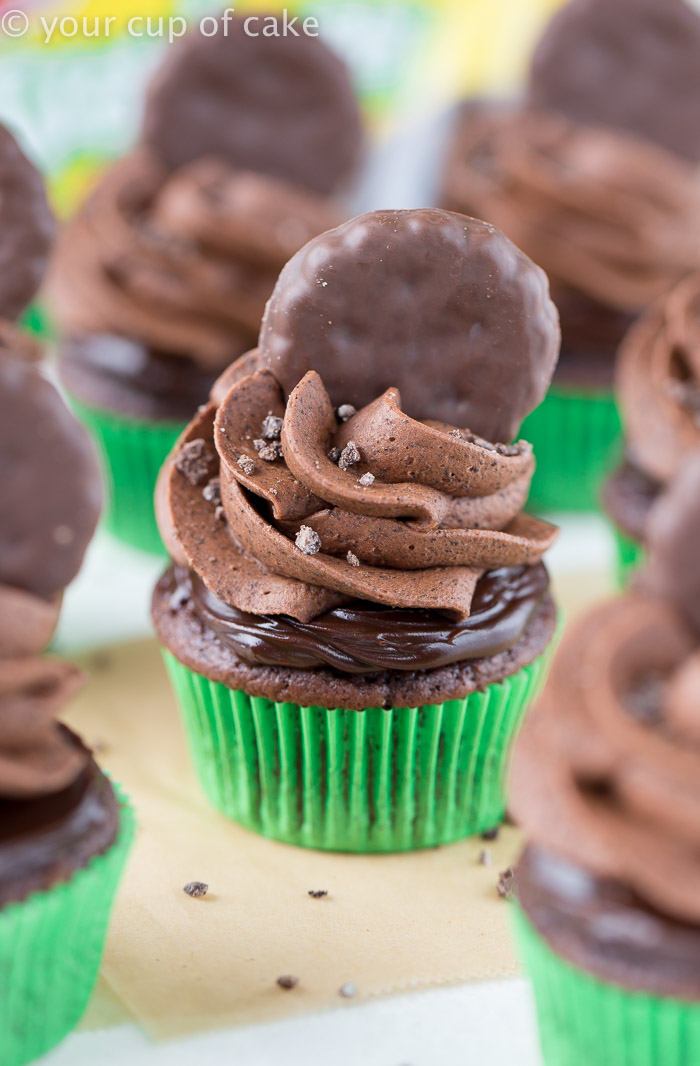 Thin Mint Fudge Cupcakes with chocolate minty cookie frosting and a layer of hot fudge sauce, yum! These are a dream come true! My friend ate one last night and she said "This was the best thing I've ever had."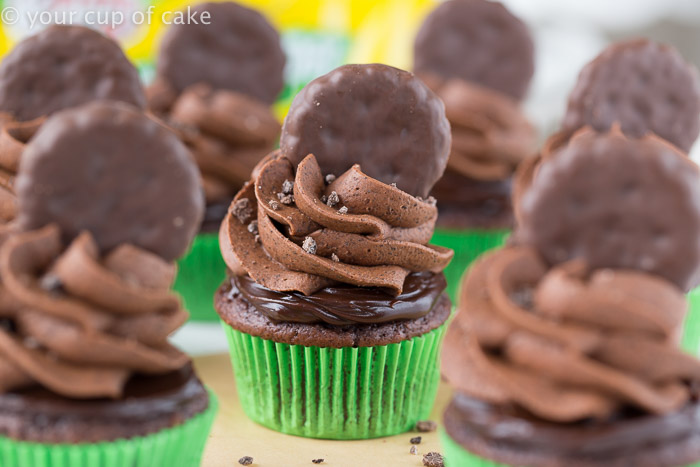 So I love using a layer of ganache between my frosting and cupcake because it really makes the cupcake taste more decadent and special. But this time I used hot fudge sauce! I had fudge on the brain because I used it in my Thin Mint Poke Cake recipe last week and then I ate it while I watched some Netflix (eeeeek! Terrible I know! But oh so good.). And I needed to find a way to use it in my baking so that I wouldn't eat the whole jar!!! Well, I did finish eating the jar by the spoonful… but I got another jar and topped off these cupcakes!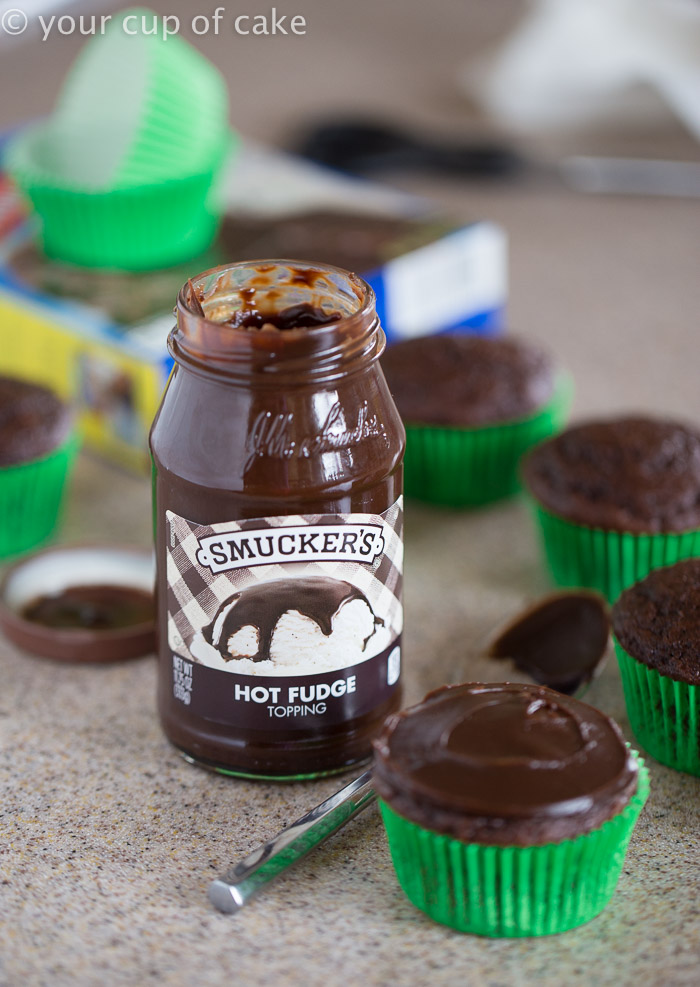 And I don't have any Girl Scouts in the area so I cheated and bought the Keebler Grasshopper brand but they're still incredible!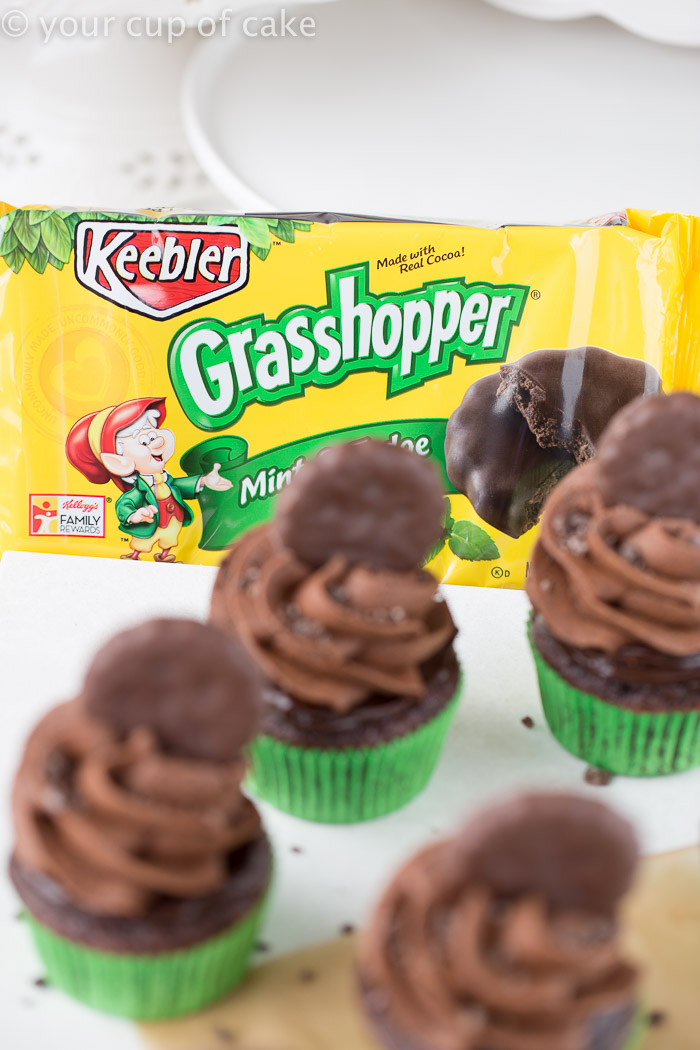 Since I only used the really fine cookie crumbs for the frosting, I used the larger pieces as "sprinkles" after I piped out the frosting. No crumb left behind 🙂
Just look at that layer of hot fudge sauce… it' calling your name!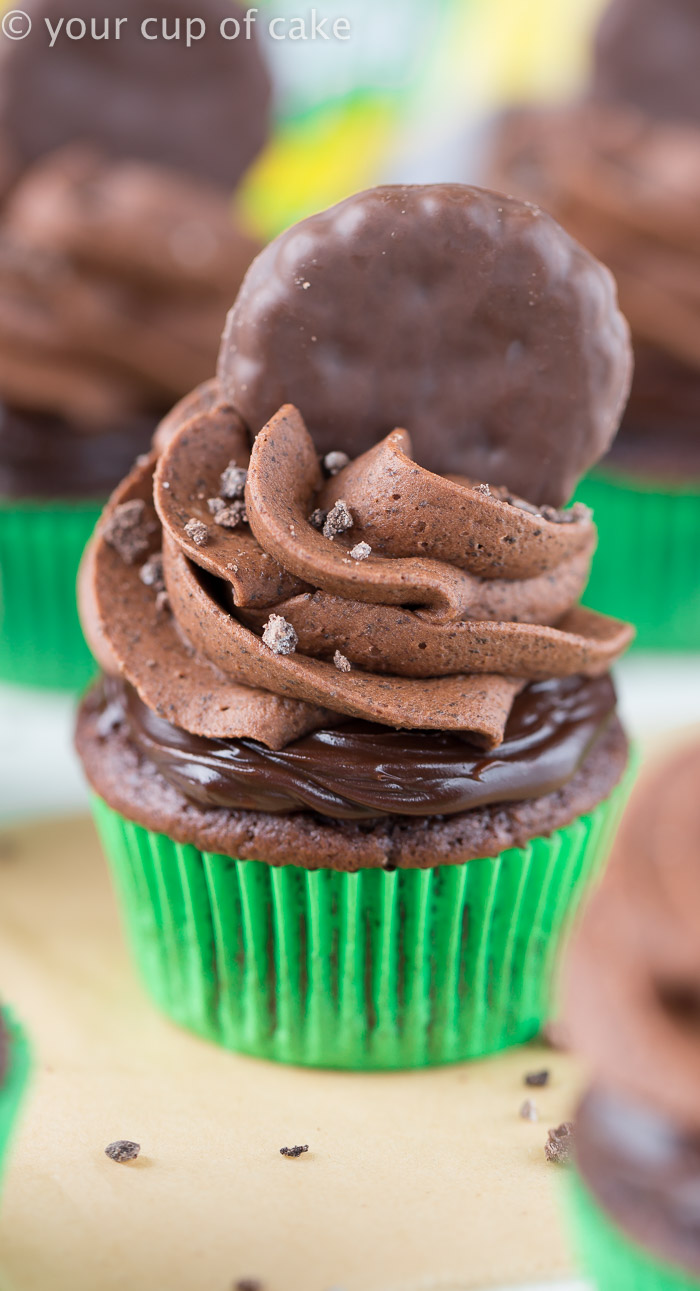 I try to make everyone happy here, so the recipe below is a scratch recipe but if you want a cake mix recipe: 1 box Devil's Food Cake mix, 3 eggs, 1/2 C. oil, 1 C. milk, 1/2 C. sour cream, 2 tsp. vanilla extract bake for 15-20 minutes at 350 degrees.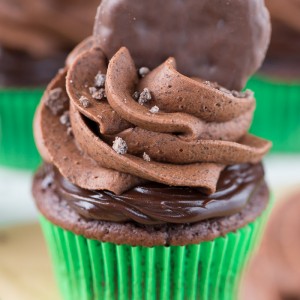 Thin Mint Fudge Cupcakes
Ingredients
CHOCOLATE CAKE:

for cake mix recipe see above

1 1/2

C.

all-purpose flour

1

C.

unsweetened cocoa powder

1

tsp.

baking soda

1 1/2

tsp.

baking powder

1/2

tsp.

salt

4

eggs

at room temp

1

C.

sugar

1

C.

brown sugar

packed

2/3

cup

oil

1

C.

buttermilk or milk

1

Tbsp.

vanilla extract

JAR OF HOT FUDGE SAUCE

THIN MINT FROSTING:

12

Thin Mints finely crushed

3/4

C.

butter

1/3

C.

unsweetened cocoa powder

2-3

C.

powdered sugar

1

tsp.

vanilla extract

1/2

tsp.

peppermint extract

1-2

Tbsp.

milk
Instructions
1. Preheat oven to 350 degrees and line pans with cupcake liners, I used green liners because I wanted them to look even more minty!

2. In a medium bowl, combine cocoa flour, cocoa powder, baking soda, baking powder and salt. Set aside.

3. In a large bowl, combine eggs, sugar, brown sugar, oil, buttermilk and vanilla extract.

4. Pour half the dry ingredients into the wet and stir. Then add the rest of the dry ingredients and stir again. Don't over mix.

5. Fill cupcake liners 2/3 full and bake for 18-22 minutes or until an inserted knife comes out clean. Let cool.

6. Spread a layer of the hot fudge sauce onto each cupcake. You can heat up the fudge in the microwave to make it more spreadable, but I wanted mine to have a thick layer so I didn't heat it up.

7. Thin Mint Frosting: Finely crush your cookies (I used my blendtec) and if you want to use a piping bag you'll need to only use the really fine cookie crumbs, so use a sifter to remove the larger pieces. Beat the butter, cocoa powder, 1 cup powdered sugar, vanilla, peppermint and 1 Tbsp. milk. Continue to add more powdered sugar and milk until you reach your desired consistency, and then stir in the crushed Thin Mints!

8. Pipe over the fudge layer on the cupcakes and top with cookie pieces and extra Thin Mints!