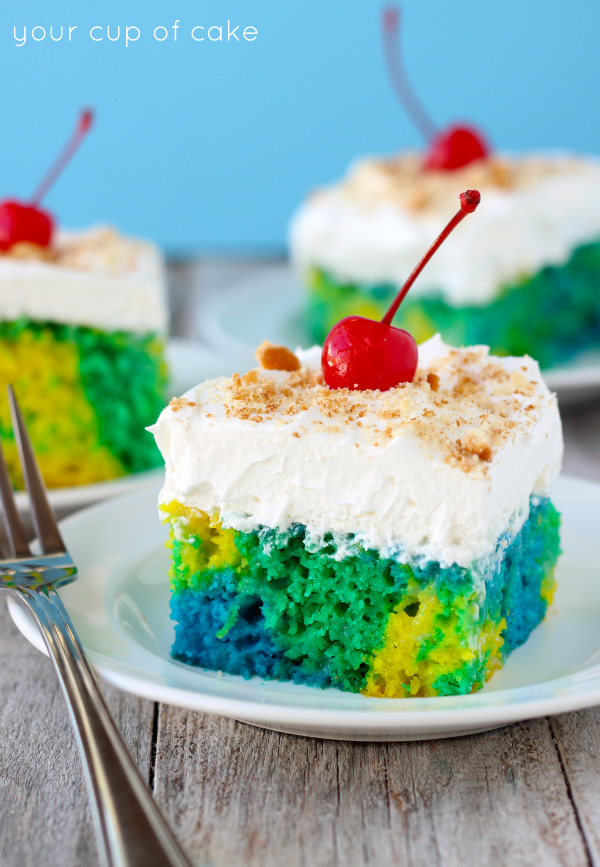 School's out for summer! (I hope you read that in the sing-songy voice, because I sure did 🙂 ) But yes, school is out around here in Provo so it's time to celebrate with some summer lovin' from the kitchen. Tie-Die Poke Cake. It's made with a cake mix, so it's plenty easy and no-stress. And just top it off with some crushed graham crackers or cookies and with a few cherries to make it gorgeous! So perfect for a birthday party or a picnic. Pick colors to fit your party… pinks and purples for the ladies or maybe even different shades of green to make a "camo" cake!
On a personal note… I'm going to be a camp counselor this summer! Woot woot!! I'll be working at EFY for 7 weeks and I could not be more excited. It's a camp that changed my life and I really can't wait to get started. But don't worry! The recipes will still keep coming 🙂 I'm going to be working like a mad woman to get all the recipes posted ahead of time so you won't miss a thing!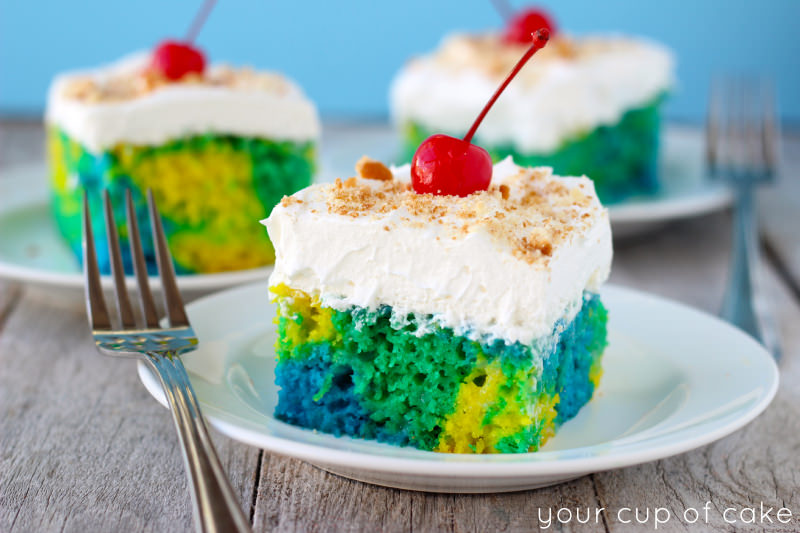 The Story:
I somehow got it stuck in my head that tie-dye was "cool" for every day of the year. I was a Sophomore in high school and a total loser. So what did I wear in my school picture that year? Wet hair, too much eye liner and a tie-dye shirt. Not even a good tie-dye you buy off Amazon or anything. No, this was a homemade one that didn't have much color on it at all–it was just lame.
Oh year book photos…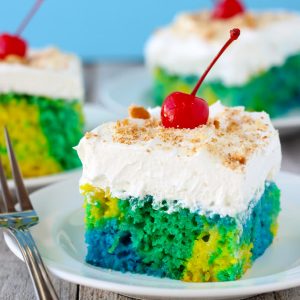 Tie-Dye Poke Cake and Giveaway
Ingredients
Blue Batter:
1

pkg. Aqua Blue Pillsbury® Funfetti™ Cake Mix

1

egg

1/4

C.

oil

1/2

C.

buttermilk or milk

1/4

C.

sour cream
Yellow Batter:
1

pkg. Neon Yellow Pillsbury® Funfetti™ Cake Mix

1

egg

1/4

C.

oil

1/2

C.

buttermilk or milk

1/4

C.

sour cream
Green Batter:
1

pkg. Vibrant Green Pillsbury® Funfetti™ Cake Mix

1

egg

1/4

C.

oil

1/2

C.

buttermilk or milk

1/4

C.

sour cream
For Decorating:
14

oz.

can sweetened condensed milk

Frozen whipped topping or whipped cream

Graham Crackers

crushed

Maraschino Cherries
Instructions
1. Preheat oven to 350 degrees and grease a 13 X 9 inch pan.

2. For each color of batter, mix in a separate bowl.

3. Combine egg, oil, buttermilk and sour cream, then add cake mix and stir until smooth. (Repeat this in separate bowls to make each color.)

4. Pour all three colors in pan and swirl colors together.

5. Bake for 25-35 minutes or until an inserted knife comes out clean.

6. Let cake cool.

7. Poke holes all over the top of the cake using a fork or something bigger like the end of a wooden spoon. Pour sweeten condensed milk over cake and let sit for 10 minutes.

8. Spread whipped topping over cake, and cover with crushed graham crackers and maraschino cherries!

NOTE: You can use a normal Pillsbury White or Yellow cake mix and dye the batter yourself! Just use one box, mix as directed and then separate batter to dye it.
First of all, I LOVE these mixes because they come in little bags that make 12 cupcakes each! I made some fun Garden Carrot Cupcakes with the orange flavor last week, but I wanted to do something a little more psychedelic his time 🙂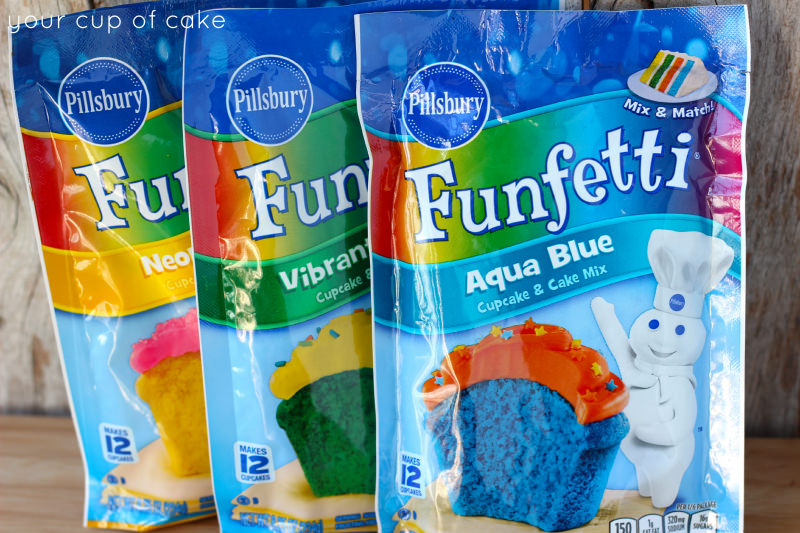 Pillsbury GO BOLD Giveaway
What you win:
Funfetti® Aqua Blue Cupcake and Cake Mix
Funfetti Orange All Star™ Cupcake and Cake Mix
Funfetti Neon Yellow Cupcake and Cake Mix
Funfetti Vibrant Green Cupcake and Cake Mix
Funfetti Orange All Star™ Vanilla Flavored Frosting with Colorful Star Shaped Candy Bits
Funfetti Neon Yellow Vanilla Flavored Frosting with Multi- Colored Candy Bits
$100 dollar Visa or American Express gift card
How to enter:
1. Leave a comment on the blog telling me how you plan to "Go Bold" this summer!
3. "Pin" 3 recipes from Your Cup of Cake and leave a comment here telling me which ones you pinned!
4. BONUS: "Share" another Your Cup of Cake recipe from the facebook page!
NOTE: Leave a SEPARATE comment for each entry!
Giveaway ends May 1, 2014 11:59 PM MST. Winner will be chosen randomly and will be notified via email and must respond within 24 hours or a new winner will be chosen.
I was compensated for this post, all opinions are my own. ©/® The J.M. Smucker Company. Pillsbury is a trademark of The Pillsbury Company, LLC, used under license.
#GoBold