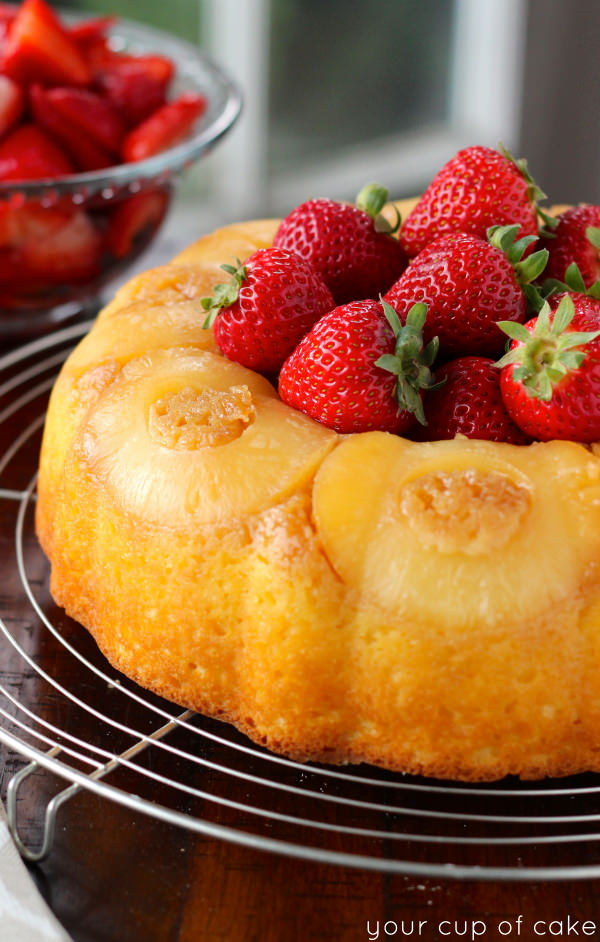 Bundt cakes are the way to go. So incredibly easy and absolutely gorgeous with fresh fruit. Turn your yellow cake mix into a Hawaiian vacation with pineapple rings and some strawberries tossed in sugar. Who's ready for a beach trip? Me.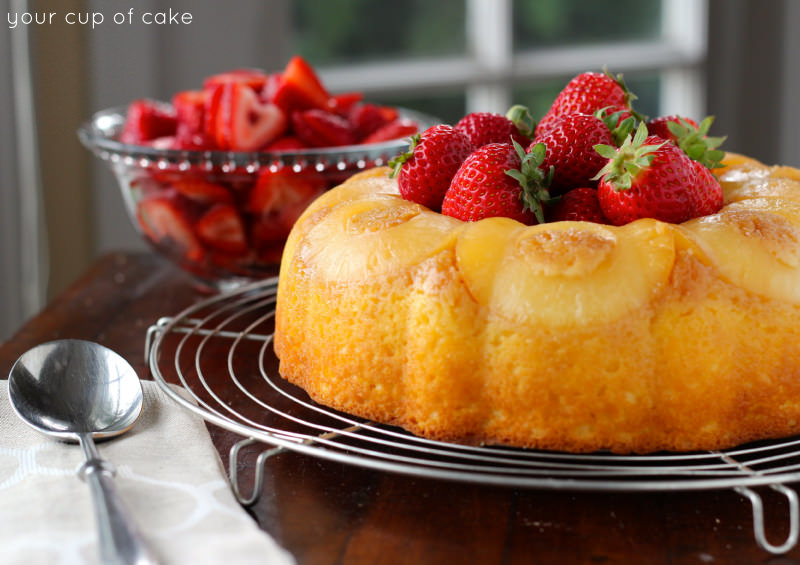 The Story:
Every summer I'd get shipped off to Girls Camp for a week. No flat irons, no make up, no dresses, no iPods. Just bunk beds, braided hair, and annoying camp songs. But every year we would make pineapple upside down cake over the fire in a Dutch Oven. We'd sprinkle the brown sugar, pour on the melted butter, lay down the pineapple rings and cherries and then dump the batter on top. We'd eat it off of paper plates and since we had no silverware we'd shovel it into our mouths with our fingers. Now, maybe it was the lack of sleep, but that cake always tasted like heaven.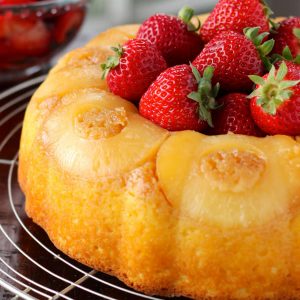 Pineapple Bundt Cake with Sweet Strawberries
Ingredients
Pineapple upside down cake:
1

box yellow cake mix

3

eggs

½

C.

butter

melted

1/3

C.

crushed pineapple

with juice

½

C.

milk of buttermilk

2/3

C.

sour cream or plain yogurt

1

tsp.

vanilla extract

3

Tbsp.

melted butter

¼

C.

brown sugar

7

pineapple rings
Sweet Strawberries:
3

C.

strawberries

sliced

3

Tbsp.

sugar
Instructions
1. Preheat oven to 350 degrees and grease your Bundt pan well.

2. Sift cake mix into a small bowl to remove any lumps and set aside.

3. In a large bowl, combine eggs, butter, pineapple juice, milk, sour cream and vanilla extract until smooth.

4. Add cake mix and stir well.

5. In another small bowl. Combine 3 Tbsp. melted butter with brown sugar and stir until smooth.

6. Pour your brown sugar-butter mixture into the bottom of your Bundt pan.

7. Place pineapple rings over the brown sugar mixture and arrange them to be as flat as possible in the pan.

8. Pour cake batter over pineapple rings and spread out evenly.

9. Bake for 40-50 minutes or until an inserted comes out clean.

10. Let cool in pan, then turn out.

11. Berries: Combine sliced strawberries and sugar by gently folding together. Let sit for a few minutes while the sugar pulls out the juices from the berries.

12. Fill the hole of the Bundt with extra berries for decoration.
If you like these, you will love my Strawberry Piña Colada Cupcakes!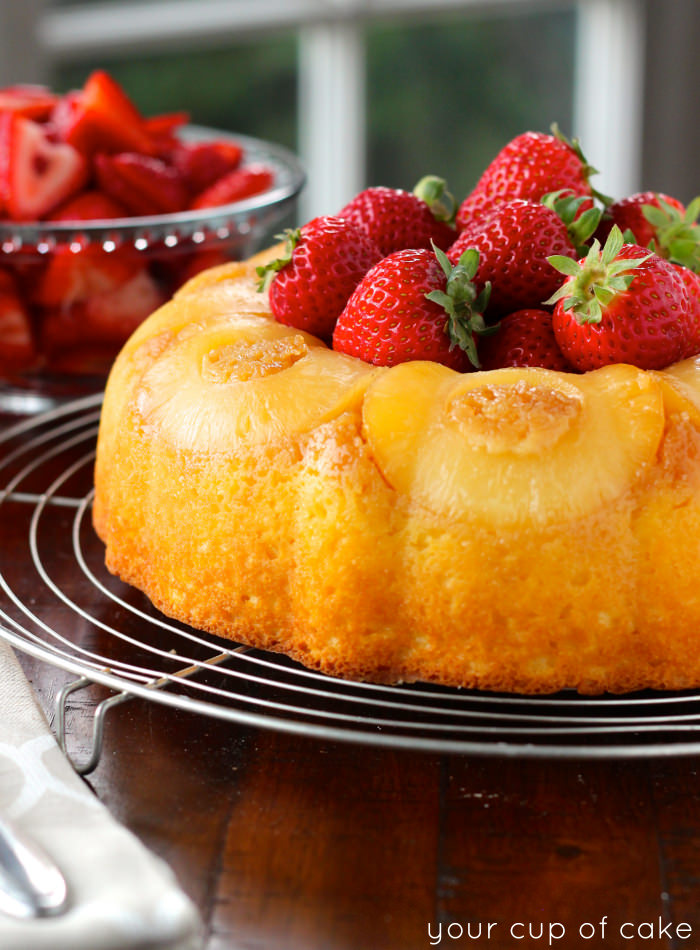 Pouring the brown sugar-butter mixture in, then setting down the pineapple rings. Depending on the size of your pan you may need more or less. And feel free to cut up the rings if you want!