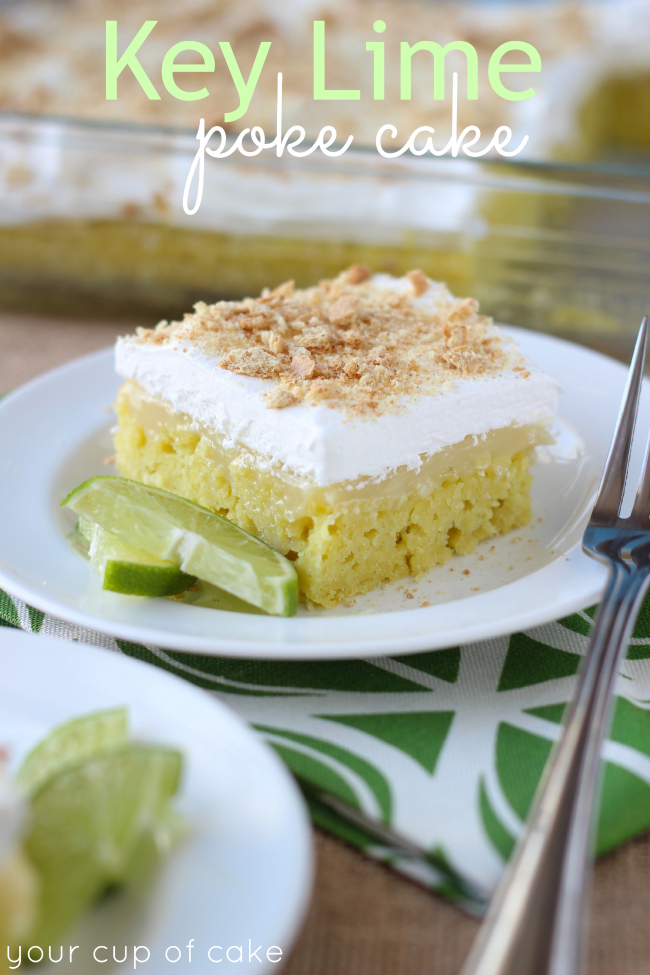 Easy Key Lime Poke cake made with a cake mix and some incredible lime curd. This lime curd recipe is seriously delicious and you won't be able to stop eating it by the spoonful. I'm sort of on this poke cake kick, they are so fun and easy and they are so cute! They come out of the pan surprisingly easy and still look gorgeous!
Have you entered my giveaway yet?!?! You could win $100 plus some goodies from Pillsbury!
The Story:
I am a true believer in never using a cart to shop at Costco. Why? Because if I only buy what I can carry, I buy a whole lot less and I tend to stick to my grocery list. Plus, it makes me look just a little pathetic at the checkout lines struggling to carry my load, so people will occasionally let me cut them when the lines get really long 🙂 But lately I've been stalking the bakery section just waiting for the key lime pies to hit the shelves. That is the real sign of summer. I'll balance that pie on my head if I have to, because as soon as it shows up at my Costco you can be sure I'll be getting it.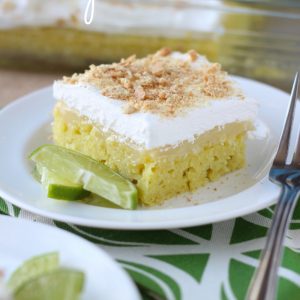 Easy Key Lime Poke Cake
Ingredients
Lime Cake:
1

box white or yellow cake mix

3

eggs

1/3

C.

oil

1/2

C.

lime juice

zest of 2 limes

2/3

C.

sour cream or plain yogurt
Lime Curd:
1

C.

sugar

¼

C.

butter

¾

C.

fresh lime juice

1

Tbsp.

lime zest

1

tsp.

flour

2

eggs

lightly beaten
1/2 C. sweetened condensed milk
Cool Whip or whipped cream
Instructions
1. Preheat oven to 350 degrees and grease a 9 X 13 pan.

2. Sift cake mix into a large bowl.

3. Add eggs, oil, lime juice, lime zest and sour cream. Stir until smooth. (You can add a little green dye if you want to make the cake green!)

4. Pour into pan, spread out smooth and bake for 25-35 minutes or until an inserted knife comes out clean.

5. Let cake cool, then poke holes all over the cake using a dowel or the end of a wooden spoon.

6. Lime Curd: Place sugar, butter lime juice, lime zest and flour in a small sauce pan and heat over medium heat until butter melts. Pour 2 Tbsp. of hot lime mixture into eggs to temper them. Then whisk eggs into lime mixture on stove. Cook until mixture is thickened and coats the back of a wooden spoon. Remove from heat and whisk in sweetened condensed milk then pour over cake.

7. Let sit 10 minutes, then cover with Cool Whip and crushed graham crackers. Refrigerate until ready to serve!
Some of the lime curd will go into the holes and some will stay on top. But beware, if you taste the lime curd you won't stop eating it…