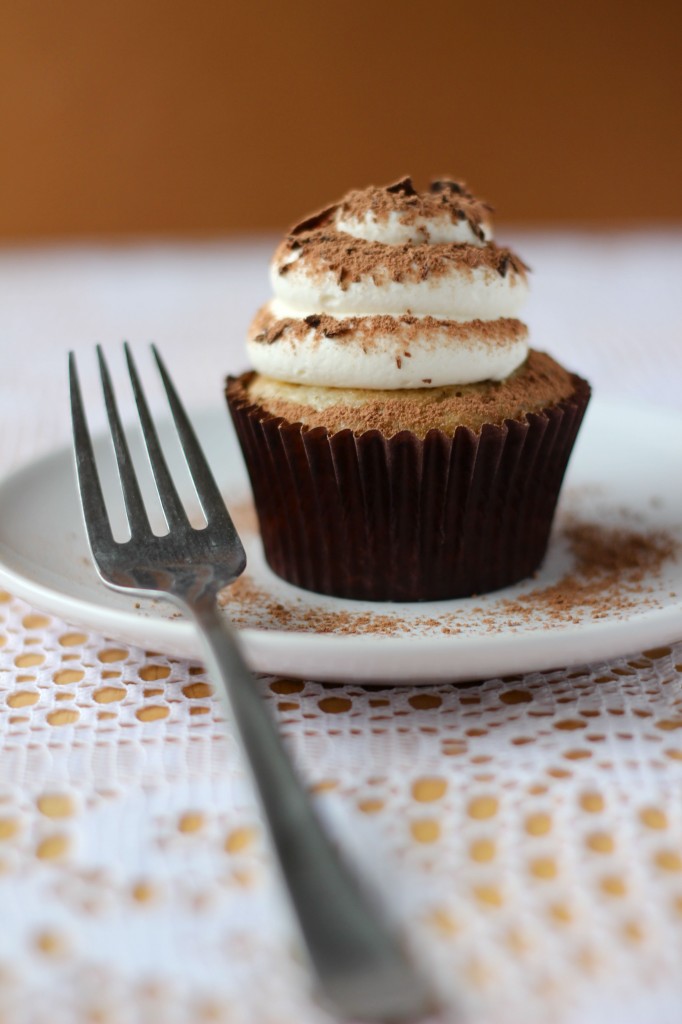 The Story #1:
If enough people email me to make a recipe for something, I get around to it. But really, these cupcakes were brilliant. They are not an overly sweet cupcake and perfect for a special occasion.
Story #2:
Coffee. I don't drink it, so this cupcake made me nervous. I went to the grocery store, it took me 10 minute to find the coffee aisle (I swear they were hiding in from me!) and then I stood in the aise for another 15 minutes not understanding ANYTHING. Instant, granules, cappuccino, macchiato, Nestle, Folgers, singles… None of it made any sense. I even got desperate and called my coffee drinking friends, but they failed me as well. When I finally decided on a kind, there were no directions on the bottle! If they print direction on Pop-Tarts, why are there not directions on instant coffee?
Well thanks to google, I figured it all out.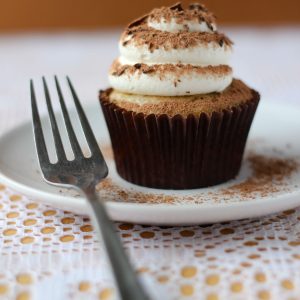 Tiramisu Cupcakes
Ingredients
Cake:
1

box White Cake Mix

2

egg whites

1

egg

1/3

cup

oil

3/4

cup

buttermilk

3/4

cup

sour cream

2

teaspoons

vanilla extract

1/4

cup

strong coffee
Filling:
8

oz

mascarpone

1

tablespoon

strong coffee

1/2

cup

powdered sugar
Whipped Topping:
8

oz

cream cheese

softened

1

cup

powdered sugar

1

teaspoon

vanilla extract

1

pint

heavy whipping cream
Instructions
1. Preheat oven to 350 degrees and line pan with cupcake liners.

2. Sift cake mix into a small bowl and set aside.

3. In a large bowl, gently whisk egg whites, egg, oil, buttermilk, sour cream and vanilla.

4. Stir cake mix into wet ingredients.

5. Using half of the batter, fill cupcake liners about 1/3 full.

6. With the remaining cake batter, add the strong coffee and mix. (You may need to add 1 or 2 tablespoons of flour to thicken the batter.)

7. Scoop the coffee cake batter over the regular batter so that each cupcake liner is filled about 3/4. (So you have one layer of vanilla cake and a top layer of coffee cake.)

8. Bake for 16-20 minutes or until an inserted knife comes out clean.

9. Filling: Combine all ingredients in a small bowl using a spoon.

10. Topping: Using a whisk attachment on your stand mixer, beat cream cheese and powdered sugar until smooth. Add vanilla. Slowly add in heavy cream and beat until stiff peaks form.

11. To assemble, cut a cone shaped piece of cake out the top of each cupcake (make sure cakes are cooled). Generously spoon in your filling. Pipe your whipped topping over the hole with the filling and top with chocolate shavings and cocoa powder.
Recipe Notes
*For my strong coffee, I mixed about 1/3 cup boiling water with 4-5 teaspoons instant coffee. Then I measured my coffee from that. Adjust recipe using more or less coffee depending on how much you like the flavor of it.