Ultimate Grasshopper Cookies topped with chocolate ganache, minty frosting and Andes Mint pieces! Perfect for Christmas or all year long!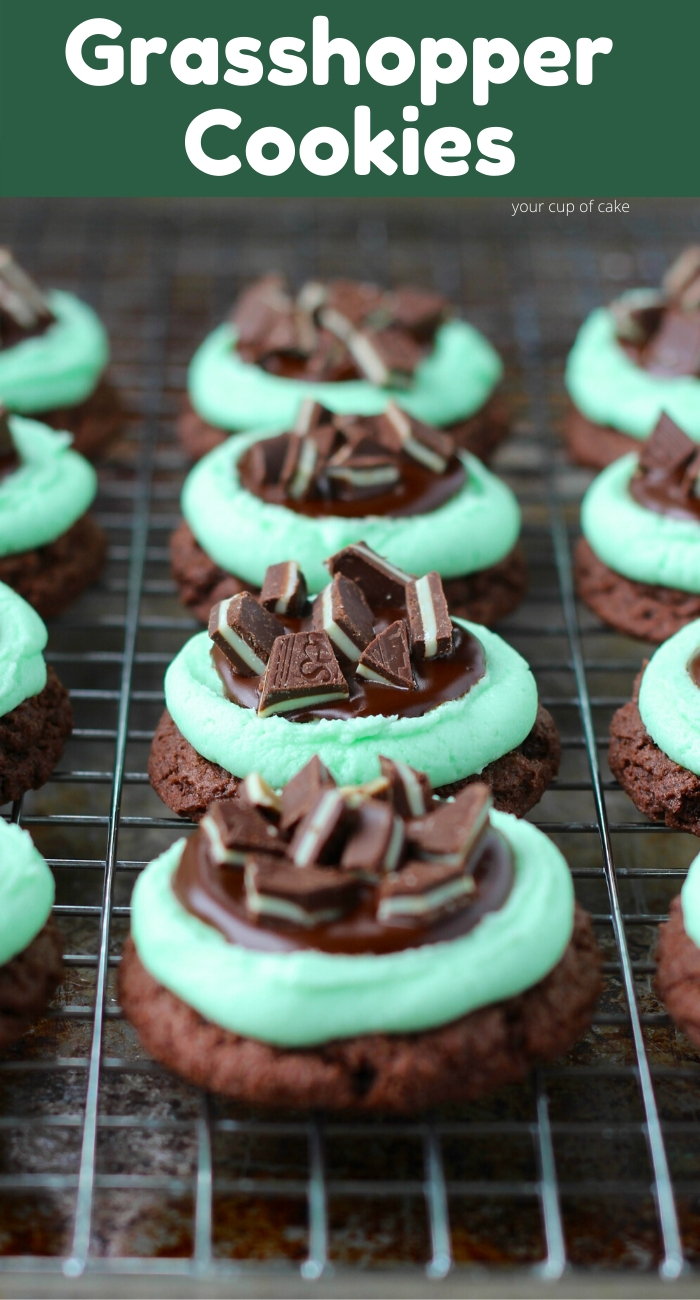 I finally took the dive and went to my first blogger party.
I tend to be socially awkward in situations where I know not a soul, which is why I started baking in the first place. So 50 bubbly, well dressed women in one small room was a tad overwhelming given that I spend most of my time in the kitchen with just me and Pandora. It almost felt like speed dating because whenever one person left their chair another person would immediately fill it and ask me "So what do you blog about?"
They would quickly find out about my blog, my book and that I'm 23. Then they would continue to try and set me up with their younger brothers…*cough* The Alison Show *cough*.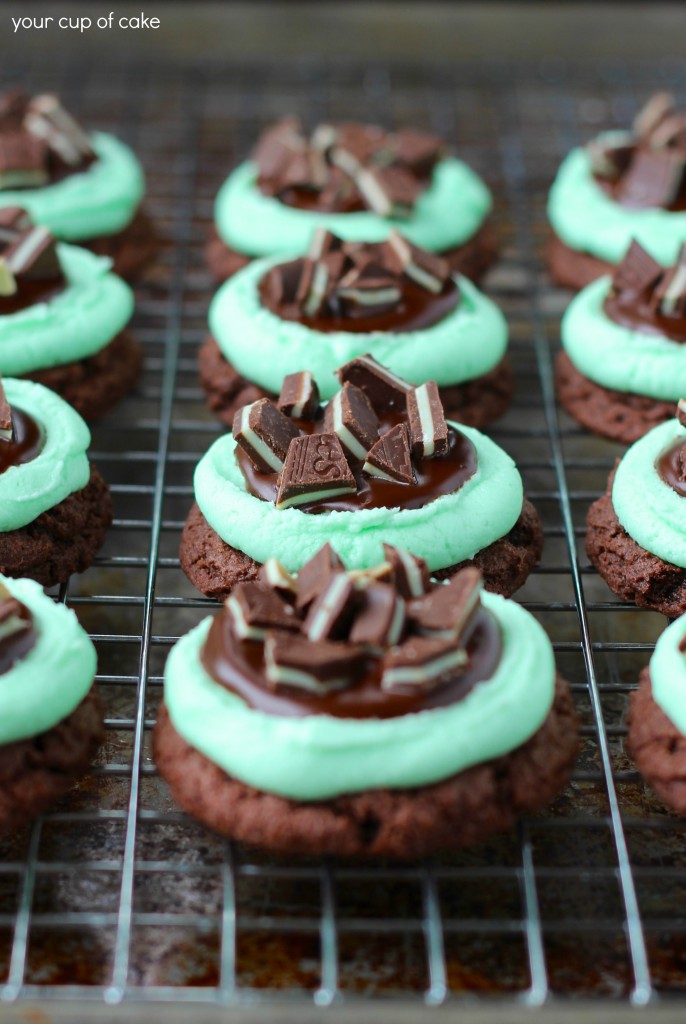 But it was so much fun! So many awesome women doing what they love and making a living from it. I won $100 gift card from Nordstrom, free head shots, and went home with a fun swag bag from Jillee's. I even got to meet 2 of the famous Six Sisters!
Chocolate Grasshopper Mint Cookies
Now on to these incredible Ultimate Grasshopper Cookies!
I try to keep my recipes simple. I want everyone to be able to copy what I do here so I try to keep ingredients simple as well. No mint extract, soy lecithin, wheat flour or anything like that! Just reach into your pantry and pull out a handy dandy cake mix and some vegetable oil! I will say Pillsbury cake mixes make the best cookies of the cake mixes. They bake up tall when other brands tend to flatten out too much. These cookies are fudge -y yet crispy perfection on the rims. They taste delicious and really make the perfect sweet treat!
I make these cookies mostly around Christmas time and St. Patricks because those are the bit minty holidays, but they're great all year long! They look so decadent and incredible. The best part is that they are so easy to make.
If you want to see step-by-step photos of how I decorated these Ultimate Grasshopper Cookies, I put them all below the recipe!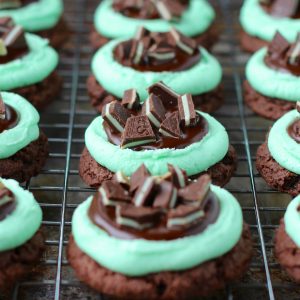 Ultimate Grasshopper Cookies
Chocolate Mint Grasshopper Cookies made with Andes Mints! Easy to make and easy to accidentally eat the whole batch!
Ingredients
Cookies:
1

Box Devil's Food Cake mix

Pillsbury

2

large eggs

room temperature

1/2

Cup

butter

melted

1

teaspoon

vanilla extract

2

Tablespoon

brown sugar
Mint Frosting:
3/4

Cup

butter

softened

1 1/2

teaspoon

peppermint extract

2-3

Cup

powdered sugar

milk

if needed

green food dye

if desired
Chocolate Glaze:
1 1/2

Cup

chocolate chips

I like to use chocolate "melts"

4

Tablespoon

butter
Andes Mint Candies, roughly chopped
Instructions
1. Preheat oven to 350 degrees and line cookie sheets with parchment paper.

2. Combine cake mix, eggs, butter (make sure you let it cool a little so it doesn't cook the eggs), vanilla and sugar. That batter will be stiff.

3. Make dough balls a little large than a Tablespoon and place on cookie sheets to bake. (You may want to pat each dough ball down a little bit because cake mix cookies tend to bake up tall.)

4. Bake for 7-9 minutes and let cool on cooling racks.

5. Mint Frosting: Beat butter for 2 minutes. Add peppermint extract and slowly add it powdered sugar until you reach your desired consistency. Add 1-2 Tablespoons milk if it gets too thick. Add green dye for color if desired.

6. Chocolate Glaze: Melt chocolate chips and butter together in a microwave proof bowl. Zap for about 30 seconds, then stir, then microwave in 10 second increments and stir until smooth.

7. To assemble (see photos). Pipe on frosting, smooth over with a knife, spoon on your glaze and top with peppermint candies.
recipe adapted from Six Sisters Stuff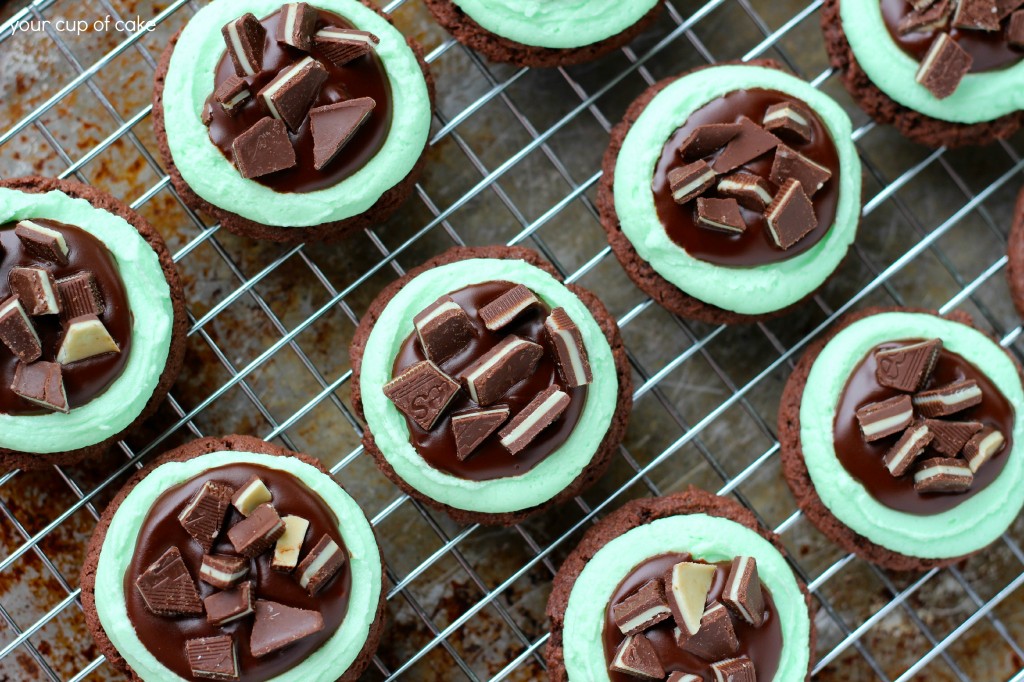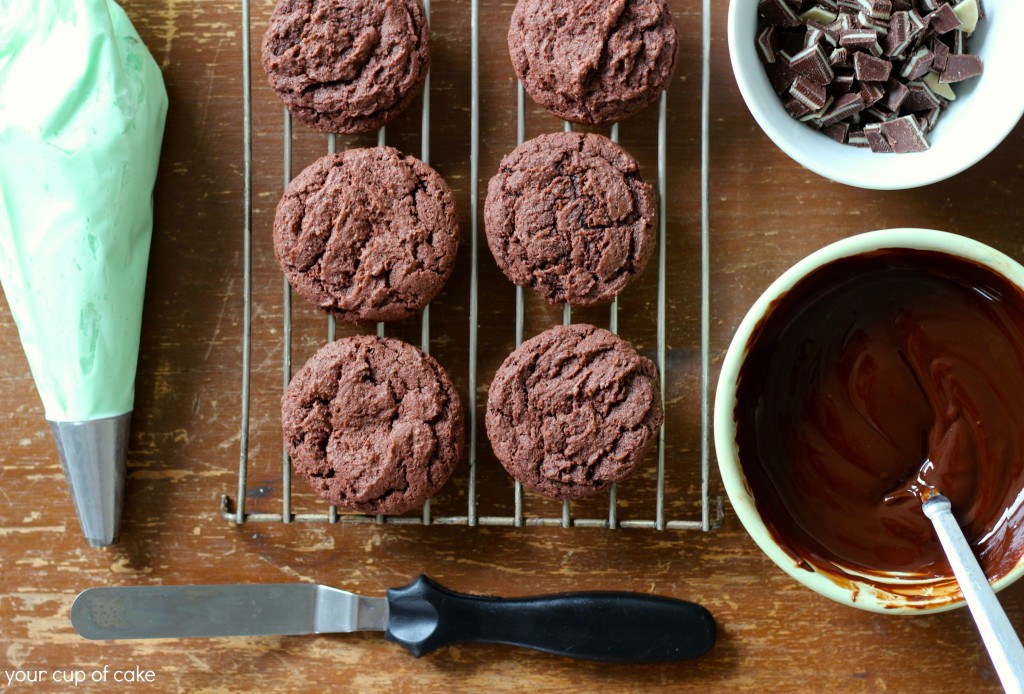 Start with any round tip. You don't even need a tip you can just use a plastic bag as a piping bag and snip off the tip. It's just faster and looks nicer than using a knife to slab it on.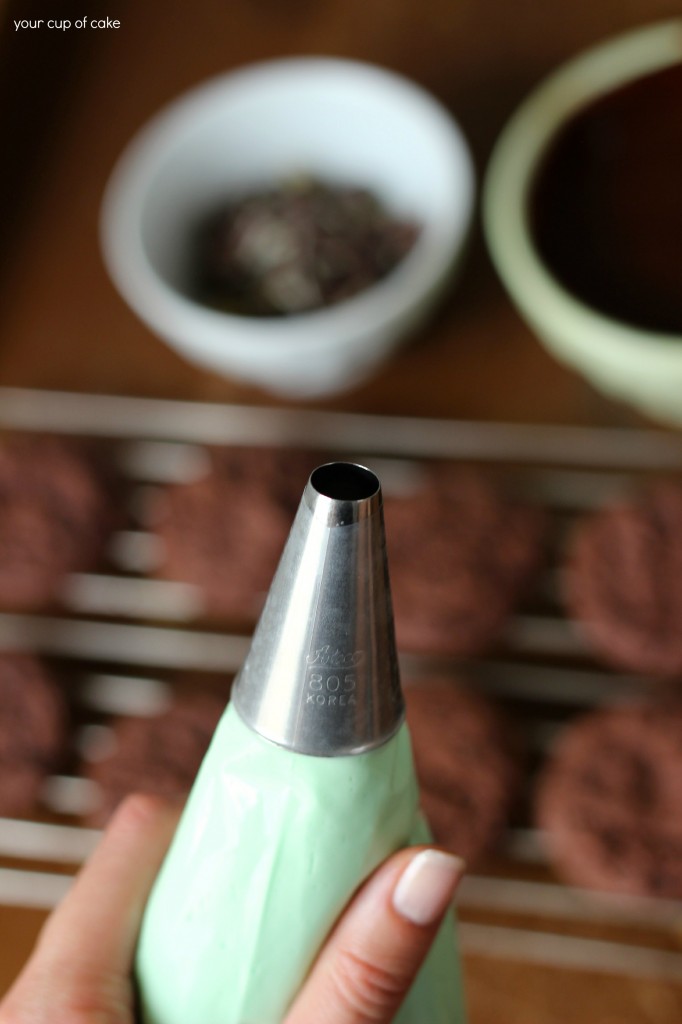 Pipe a little frosting on…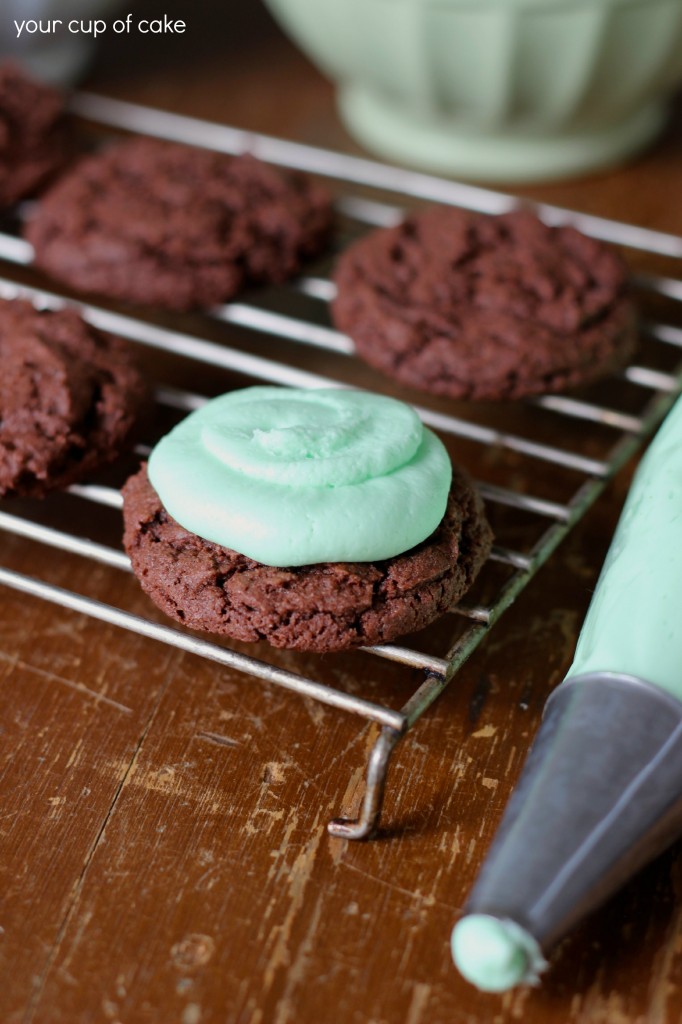 Flatten it out with a knife or off-set spatula. I even made mine dip down a bit creating a shallow "bowl" for the chocolate glaze to sit it so it didn't roll off.
Spoon on some glaze and spread it around a bit.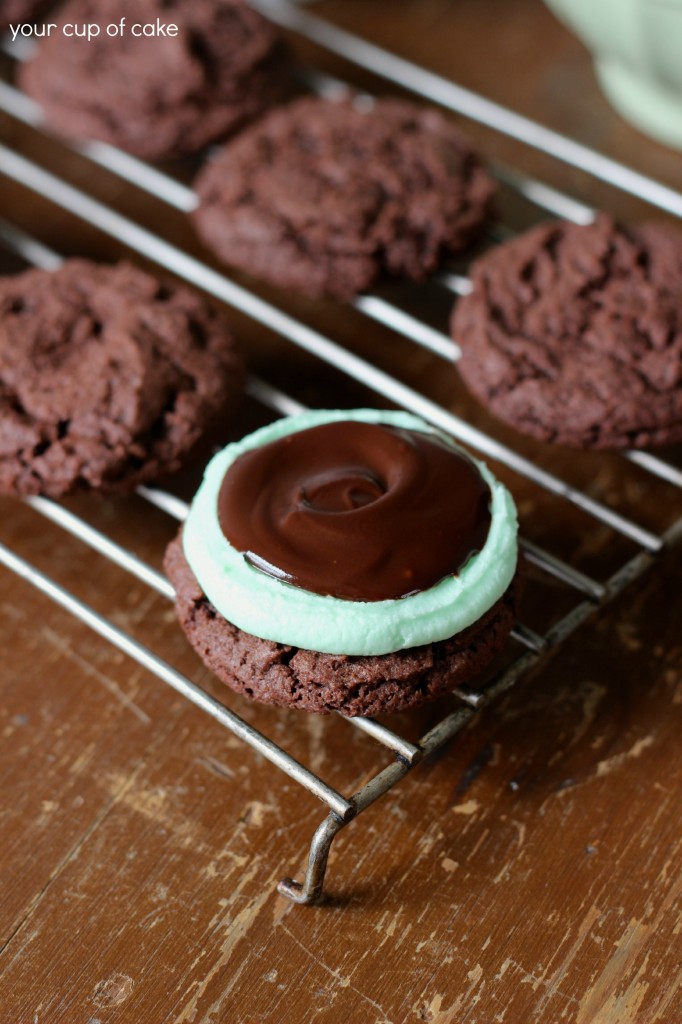 Press some Andes Mints into the chocolate. You don't have to do this but it makes them look even more decadent.